Our 2018 Summer Reading starts this Saturday, June 2nd! Sign up to participate at pasadena.beanstack.org. The theme this year: "Reading Takes You Everywhere!"… including through time! To get you started, here are some titles that feature time travel.
Happy Trails!
The End of Eternity by Isaac Asimov [contained in anthologies: The Alternate Asimovs, and The Far Ends of Time and Earth)
The End of Eternity …acrobatically explores all the possible paradoxes of time travel. "Eternity" is an extra-temporal organization whose agents attempt to manipulate human history to make it safer for us. All dangers and uncertainties are wiped out, which leads, in Asimov's basic paradox, to the human race itself being wiped out; to prevent this, Eternity must be destroyed.
Somewhat similar to the plot of Asimov's novel, you may enjoy a series produced in Spain, available on Netflix, called "El Ministerio del Tiempo" (in Spanish, subtitled in English), about the Spanish "Ministry of Time," with agents whose mission it is to travel back in time to prevent various events from affecting the present.  Things don't always work out as expected, and because the agents are only human, they make choices that sometimes have detrimental effects.
Kindred by Octavia Butler
Dana, a modern black woman, is celebrating her twenty-sixth birthday with her new husband when she is snatched abruptly from her home in California and transported to the antebellum South. Rufus, the white son of a plantation owner, is drowning, and Dana has been summoned to save him. Dana is drawn back repeatedly through time to the slave quarters, and each time the stay grows longer, more arduous, and more dangerous until it is uncertain whether or not Dana's life will end, long before it has a chance to begin.
This a great, classic Science Fiction novel by an important author, but it is profound and thought-provoking, as it centers on a topic not often encountered in Science Fiction. Butler built in nuance and emotional resonance while exploring the devastating effects of antebellum slavery–not only the terror and damage it caused to millions of people, but the strange and challenging relationships between people enslaved and those who enslaved them.
Kindred was the selection for Pasadena Public Library's 2006 One City, One Story celebration. Ms. Butler passed away unexpectedly a week before she was set to appear in Pasadena for the festivities. It was a great loss to her family, friends, and the wide community of her readers.
Finally, an excellent companion to the novel, a graphic novel adaptation by Damian Duffy and John Jennings, was published last year.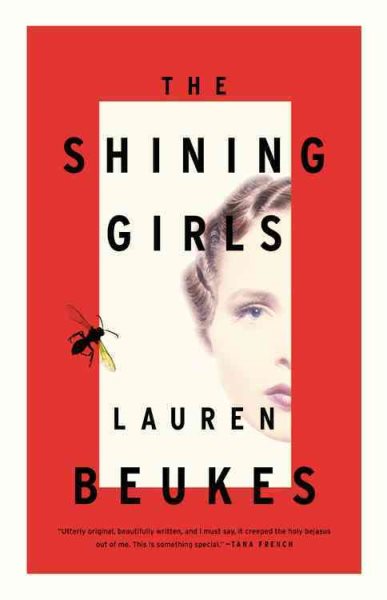 The Shining Girls by Lauren Beukes
Harper Curtis isn't your run-of-the-mill serial killer. He gets to time travel from the 1920s through the 1980s, killing girls in different decades, all to satisfy a bloodthirsty Chicago bungalow. Yes, you read that correctly: the house makes him do it. In this genre-bending novel, Beukes never explains the origins of this evil house or how it manages to transport Harper from year to year. All we know is that Harper is compelled to track down and murder specific "shining girls" in gruesome ways (usually evisceration), and he gets away with it since he can escape across time. Until he leaves Kirby Mazrachi behind in 1989, that is. Kirby miraculously recovers from the vicious attack and is determined to track down her assailant, even if the police consider it a closed case. She enlists the help of Dan, a reporter at the Sun-Times, and they slowly uncover odd clues left behind in a dozen unsolved murder cases; it turns out Harper has been leaving behind items from the future.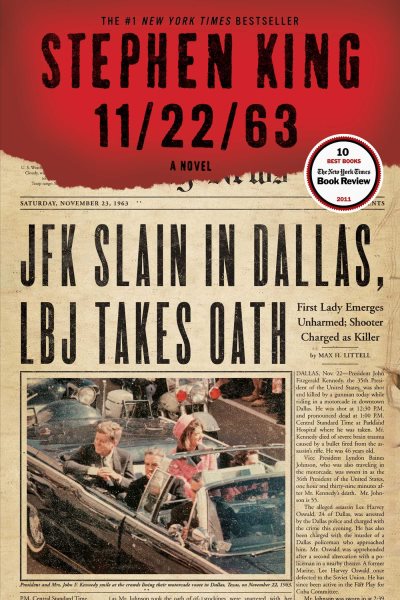 11/22/63 by Stephen King
This isn't really King's typical horror at all, but there is quite enough to horrify the reader, nonetheless, and quite enough to make you think hard about the choices you'd make if you could go back in time (back before your own lifetime) and change significant events.
Jake Epping is living a normal schoolteacher's life when a short-order cook named Al introduces him to a time warp hidden in a diner pantry—leading directly to 11:58 a.m., September 9, 1958. Al's dying of cancer, which means he needs a successor to carry out his grand mission: kill Lee Harvey Oswald so that the 1963 JFK assassination never happens. Jake takes the plunge and finds two things he never expected: true love and the fact that "the obdurate past" doesn't want to change.
It is vintage King in terms of his lucid prose, his ear for snappy dialogue and rhythmic language, his eye for American culture and Americans' penchant for nostalgia, and his ability to create an environment where the surreal (and sometimes terrifying) imbues the utterly ordinary. In the afterward, King touches on his research (along with the fact that he has wanted to write this book for 40 years) and acknowledges other (mostly nonfiction) works on the JFK assassination.
Outlander by Diana Gabaldon [Series]
Absorbing and heartwarming, this first novel lavishly evokes the land and lore of Scotland, quickening both with realistic characters and a feisty, likable heroine. English nurse Claire Beauchamp Randall and husband Frank take a second honeymoon in the Scottish Highlands in 1945. When Claire walks through a cleft stone in an ancient henge, she's somehow transported to 1743. She encounters Frank's evil ancestor, British captain Jonathan "Black Jack" Randall, and is adopted by another clan. Claire nurses young soldier James Fraser, a gallant, merry redhead, and the two begin a romance, seeing each other through many perilous, swashbuckling adventures involving Black Jack. Scenes of the Highlanders' daily life blend poignant emotions with Scottish wit and humor. Eventually Sassenach (outlander) Claire finds a chance to return to 1945, and must choose between distant memories of Frnak and her happy, uncomplicated existence with Jamie. Claire's resourcefulness and .intelligent sensitivity make the love-conquers-all, happily-ever-after ending seem a just reward.
This is Book 1 of an entire series which contains epically long novels, shorter novels and novellas. If you're looking for a series to see you through summer and beyond, this may be the one!
For those interested in more, Gabaldon's site offers a helpful guide to the chronology and parts that make up the series.
All Our Wrong Todays by Elan Mastai
In Mastai's imaginative debut novel, Tom Barren's version of 2016 is a technological utopia based on a model popularized by 1950s science fiction. There are flying cars, robot maids, jet packs, teleportation, ray guns, and space vacations. Thanks to an experimental time machine, Tom travels back to the moment this glorious future was born—the 1965 invention of the Goettreider Engine, a clean-energy source that transformed mankind. Unfortunately, Tom's presence causes the experiment to go haywire. He disappears, and when he rematerializes he is in an alternate timeline, socially and technologically backward—in other words, our own 2016. Horrified at what he sees, Tom tries to come to terms with his new environment, which is only made bearable by a bookstore owner named Penny, with whom he promptly falls in love. In order to prove to her where he is really from, Tom is forced to track down the scientist who invented the clean-energy device. From here, the story takes several startling turns as Tom tries to make things right by using another time machine to change the future of this timeline. Mastai has fun with all the usual conventions of time travel and its many paradoxes, and the cherry on top is his dialogue, reminiscent of Douglas Adams's The Hitchhiker's Guide to the Galaxy.
Three Years With the Rat by Jay Hosking
The author, a neuroscientist specializing in research into how we make decisions, turns in a startlingly fine performance with his first novel, about a man so determined to find his missing sister that he risks his own life—his own reality, in fact—to solve the mystery of her disappearance. Each chapter is broken into three smaller segments, the first set in 2008, the second in 2007, and the third in 2006. We're left to figure out the reason for this structure for ourselves, which amounts to having to sort out exactly what's going on in the story. But Hosking drops some hints. Clearly, there's something weird happening: a tree that's suddenly gone, a stolen car that never existed, a former girlfriend who suddenly can't recall her relationship with the narrator. Eventually we begin to realize that the characters' dialogue about subjective reality and other mind-bending ideas isn't just there because the author likes writing about such matters; it's there because it's a fundamental element of the story he's telling. There are probably 100 ways this novel could have failed (plausibility alone poses a real challenge), but, instead, it succeeds brilliantly, drawing us completely into a labyrinthine narrative.