This past Saturday the Women's March marked large, non-violent protests all over the United States. Whether you agree with the protesters or not, this is a good occasion to revisit some of the history of peaceful protests and dissent in United States, stretching all the way back to the founding fathers and the right to freedom of speech and assembly peaceably. From women's suffrage, to the civil rights movement, to the Tea Party, dissent against the established order and non-violent protests have a long and storied history in our nation.
Front Porch Politics: The Forgotten Heyday of American Activism in the 1970s and 1980s by Michael Stewart Foley
An on-the-ground history of ordinary Americans who took to the streets when political issues became personal. It is widely believed that Americans of the 1970s and '80s were exhausted by the upheavals of the '60s and eager to retreat to the private realm. When they did take action, it was mainly to express their disillusionment with government by supporting the right. In fact, as Michael Stewart Foley shows, neither of these assumptions is correct. On the community level, the 1970s and '80s saw vibrant new forms of political activity emerge. Tenants challenged landlords, farmers practiced civil disobedience to protect their land, and laid-off workers asserted a right to own their idled factories. Activists fought to defend the traditional family or to expand the rights of women, while entire towns organized to protest the toxic sludge in their basements. In all these arenas, Americans were propelled by their own experiences into the public sphere. Disregarding conventional ideas of "left" and "right," they turned to political action when they perceived an immediate threat to the safety and security of their families, homes, or dreams. Front Porch Politics is a people's history told through on-the-ground experiences. Recalling crusades famous and forgotten, Foley shows how Americans followed their outrage into the streets. Their distinctive style of visceral, local, and highly personal activism remains a vital resource for the renewal of American democracy.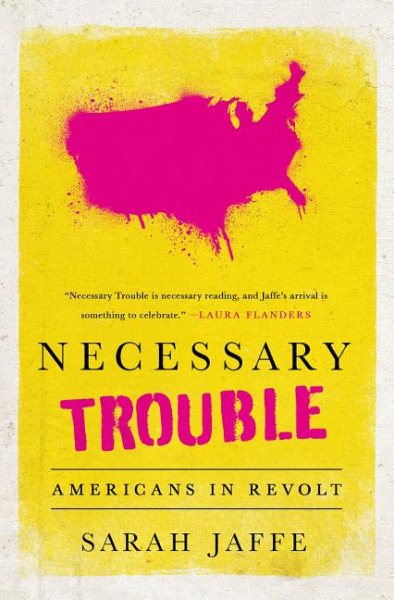 Necessary Trouble: Americans in Revolt by Sarah Jaffe
The 2008 financial crisis crystallized for people around the country the fact that something was wrong. Americans had already been losing faith in elites who had failed to protect them from crisis after crisis and disaster after disaster. After the collapse, we expected someone to have a solution but were inevitably disappointed. Instead, we got high and rising unemployment, foreclosures spiraling out of control, and, as the protest chant went, "banks got bailed out, we got sold out."
The spark was slow to start, but it has grown since. Tea Partiers challenged conservative politicians to keep their promises; Wisconsinites took over their capitol to demand a halt to cuts to their union rights; Walmart and fast-food workers went on strike for a raise; Wall Street found itself Occupied; the deaths of unarmed young men touched off a twenty-first-century black freedom struggle. The movements swelled, intersected, and spread around the country, helped along by social media. At their core, they were all challenges to who wields power in the US, regardless of political allegiance.
Telling this story matters because it challenges the narrative that Americans are apathetic and indifferent to politics and that there is no common ground between Left and Right. Necessary Trouble offers readers an understanding of today's new radicals–the troublemakers of all stripes who refuse to sit any longer on the sidelines and wait for things to improve.
Let Freedom Ring: Stanley Tretick's Iconic Images of the March on Washington by Kitty Kelley
Despite the heat and humidity, people came in droves from across the country and around the world, heading for the towering spire of the Washington Monument in our nation's capital. All of the marchers–black, white, Christian, and Jew–shared the same dream: freedom and equality for 19 million African Americans. Almost 300,000 strong, the marchers poured into Washington, D.C., to bear witness, to hear the immortal words of Martin Luther King, Jr., and to petition Congress to pass the President's Civil Rights bill.
Stanley Tretick, a seasoned photojournalist best known for his iconic images of President Kennedy and his family, was also in the crowd, drawing inspiration from the historic scenes unfolding before him. In this magnificent book, his stirring photographs of that day are published for the first time. Accompanied by an insightful essay and captions from bestselling author Kitty Kelley, Let Freedom Ring commemorates the fiftieth anniversary of the March on Washington and celebrates the crescendo of the Civil Rights movement in America.
March by John Lewis
This graphic novel trilogy is a first-hand account of Congressman John Lewis' lifelong struggle for civil and human rights, meditating in the modern age on the distance traveled since the days of Jim Crow and segregation. Rooted in Lewis' personal story, it also reflects on the highs and lows of the broader civil rights movement. Book one spans Lewis' youth in rural Alabama, his life-changing meeting with Martin Luther King, Jr., the birth of the Nashville Student Movement, and their battle to tear down segregation through nonviolent lunch counter sit-ins, building to a stunning climax on the steps of City Hall. Book two takes place after the Nashville sit-in campaign. His commitment to justice and nonviolence has taken him from an Alabama sharecropper's farm to the halls of Congress, from a segregated schoolroom to the 1963 March on Washington D.C., and from receiving beatings from state troopers, to receiving the Medal of Freedom awarded to him by Barack Obama, the first African-American president.
Revolutionary Dissent: How the Founding Generation Created the Freedom of Speech by Stephen D. Solomon
When the Framers of the Constitution developed what we call today the Freedom of Speech, they didn't realize they would be setting a foundation for the American political character we know today – raucous, intemperate, and often mean-spirited. This character is not limited to contemporary political discourse, as we so often assume. Revolutionary Dissent brings alive a world far more complicated than the history we're all familiar with suggests, giving a clear picture of just how imprecise the Framers were about what such freedoms actually meant. Solomon explores through a series of chronological, advancing narratives how Americans employed robust and colorful expression as they debated separation from England and creation of a new system of government. Uninhibited protest provided vital meaning to the First Amendment's guarantees of freedom of speech and presses at a time when legal doctrine offered little protection from government prosecution. Revolutionary Dissent shows that the roots of the careers of satirists like Jon Stewart and Stephen Colbert and pundits like Rush Limbaugh and Keith Olbermann, and the acts of flag burning, draft card destruction, and sit-ins like Occupy Wall Street, lie in the Revolutionary period's inflammatory engravings of Paul Revere, the polemics of Thomas Paine, and the symbol-laden protests against the Stamp Act. This is truly a revelatory work on the history of free expression in America
Winter Soldiers: An Oral History of the Vietnam Veterans Against the War by Richard Stacewicz
A collection of in-depth interviews with more than 30 members of the Vietnam Veterans Against the War (VVAW), a veterans' organization that, for the first time in American history, provided a forum for veterans to speak out against the war from which they had just returned. These accounts, drawn both from veterans' experiences in Vietnam, as well as in the ideological war at home, provides rare perspective on a formative and crucial era in American history.
A Woman's Crusade: Alice Paul and the Battle for the Ballot by Mary Walton
Alice Paul began her life as a quiet girl from a strict Quaker family in New Jersey. But as a young woman, an interest in social work brought her to England, where she apprenticed with the militant suffrage movement there, led by Emmeline Pankhurst and her daughters. Upon her return to the United States, Alice founded her own suffrage movement. Calling themselves "Silent Sentinels," she and her followers were the first protesters to picket the White House. Behind bars, they went on hunger strikes and were force-fed and brutalized. Years before Gandhi's campaign of nonviolent resistance, and decades before civil rights demonstrations, Alice Paul and her followers practiced peaceful civil disobedience. In 1920, a woman's right to vote finally became law. In celebration of the 90th anniversary of the Sentinels' great victory, here at last is the inspiring story of the woman who dedicated her life to winning universal suffrage for women and helped propel that dream to reality.