It's Banned Books Week! An annual celebration of the power of the written word, Banned Books Week honors the idea that certain books can be difficult, thought-provoking, or offensive for some, while for others, they are revelatory, liberating, even inspirational, or maybe just a good read. You may be familiar with the all-time most challenged titles, including J.K. Rowling's Harry Potter books and the Bible. As reported to the American Library Association's Office for Intellectual Freedom, the following titles, available with your Pasadena Public Library card, were among the ten most frequently challenged books in 2016. (The reviews included are all from professional publishing industry journals.)
To read more about why the following were challenged, visit this ALA OIF page. Many books are challenged in school libraries or because of themes deemed controversial for children or teens. If you haven't read a kid's book in a while, are curious about the controversies, or just want to find an interesting read, consider one or more of the titles below.
This One Summer by Mariko Tamaki, illustrated by Jillian Tamaki
Rose and Windy, friends for two weeks every summer in nearby Ontario lake cottages, have hit early adolescence. Rose, a bit older, has knowledge and polish that tubby, still-childish Windy lacks, and Windy sometimes bores her. Yet Windy's instincts are often sound, while Rose is led astray by an infatuation with a local convenience store clerk. As Rose's parents' marriage founders and the taunts of local teens wake her to issues of social class, Rose veers between secret grief and fleeting pleasure in the rituals of summer. Jillian Tamaki's exceptionally graceful line is one of the strengths of this work from the cousin duo behind Skim. Printed entirely in somber blue ink, the illustrations powerfully evoke the densely wooded beach town setting and the emotional freight carried by characters at critical moments, including several confronting their womanhood in different and painful ways. Fine characterization and sensitive prose distinguish the story, too—as when Rose remembers the wisdom a swimming teacher shared about holding his breath for minutes at a time: "He told me the secret was he would tell himself that he was actually breathing."
Drama by Raina Telgemeier, with color by Gurihiru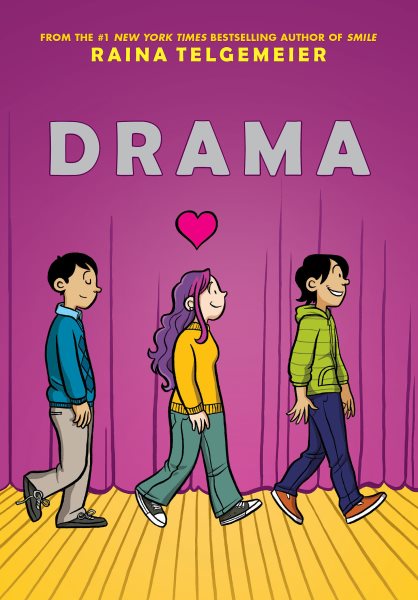 Callie loves the theater, even if she can't sing well enough to perform in her beloved musicals. But when drama and romance—both onstage and off—cause problems, Callie finds that set design may be the easiest part of putting on a play. Telgemeier is prodigiously talented at telling cheerful stories with realistic portrayals of middle-school characters. Callie is likable, hardworking, and enthusiastic, but she is as confused about relationships and love as any young teen, and she flits from crush to crush in a believable fashion. Nonactors will love having a spotlight shine on the backstage action, but even those who shun the stage will identify with this roller-coaster ride through young teen emotions. In addressing issues such as homosexuality, Drama is more teen-oriented than Telgemeier's elementary-school-friendly Smile (2010). Her deceptively simple art may seem cartoonish, but it is grounded in a firm sense of style and washed in warm colors to give the story an open, welcoming feel. In this realistic and sympathetic story, feelings and thoughts leap off the page, revealing Telgemeier's keen eye for young teen life.
George by Alex Gino
Though others see her as male, 10-year-old George has long known that she is a girl, and she longs for people to see that truth, even while the idea terrifies her. When George's fourth-grade class has tryouts for a school production of Charlotte's Web, George desperately wants to play Charlotte, a character she adores. George's teacher doesn't allow to George to audition for the part, but her supportive best friend Kelly, who is cast as Charlotte, comes up with a plan that may give George the chance she needs. The taunts of a school bully, George's self-doubts, and her mother's inability to truly hear what George is telling her carry real weight as debut author Gino's simple, direct writing illuminates George's struggles and quiet strength. George's joy during stolen moments when she can be herself will resonate with anyone who has felt different, while providing a necessary window into the specific challenges of a child recognizing that they are transgender. Profound, moving, and—as Charlotte would say—radiant, this book will stay with anyone lucky enough to find it.
I Am Jazz by Jessica Herthel and Jazz Jennings, pictures by Shelagh McNicholas
In 2011, a documentary was released about transgender Jazz Jennings. Now 13, Jennings tells her story. "I have a girl brain but a boy body," she explains, portraying herself from early childhood on preferring the color pink and mermaid costumes to playing with "trucks or tools or superheroes," along with a typical array of interests in dancing, soccer, and drawing. The book gives a clear explanation, even for the youngest, of how she knew that she was born different and the importance of family acceptance. Aside from a trio of small photos at the conclusion, this draws on bright watercolor illustrations done with casual realism to underscore Jennings' determined femininity. The pictures at time go overboard on the girlishness, but both art and narrative accentuate the positive, though not without commenting on the negative. Jennings is mostly surrounded by smiling, supportive friends and family members (the film tells a similar, but more emotionally charged, story), but there are teasing peers and "confused" teachers, though most are persuaded into acceptance. "I am happy. I am having fun. I am proud!" is a reassuring message for other trans or "different" children—and their families, too.
Two Boys Kissing by David Levithan
It's a different world for teenagers coming of age and coming out now, compared to when Levithan's Boy Meets Boy was published… He speaks directly to this new generation in this novel, which instantly claims its place in the canon of gay literature. As the title suggests, a kiss plays a central part: it takes place on the lawn of a high school where two former boyfriends try to set a world record for the longest kiss. As the title also suggests, this one's for the boys. Although varyingly supportive friends and family are part of the story, Levithan focuses on the gay male community. Craig and Henry, the two participating in the kiss, are no longer dating, throwing an element of uncertainty into an act that's romantic, political, and personal. Neil and Peter have been dating for a year and are beginning to wonder what's next. Avery, "born a boy that the rest of the world saw as a girl," and Ryan are caught up in the dizzying excitement of meeting someone new. And Cooper is rapidly losing himself into a digital oblivion. But as much as this story is about these teenagers, it's also about their forebears. Levithan builds a bridge between today's young gay men and those who have come (and gone) before them through an audacious choice of narrator: the collective generation of gay men lost to AIDS. This chorus of voices holds court on body image ("When we were healthy we were ignorant. We could never be content in our own skin"), family (both biological and found), hookup apps, dancing, the reality of watching loved ones die, and the fleeting preciousness of life. The narrators are positioned as self-described "shadow uncles" and "angel godfathers," but Levithan doesn't canonize them. "The minute you stop talking about individuals and start talking about a group, your judgment has a flaw in it," they observe when negative reactions to the boys' kiss mount as it gains widespread attention. "We made this mistake often enough." There are no chapters; the story moves among the characters' experiences and the narrators' commentary, proceeding ever forward in the way that life does. As Craig and Henry's kiss approaches record-setting territory, and Cooper approaches becoming a statistic, the novel builds into something triumphant. Many will read the final pages with their hearts in their throats. Levithan makes it clear that loving and living are as imperfect as those who practice them, but no less precious for their flaws. A landmark achievement from a writer and editor who has helped create, in literature, a haven for queer youth.
Looking For Alaska by John Green
(John Green, author of  Young Adult novels including The Fault in Our Stars, published his first novel to favorable review:) This ambitious first novel introduces 16-year-old Miles Halter, whose hobby is memorizing famous people's last words. When he chucks his boring existence in Florida to begin this chronicle of his first year at an Alabama boarding school, he recalls the poet Rabelais on his deathbed who said, "I go to seek a Great Perhaps." Miles's roommate, the "Colonel," has an interest in drinking and elaborate pranks-pursuits shared by his best friend, Alaska, a bookworm who is also "the hottest girl in all of human history." Alaska has a boyfriend at Vanderbilt, but Miles falls in love with her anyway. Other than her occasional hollow, feminist diatribes, Alaska is mostly male fantasy-a curvy babe who loves sex and can drink guys under the table. Readers may pick up on clues that she is also doomed. Green replaces conventional chapter headings with a foreboding countdown-"ninety-eight days before," "fifty days before"-and Alaska foreshadows her own death twice ("I may die young," she says, "but at least I'll die smart"). After Alaska drives drunk and plows into a police car, Miles and the Colonel puzzle over whether or not she killed herself. Theological questions from their religion class add some introspective gloss. But the novel's chief appeal lies in Miles's well-articulated lust and his initial excitement about being on his own for the first time. Readers will only hope that this is not the last word from this promising new author.
Make Something Up: Stories You Can't Unread by Chuck Palahniuk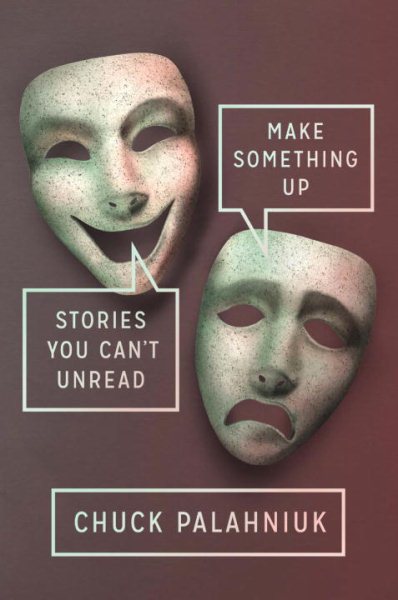 For the first time, Palahniuk (Beautiful You) collects his short stories, which feature his signature humor, horror, and grit. Old fans will relish Tyler Durden, from Palahniuk's debut 1996 novel Fight Club, returning in "Expedition" to spread his twisted influence in Hamburg, Germany. Also included are previously published stories such as "Zombies," in which the newest high school fad is lobotomy by defibrillator; "Phoenix," in which a broken family deals with the aftermath of a house fire; and the cringe-worthy "Cannibal," capable of turning stomachs. Not surprisingly, Palahniuk finds sincerity among his characters even in disreputable occurrences in "Romance" and "How a Jew Saved Christmas." Some of his never-before-published stories show him experimenting with voice and style to mixed success, but the biggest winner is the novella "Inclinations," which follows a group of teenagers checked into a "gay cure" hospital. Other stories deal with fire, bodily fluids, malfunctions, critiques of material society, bestiality, a bewitched tennis ball, and a murder at a Burning Man–type retreat. The collection is essential for Palahniuk fans and will likely win him some new ones.
Eleanor & Park by Rainbow Rowell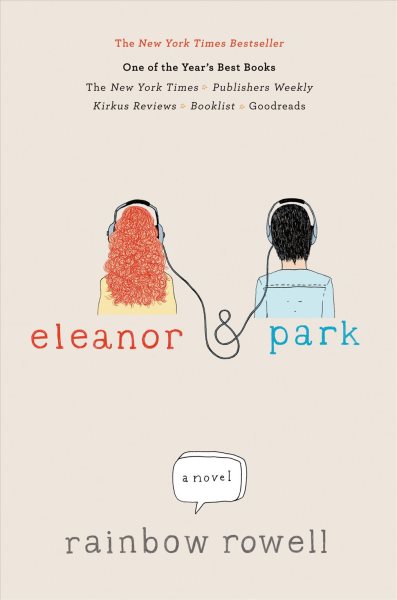 Half-Korean sophomore Park Sheridan is getting through high school by lying low, listening to the Smiths (it's 1986), reading Alan Moore's Watchmen comics, never raising his hand in class, and avoiding the kids he grew up with. Then new girl Eleanor gets on the bus. Tall, with bright red hair and a dress code all her own, she's an instant target. Too nice not to let her sit next to him, Park is alternately resentful and guilty for not being kinder to her. When he realizes she's reading his comics over his shoulder, a silent friendship is born. And slowly, tantalizingly, something more. Adult author Rowell (Attachments), making her YA debut, has a gift for showing what Eleanor and Park, who tell the story in alternating segments, like and admire about each other. Their love is believable and thrilling, but it isn't simple: Eleanor's family is broke, and her stepfather abuses her mother. When the situation turns dangerous, Rowell keeps things surprising, and the solution—imperfect but believable—maintains the novel's delicate balance of light and dark.