We're feeling a bit punny this week, September 24-30. Maybe you're not up for
banned books
… how about a band book? You can always find plenty of controversy, challenge, humor, and drama in the stories (true, fictional, or somewhere in between) of rock stars, their music, their influence, and the lives they lead. Choose one of the titles below, and for those about to read, we salute you!
Rob Sheffield, the Rolling Stone columnist and bestselling author of Love Is a Mix Tape offers an entertaining, unconventional look at the most popular band in history, the Beatles, exploring what they mean today and why they still matter so intensely to a generation that has never known a world without them.
Dreaming the Beatles is not another biography of the Beatles, or a song-by-song analysis of the best of John and Paul. It isn't another exposé about how they broke up. It isn't a history of their gigs or their gear. It is a collection of essays telling the story of what this ubiquitous band means to a generation who grew up with the Beatles music on their parents' stereos and their faces on T-shirts. What do the Beatles mean today? Why are they more famous and beloved now than ever? And why do they still matter so much to us, nearly fifty years after they broke up?
As he did in his previous books, Love is a Mix Tape, Talking to Girls About Duran Duran, and Turn Around Bright Eyes, Sheffield focuses on the emotional connections we make to music. This time, he focuses on the biggest pop culture phenomenon of all time—The Beatles. In his singular voice, he explores what the Beatles mean today, to fans who have learned to love them on their own terms and not just for the sake of nostalgia.
Dreaming the Beatles tells the story of how four lads from Liverpool became the world's biggest pop group, then broke up—but then somehow just kept getting bigger. At this point, their music doesn't belong to the past—it belongs to right now. This book is a celebration of that music, showing why the Beatles remain the world's favorite thing—and how they invented the future we're all living in today.
Unknown Pleasures: Inside Joy Division by Peter Hook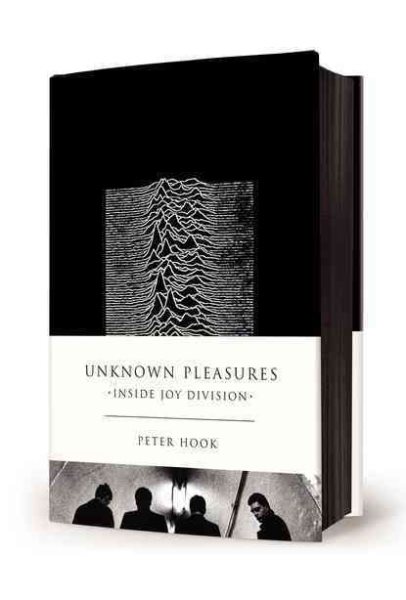 One of the progenitors of what became alternative rock, Joy Division pioneered a sound that would reverberate for decades, inspiring a litany of bands in its wake. The recording career of the band was tragically cut short by the suicide of lead singer Ian Curtis . Founding member and bassist Peter Hook recounts the history of Joy Division, offering insight, righting wrongs, and separating fact from fiction. Hook is humble and affable (he's the first to admit he's not the world's greatest bass player), and his tone is more like that of a lengthy discussion with a pal at the pub, rather than a studied, academic assessment of the band and its legacy. This warts-and-all approach results in a warm, occasionally melancholy reminiscence, as Hook discusses the band's process, as well as its members' willful ignorance of Curtis's declining mental state. While the book ends on a sad note, Hook's fond recollection of various moments in Joy Division's short life, such as meeting a young U2, wrestling with a temperamental van on early tours, and a track-by-track commentary on the band's albums (he recommends readers put on the album in question when reading about Closer and Unknown Pleasures) will likely give readers a deeper appreciation for the people behind the music. Hook has written one of the warmest, most honest musical memoirs in recent memory.
Decibel Diaries: A Journey Through Rock in 50 Concerts by Carter Alan
Boston deejay Alan's memoir focuses on his experiences of 50 different rock concerts and their influence on his life. Each episode is meant to bring insight into the artists that have driven American music and culture at different junctures of history. Alan (Radio Free Boston) bore witness to many bands in their prime, including U2 and Pearl Jam. He profiles pivotal concerts in the history of bands such as the Clash, whose first American tour in 1979 is discussed in the book. Alan was present at their show in Harvard Square, where they opened with "I'm So Bored with the U.S.A." He was also lucky enough to see Prince before he became a major star. Alan mostly sets out to communicate his impressions of the artists in the moment, providing matter-of-fact summaries without necessarily knowing for certain that these musicians would eventually become legendary acts. In some key moments, Alan recalls revealing facts about particular artists, such as when Joe Strummer walked around the Harvard Square crowd talking to concertgoers.
A Visit From the Goon Squad by Jennifer Egan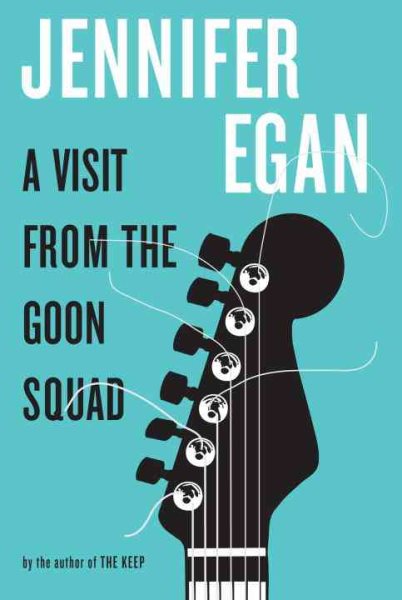 We begin in contemporary-ish New York with kleptomaniac Sasha and her boss, rising music producer Bennie Salazar, before flashing back, with Bennie, to the glory days of Bay Area punk rock, and eventually forward, with Sasha, to a settled life. By then, Egan has accrued tertiary characters, like Scotty Hausmann, Bennie's one-time bandmate who all but dropped out of society, and Alex, who goes on a date with Sasha and later witnesses the future of the music industry. Egan's overarching concerns are about how rebellion ages, influence corrupts, habits turn to addictions, and lifelong friendships fluctuate and turn. Or as one character asks, "How did I go from being a rock star to being a fat **** no one cares about?" Egan answers the question elegantly, though not straight on, as this powerful novel chronicles how and why we change, even as the song stays the same.
Van Halen Rising: How a Southern California Backyard Party Band Saved Heavy Metal by Greg Renoff
Most accounts of major bands focus on the fame and fortune of rock stardom. By contrast, Renoff (The Big Tent) covers America's preeminent hard rock act in the years before they became famous. He argues that Van Halen "transformed the staid sound of metal into something that sounded fresh and vibrant" by fusing essential metal elements, such as heavy rhythms and guitar virtuosity, with monster hooks and soul-inspired grooves. Renoff charts Van Halen's earliest years playing in the garages, gymnasiums, and backyards of suburban Pasadena, Calif. Drawing on many interviews with band associates, he details how drummer Alex Van Halen and his guitar prodigy brother, Eddie, hooked up with born showman "Diamond" David Lee Roth and bass maestro Michael Anthony to become California legends. Armed with a bottomless well of confidence and "impossibly tight pants," Roth led Van Halen to the top of the Pasadena backyard party circuit, building a following that helped the band score a record deal and, eventually, rock immortality. Renoff's book is a thoroughly entertaining read that will appeal to every hard rock fan.
Kicking & Dreaming: A Story of Heart, Soul, and Rock and Roll by Ann Wilson, Nancy Wilson and Charles R. Cross
After years of playing small clubs around Vancouver and the Pacific Northwest for little-to-nothing and enduring numerous indignities at the hands of spiteful club owners, sisters Ann and Nancy Wilson finally got their break when Heart's "Crazy On You" hit the airwaves in 1975, thus realizing a dream born when the girls first saw the Beatles on The Ed Sullivan Show. But while venues got bigger and paychecks increased, they still struggled with rampant sexism in the music industry, and Ann continued to face criticism for her fluctuating weight. Nevertheless, the duo persevered to attain huge commercial success, paving the way for countless female musicians who would follow. Here, the sisters—with the aid of Cross (Heavier than Heaven)—recount failures and victories big and small, as well as the stories behind classic songs like "Magic Man," "Barracuda," and "What About Love" with equal parts candor and humility. Unfortunately, Heart's career arc is all too typical, characterized by success, substance abuse, decline, and a comeback. Still, the sisters' grounded approach and appreciation for each other adds a refreshing element to an oft-told tale.
Dig If You Will the Picture: Funk, Sex, God, and Genius in the Music of Prince by Ben Greenman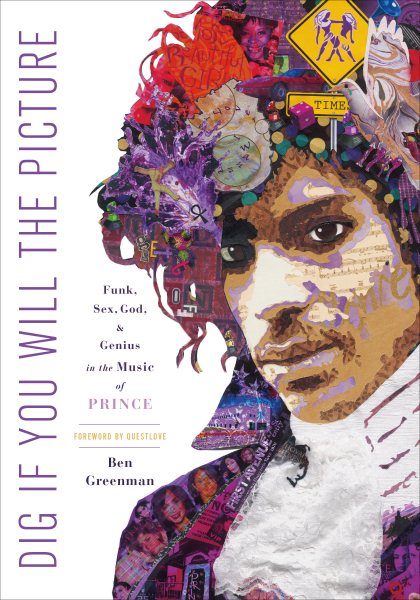 From his earliest appearances in the Minneapolis club scene dressed in bikini briefs and knee-high boots to opening for the Rolling Stones, on through massive success with Purple Rain (1984) and the superstardom that followed, the artist known as Prince was famous for virtuoso guitar-shredding and falsetto vocals, James Brown dance moves, flamboyant attire, and racy lyrics. Though sensual, singular, and idiosyncratic, Prince didn't come out of a vacuum: he incorporated the influences of Brown, George Clinton, Sly Stone, Jimi Hendrix, and others, borrowing their best qualities and synthesizing them into something truly original. As much a fan boy as an authority, rock journalist Greenman (I Am Brian Wilson, 2016) investigates Prince's development as an artist, his career trajectory, his massive creative output, and his numerous side projects. He sifts through Prince minutiae in an almost savant-like way, parses the lyrics for meaning, decodes the Princified spellings, revealing a mastery of Prince's catalog, including B-sides, bootlegs, concert and television appearances, and unreleased items buried in the vault at Paisley Park. One doesn't have to be a Princeophile to enjoy this celebration of the artist, but it helps.
From Cradle to Stage: Stories From the Mothers Who Rocked and Raised Rock Stars by Virginia Hanlon Grohl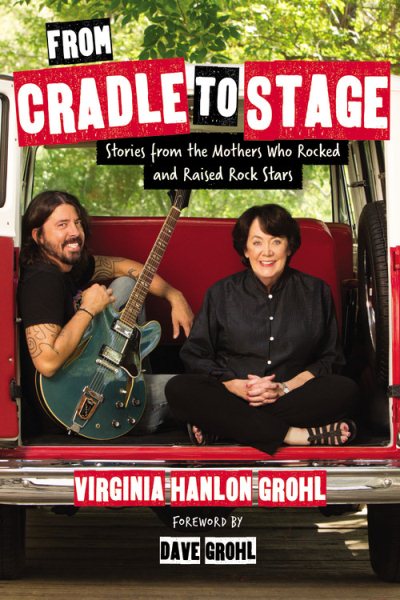 While the Grohl family had always been musical (the family sang together on long car trips, harmonizing to Motown and David Bowie), Virginia never expected her son to become a musician, let alone a rock star. But when she saw him perform in front of thousands of screaming fans for the first time, she knew that rock stardom was meant to be for her son. And as Virginia watched her son's star rise, she often wondered about the other mothers who raised sons and daughters who became rock stars. Were they as surprised as she was about their children's fame? Did they worry about their children's livelihood and well-being in an industry fraught with drugs and other dangers? Did they encourage their children's passions despite the odds against success, or attempt to dissuade them from their grandiose dreams? Do they remind their kids to pack a warm coat when they go on tour?
Virginia decided to seek out other rock star mothers to ask these questions, and so began a two-year odyssey in which she interviewed such women as Verna Griffin, Dr. Dre's mother; Marianne Stipe, Michael Stipe of REM's mother; Janis Winehouse, Amy Winehouse's mother; Patsy Noah, Adam Levine's mother; Donna Haim, mother of the Haim sisters; Hester Diamond, Mike D of The Beastie Boys' mother.
With exclusive family photographs and a foreword by Dave Grohl, From Cradle to Stage will appeal to mothers and rock fans everywhere.
Grail Guitar: The Search for Jimi Hendrix's Purple Haze Telecaster by Chris Adams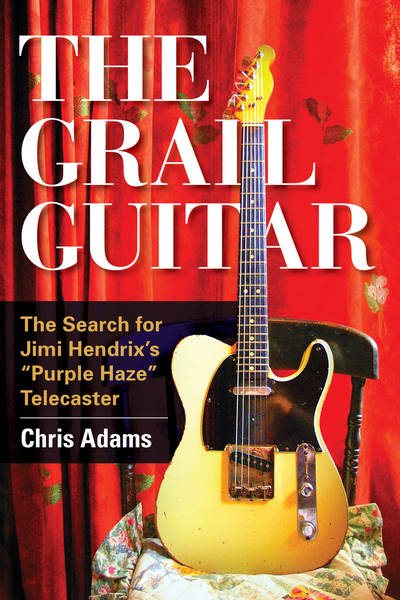 In 1973, Adams bought a guitar from a music store in London. The salesman mentioned that the guitar had been brought in by one of Jimi Hendrix's roadies. It was a maybe-it's-true curiosity, and the author talked about the possible Hendrix connection from time to time as the years passed. Forty years later, though, he learned that a lot of Hendrix fans were debating the existence of a (possibly mythical) "lost" guitar, one used by Hendrix at some London recording sessions that had disappeared in the early 1970s. Could Adams have bought that guitar? He was determined to find out. This endlessly fascinating account of his search for the truth is structured like a police procedural: Adams finds clues, follows leads, and interviews people who might know something. It's the story of a guitar, sure, but it's also the story of a music subculture, of a global fan collective whose devotion to a long-dead musician has shaped their lives. It's not often that you can say about a music book that readers will be impatiently turning the pages, anxious to see how the story plays out, but that's exactly what happens here.
This Is Spinal Tap: A Rockumentary by Martin Di Bergi [DVD] /Metro Goldwyn Mayer; produced by Karen Murphy; presented by Embassy Pictures; directed by Rob Reiner;  written by Christopher Guest, Michael McKean, Harry Shearer, Rob Reiner
Okay, so one movie (not a book). The writing in this mock documentary about an British rock band doing one last tour is so clever, sharp, and hilarious that it's as close as you can get to a good read in audiovisual form.  The satire here is turned "up to eleven."