April is a month when we celebrate poetry. Consider the difficulty of translating anything between two languages, and then add the nuance and complexity of poetic language-song lyrics, for example. Many songs have lyrics that are closer to poetry set to music than to straight prose. Nothing points up how thoughfully and carefully translators have to work with more hilarious results than the YouTube channel "Google Translate Sings," where vocalists–playing in complete earnestness–sing songs translated from English via Google Translate into two or more foreign languages and then back to English. For exmaple: how about the theme song from the movie Titanic (originally sung by Celine Dion). Here is Malinda Kathleen Reese, singing "My Heart Will Go On," after being run through the Google translation algorithm and back to English:
Now, appreciate the work done by translators on the titles below–from Old English, Turkish, French, Hebruew, and more. Watch some more Google Translates Sings, then check out these examples of excellent translation.
Happy Reading!
Beowulf: A New Verse Translation – translation by Seamus Heaney
When the great monster Grendel comes to Denmark and dashes its warriors' hopes, installing himself in their great hall and eating alive the valiant lords, the hero Beowulf arrives from over the ocean to wrestle the beast. He saves the Danes, who sing of his triumphs, but soon the monster's mother turns up to take him hostage: having killed her, our hero goes home to the land of the Geats, acquires the kingship, and fights to the death an enormous dragon. That's the plot of this narrative poem, composed more than a millennium ago in the Germanic language that gave birth (eventually) to our version of English. Long a thing for professors to gloss, the poem includes battles, aggressive boasts, glorious funerals, frightening creatures and a much-studied alliterative meter; earlier versions in current vernacular have pleased lay readers and helped hard-pressed students. Nobel laureate Heaney has brought forth a finely wrought, controversial (for having won a prize over a children's book) modern English version, one which retains, even recommends, the archaic strengths of its warrior world, where "The Spear-Danes in days gone by/ and the kings who ruled them had courage and greatness." Well-known digressions a detailed dirge, the tale-within-a-tale of Hengest, "homesick and helpless" in ancient Friesland find their ways into Heaney's English, which holds to the spirit (not always the letter) of the en face Anglo-Saxon, fusing swift story and seamless description, numinous adjectives and earthy nouns: in one swift scene of difficult swimming, "Shoulder to shoulder, we struggled on/ for five nights, until the long flow/ and pitch of the waves, the perishing cold drove us apart. The deep boiled up/ and its wallowing sent the sea-brutes wild." Heaney's evocative introduction voices his long-felt attraction to the poem's "melancholy fortitude," describing the decades his rendering took and the use he discovered for dialect terms. It extends in dramatic fashion Heaney's long-term archeological delvings, his dig into the origins of his beloved, conflicted by politics and place, English language.
Snow by Orhan Pamuk; translation by Maureen Freely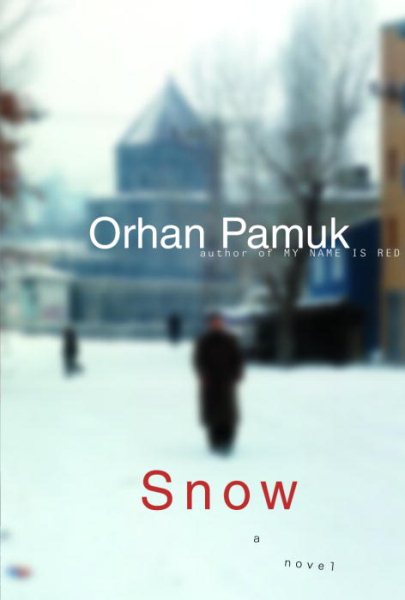 A Turkish poet who spent 12 years as a political exile in Germany witnesses firsthand the clash between radical Islam and Western ideals in this enigmatically beautiful novel. Ka's reasons for visiting the small Turkish town of Kars are twofold: curiosity about the rash of suicides by young girls in the town and a hope to reconnect with "the beautiful Ipek," whom he knew as a youth. But Kars is a tangle of poverty-stricken families, Kurdish separatists, political Islamists (including Ipek's spirited sister Kadife) and Ka finds himself making compromises with all in a desperate play for his own happiness. Ka encounters government officials, idealistic students, leftist theater groups and the charismatic and perhaps terroristic Blue while trying to convince Ipek to return to Germany with him; each conversation pits warring ideologies against each other and against Ka's own weary melancholy. Pamuk himself becomes an important character, as he describes his attempts to piece together "what really happened" in the few days his friend Ka spent in Kars, during which snow cuts off the town from the rest of the world and a bloody coup from an unexpected source hurtles toward a startling climax. Pamuk's sometimes exhaustive conversations and descriptions create a stark picture of a too-little-known part of the world, where politics, religion and even happiness can seem alternately all-consuming and irrelevant. A detached tone and some dogmatic abstractions make for tough reading, but Ka's rediscovery of God and poetry in a desolate place makes the novel's sadness profound and moving.
War and Turpentine by Stefan Hertmans; translation by David McKay
In this autobiographical novel, Flemish essayist, novelist, poet, and playwright Hertmans draws on his extensive fine arts background in a stirring remembrance of his grandfather Urbain Martien—World War I hero and devoted painter—to create a masterly treatise on the interconnections of life, art, memory, and heartbreaking love. Shortly before his grandfather's death in 1981, the narrator inherits the notebooks that Martien wrote in the last two decades of his life. "I wasted precious years diligently working on countless other projects and keeping a safe distance from his notebooks: those silent, patient witnesses that enclosed his painstaking, graceful pre-war handwriting like a humble shrine," Hertmans writes of his reticence to retell his grandfather's extraordinary life. But the notebooks provide insight into Martien's many facets, not least his childhood as the son of Franciscus, a talented but poor church painter, his heroism, and a lifetime paying obeisance to the capricious gods of art. In the two bookend sections, Hertmans demonstrates a painter's eye for the smallest detail, gracefully melding art criticism and philosophy. The book's middle section focuses on the war. Variously chaotic, horrifying, and hauntingly beautiful, Martien's war experience ends with his declaration of love for Maria Emilia, a woman from the neighborhood he watched from his bedroom while he convalesced, physically and mentally, from the war that shattered his life. Hertmans's prose, with a deft translation from McKay, works with thesame full palette as Urbain Martien's paintings: vivid, passionate—and in the end, life-affirming.
The Kingdom by Emmanuel Carrère; translation by John Lambert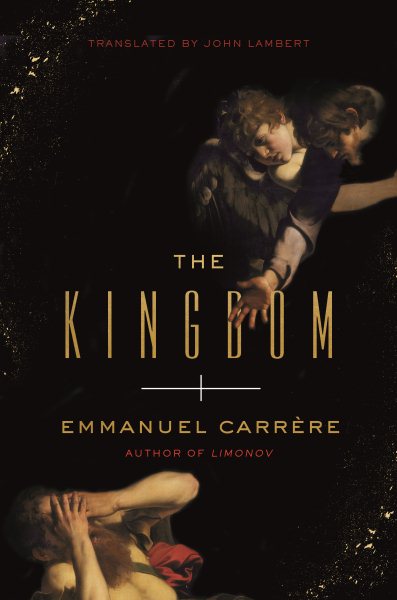 The latest from Carrère (Limonov) is a tale of modern and ancient Christianity, filtered through a text that's equal parts memoir, academic essay, and fictional exploration. Starting first with the author's brief, intense relationship with religion in the early 1990s, the book follows Carrère's path as he eventually finds fault with his faith. From here, he turns back the clock to parse out the lives of early Christian evangelists, particularly Paul and Luke, starting in 50 CE. Combining scholarship, biblical reference, and imagination, Carrère brings the exploits of these men, working to spread the story of Jesus to the masses while being persecuted and challenged by detractors, to life. The author approaches every moment with the mind of a skeptical storyteller, plugging in personal theories about the identities of the authors behind biblical letters and gospels and questioning the validity of the many miracles Jesus is said to have performed. Jumping back and forth through time—at one point, talk of the Virgin Mary leads to a
Sudden Death by Álvaro Enrigue; translation by Natasha Wimmer 
In his second work to be translated into English, Enrigue (Hypothermia) ingeniously uses a 16th-century game of pallacorda—a forerunner to tennis—between two hungover players to explore the beauties and atrocities of Renaissance Europe. In his fanciful mixing of historical fact and fiction, as well as his linguistic blend of earthiness and erudition, Enrigue can be compared to Roberto Bolaño. The novel recounts a match between the Spanish poet Quevedo and the notorious painter Caravaggio, "brutal and vulnerable, fragile behind his armour of grease, grappa, and cussedness." During the novel's changeovers, so to speak, Enrigue delves into the early literature of the sport (including a medieval account in which "four demons" bat around "the soul of a French seminarist"), expounds on Caravaggio's life and art, and profiles 16th-century political figures in the Old and New Worlds. Two talismanic objects thread their way through the narrative: a tennis ball wound with hair taken from the decapitated head of Anne Boleyn, and an iridescent scapular made from the hair of the Aztec emperor Cuachtémoc, executed by Hernán Cortés. Emblematic of the violence unleashed across the world during the bloody century of conquest and religious upheaval, each object passes into and out of the possession of various monarchs, nobles, or clergy before ending up with the two players exchanging strokes on a Roman court…[T]his is an unpredictable, nonpareil novel that, like the macabre tennis ball at its center, "bounce like a thing possessed."
Black Moses by Alain Mabanckou; translation by Helen Stevenson
A small book with a big narrative voice, this wacky new novel by Mabanckou follows the existential misfortunes of an orphan whose "kilometrically extended name" means "Thanks be to God, the black Moses is born on the earth of our ancestors." Things were always bad for Moses at the orphanage in Loango, a place full of corrupt and unscrupulous administrators who treat children "no better than cattle." But after the orphanage's director and his cronies, all relatives, change allegiance as the socialist revolution takes over the Congo, Moses decides to escape to the city of Pointe-Noire with the twins Songi-Songi and Tala-Tala. They agree to let him join them and give him the nickname Little Pepper when he spikes their food with chilis. The sordid streets of the city offer few better opportunities, however, and in colorful, weird prose, Moses recounts his few triumphs and many travails. His fellow escapees form a gang of petty thieves, but at 16, Moses is taken in by a kindly Zairian madam called Maman Fiat 500, who—with her employees, "ten girls, each more beautiful than the last"—provides him with the only family he will ever know. Moses ages quickly, spiraling into madness and forgetting. He wishes to become his own hero, Robin Hood, but he more closely resembles Don Quixote, eventually striking out on a last noble and violent quest worthy of his long name. This mythic, beguiling novel is a journey to discover what is hard-wired in us and what we make up about ourselves.fascinating book written by a curious, sharp mind.
Judas by Amos Oz; translation by Nicholas de Lange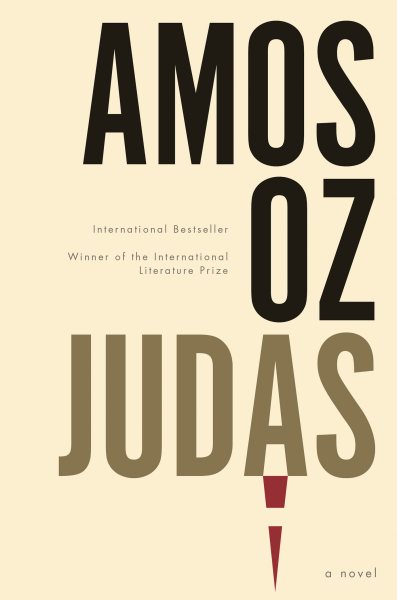 Oz raises fundamental questions concerning Israeli politics, religion, ethics, and history in this novel about a young Jewish scholar adrift in 1959 Jerusalem. Graduate student Shmuel Ash decides to abandon his studies and perhaps leave Jerusalem; when his parents can no longer support him, his girlfriend marries her ex-boyfriend, and even his Socialist discussion group breaks up. Answering an advertisement for a live-in companion in an old Jerusalem neighborhood, Shmuel finds a welcome retreat in the home of Gershom Wald, a 70-year-old retired schoolteacher suffering from an unnamed degenerative disease. Gershom's primary caregiver is his son's widow, Atalia, and Shmuel's job consists mainly in providing Gershom with spirited debate. The old man's favorite topic—the formation of the state of Israel—proves somewhat sensitive in that Atalia's father, David Ben-Gurion opponent Shealtiel Abravanel, had opposed the idea of establishing a Jewish state without first addressing Arab concerns adequately, a position for which he was deemed a traitor. Gershom and Shmuel also discuss the famous traitor that Shmuel has been studying, Judas Iscariot. As Shmuel researches Abravanel and Judas, Oz (A Tale of Love and Darkness) suggests each might be less a traitor than an idealist with an alternate point of view. Oz's appreciation for multiple perspectives underlies powerful descriptions of Judas at the crucifixion, the brutal murder of Atalia's husband's during Israel's War of Independence, and Shmuel with Atalia at King David's tomb. Through the story of one young man at a crossroads, Oz presents thought-provoking ideas about traitors, a moving lament for the cost of Israeli-Arab conflict, and a heartfelt call for compassion.