Our 2018 One City, One Story book, Rise of the Rocket Girls, is the riveting true story of the women who launched America into space. While Rise of the Rocket Girls is about the women who worked at JPL in the 1940s and 50s, we'll be having a facinating talk from a current JPL employee, Tracy Drain, a key part of development and mission operations, this Thursday, March 22 at 7pm at the Central Library. In celebration of our One City, One Story book and this exciting event, here are the stories of many amazing women in the aviation and aerospace fields who helped us reach the sky and the stars.
The Mercury 13: The Untold Story of Thirteen American Women and the Dream of Spaceflight by Martha Ackmann
In 1961, just as NASA launched its first man into space, a group of women underwent secret testing in the hopes of becoming America's first female astronauts. They passed the same battery of tests at the legendary Lovelace Foundation as did the Mercury 7 astronauts, but they were summarily dismissed by the boys' club at NASA and on Capitol Hill. The USSR sent its first woman into space in 1963; the United States did not follow suit for another twenty years.
For the first time, Martha Ackmann tells the story of the dramatic events surrounding these thirteen remarkable women, all crackerjack pilots and patriots who sometimes sacrificed jobs and marriages for a chance to participate in America's space race against the Soviet Union. In addition to talking extensively to these women, Ackmann interviewed Chuck Yeager, John Glenn, Scott Carpenter, and others at NASA and in the White House with firsthand knowledge of the program, and includes here never-before-seen photographs of the Mercury 13 passing their Lovelace tests.
Despite the crushing disappointment of watching their dreams being derailed, the Mercury 13 went on to extraordinary achievement in their lives: Jerrie Cobb, who began flying when she was so small she had to sit on pillows to see out of the cockpit, dedicated her life to flying solo missions to the Amazon rain forest; Wally Funk, who talked her way into the Lovelace trials, went on to become one of the first female FAA investigators; Janey Hart, mother of eight and, at age forty, the oldest astronaut candidate, had the political savvy to steer the women through congressional hearings and later helped found the National Organization for Women.
A provocative tribute to these extraordinary women, The Mercury 13 is an unforgettable story of determination, resilience, and inextinguishable hope.
Amelia Earhart's Daughters: The Wild and Glorious Story of American Women Aviators from World War II to the Dawn of the Spaceage by Leslie Haynsworth and David Toomey
In 1942, with war raging on two fronts and military pilots in short supply, the U.S. Army Air Force enlisted a handful of skilled female aviators to deliver military planes from factories to air bases–expanding the successful program to include more than one thousand women. These superb pilots flew every aircraft in the U.S. Army Air Force–including B-26s when men were afraid to–logging more than six million miles in all kinds of weather. Yet when World War II ended, their wartime heroism was left unheralded.
In 1961, with the dawn of the space age, a handful of top female pilots took part in a new program termed "Women in Space." Subjected to the same rigorous tests as the Mercury astronauts, thirteen women–top-notch pilots–were admitted to the program. Once again women had reason to dream…that at least one of them would be the first of their sex in space. The matter went as far as Congress, where dramatic hearings included testimony from astronauts John Glenn and Scott Carpenter. But their hopes were dashed. These skilled aviators had the "right stuff" at the wrong time, and again women were denied their place in history. This is their story, one of courage, ferocity, and patriotism.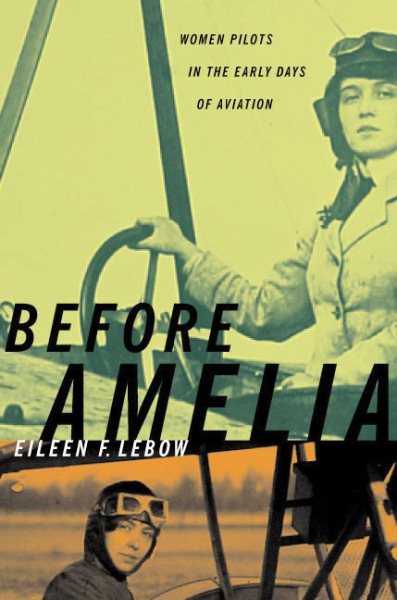 Before Amelia: Women Pilots in the Early Days of Aviation by Eileen F. Lebow
Amelia Earhart is, without a doubt, the world's most famous woman aviator, but she was not the first. Dozens of women pilots were in the vanguard of early aviation more than a decade before Amelia learned to fly an airplane. Before Amelia is the remarkable story of these women pioneer aviators who braved the skies during the first two decades.
While most books have only examined the women aviators of a single country, Eileen Lebow examines aviation in France, Russia, Germany, Great Britain, and the United States. The story begins with Raymonde de Laroche, a French woman who became the first licensed female pilot in 1910. De Laroche, Lydia Zvereva, Melli Beese, Hilda Hewlett, Harriet Quimby, and the other women pilots profiled here rose above contemporary gender stereotypes and proved their ability to fly the temperamental heavier-than-air contraptions of the day.
Lebow provides descriptions of the dangers and challenges of early flight. Crashes and broken bones were common, and some of the pioneers lost their lives. But these women were adventurers at heart. In an era when women's professional options were severely limited and the mere sight of ladies wearing pants caused a sensation, these women succeeded as pilots, flight instructors, airplane designers, stunt performers, and promoters. This book fills a large void in the history of the first two decades of flight.
The Sound of Wings: The Life of Amelia Earhart by Mary S. Lovell
When Amelia Earhart mysteriously disappeared in 1937 during her attempted flight around the world, she was already known as America's most famous female aviator. Her sense of daring and determination, rare for women of her time, brought her insurmountable fame from the day she became the first woman to cross the Atlantic in an airplane. In this definitive biography, Mary S. Lovell delivers a brilliantly researched account on Earhart's life using the original documents, letters, the logbooks of Earhart and her contemporaries, and personal interviews with members of Amelia's family, friends and rival aviators. The Sound of Wings vividly captures the drama and mystery behind the most influential woman in The Golden Age of Flight from her tomboy days at the turn of the century and her early fascinations with flying, to the unique relationship she shared with G.P. Putnam, the flamboyant publisher and public relations agent who became both her husband and her business manager. It is a revealing biography of an uncommonly brave woman, and the man who both aided and took advantage of her dreams.
Rocket Girl: The Story of Mary Sherman Morgan, America's First Female Rocket Scientist by George D. Morgan
This is the extraordinary true story of America's first female rocket scientist. Told by her son, it describes Mary Sherman Morgan's crucial contribution to launching America's first satellite and the author's labyrinthine journey to uncover his mother's lost legacy–one buried deep under a lifetime of secrets political, technological, and personal.
In 1938, a young German rocket enthusiast named Wernher von Braun had dreams of building a rocket that could fly him to the moon. In Ray, North Dakota, a young farm girl named Mary Sherman was attending high school. In an age when girls rarely dreamed of a career in science, Mary wanted to be a chemist. A decade later the dreams of these two disparate individuals would coalesce in ways neither could have imagined.
World War II and the Cold War space race with the Russians changed the fates of both von Braun and Mary Sherman Morgan. When von Braun and other top engineers could not find a solution to the repeated failures that plagued the nascent US rocket program, North American Aviation, where Sherman Morgan then worked, was given the challenge. Recognizing her talent for chemistry, company management turned the assignment over to young Mary.
In the end, America succeeded in launching rockets into space, but only because of the joint efforts of the brilliant farm girl from North Dakota and the famous German scientist. While von Braun went on to become a high-profile figure in NASA's manned space flight, Mary Sherman Morgan and her contributions fell into obscurity–until now.
Sally Ride: America's First Woman in Space by Lynn Sherr
Sally Ride made history as the first American woman in space. A member of the first astronaut class to include women, she broke through a quarter-century of white male fighter jocks when NASA chose her for the seventh shuttle mission, cracking the celestial ceiling and inspiring generations of women.
After a second flight, Ride served on the panels investigating the Challenger explosion and the Columbia disintegration that killed all aboard. In both instances she faulted NASA's rush to meet mission deadlines and its organizational failures. She cofounded a company promoting science and education for children, especially girls.
Sherr also writes about Ride's scrupulously guarded personal life—she kept her sexual orientation private—with exclusive access to Ride's partner, her former husband, her family, and countless friends and colleagues. Sherr draws from Ride's diaries, files, and letters. This is a rich biography of a fascinating woman whose life intersected with revolutionary social and scientific changes in America. Sherr's revealing portrait is warm and admiring but unsparing. It makes this extraordinarily talented and bold woman, an inspiration to millions, come alive.
Hidden Figures: The American Dream and the Untold Story of the Black Women Mathematicians Who Helped Win the Space Race by Margot Lee Shetterly
Before John Glenn orbited the earth, or Neil Armstrong walked on the moon, a group of dedicated female mathematicians known as "human computers" used pencils, slide rules and adding machines to calculate the numbers that would launch rockets, and astronauts, into space.
Among these problem-solvers were a group of exceptionally talented African American women, some of the brightest minds of their generation. Originally relegated to teaching math in the South's segregated public schools, they were called into service during the labor shortages of World War II, when America's aeronautics industry was in dire need of anyone who had the right stuff. Suddenly, these overlooked math whizzes had a shot at jobs worthy of their skills, and they answered Uncle Sam's call, moving to Hampton, Virginia and the fascinating, high-energy world of the Langley Memorial Aeronautical Laboratory.
Even as Virginia's Jim Crow laws required them to be segregated from their white counterparts, the women of Langley's all-black "West Computing" group helped America achieve one of the things it desired most: a decisive victory over the Soviet Union in the Cold War, and complete domination of the heavens.
Starting in World War II and moving through to the Cold War, the Civil Rights Movement and the Space Race, Hidden Figures follows the interwoven accounts of Dorothy Vaughan, Mary Jackson, Katherine Johnson and Christine Darden, four African American women who participated in some of NASA's greatest successes. It chronicles their careers over nearly three decades they faced challenges, forged alliances and used their intellect to change their own lives, and their country's future.