While the official beginning of summer isn't for another 3 weeks, we're getting our sandals on, setting up the grill, and looking forward to Summer Reading, which starts this Saturday, June 3. Head over to our Summer Reading guide to learn about our 2017 program, and get ready to read! In honor of the easy season, here are some summery titles to add to your book bag, your musical rotation, and your TV screen.
Happy Reading!
The Gyspy Moth Summer by Julia Fierro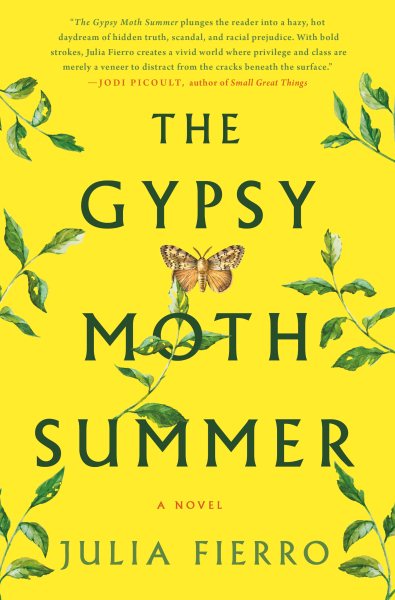 It is the summer of 1992 and a gypsy moth invasion blankets Avalon Island. Ravenous caterpillars disrupt early summer serenity on Avalon, an islet off the coast of Long Island–dropping onto novels left open on picnic blankets, crawling across the T-shirts of children playing games of tag and capture the flag in the island's leafy woods. The caterpillars become a relentless topic of island conversation and the inescapable soundtrack of the season. It is also the summer Leslie Day Marshall–only daughterof Avalon's most prominent family–returns with her husband, a botanist, and their children to live in "The Castle," the island's grandest estate. Leslie's husband Jules is African-American, and their children bi-racial, and islanders from both sides of the tracks form fast and dangerous opinions about the new arrivals. Maddie Pencott LaRosa straddles those tracks: a teen queen with roots in the tony precincts of East Avalon and the crowded working class corner of West Avalon, home to Grudder Aviation factory, the island's bread-and-butter and birthplace of generations of bombers and war machines. Maddie falls in love with Brooks, Leslie's and Jules' son, and that love feels as urgent to Maddie as the questions about the new and deadly cancers showing upacross the island. Could Grudder Aviation, the pride of the island–and its patriarch, the Colonel–be to blame? As the gypsy moths burst from cocoons in flocks that seem to eclipse the sun, Maddie's and Brooks' passion for each other grows and she begins planning a life for them off Avalon Island.
Indian Summer by Marcia Willett
Some memories can be forgotten… Others won't ever go away. For renowned actor Sir Mungo, his quiet home village in Devon provides the perfect retreat. Close by are his brother and his wife, and the rural location makes his home the ideal getaway for his old friends in London. Among those is Kit, who comes to stay for the summer, bringing with her a letter from her first and only love, Jake, and a heart in turmoil. Years have passed since they last saw each other, and now he has written to Kit asking to meet again. As the summer unfolds, secrets are uncovered that will shatter the sleepy community, and even tear a family apart. But those involved soon realize that the only way to move forward might be to confront the past.
Summer of Pearls: and Spanish Blood by Mike Blakely
Two memorable western novels from Spur Award-winning author Mike Blakely in one book.
Summer of Pearls: the coming of the railroad nearly spelled the end of the riverboat community of Port Caddo until the Great Caddo Lake Pearl Rush of 1874. Ben Crowell remembers it well: that summer, he fell in love. That autumn, Judd Kelso, a local riverboat owner, was killed. The pearl rush was over within a few months, but Judd Kelso's murder remained unsolved, and only Ben Crowell seemed interested in finding out who killed Kelso and why.
Spanish Blood: In 1870, Bart Young heads for the New Mexico Territory, where he has heard men are making fortunes overnight in land speculation on the old Spanish grants. He expects to be rich before the year is out. But the ranchers are stubborn, the local officials are corrupt, and Bart isn't the first hopeful to arrive. His dream seems a lost cause . . . until he stumbles onto evidence of a lost grant bigger than he could have ever imagined: the entire Sacramento Mountain Range.
Chronicle of a Last Summer: A Novel of Egypt by Yasmine El Rashidi
A young Egyptian woman chronicles her personal and political coming of age in this debut novel. Cairo, 1984. A blisteringly hot summer. A young girl in a sprawling family house. Her days pass quietly: listening to a mother's phone conversations, looking at the Nile from a bedroom window, watching the three state-sanctioned TV stations with the volume off, daydreaming about other lives. Underlying this claustrophobic routine is mystery and loss. Relatives mutter darkly about the newly-appointed President Mubarak. Everyone talks with melancholy about the past. People disappear overnight. Her own father has left, too–why, or to where, no one will say. We meet her across three decades, from youth to adulthood: As a six-year old absorbing the world aroundher, filled with questions she can't ask; as a college student and aspiring filmmaker pre-occupied with love, language, and the repression that surrounds her; and then later, in the turbulent aftermath of Mubarak's overthrow, as a writer exploring her own past. Reunited with her father, she wonders about the silences that have marked and shaped her life. At once a mapping of a city in transformation and a story about the shifting realities and fates of a single Egyptian family, Yasmine El Rashidi's Chronicle of a Last Summer traces the fine line between survival and complicity, exploring the conscience of a generation raised in silence.
The Summer Before the War by Helen Simonson 
The bestselling author of Major Pettigrew's Last Stand returns with a breathtaking novel of love on the eve of World War I that reaches far beyond the small English town in which it is set. East Sussex, 1914. It is the end of England's brief Edwardian summer, and everyone agrees that the weather has never been so beautiful. Hugh Grange, down from his medical studies, is visiting his Aunt Agatha, who lives with her husband in the small, idyllic coastal town of Rye. Agatha's husband works in the Foreign Office, and she is certain he will ensure that the recent saber rattling over the Balkans won't come to anything. And Agatha has more immediate concerns; she has just risked her carefully built reputation by pushing for the appointment of a woman to replace the Latin master. When Beatrice Nash arrives with one trunk and several large crates of books, it is clear she is significantly more freethinking–and attractive–than anyone believes a Latin teacher should be. For her part, mourning the death of her beloved father, who has left her penniless, Beatrice simply wants to be left alone to pursue her teaching and writing. But just as Beatrice comes alive to the beauty of the Sussex landscape and the colorful characters who populate Rye, the perfect summer is about to end. For despite Agatha's reassurances, the unimaginable is coming. Soon the limits of progress, and the old ways, will be tested as this small Sussex town and its inhabitants go to war.
"Summertime" — The Centennial Collection. Billie Holiday (music/CD)
Check out the great Gershwin tune from the 1934 opera Porgy & Bess as recorded by Billie Holiday:  Horns wailing and weaving around Lady Day's voice over an insistent rhythm. Adds a bit of blue to a hot, still afternoon. While you're at it, listen to all the other great recordings collected here of Holiday classics and other standards: Gloomy Sunday, Strange Fruit, The Very Thought of You.
Masterpiece: Indian Summers (series/DVD)
Julie Walters stars as the glamorous doyenne of an English social club in the twilight era of British rule in India. Set in a subtropical paradise, Indian Summers explores the collision of the high-living English ruling class with the local people agitating for Indian independence. As the drama unfolds, the two sides alternately clash and merge in an intricate game of power, politics, and passion.