Today is Roald Dahl's 100 Birthday! Many of us vividly remember his famous children's books, including Matilda, The BFG, Charlie and the Chocolate Factory, and many more from our childhood. While these books are always worth re-reading as an adult, there's more to Roald Dahl than these fabulous stories. An Ace pilot with the Royal Air Force during WWII, Dahl also served as a spy for Great Britain in Washington DC, working to get the United States to enter the war. Take a look at one of these fascinating biographies of Roald Dahl or pick up a collection of the intriguing and often macabre stories he wrote for adults to learn more about one of the most beloved and unique children's authors of all time.
The Irregulars: Roald Dahl and the British Spy Ring in Wartime Washington by Jennet Conant
When Roald Dahl, a dashing young wounded RAF pilot, took up his post at the British Embassy in Washington in 1942, his assignment was to use his good looks, wit, and considerable charm to gain access to the most powerful figures in American political life. A patriot eager to do his part to save his country from a Nazi invasion, he invaded the upper reaches of the U.S. government and Georgetown society, winning over First Lady Eleanor Roosevelt and her husband, Franklin; befriending wartime leaders from Henry Wallace to Henry Morgenthau; and seducing the glamorous freshman congresswoman Clare Boothe Luce. Dahl would soon be caught up in a complex web of deception masterminded by William Stephenson, aka Intrepid, Churchill's legendary spy chief, who, with President Roosevelt's tacit permission, mounted a secret campaign of propaganda and political subversion to weaken American isolationist forces, bring the country into the war against Germany, and influence U.S. policy in favor of England.
In an account better than spy fiction, Jennet Conant shows Dahl progressing from reluctant diplomat to sly man-about-town. He and his colorful co-conspirators — David Ogilvy, Ian Fleming, and Ivar Bryce, recruited more for their imagination and dramatic flair than any experience in the spy business — gossiped, bugged, and often hilariously bungled their way across Washington, doing their best to carry out their cloak-and-dagger assignments. It is an extraordinary tale of deceit, double-dealing, and moral ambiguity — all in the name of victory.
Collected Stories by Roald Dahl
Later known for his immortal children's books, including Charlie and the Chocolate Factory, James and the Giant Peach, and The BFG, Dahl also had a genius for adult short fiction, which he wrote throughout his life. Whether fictionalizing his dramatic exploits as a Royal Air Force pilot during World War II or concocting the ingeniously plotted fables that were dramatized on television as Tales of the Unexpected, Dahl was brilliant at provoking in his readers the overwhelming desire to know what happens next—and at satisfying that desire in ways that feel both surprising and inevitable.
Filled with devilish plot twists, his tales display a tantalizing blend of macabre humor and the absurdly grotesque. From "The Landlady," about an unusual boardinghouse that features a small but very permanent clientele, to "Pig," a brutally funny look at vegetarianism, to "Man from the South," in which a fanatical gambler does his betting with hammer, nails, and a butcher's knife, Dahl's creations amuse and shock us in equal measure, gleefully reminding us of what might lurk beneath the surface of the ordinary.
Going Solo by Roald Dahl
Superb stories, daring deeds, fantastic adventures! Learn all about Roald Dahl's encounters with the enemy, his worldwide travels, the life-threatening injuries he sustained in a plane accident, and the rest of his sometimes bizarre, often unnerving, and always colorful adventures. Told with the same irresistible appeal that has made Roald Dahl one of the world's best-loved writers, Going Solo brings you directly into the action and into the mind of this fascinating man as he recounts his life as a young man from his employment with the Shell Company in Tanzania through his service in the Royal Air Force during World War II.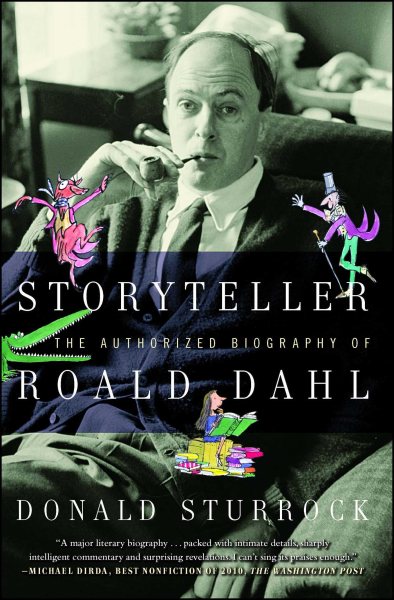 Storyteller: The Authorized Biography of Roald Dahl by Donald Sturrock
In his lifetime Roald Dahl pushed children's literature into uncharted territory, and today his popularity around the globe continues to grow, with millions of his books sold every year. But the man behind the mesmerizing stories has remained largely an enigma. A single-minded adventurer and an eternal child who gave us the iconic Willy Wonka and Matilda Wormwood, Dahl was better known during his lifetime for his blunt opinions on taboo subjects—he was called an anti-Semite, a racist and a misogynist—than for his creative genius. His wild imagination, dark humor and linguistic elegance were less than fully appreciated by critics and readers alike until after his death.
Granted unprecedented access to the Dahl estate's extraordinary archives—personal correspondence, journals and interviews with family members and famous friends—Donald Sturrock draws on a wealth of previously unpublished materials that informed Dahl's writing and his life. It was a life filled with incident, drama and adventure: from his harrowing experiences as an RAF fighter pilot and his work in wartime intelligence, to his many romances and turbulent marriage to the actress Patricia Neal, to the mental anguish caused by the death of his young daughter Olivia. Tracing a brilliant yet tempestuous ascent toward notoriety, Sturrock sheds new light on Dahl's need for controversy, his abrasive manner and his fascination for the gruesome and the macabre.
Roald Dahl: A Biography by Jeremy Treglown
Roald Dahl explores this master of children's literature from childhood—focusing a tight lens on the relationship between Dahl and his mother, who lovingly referred to him as "Apple"—through to his death. Treglown deftly navigates Dahl's time as a fighter pilot in the Royal Air Force, exploring how the experience transformed many of the beliefs that influenced the English writer's work, including The Gremlins, which was commissioned by Walt Disney.
Treglown discusses many of Dahl's most famous works, such as James and the Giant Peach and Fantastic Mr. Fox, while also delving into his marriage to actress Patricia Neal, combing through letters and archives to show a man who could be both comic and vitriolic, thoughtful yet manipulative and irascible. Treglown highlights many of Dahl's literary achievements as well as his breakdowns and shortcomings, presenting a very personal and telling picture of the author and the inner turmoil that crippled him.