April is National Poetry Month! The library has lots of great poetry books that you can check out, but sometimes the life of a literary figure is just as amazing as their work. If you want to learn more about the people behind the poems or if a whole book of poetry isn't your jam, but an excellent biography is, try one of the literary biographies listed below. The extraordinary and fascinating lives of these poets were matched only by their extraordinary work.
Lyrics of Sunshine and Shadow: The Tragic Courtship and Marriage of Paul Laurence Dunbar and Alice Ruth Moore by Eleanor Alexander
Lyrics of Sunshine and Shadow traces the tempestuous romance of America's most noted African-American literary couple. Drawing on a variety of love letters, diaries, journals, and autobiographies, Eleanor Alexander vividly recounts Dunbar's and Moore's tumultuous affair, from a courtship conducted almost entirely through letters and an elopement brought on by Dunbar's brutal, drunken rape of Moore, through their passionate marriage and its eventual violent dissolution in 1902. Moore, once having left Dunbar, rejected his every entreaty to return to him, responding to his many letters only once, with a blunt, one-word telegram ("No").
This is a remarkable story of tragic romance among African-American elites struggling to define themselves and their relationships within the context of post-slavery America. As such, it provides a timely examination of the ways in which cultural ideology and politics shape and complicate conceptions of romantic love.
Warrior Poet: A Biography of Audre Lorde by Alexis De Veaux
During her lifetime, Audre Lorde (1934-1992) created a mythic identity for herself that retains its vitality to this day. Alexis De Veaux demystifies Lorde's iconic status, charting her childhood in Harlem in the conservative household of Caribbean-immigrant parents; her early marriage to a white, gay man with whom she had two children; her emergence as an outspoken black feminist lesbian poet; and her canonization as a seminal poet of American literature. Lorde's restless search for a spiritual home finally brought her to the island of St. Croix in 1986, where she died after a decade-long battle with breast cancer. Drawing on the private archives of the poet's estate, personal journals, and interviews with members of Lorde's family, friends, and lovers, De Veaux assesses the cultural legacy of a woman who personified the defining civil rights struggles of the twentieth century. This landmark biography pays homage to one of the most courageous, singular voices of American letters.
My Wars Are Laid Away in Books: The Life of Emily Dickinson by Alfred Habegger
Emily Dickinson, probably the most loved and certainly the greatest of American poets, continues to be seen as the most elusive. In this exhaustively researched biography, Alfred Habegger presents the first thorough account of Dickinson's growth–a richly contextualized story of genius in the process of formation and then in the act of overwhelming production. Building on the work of former and contemporary scholars, My Wars Are Laid Away in Books brings to light a wide range of new material from legal archives, congregational records, contemporary women's writing, and previously unpublished fragments of Dickinson's own letters. Habegger discovers the best available answers to the pressing questions about the poet: Was she lesbian? Who was the person she evidently loved? Why did she refuse to publish and why was this refusal so integral an aspect of her work? Although many aspects of her life and work will always elude scrutiny, her living, changing profile at least comes into focus in this meticulous and magisterial biography.
Byron: Life and Legend by Fiona MacCarthy
Byron: Life and Legend explores heretofore unrevealed aspects of Byron's complex creative existence, reassessing his poetry, reinterpreting his incomparable letters, and reconsidering the voluminous record left by the poet's contemporaries: his friends and family, his critics and supporters. MacCarthy's scope is comprehensive, giving due weight to each aspect of her subject's genius and covering the full range of his life, retracing his journeys through Italy, Turkey, and Greece and culminating in his heroic voyage to Missolonghi, where he died at the tragically early age of thirty-six. After his death, a pervasive Byronism swept Europe; presented here is the fascinating evolution of his posthumous reputation and its influence on literature, architecture, painting, music, manners, sex and psyche.
Dorothy Parker: What Fresh Hell is This? by Marion Meade
She was known for outrageous one-liners, her ruthless theater criticism, her clever verses and bittersweet stories, but there was another side to Dorothy Parker – a private life set on a course of destruction. She suffered through two divorces, a string of painful affairs, a lifelong problem with alcohol, and several suicide attempts. In this lively, absorbing biography, Marion Meade illuminates both the dark side of Parker and her days of wicked wittiness at the Algonquin Round Table with the likes of Robert Benchley, George Kaufman, and Harold Ross, and in Hollywood with S.J. Perelman, William Faulkner, and Lillian Hellman. At the dazzling center of it all, Meade gives us the flamboyant, self-destructive, and brilliant Dorothy Parker.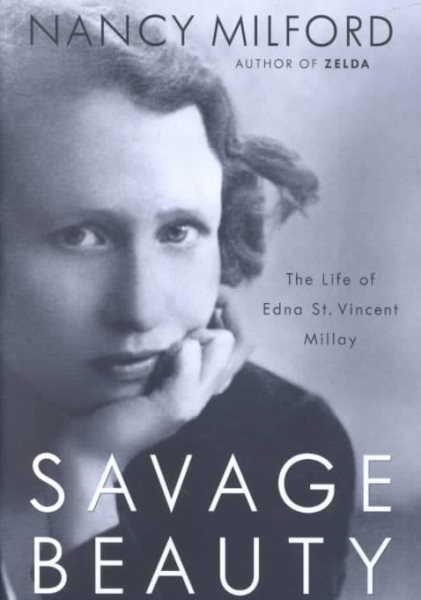 Savage Beauty: The Life of Edna St. Vincent Millay by Nancy Millford
If F. Scott Fitzgerald was the hero of the Jazz Age, Edna St. Vincent Millay, as flamboyant in her love affairs as she was in her art, was its heroine. The first woman ever to win the Pulitzer Prize, Millay was dazzling in the performance of herself. Her voice was likened to an instrument of seduction and her impact on crowds, and on men, was legendary. Yet beneath her studied act, all was not well. Milford calls her book "a family romance"–for the love between the three Millay sisters and their mother was so deep as to be dangerous. The most famous poet of the Jazz Age, Millay captivated the nation: She smoked in public, took many lovers (men and women, single and married), flouted convention sensationally, and became the embodiment of the New Woman. She was an American original–one of those rare characters, like Sylvia Plath and Ernest Hemingway, whose lives were even more dramatic than their art.