*Note: The image featured above was incorrectly attributed to Theresa Thompson. The image was used under a Creative Commons Attribution license (linked in the caption), and should be attributed to personalincome.org/vote. Please accept our apologies for the error, and ALWAYS be careful when using images found online!*
Election Day is 6 days away, and we encourage you to make your voice heard and VOTE!
Unless you've been living on another planet for the last year, you are well aware of all the media out there supporting whatever choice(s) you make, so we aren't going to recommend any titles on politics for you. We figure you may need a bit of an escape at this point: either a good laugh, or maybe some inner peace and mindfulness. With that in mind, we offer you the following titles to ponder.
Platform: Parody
If you go for  a good laugh to release the election tension, this is your candidate! There are so many great parodies out there–all they require is perhaps a little knowledge of the source material, and a sense of humor.
Where's Karl? A Fashion-Forward Parody by Stacey Caldwell and Ajiri A. Aki
A fashion-forward parody crossing everyone's favorite childhood character hunt with the world's most iconic designer. This picture book for grown-ups unexpectedly twists the beloved classic Where's Waldo?. It trades in the title character for the instantly-recognizable Karl Lagerfeld, and replaces that red striped shirt and glasses with a sleek black suit and sunnies. The fictional blogger/narrator Fleur leads readers through some of fashion's most fabulous scenes around the world: The Met Gala in New York City; Coqui Coqui beach in Tulum; Shibuya Crossing in Tokyo. Peppered throughout the chic illustrations are other instantly recognizable divas and tastemakers, from Anna Wintour to Jay-Z and everyone in between.
---
Game of Scones: All Men Must Dine by Jammy Lannister
DINNER IS COMING. This must-have baking guide features pun-tastic jokes and hilarious recipes inspired by key moments from Game of Thrones. Complete with edible recipes, such as Red (Velvet) Wedding Cake, Joffrey's Jaffas, Jaime and Cersei's Family Mess, and Oberyn's Smashing Head Surprise, and lavishly illustrated throughout, this is the ultimate cookbook and gift for Game of Thrones fans.
---
Bored of the Rings: A Parody by Henry N. Beard of the Harvard Lampoon; read by Jim Meskimen (Audiobook CD)
A quest, a war, a ring that would be grounds for calling any wedding off, a king without a kingdom, and a furry little "hero" named Frito, ready—or maybe just forced by the wizard Goodgulf—to undertake the one mission that can save Lower Middle Earth from enslavement by the evil Sorhed. Luscious Elf-maidens, a roller-skating dragon, ugly plants that can soul kiss the unwary to death—these are just some of the ingredients in the wildest, wackiest, most irreverent excursion into fantasy realms that anyone has ever dared to undertake.
For everyone who has delighted in J. R. R. Tolkien's fantasy masterwork—or anyone who's just looking for a good laugh—Bored of the Rings is the "all-in-one-volume" comic extravaganza that will convince lovers and haters of fantasy that they've finally experienced it all, and that they'll never need to read another fantasy parody again.
Available with your Pasadena library card from Glendale Public Library
---
The Devious Book for Cats: A Parody by Fluffy & Bonkers with the assistance of Joe Garden…[et al]
The Dangerous Book for Dogs: A Parody by Rex & Sparky with the assistance of Joe Garden…[et al]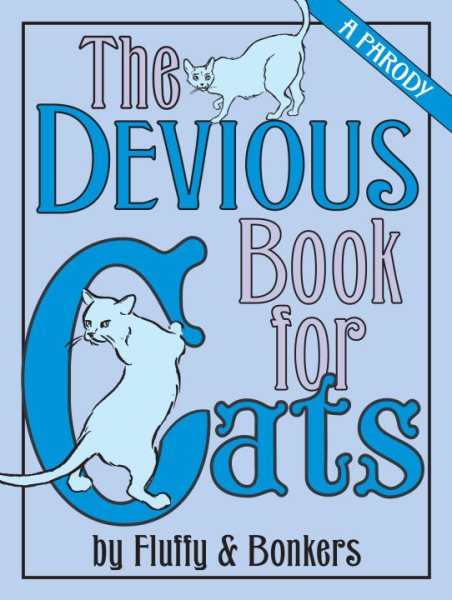 Cats have nine lives. Shouldn't they be lived to the fullest?
"Domesticated" does not mean "docile." The ho-hum routine of sleep, eat, eat, and sleep is no way for any creature who ruled Egypt for a millennium to spend her day. It's high time felines everywhere woke up from their cat naps and grabbed life's strings with both paws.
The Devious Book for Cats offers today's discerning kitties words of wisdom and advice on everything they need to know, from in-depth guides on cardboard boxes and catnip to a brief history of the Felinism movement. It provides fail-safe tips on waking a human when you want to get fed, choosing the purr-fect gift, staring like a pro, and making the most of superstitions. It also explains the undeniable allure of the Window, the terrifying specter of the Vacuum, and how you can groom properly in just the scant twenty-four hours allotted each day.
Cats: Discover the devious fun you can have when you're the one in charge!
The Dangerous Book for Dogs asks a simple question: isn't there more to being a dog than wearing a mini cashmere sweater and riding around in a $400 evening clutch? What about the simple pleasures of life — feeling the wind in your fur, digging up the grass beneath your paws, smelling another dog's butt? Isn't that part of the great joy of being a dog?
Written (with help) by dogs and for dogs, The Dangerous Book For Dogs provides insight on everything from the tastiest styles of shoes to chew to the proper method for terrorizing squirrels. It also contains portraits of noble dogs throughout history, the mysteries of cats and humans, and everything else your dog ever wanted to know but was afraid to ask–like how to make toys out of human's household items, or how to escape from a humiliating reindeer costume.
Generously illustrated with drawings by cartoonist Emily Flake, this hilarious parody is for good dogs, bad dogs, and the millions of people who love them.
Rex and Sparky wrote this parody without authorization (because they are dogs and they do what they want.)
---
The Da Vinci Cod: A Fishy Parody by Dan Brine
In the not so distant past, a man had a Very Cunning Theory which he wrote down in a book, and it proved to be very popular indeed. In the very distant past, a man was born who had a wife, who had a child, who grew up and had children in turn, and so there was a bloodline stretching to today. And Leonardo da Vinci knew all about it and recorded it in a painting for everyone to see, despite lots of Bad People trying to cover up the whole thing. And the man with the Very Cunning Theory figured all this out from lots of clues and pictures that Leonardo da Vinci had cunningly concealed, and then published it for everyone to see.
But then it turned out that this Very Cunning Theory was Not So Cunning After All because it wasn't true. Not even remotely. Not even a tiny bit likely. Which is where this book comes in.
Because it turns out that although Leonardo da Vinci didn't know anything at all about a holy bloodline extending to the present day, he knew a very great deal indeed about what cod really are, and that sinister knowledge is only now coming to light …
Fishclaimer
This book has not been authorized or endorsed by Dan Brown or his publishers, but it is much, much funnier.
---
Platform: Peace & Mindfulness
Maybe you're looking for some help calming your inner stress and finding peace or a way to focus your mind in the election cycle storm. If so, choose one of these titles to get you started on your journey to inner peace.
Secular Meditation: 32 Practices for Cultivating Iner Peace, Compassion, and Joy by Rick Heller
Many avoid meditation because of its religious trappings. But as bestselling atheist Sam Harris has recently written (in Waking Up), meditation is an age-old secular practice with numerous scientifically verified physical and psychological benefits. As longtime meditation teacher Rick Heller here shows, meditation's benefits extend beyond the personal to enrich relationship with others, with community, and with the world. Step-by-step instructions, personal stories, and provocative questions teach empathy for others, stress reduction and inner peace, and the kind of in-the-moment living that fosters appreciation for life and resilience in the face of adversity. Heller simplifies what is often found mysterious If you have ever loved or even liked another person, you have the prerequisites for learning kindness meditation" and invites all to partake in awe and wonder at the rich experience of being alive.
---
Success Through Stillness: Meditation Made Simple by Russell Simmons
In the New York Times bestseller Super Rich, Russell Simmons proved that to be rich is more than just having money in the bank—wealth is about balance, joy, and conscientious living.
In Success Through Stillness, Simmons shows the connection between inner peace and outward success through interviews with other successful leaders in various industries, and how learning to be still has been instrumental in his own career. Simmons attributes his meditation practice with changing his life for the better and says that there is no "bad" way to meditate, only different forms for different people.
In this highly anticipated new book, Russell Simmons guides readers into finding greater clarity and focus, and explains how to be healthier in both mind and body. Simmons breaks down what he's learned from masters of meditation into a guide that is accessible to those unfamiliar with the practice.
---
Mindfulness: An Eight-Week Plan for Finding Peace in a Frantic World by Mark Williams and Danny Penman
Mindfulness reveals a set of simple yet powerful practices that can be incorporated into daily life to help break the cycle of anxiety, stress, unhappiness, and exhaustion. It promotes the kind of happiness and peace that gets into your bones. It seeps into everything you do and helps you meet the worst that life throws at you with new courage.
The book is based on Mindfulness-Based Cognitive Therapy (MBCT). MBCT revolves around a straightforward form of mindfulness meditation which takes just a few minutes a day for the full benefits to be revealed. MBCT has been clinically proven to be at least as effective as drugs for depression and is widely recommended by US physicians and the UK's National Institute for Health and Clinical Excellence – in other words, it works. More importantly it also works for people who are not depressed but who are struggling to keep up with the constant demands of the modern world.
MBCT was developed by the book's author, Oxford professor Mark Williams, and his colleagues at the Universities of Cambridge and Toronto. By investing just 10 to 20 minutes each day, you can learn the simple mindfulness meditations at the heart of MBCT and fully reap their benefits. The book includes links to audio mediations to help guide you through the process. You'll be surprised by how quickly these techniques will have you enjoying life again.
---
8 Keys to Practicing Mindfulness by Manuela Mischke Reeds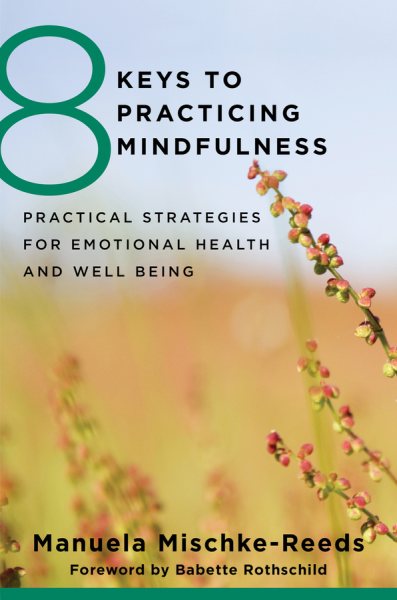 Becoming mindful is about the small, everyday things such as pausing to take a breath before you drive off in a hurry or considering the food that will nourish your body before a meal. Or it can mean checking in with yourself before responding to a challenging email or text.Every moment of our lives can become an opportunity to practice mindfulness. This book will invite you to sharpen your awareness and ask yourself with more frequency, "What do I notice right now?" or "How do I need to respond or be with this situation?"These seemingly tiny moments of noticing yourself can have a major impact on your life as you learn to track habitual patterns and awaken to change. Practicing mindfulness is not about being better by figuring it all out. It is about tolerating the moments when you don't know or learning to be more curious about the struggle.Here you will learn how to establish a basic practice with guidelines for posture and breathing as well as various options for meditations that involve sitting, walking, gently moving or lying down. You can try these exercises at your lunch break, before you rise or fall asleep. But best of all is for you to sprinkle mindfulness throughout your day.Whether you are new to mindfulness or a seasoned practitioner, you can make the conscious decision to change your approach to life. Moment by moment you have the opportunity to cultivate awareness that will make a difference in how you engage with the world on a daily basis.
---
Yoga for Life: A Journey to Inner Peace and Freedom by Colleen Saidman Yee, with Susan K. Reed
From a rebellious young woman with a dangerous heroin habit to a globe-trotting fashion model to "First Lady of Yoga" (The New York Times), Colleen Saidman Yee tells the remarkable story of how she found herself through the healing power of yoga—and then inspired others to do the same.
I've learned how to extract the beauty of an ordinary day. I've learned that the best high exists in the joy—or the sadness—of the present moment. Yoga allows me to surf the ripples and sit with the mud, while catching glimpses of the clarity of my home at the bottom of the lake: my true self.
The very first time Saidman Yee took a yoga class, she left feeling inexplicably different—something inside had shifted. She felt alive—so alive that yoga became the center of her life, helping her come to terms with her insecurities and find her true identity and voice. From learning to cope with a frightening seizure disorder to navigating marriages and divorces to becoming a mother, finding the right life partner, and grieving a beloved parent, Saidman Yee has been through it all—and has found that yoga holds the answers to life's greatest challenges.
Approachable, sympathetic, funny, and candid, Saidman Yee shares personal anecdotes along with her compassionate insights and practical instructions for applying yoga to everyday issues and anxieties. Specific yoga sequences accompany each chapter and address everything from hormonal mood swings to detoxing, depression, stress, and increased confidence and energy. Step-by-step instructions and photographs demonstrate her signature flow of poses so you can follow them effortlessly.
Yoga for Life offers techniques to bring awareness to every part of your physical and spiritual being, allowing you to feel truly alive and to embody the peace of the present moment.
---
One-Minute Mindfulness: 50 Simple Ways to Find Peace, Clarity, and New Possibilities in a Stressed-Out World by Donald Altman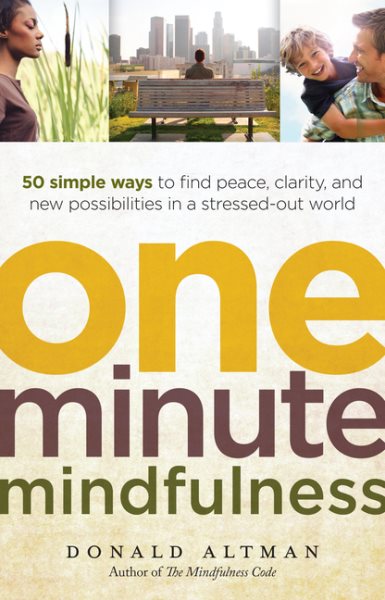 Being fully in each moment leads to peace and well-being — but it's harder than it sounds, especially in a world with constant demands on our time and attention. How do you practice mindfulness when you're faced with difficult coworkers, overwhelming schedules, or stubborn kids? In this book, Donald Altman brings the benefits of mindfulness down to earth and into everyday life. With fifty exercises and practices to build awareness and center attention, you will discover how to savor routine pleasures, build fulfillment in your work, enhance and heal relationships, change unhealthy habits, and connect to peace even in the midst of chaos or uncertainty.