A bare tree stands
with roots on both ends
in December days.
~Kiran Bantawa, "Bare Trees"
How did it get so late so soon?
It's night before it's afternoon.
December is here before it's June.
My goodness how the time has flewn.
How did it get so late so soon?
~Dr. Seuss
December is upon us: colder (or only slightly so here in SoCal), darker, and a time of the year where some are in a flurry of preparation, while others are winding down along with the year, reflecting on the passing time and the 12 months to come.
Whether you are taking a break in the midst of celebrating one of many winter holidays, or taking a longer moment to ponder your place in the universe, you may need something to read or maybe some music to accompany your thoughts.
A few of these "December" picks are a bit gloomy or darkly-themed, while others offer humor, romance, or nonfiction in the form of memoir and history.
Whatever you're up to, find some time to enjoy yourself a little. Happy reading!
---
December Park by Ronald Malfi
In the quiet suburb of Harting Farms, the weekly crime blotter usually consists of graffiti or the occasional bout of mailbox baseball. But in the fall of 1993, children begin vanishing and one is found dead. Newspapers call him the Piper because he has come to take the children away. But there are darker names for him, too . . .
Vowing to stop the Piper's reign of terror, five boys take up the search. Their teenage pledge turns into a journey of self-discovery . . . and a journey into the darkness of their own hometown. On the twilit streets of Harting Farms, everyone is a suspect. And any of the boys might be the Piper's next victim.
---
December Day: Willie Nelson and Sister Bobbie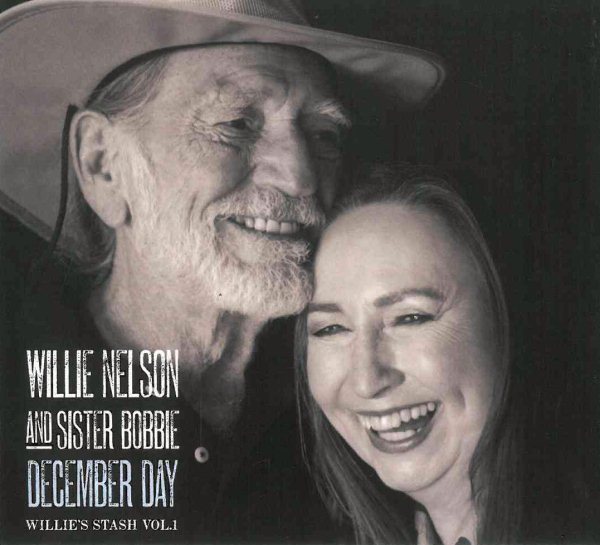 Country music legend Willie Nelson is opening his vault with the launch of a brand-new archival series, titled Willie's Stash. The first release of the series is titled, December Day Willie's Stash Vol. 1 .
Central to December Day is the collaboration of Willie and Sister Bobbie. From Willie's earliest years in his native Abbott, Texas, Bobbie, two years his senior, was a part of his musical upbringing; the duo learned to read music and play instruments at an early age under the tutelage of their grandparents. Playing together in bands early on in their careers, Bobbie has been a key highlighted member of Willie's Family Band since its inception, and their bond as siblings and musicians a bond that reflects years of both practice and spontaneity is palpable throughout December Day.
December Day features new versions of gems from Willie's extensive songwriting catalog ("Permanently Lonely," "My Old Peculiar Way")and some eclectic covers (Irving Berlin's "Alexander's Ragtime Band" and "What'll I Do" with some sprinkled contributions from other Family Band members, including harmonica player Mickey Raphael and the late Bee Spears on bass.
---
The December Project: An Extraordinary Rabbi and a Skeptical Seeker Confront Life's Greatest Mystery by Sara Davidson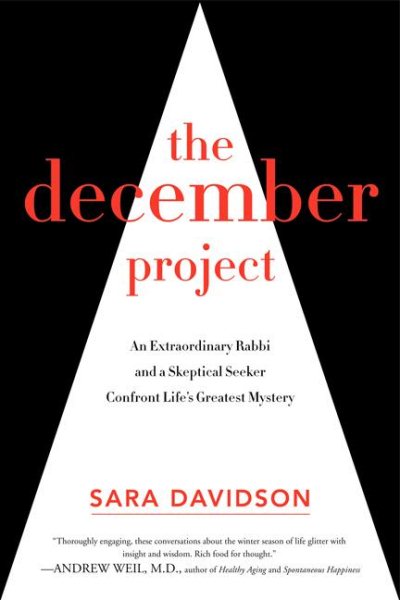 In the tradition of Tuesdays with Morrie and The Last Lecture,New York Times bestselling author Sara Davidson met every Friday with 89-year-old Rabbi Zalman Shachter-Shalomi, the iconic founder of the Jewish Renewal movment, to discuss what he callsThe December Project. "When you can feel in your cells that you're coming to the end of your tour of duty," he said, "what is the spiritual work of this time, and how do we prepare for the mystery?"
Davidson, who has a seeker's heart and a skeptic's mind, jumped at the chance to spend time with him. She'd long feared that death would be a complete annihilation, while Reb Zalman felt certain that "something continues." He said he didn't want to convince her of anything. "What I want is to loosen your mind." Through their talks, he wanted to help people "not freak out about dying," and enable them to have a more heightened and grateful life.
For two years, they met every week, and this is Davidson's memoir of what they learned and how they changed. Interspersed with their talks are sketches from Reb Zalman's extraordinary life. He barely escaped the Nazis, became an Orthodox rabbi in the US, was married four times and had eleven children, one from a sperm donation to a lesbian rabbi, and formed friendships with leaders of other faiths, such as Thomas Merton and the Dalai Lama. Breaking with the Orthodox, he founded the Jewish Renewal Movement to encourage people to have a direct experience of God.
During their time together, Davidson was nearly killed by a suicide bomb, and Reb Zalman struggled with a steep decline in health. Together they created strategies to deal with pain and memory loss, and found tools to cultivate simplicity, fearlessness, and joy—at any age. Davidson includes twelve exercises so that readers may experience what she did—a sea change in facing what we all must face: mortality.
---
Tenth of December: Stories by George Saunders
One of the most important and blazingly original writers of his generation, George Saunders is an undisputed master of the short story, andTenth of December is his most honest, accessible, and moving collection yet.
In the taut opener, "Victory Lap," a boy witnesses the attempted abduction of the girl next door and is faced with a harrowing choice: Does he ignore what he sees, or override years of smothering advice from his parents and act? In "Home," a combat-damaged soldier moves back in with his mother and struggles to reconcile the world he left with the one to which he has returned. And in the title story, a stunning meditation on imagination, memory, and loss, a middle-aged cancer patient walks into the woods to commit suicide, only to encounter a troubled young boy who, over the course of a fateful morning, gives the dying man a final chance to recall who he really is. A hapless, deluded owner of an antiques store; two mothers struggling to do the right thing; a teenage girl whose idealism is challenged by a brutal brush with reality; a man tormented by a series of pharmaceutical experiments that force him to lust, to love, to kill—the unforgettable characters that populate the pages ofTenth of December are vividly and lovingly infused with Saunders's signature blend of exuberant prose, deep humanity, and stylistic innovation.
Writing brilliantly and profoundly about class, sex, love, loss, work, despair, and war, Saunders cuts to the core of the contemporary experience. These stories take on the big questions and explore the fault lines of our own morality, delving into the questions of what makes us good and what makes us human.
---
December Dread by Jess Lourey
With Christmas just over a week away, 'tis the season for grinning sales elves on TV, maddeningly jolly Muzak, and a guilty Nut Goodie addiction. But for Mira James and other Battle Lake-area women, the holidays are marred by something far worse—a serial killer leaving candy canes as his calling card. His target? Thirty-something brunettes who look just like Mira. When a woman from her high school graduating class becomes his latest victim, Mira plows through a case of online dating turned deadly with Mrs. Berns at her side. Will she earn her detective stripes . . . or end up deader than the Ghost of Christmas Past?
---
December 1941: 31 Days That Changed America and Saved the World by Craig Shirley
In the days before the attack on Pearl Harbor, eyes in America were focused on the war in Europe or distracted by the elevated mood sweeping the country in the final days of the Great Depression. But when planes dropped out of a clear blue sky and bombed the American naval base and aerial targets in Hawaii, all of that changed. December 1941 takes readers into the moment-by-moment ordeal of a nation waking to war.
Best-selling author Craig Shirley celebrates the American spirit while reconstructing the events that called it to shine with rare and piercing light. By turns nostalgic and critical, he puts readers on the ground in the stir and the thick of the action. Relying on daily news reports from around the country and recently declassified government papers, Shirley sheds light on the crucial diplomatic exchanges leading up to the attack, the policies on internment of Japanese living in the U.S. after the assault, and the near-total overhaul of the U.S. economy for war.
Shirley paints a compelling portrait of pre-war American culture: the fashion, the celebrities, the pastimes. And his portrait of America at war is just as vivid: heroism, self-sacrifice, mass military enlistments, national unity and resolve, and the prodigious talents of Hollywood and Tin Pan Alley aimed at the Axis Powers, as well as the more troubling price-controls and rationing, federal economic takeover, and censorship.
Featuring colorful personalities such as Franklin Roosevelt, Winston Churchill, U.S. Secretary of State Cordell Hull, and General Douglas MacArthur,December 1941 highlights a period of profound change in American government, foreign and domestic policy, law, economics, and business, chronicling the developments day by day through that singular and momentous month.
December 1941 features surprising revelations, amusing anecdotes, and heart-wrenching stories, and also explores the unique religious and spiritual dimension of a culture under assault on the eve of Christmas. Before the attack on Pearl Harbor, the closest thing to war for the Americans was uncoordinated, mediocre war games in South Carolina. Less than thirty days later, by the end of December 1941, the nation was involved in a pitched battle for the preservation of its very way of life, a battle that would forever change the nation and the world.
---
A Week in December by Sebastian Faulks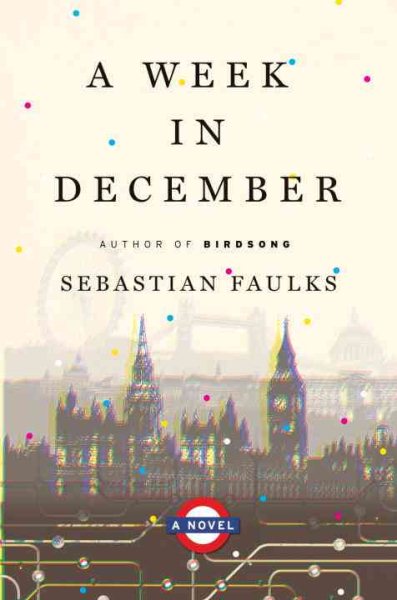 London: the week before Christmas, 2007. Over seven days we follow the lives of seven major characters: a hedge fund manager trying to bring off the biggest trade of his career; a professional footballer recently arrived from Poland; a young lawyer with little work and too much time to speculate; a student who has been led astray by Islamist theory; a hack book reviewer; a schoolboy hooked on reality TV and genetically altered pot; and a Tube train driver whose Circle Line train joins these and countless other lives together in a daily loop.
With daring skill and savage humor, A Week in December explores the complex patterns and crossings of modern urban life; as the novel moves to its gripping climax, its characters are forced, one by one, to confront the true nature of the world they—and we all—inhabit.
---
A Wedding in December (Audiobook) by Anita Shreve; read by Linda Emond
A stirring novel about unions and re-unions, the choices we make, and the endless allure of paths not taken.
At an inn in the Berkshire Mountains of western Massachusetts, seven former schoolmates gather for a wedding. It is a disparate crew that gathers in the gorgeous winter light. Throughout the wedding weekend, the guests uncover the choices and chances that have transformed them in the years since high school, and delve for the first time into what really happened the night that changed all their lives as the friends are tested by this astonishing weekend of revelation and recrimination, forgiveness and redemption.
A Wedding in December is ambitious and moving, probing the mysteries of the human heart with the grace and skill that have made her "one of the finest novelists of her time" (Boston Herald).
---
What A Terrible World, What a Beautiful World; The Decemberists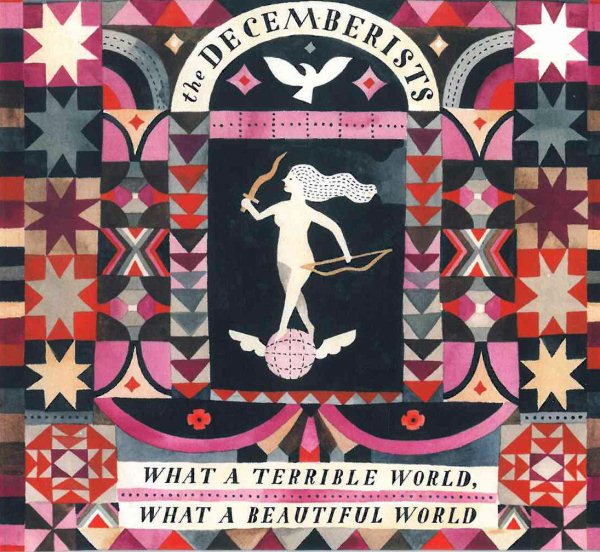 "Typically we book four or five weeks in the studio and bang out the whole record," explains singer Colin Meloy. "This time, we started by just booking three days, and didn't know what we would record. There was no direction or focus; we wanted to just see what would come out. We recorded Lake Song on the first day, live, and then two more songs in those three days. And the spirit of that session informed everything that came after."
From the soaring, bittersweet first single Make You Better , to the ruminating ballad Lake Song, and anthemic closer A Beginning Song , What a Terrible World, What a Beautiful World establishes itself as the Decemberists most varied and dynamic work to date, both musically and emotionally.