The holiday season is upon us and while that means different things for different people, a great way for everyone to enjoy the holidays is to make something holiday related with family and friends. Below are some of the many crafting books you can get from the library that have great ideas for easy projects for homemade gifts and decor that can help you get in the holiday spirit.
A Homemade Christmas by Tina Barseghian
Making something with your own hands—whether it's a plate of just-baked cookies, a handcrafted stocking, a homemade wreath, or a hand-folded origami ornament—is a great way to connect with the true meaning of Christmas.
From holiday decorating to gift giving, A Homemade Christmas is chock-full of projects, recipes, tips, and helpful hints that are guaranteed to add a homemade touch to your holiday season. Open this charming volume to any page and discover a wealth of practical and easy-to-accomplish ideas for a homemade holiday like how to create personal, distinctive holiday greetings, deck the halls with festive, handmade trimmings, cook simple but memorable homemade dishes, and make unique, handcrafted gifts.
Packed with inspiration and how-tos for ideas that are family-friendly and eco-conscious, festive and meaningful, A Homemade Christmas will put homemade back into your holidays!
Glitterville's Handmade Christmas: A Glittered Guide for Whimsical Crafting! by Stephen Brown
Glitterville's Handmade Christmas is as bursting as a mantle-hung stocking with twenty new whimsical, winter-wonderful craft projects that will fill your home with sleighfuls of cheer. Hundreds of beautiful, easy-to-follow, step-by-step full-color photos and how-tos make the crafting fun and the results foolproof. From a Jolly Dolly Holly Wreath or a charming Glittery Village you can nestle into its own Sparkle Forest, to the frostiest Magic Snow and the jolliest pine-cone-bodied Glitter Gnome, "yule" find everything you need to make your home glisten and shine this holiday season!
Kwanzaa Crafts: Gifts and Decorations for a Meaningful and Festive Celebration by Marcia Odle McNair
Kwanzaa Crafts provides instructions for making centerpieces, wreathes, clothing, bookmarks, cross-stitch, napkin rings, notecards, gift bags, and T-shirts, and demonstrates special decorative techniques for Kwanzaa.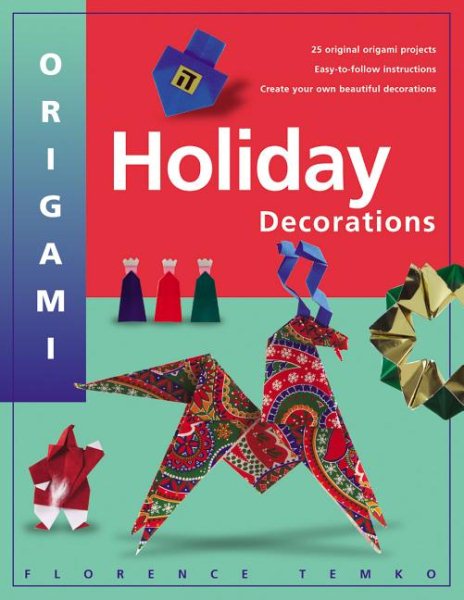 Origami Holiday Decorations for Christmas, Hanukkah, and Kwanzaa by Florence Temko
Beautify your home or classroom for the holidays with unique and elegant origami paper craft ornaments by world renowned origami artist, Florence Temko. Origami Holiday Decorations is a festive origami design book with 25 fun-to-do 3D paper model projects that includes step-by-step instructions and color diagrams.
Origami is the ideal craft for anyone who likes to create with their hands. The paper craft projects in this book can help you express your creativity by folding wonderful decorations out of single sheets of paper. Origami Holiday Decorations features designs for origami decorations that range from traditional to unique, simple to complex. Each model is explained with easy-to-follow diagrams and illustrated with a photograph of the finished project. A section on paper folding techniques makes it easy to get started, with special tips on how to adapt your origami projects to different sizes and papers. This easy origami book is sure to provide hours of entertainment for both children and adults.
Vintage Christmas Crafts by Sara Toliver
Go back in time and add charm to the holidays with these four unique decorative crafting styles: Victorian Vintage, Shabby Chic, Country, and Personal Vintage. For each, you'll find directions for projects, ideas for decorating, and enticing pictures to inspire and evoke nostalgia. Craft cardboard villages just like Grandma used to. Make new ornaments look antique and aged, as if they were passed down through the generations. From a gathering of lighted tapes glowing on the floor, to red ribbons tied around the banister, to wreaths, Santa Claus figurines, and food heaped everywhere, each design is glorious.
Handcrafted Christmas: Ornaments, Decorations, and Cookie Recipes to Make at Home by Susan Waggoner
Fans of nostalgia can craft their way through the holiday season with this newest volume by popular Christmas author Susan Waggoner. The 40 easy projects range from charming punched-tin votive holders, to Russian teacakes for holiday parties, to your very own edible gingerbread house (complete with miniature snowmen on the front lawn). Peppered with engaging facts about the holidays gone by, this is the perfect book for crafters who long for that vintage holiday look.
Artful Christmas: 30 Elegant Craft Projects by Susan Wasinger
Celebrate a merry Christmas in an artfully decorated home! Crafters will feel the joy as they make 30 elegant yet incredibly easy projects out of the most affordable and accessible materials. Deck the halls with a lacy air-dried clay wreath, a stamped muslin bag Advent calendar, festive felt stockings, sparkling paper ornaments, a glittered garland, and other items beautiful and bright.