"All happy families are alike; each unhappy family is unhappy in its own way." –Leo Tolstoy, Anna Karenina
For many people the holidays are a time to get together with family, which can be both wonderful and, sometimes, stressful. If you want a break from your own family, or just a good book to read over the holidays, try escaping into one of these great family dramas all about the ties that bind and the secrets that break.
The Wangs Vs. The World by Jade Chang
Charles Wang is mad at America. A brash, lovable immigrant businessman who built a cosmetics empire and made a fortune, he's just been ruined by the financial crisis. Now all Charles wants is to get his kids safely stowed away so that he can go to China and attempt to reclaim his family's ancestral lands—and his pride.
Charles pulls Andrew, his aspiring comedian son, and Grace, his style-obsessed daughter, out of schools he can no longer afford. Together with their stepmother, Barbra, they embark on a cross-country road trip from their foreclosed Bel-Air home to the upstate New York hideout of the eldest daughter, disgraced art world it-girl Saina. But with his son waylaid by a temptress in New Orleans, his wife ready to defect for a set of 1,000-thread-count sheets, and an epic smash-up in North Carolina, Charles may have to choose between the old world and the new, between keeping his family intact and finally fulfilling his dream of starting anew in China.
Outrageously funny and full of charm, The Wangs vs. the World is an entirely fresh look at what it means to belong in America—and how going from glorious riches to (still name-brand) rags brings one family together in a way money never could.
The Turner House by Angela Flournoy
The Turners have lived on Yarrow Street for over fifty years. Their house has seen thirteen children grown and gone—and some returned; it has seen the arrival of grandchildren, the fall of Detroit's East Side, and the loss of a father. The house still stands despite abandoned lots, an embattled city, and the inevitable shift outward to the suburbs. But now, as ailing matriarch Viola finds herself forced to leave her home and move in with her eldest son, the family discovers that the house is worth just a tenth of its mortgage. The Turner children are called home to decide its fate and to reckon with how each of their pasts haunts—and shapes—their family's future.
Praised by Ayana Mathis as "utterly moving" and "un-putdownable," The Turner House brings us a colorful, complicated brood full of love and pride, sacrifice and unlikely inheritances. It's a striking examination of the price we pay for our dreams and futures, and the ways in which our families bring us home.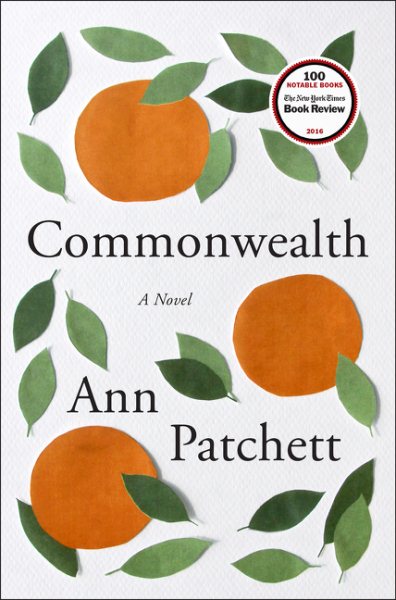 Commonwealth by Ann Patchett
The acclaimed, bestselling author—winner of the PEN/Faulkner Award and the Orange Prize—tells the enthralling story of how an unexpected romantic encounter irrevocably changes two families' lives.
One Sunday afternoon in Southern California, Bert Cousins shows up at Franny Keating's christening party uninvited. Before evening falls, he has kissed Franny's mother, Beverly—thus setting in motion the dissolution of their marriages and the joining of two families.
Spanning five decades, Commonwealth explores how this chance encounter reverberates through the lives of the four parents and six children involved. Spending summers together in Virginia, the Keating and Cousins children forge a lasting bond that is based on a shared disillusionment with their parents and the strange and genuine affection that grows up between them.
When, in her twenties, Franny begins an affair with the legendary author Leon Posen and tells him about her family, the story of her siblings is no longer hers to control. Their childhood becomes the basis for his wildly successful book, ultimately forcing them to come to terms with their losses, their guilt, and the deeply loyal connection they feel for one another.
Told with equal measures of humor and heartbreak, Commonwealth is a meditation on inspiration, interpretation, and the ownership of stories. It is a brilliant and tender tale of the far-reaching ties of love and responsibility that bind us together.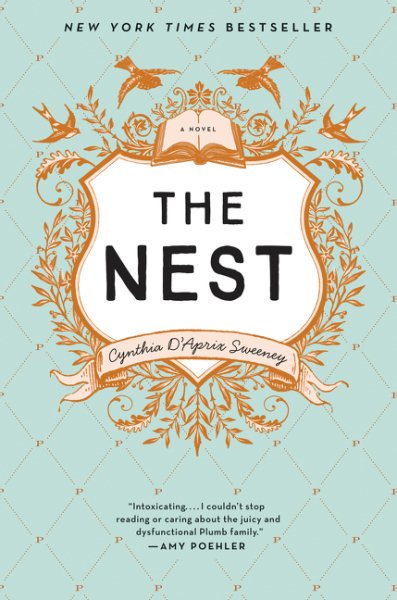 The Nest by Cynthia D'Aprix Sweeney
Every family has its problems. But even among the most troubled, the Plumb family stands out as spectacularly dysfunctional. Years of simmering tensions finally reach a breaking point on an unseasonably cold afternoon in New York City as Melody, Beatrice, and Jack Plumb gather to confront their charismatic and reckless older brother, Leo, freshly released from rehab. Months earlier, an inebriated Leo got behind the wheel of a car with a nineteen-year-old waitress as his passenger. The ensuing accident has endangered the Plumbs joint trust fund, "The Nest" which they are months away from finally receiving. Meant by their deceased father to be a modest mid-life supplement, the Plumb siblings have watched The Nest's value soar along with the stock market and have been counting on the money to solve a number of self-inflicted problems.
Melody, a wife and mother in an upscale suburb, has an unwieldy mortgage and looming college tuition for her twin teenage daughters. Jack, an antiques dealer, has secretly borrowed against the beach cottage he shares with his husband, Walker, to keep his store open. And Bea, a once-promising short-story writer, just can't seem to finish her overdue novel. Can Leo rescue his siblings and, by extension, the people they love? Or will everyone need to reimagine the future they've envisioned? Brought together as never before, Leo, Melody, Jack, and Beatrice must grapple with old resentments, present-day truths, and the significant emotional and financial toll of the accident, as well as finally acknowledge the choices they have made in their own lives.
This Is Where I Leave You by Jonathan Tropper
The death of Judd Foxman's father marks the first time that the entire Foxman family including Judd's mother, brothers, and sister – has been together in years. Conspicuously absent: Judd's wife, Jen, whose fourteen-month affair with Judd's radio-shock-jock boss has recently become painfully public.
Simultaneously mourning the death of his father and the demise of his marriage, Judd joins the rest of the Foxmans as they reluctantly submit to their patriarch's dying request: to spend the seven days following the funeral together. In the same house. Like a family.
As the week quickly spins out of control, long-standing grudges resurface, secrets are revealed, and old passions reawakened. For Judd, it's a week long attempt to make sense of the mess his life has become while trying in vain not to get sucked into the regressive battles of his madly dysfunctional family. All of which would be hard enough without the bomb Jen dropped the day Judd's father died: She's pregnant.
This Is Where I Leave You is Jonathan Tropper's most accomplished work to date, a riotously funny, emotionally raw novel about love, marriage, divorce, family, and the ties that bind – whether we like it or not.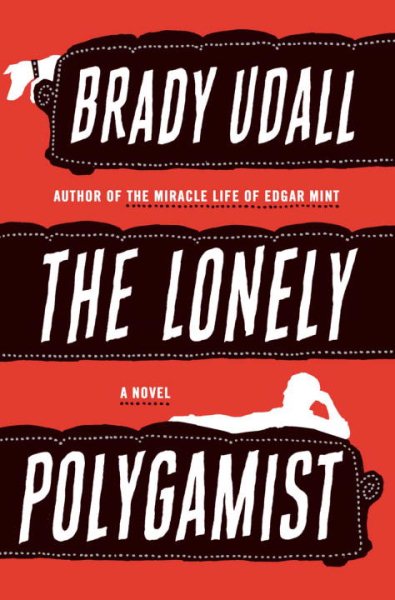 The Lonely Polygamist by Brad Udall
Golden Richards, husband to four wives, father to twenty-eight children, is having the mother of all midlife crises. His construction business is failing, his family has grown into an overpopulated mini-dukedom beset with insurrection and rivalry, and he is done in with grief: due to the accidental death of a daughter and the stillbirth of a son, he has come to doubt the capacity of his own heart. Brady Udall, one of our finest American fiction writers, tells a tragicomic story of a deeply faithful man who, crippled by grief and the demands of work and family, becomes entangled in an affair that threatens to destroy his family's future. Like John Irving and Richard Yates, Udall creates characters that engage us to the fullest as they grapple with the nature of need, love, and belonging.
Beautifully written, keenly observed, and ultimately redemptive, The Lonely Polygamist is an unforgettable story of an American family—with its inevitable dysfunctionality, heartbreak, and comedy—pushed to its outer limits.