September 27th to October 3rd is Banned Books Week this year, during which libraries, bookstores, and other institutions all over the country are celebrating the freedom to read what we choose. Below are six of the books from the list of the top 10 challenged books of 2014, including a young adult book, a memoir, two fiction books, and two graphic novels. These books have been challenged for a variety of reasons, from being "anti-family," to "sexually explicit," to containing "offensive language." Celebrate Banned Books Week by checking one out from the library and seeing what you think. Maybe you'll like it and maybe you won't, but you'll get to decide that for yourself; it's what the freedom to read is all about.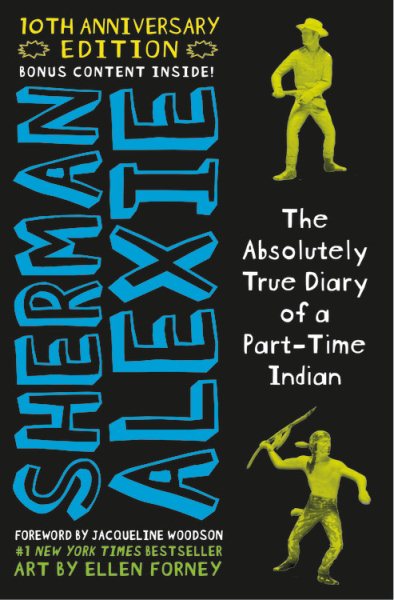 The Absolutely True Diary of a Part-Time Indian by Sherman Alexie
Junior is a budding cartoonist growing up on the Spokane Indian reservation. Born with a variety of medical problems, he is picked on by everyone but his best friend. Determined to receive a good education, Junior leaves the rez to attend an all-white school in the neighboring farm town where the only other Indian is the school mascot. Despite being condemned as a traitor to his people and enduring great tragedies, Junior attacks life with wit and humor and discovers a strength inside of himself that he never knew existed. The Absolutely True Diary of a Part-Time Indian chronicles the contemporary adolescence of one unlucky boy trying to rise above the life everyone expects him to live.
A Stolen Life by Jacyee Dugard
When Jaycee Dugard was eleven years old, she was abducted from a school bus stop within sight of her home in South Lake Tahoe, California. She was missing for more than eighteen years, held captive by Phillip and Nancy Garrido, and gave birth to two daughters during her imprisonment. On August 26, 2009, Garrido showed up for a meeting with his parole officer; he brought Jaycee, her daughters, and his wife Nancy with him. Their unusual behavior raised suspicions and an investigation revealed the tent behind the Garridos' home where Jaycee had been living for nearly two decades. A Stolen Life was written by Jaycee herself and covers the period from the time of her abduction in 1991 up until the present. In her stark, compelling narrative, she opens up about what she experienced—and offers an extraordinary account of courage and resilience.
The Kite Runner by Khaled Hosseini
The Kite Runner traces the unlikely friendship of Amir, a wealthy Afghanistani youth, and the son of one of his father's servants, in a tale that spans the final days of the nation's monarchy through the atrocities of the present day,  a beautifully crafted novel set in a country that is in the process of being destroyed. It is about the power of reading, the price of betrayal, and the possibility of redemption; and an exploration of the power of fathers over sons–their love, their sacrifices, their lies. A sweeping story of family, love, and friendship told against the devastating backdrop of the history of Afghanistan over the last thirty years, The Kite Runner is an unusual and powerful novel that has become a beloved, one-of-a-kind classic.
The Bluest Eye by Toni Morrison
Pecola Breedlove, a young black girl, prays every day for beauty. Mocked by other children for the dark skin, curly hair, and brown eyes that set her apart, she yearns for normalcy, for the blond hair and blue eyes that she believes will allow her to finally fit in. Yet as her dream grows more fervent, her life slowly starts to disintegrate in the face of adversity and strife. A powerful examination of our obsession with beauty and conformity, Toni Morrison's virtuosic first novel asks powerful questions about race, class, and gender with the subtlety and grace that have always characterized her writing.
Persepolis by Marjane Satrapi
Persepolis is Marjane Satrapi's wise, funny, and heartbreaking memoir of growing up in Iran during the Islamic Revolution. In powerful black-and-white comic strip images, Satrapi tells the story of her life in Tehran from ages six to fourteen, years that saw the overthrow of the Shah's regime, the triumph of the Islamic Revolution, and the devastating effects of war with Iraq. Persepolis paints an unforgettable portrait of daily life in Iran: the bewildering contradictions between home life and public life and the toll repressive regimes exact on the individual spirit. Marjane's child's-eye-view of dethroned emperors, state-sanctioned whippings, and heroes of the revolution allows us to learn as she does the history of this fascinating country and of her own extraordinary family. Intensely personal, profoundly political, and wholly original, Persepolis is at once a story of growing up and a reminder of the human cost of war and political repression. It shows how we carry on, with laughter and tears, in the face of absurdity. And, finally, it introduces us to an irresistible little girl with whom we cannot help but fall in love.
Saga by Brian Vaughan and Fiona Staples
A fantasy, sci-fi mash-up space opera of epic proportions, Saga tells the story of two soldiers from opposite sides of an intergalatic war who fall in love and have a child together. Alana and Marko are pursued across the galaxy by a variety of different characters from both sides of the war, intent on breaking them apart and destroying their blasphemous child. Wickedly funny and smart, filled with battles, moral dilemmas, and sex, this is a series that, while dealing with members of many different alien races in outer space, ultimately center on the very human issues of love, parenthood, and forgiveness.