We are celebrating Pride this month! There are plenty of events and happenings all around the City.  Here are a few more recent titles to check out, by LGBTQIA+ authors or on topics relating to the LGBTQIA+ community–try one today!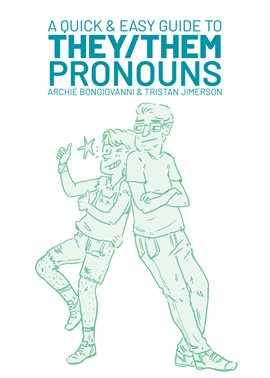 A Quick and Easy Guide to They/Them Pronouns by Archie Bongiovanni, illustrated by Tristan Jimerson [digital comic available in hoopla with your library card] ©2020
Archie, a snarky genderqueer artist, is tired of people not understanding gender neutral pronouns. Tristan, a cisgender dude, is looking for an easy way to introduce gender neutral pronouns to his increasingly diverse workplace. The longtime best friends team up in this short and fun comic guide that explains what pronouns are, why they matter, and how to use them. They also include what to do if you make a mistake, and some tips-and-tricks for those who identify outside of the binary to keep themselves safe in this binary-centric world. A quick and easy resource for people who use they/them pronouns, and people who want to learn more!
Rainbow Rainbow: Stories by Lydia Conklin ©2022
In this exuberant, prize-winning collection, queer, trans, and gender-nonconforming characters seek love and connection in hilarious and heartrending stories that reflect the complexity of our current moment.  A nonbinary writer on the eve of top surgery enters into a risky affair during the height of COVID. A lesbian couple enlists a close friend as a sperm donor, plying him with a potent rainbow-colored cocktail. A lonely office worker struggling with their gender identity chaperones their nephew to a trans YouTube convention. And in the depths of a Midwestern winter, a sex-addicted librarian relies on her pet ferrets to help resist a relapse at a wild college fair. Capturing both the dark and lovable sides of the human experience, Rainbow Rainbow establishes debut author Lydia Conklin as a fearless new voice for their generation.
Plain Bad Heroines by Emily M. Danforth ©2020
A century after the macabre deaths of several students at a New England girls' boarding school, the release of a sensational book on the school's history inspires a horror film adaptation that renews suspicions of a curse when the cast and crew arrive at the long-abandoned building.
1902, the Brookhants School for Girls. Flo and Clara are obsessed with each other and with Mary MacLane, the author of a scandalous bestselling memoir. The girls establish their own private club and call it the Plain Bad Heroine Society. Their bodies are discovered in a nearby apple orchard, with a copy of Mary's book splayed beside them, the victims of a swarm of stinging, angry yellow jackets. within five years three more people die on the property– and the Brookhants School for Girls closes its doors forever. The now abandoned and crumbling Brookhants is back in the news when writer Merritt Emmons publishes a breakout book celebrating the queer, feminist history surrounding the "haunted and cursed" Gilded Age institution. Her book inspires a controversial horror film adaptation starring lesbian it girl Harper Harper playing the ill-fated heroine Flo, and former child star Audrey Wells as Clara. But as Brookhants opens its gates once again for filming, soon it's impossible to tell where the curse leaves off and Hollywood begins.
Fine: A Comic About Gender by Rhea Ewing ©2022
Graphic artist Rhea Ewing celebrates the incredible diversity of experiences within the transgender community with this vibrant and revealing debut. For fans of Alison Bechdel's Fun Home and Meg-John Barker's Queer, Fine is an essential graphic memoir about the intricacies of gender identity and expression. As Rhea Ewing neared college graduation in 2012, they became consumed by the question: What is gender? This obsession sparked a quest in their quiet Midwest town, where they anxiously approached both friends and strangers for interviews to turn into comics. A decade later, their project has exploded into a fantastical and informative portrait of a surprisingly vast community spread across the country. Questions such as How do you identify? invited deep and honest accounts of adolescence, taking hormones, changing pronouns–and how these experiences can differ depending on culture, race, and religion. Amidst beautifully rendered scenes emerges Ewing's own visceral story growing up in rural Kentucky, grappling with their identity as a teenager, and ultimately finding themself through art–and by creating something this very fine.
Boys Come First by Aaron Foley ©2022
After a devastating layoff and sudden breakup, Dominick Gibson flees his life in NYC to try and get back on track in his hometown of Detroit. His one objective-exit the dating pool ASAP and get married by thirty-five. The deadline's approaching fast. Dominick reunites with his best friend, Troy, and meets Remy, a successful real estate agent who's got relationship problems of his own. And when a high-stakes deal threatens to blow up their friendship, the three men have to learn how to navigate life's pitfalls as well as a city that's changing overnight.
Ten Steps to Nanette: A Memoir Situation by Hannah Gadsby ©2022
"There is nothing stronger than a broken woman who has rebuilt herself," Hannah Gadsby declared in her show Nanette, a scorching critique of the way society conducts public debates about marginalized communities. When it premiered on Netflix, it left audiences captivated by her blistering honesty and her singular ability to take them from rolling laughter to devastated silence. Ten Steps to Nanette continues Gadsby's tradition of confounding expectations and norms, properly introducing us to one of the most explosive, formative voices of our time. Harrowing and hilarious, Ten Steps to Nanette traces Gadsby's growth as a queer person, to her ever-evolving relationship with comedy, and her struggle with late-in-life diagnoses of autism and ADHD, finally arriving at the backbone of Nanette: the renouncement of self-deprecation, the rejection of misogyny, and the moral significance of truth-telling.
All Boys Aren't Blue: A Memoir-Manifesto by George M. Johnson ©2020
In a series of personal essays, prominent journalist and LGBTQIA+ activist George M. Johnson explores his childhood, adolescence, and college years in New Jersey and Virginia. From the memories of getting his teeth kicked out by bullies at age five, to flea marketing with his loving grandmother, to his first sexual relationships, this young-adult memoir weaves together the trials and triumphs faced by Black queer boys.
All the Water I've Seen is Running by Elias Rodriques ©2021
Having forged a new identity as a gay man in New York, Daniel Henriquez returns to the floodlands where he went to high school, to mourn Aubrey, the self-identified "redneck" girl he loved back then. His track team buddies–Twig, a long-distance runner; Desmond, a sprinter; Des's girlfriend, Egypt; and Jess, Aubrey's best friend–help him reckon with who they are to him, and he to them. Recklessly, he confronts the good-ole-boy responsible for Aubrey's death, and comes out to his old friends as his own man, embracing the people and places he loves. All the Water I've Seen Is Running limns the complexities of class, race, and sexuality in the American South and in Jamaica, where Daniel's family originates. It evokes, in precise, elegiac prose, the beauty and threat of the place Daniel considers home–where the river meets the ocean
Let the Record Show: A Political History of ACT UP New York, 1987-1993 by Sarah Schulman ©2021
In just six years, ACT UP, New York, a broad and unlikely coalition of activists from all races, genders, sexualities, and backgrounds, changed the world. Armed with rancor, desperation, intelligence, and creativity, it took on the AIDS crisis with an indefatigable, ingenious, and multifaceted attack on the corporations, institutions, governments, and individuals who stood in the way of AIDS treatment for all. They stormed the FDA and NIH in Washington, DC, and started needle exchange programs in New York; they took over Grand Central Terminal and fought to change the legal definition of AIDS to include women; they transformed the American insurance industry, weaponized art and advertising to push their agenda, and battled–and beat–The New York Times, the Catholic Church, and the pharmaceutical industry. Their activism, in its complex and intersectional power, transformed the lives of people with AIDS and the bigoted society that had abandoned them.