Join us Saturday, June 30 to meet author Craig Grossi, and his four-legged friend, Fred. Craig will tell the story of how they met on an Afghan battlefield, and how they saved each other. To get you in a tail-wagging mood, here are some titles to check out about our furry besties and the deep, rewarding and sometimes life-changing friendships we form with them.
Happy Reading!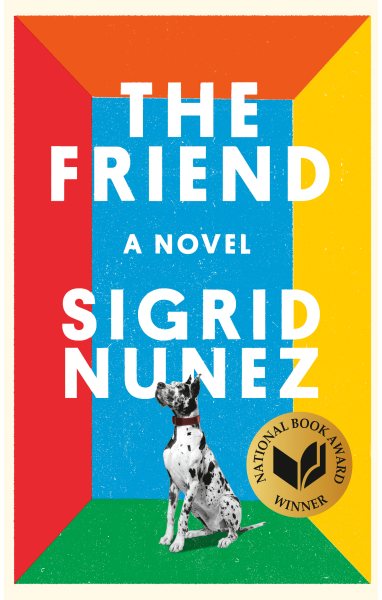 The Friend by Sigrid Nunez [Fiction]
In the riveting new novel from Nunez (Salvation City), the unnamed narrator thinks in the second person, addressing an unnamed old friend, a man, who has recently and unexpectedly committed suicide. The two first met decades earlier, while she was his student, the same semester in fact, when a fellow student became "Wife One" of three. While wives and lovers have come and gone, the narrator has remained a constant, friendly intimate of the deceased, a platonic yet intense and complex relationship. Mourning, she begins writing a cathartic elegy that becomes a larger meditation on writing, loss, and various forms of love. Early in the book, Wife Three calls to ask if the narrator will take responsibility for a large Great Dane named Apollo, whom the man had found abandoned in Central Park. Despite the unexpectedness of the request, the narrator takes the dog home, and over the course of the rest of the novel, her love for Apollo both consumes and heals her. This elegant novel explores both rich memories and day-to-day mundanity, reflecting the way that, especially in grief, the past is often more vibrant than the present.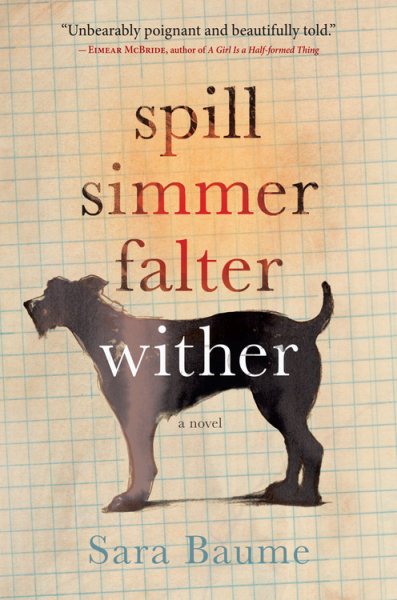 Spill Simmer Falter Wither by Sara Baume [Fiction]
A year in the life of a 57-year-old man and his dog doesn't sound like much, but Baume has elevated this simple conceit to something elegant, heartbreaking, and inspiring. The man is an orphan, living in his father's house with no especially fond memories of his past, no friends or family in his present, and no excitement or enthusiasm for the future. The dog is a one-eyed mutt with an absolute hatred of other dogs, due to be euthanized in a matter of hours. The man rescues the mutt in the hopes that the dog, now christened ONEEYE, can help keep his home clear of vermin. ONEEYE succeeds admirably at this task, but the man soon realizes that their now-intertwined lives have become fuller, richer, and infinitely more difficult. Fans of Garth Stein's The Art of Racing in the Rain (2008) will adore this glimpse inside a very unusual relationship between two very unusual creatures, but the lyric, lilting style of Baume's voice will endear even animal non-lovers to her thrilling and transformative story. With echoes of Mark Haddon's narrative style and a healthy dose of empathy for the lost and lonely among us, Spill Simmer Falter Wither is a superlative first novel.
The Art of Racing in the Rain by Garth Stein [Fiction]
Enzo the dog feels sure that his next life will be spent in a man's body. In preparation, he closely studies human behavior, and it's from Enzo's observant point of view that Stein writes his moving third novel. Enzo is deeply jealous when his owner, Denny, falls in love with Eve, but after baby Zoe is born, Enzo assumes his role as the family's unconditional protector, particularly after Eve is diagnosed with brain cancer. After Eve's death, her parents drag Denny into a bitter custody battle for Zoe, and Enzo, despite his canine limitations, passionately defends Denny and even alters the course of events. Denny is a race-car driver, and Enzo, who has watched countless televised races, folds thrilling track scenes and driving lessons into the terse family drama. The metaphors may feel purposeful, but readers will nonetheless delight in Enzo's wild, original voice; his aching insights into the limitations and joys of the canine and human worlds; and his infinite capacity for love.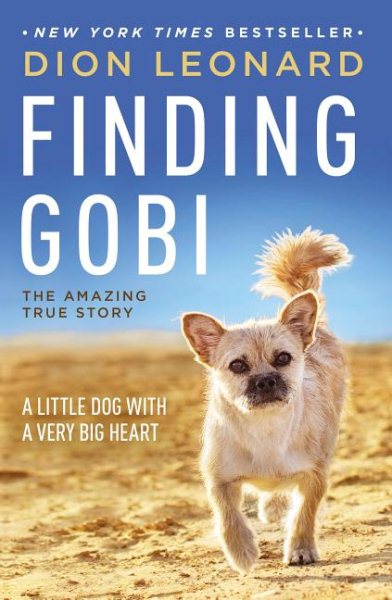 Finding Gobi: A Little Dog With a Very Big Heart by Dion Leonard with Craig Borlase [Nonfiction]
Leonard, a marathon runner, narrates the heartwarming story of Gobi, a stray dog he found on a race across the eponymous desert: how they formed their bond, her subsequent disappearance, and the global effort to reunite her with her owner. The race, a 155-mile ultramarathon, brings Leonard to Urumqi, China, where he battles high altitudes, excessive heat, and a sandstorm to come in second place. This feat is even more remarkable given that he repeatedly doubles back to help the charming stray that has become his shadow. After Gobi's story goes viral, she disappears in suspicious circumstances from her caretaker's home in China. What follows is a suspenseful mission to find Gobi conducted by Leonard and a loyal team of dog lovers. They are forced to contend with Chinese government operatives and shady potential dognappers looking for a payout, among others, to find and rescue the "little ball of sandy-brown fluff"…Leonard and Gobi's story represents the power of people working together and the profound depth of feeling possible between a man and his dog.
A Dog's Way Home by W. Bruce Cameron [Fiction]
Soft-hearted medical student Lucas Ray has been keeping an eye on and setting out food for a colony of feral cats in a soon-to-be-demolished building across from the subsidized apartment he shares with his war-veteran mother. Along with the abandoned cats and kittens, however, is a lone puppy of indeterminate breed. For Lucas and the dog, it is love at first sight. Bella, as she comes to be called, also comes to be identified as a pit bull, a breed that has run afoul of Denver's strict animal-control laws. One infraction too many sends Bella into foster care hundreds of miles away from her beloved Lucas and sanctuary home. Though Bella meets kind people during her separation, she has but one goal: to return to Lucas. Braving a 400-mile journey across cougar- and coyote-infested wilderness and facing myriad urban dangers, Bella persists in her desire to be reunited with her human and home. Ever popular with dog lovers, Cameron (The Dog Master, 2015) presents another winning tale of an extraordinary human-canine companionship full of tug-at-the-heartstrings adventure.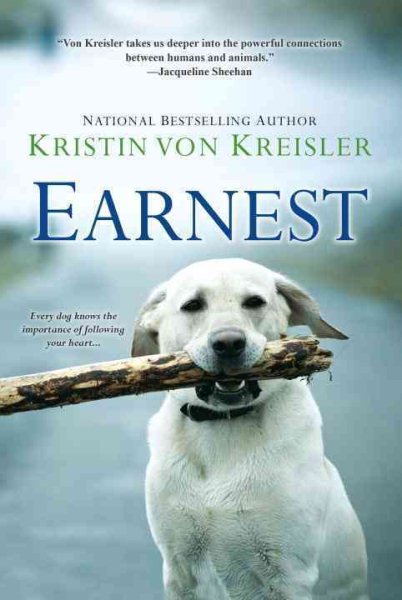 Earnest by Kristin Von Kreisler [Fiction]
Earnest. It's the perfect name for a sweet, eager-to-please yellow Labrador retriever. Anna and her boyfriend Jeff fall for him the minute they see those guileless eyes gazing up from behind his gate at Seattle's Best Friends Shelter. In no time at all, they're a pack of three, with Earnest happily romping in their condo on Gamble Island.
During the day, Earnest keeps Anna company in her flower shop, located in a historic gingerbread Victorian on the island's main street. Anna hopes to buy and restore the house, once owned by her beloved grandmother. But when that dream is threatened by Jeff's actions, Anna's trust is shattered. For so long, the house has encompassed all her ideals of security, home, and family. Yet Earnest's devotion to his two people, and theirs to him, make it impossible for them to walk away from each other. And when a crisis hits, it's Earnest—honest, stubborn, and uncannily wise—who will help Anna reconcile her past and embrace what the future can bring…
The Secret Life of Souls by Jack Ketchum and Lucky McKee [Fiction]
Delia and her dog, Caity, have a special bond. They're connected in ways the rest of her family doesn't understand—not her stage-mom, Pat, not her spendthrift dad, not even her twin brother, Robbie, gets it, though he loves Caity, too. With Caity's support, Delia can do anything, including become the next big sitcom star at only 11 years old. But just as she's about to get her big break, a prank turns to tragedy. Delia is burned in a fire, saved by a desperate Caity—an act that, somehow, links the two psychically. But Delia's parents have built their lives around her potential career, and they won't let go of the dream easily, no matter what Delia wants. As the family careers toward destruction, Caity (and through her, Delia) bears witness to every secret that tears them apart. With equal parts horror and suspense and a heavy sense of dread throughout, Ketchum and McKee have crafted a tightly wound thriller with elements of magic that is sure to keep readers turning pages until the violent end.
A Dog's Gift: The Inspirational Story of Veterans and Children Healed by Man's Best Friend by Bob Drury; principal photography by Joan Brady [Nonfiction]
"Can a heart break and soar simultaneously?" So muses Drury (contributing editor, Men's Health; coauthor, The Last Stand of Fox Company) while observing a profoundly challenged child being helped by her "mobility assistance dog." The animal is supplied courtesy of Paws4People (p4p), the service-dog breeding and training organization founded and run by former naval intelligence officer Terry Henry and his daughter Kyria. Drury spends a year exploring the many branches of the outfit, reporting the astounding healing powers the dogs have on "bruised and bent human beings," including the war veterans and prison inmates who help train the dogs. Emotionally nuanced throughout, the book is especially sensitive to the PTSD-related demons of Henry; the careful way Drury teases out his story is one of many interesting narrative strands. Another involves the author himself—a flinty former war correspondent with family issues—who experiences a positive transformation. The book closes on a high with an account of the "Bump," an event in which the dogs choose the humans they'll assist. This feel-good story manages to avoid the treacly effect that often accompanies the "inspirational." Animal lovers, especially dog owners, will enjoy it greatly.