Don't miss a very special author talk where Nova Jacobs joins Anne Louise Bannon, president of Mystery Writers of America, Southern California. in conversation as they discuss her book, The Last Equation of Isaac Severy: A Novel in Clues. The discussion will be at the Central Library on Thursday, December 12th at 7 p.m. Books will be available for sale and signing.
Jacobs' debut novel is at once a dazzling and imaginative literary mystery and an immensely satisfying family drama. A legendary mathematician leaves his final equation to his adopted granddaughter in a series of confounding clues concealed inside her favorite novel. The problem is, she can't decipher where the equation is hidden—or why she has been entrusted with such a weighty secret.
For more puzzling novels full of clues, ciphers, and mystery, take a look at the list below and immerse yourself in another literary puzzle.
The Name of the Rose by Umberto Eco
The year is 1327. Franciscans in a wealthy Italian abbey are suspected of heresy, and Brother William of Baskerville arrives to investigate. When his delicate mission is suddenly overshadowed by seven bizarre deaths, Brother William turns detective. His tools are the logic of Aristotle, the theology of Aquinas, the empirical insights of Roger Bacon—all sharpened to a glistening edge by wry humor and a ferocious curiosity. He collects evidence, deciphers secret symbols and coded manuscripts, and digs into the eerie labyrinth of the abbey, where "the most interesting things happen at night."
Magpie Murders by Anthony Horowitz
When editor Susan Ryeland is given the manuscript of Alan Conway's latest novel, she has no reason to think it will be much different from any of his others. After working with the bestselling crime writer for years, she's intimately familiar with his detective, Atticus Pünd, who solves mysteries disturbing sleepy English villages. An homage to queens of classic British crime such as Agatha Christie and Dorothy Sayers, Alan's traditional formula has proved hugely successful. So successful that Susan must continue to put up with his troubling behavior if she wants to keep her job.
Conway's latest tale has Atticus Pünd investigating a murder at Pye Hall, a local manor house. Yes, there are dead bodies and a host of intriguing suspects, but the more Susan reads, the more she's convinced that there is another story hidden in the pages of the manuscript: one of real-life jealousy, greed, ruthless ambition, and murder.
Masterful, clever, and relentlessly suspenseful, Magpie Murders is a deviously dark take on vintage English crime fiction in which the reader becomes the detective.
The Crying of Lot 49 by Thomas Pynchon
When her ex-lover, wealthy real-estate tycoon Pierce Inverarity dies and designates her the co-executor of his estate, California housewife Oedipa Mass is thrust into a paranoid mystery of metaphors, symbols, and the United States Postal Service. Traveling across Southern California, she meets some extremely interesting characters, and attains a not-inconsiderable amount of self-knowledge.
The Mathematician's Shiva by Stuart Rojstaczer
When the greatest female mathematician in history passes away, her son, Alexander "Sasha" Karnokovitch, just wants to mourn his mother in peace. But rumor has it the notoriously eccentric Polish émigré has solved one of the most difficult problems in all of mathematics, and has spitefully taken the solution to her grave. As a ragtag group of mathematicians from around the world descends upon Rachela's shiva, determined to find the proof or solve it for themselves—even if it means prying up the floorboards for notes or desperately scrutinizing the mutterings of her African Grey parrot—Sasha must come to terms with his mother's outsized influence on his life.
Spanning decades and continents, from a crowded living room in Madison, Wisconsin, to the windswept beach on the Barents Sea where a young Rachela had her first mathematical breakthrough, The Mathematician's Shiva is an unexpectedly moving and uproariously funny novel that captures humanity's drive not just to survive, but to achieve the impossible.
Mr. Penumbra's 24-Hour Bookstore by Robin Sloan
The Great Recession has shuffled Clay Jannon out of his life as a San Francisco Web-design drone—and serendipity, sheer curiosity, and the ability to climb a ladder like a monkey has landed him a new gig working the night shift at Mr. Penumbra's 24-Hour Bookstore. But after just a few days on the job, Clay begins to realize that this store is even more curious than the name suggests. There are only a few customers, but they come in repeatedly and never seem to actually buy anything, instead "checking out" impossibly obscure volumes from strange corners of the store, all according to some elaborate, long-standing arrangement with the gnomic Mr. Penumbra. The store must be a front for something larger, Clay concludes, and soon he's embarked on a complex analysis of the customers' behavior and roped his friends into helping to figure out just what's going on. But once they bring their findings to Mr. Penumbra, it turns out the secrets extend far outside the walls of the bookstore.
With irresistible brio and dazzling intelligence, Robin Sloan has crafted a literary adventure story for the twenty-first century, evoking both the fairy-tale charm of Haruki Murakami and the enthusiastic novel-of-ideas wizardry of Neal Stephenson or a young Umberto Eco, but with a unique and feisty sensibility that's rare to the world of literary fiction. Mr. Penumbra's 24-Hour Bookstore is exactly what it sounds like: an establishment you have to enter and will never want to leave, a modern-day cabinet of wonders ready to give a jolt of energy to every curious reader, no matter the time of day.
Midnight at the Bright Ideas Bookstore by Matthew Sullivan
Lydia Smith lives her life hiding in plain sight. A clerk at the Bright Ideas bookstore, she keeps a meticulously crafted existence among her beloved books, eccentric colleagues, and the BookFrogs—the lost and lonely regulars who spend every day marauding the store's overwhelmed shelves.
But when Joey Molina, a young, beguiling BookFrog, kills himself in the bookstore's upper room, Lydia's life comes unglued. Always Joey's favorite bookseller, Lydia has been bequeathed his meager worldly possessions. Trinkets and books; the detritus of a lonely, uncared for man. But when Lydia flips through his books she finds them defaced in ways both disturbing and inexplicable. They reveal the psyche of a young man on the verge of an emotional reckoning. And they seem to contain a hidden message. What did Joey know? And what does it have to do with Lydia?
As Lydia untangles the mystery of Joey's suicide, she unearths a long buried memory from her own violent childhood. Details from that one bloody night begin to circle back. Her distant father returns to the fold, along with an obsessive local cop, and the Hammerman, a murderer who came into Lydia's life long ago and, as she soon discovers, never completely left. Bedazzling, addictive, and wildly clever, Midnight at the Bright Ideas Bookstore is a heart-pounding mystery that perfectly captures the intellect and eccentricity of the bookstore milieu and will keep you guessing until the very last page.​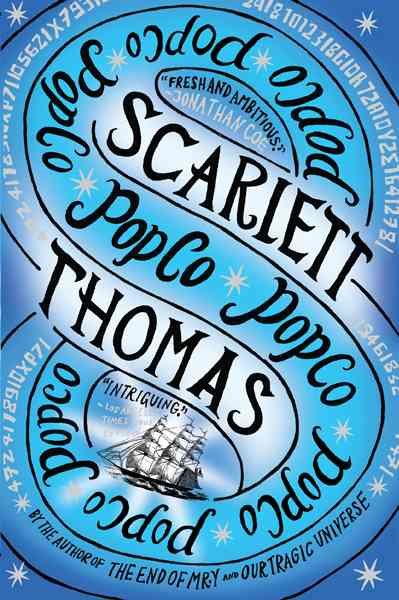 Popco by Scarlett Thomas
PopCo tells the story of Alice Butler-a subversively smart girl in our commercial-soaked world who grows from recluse orphan to burgeoning vigilante, buttressed by mystery, codes, math, and the sense her grandparents gave her that she could change the world.
Alice-slight introvert, crossword compositor- works at PopCo, a globally successful and slightly sinister toy company. Lured by their CEO to a Thought Camp out on the moors, PopCo's creatives must invent the ultimate product for teenage girls. Meanwhile, Alice receives bizarre, encrypted messages she suspects relate to her grandfather's decoding of a centuries-old manuscript that many-including her long-disappeared father-believe leads to buried treasure. Its key, she's sure, is engraved on the necklace she's been wearing since she was ten. Using the skills she learned from her grandparents and teaching us aspects of cryptanalysis, Alice discovers the source of these creepy codes. Will this lead her to the mysterious treasure or another, even more carefully guarded secret?