It's Black History Month and since the library is focusing on STEAM initiatives this year, we're celebrating both by taking a closer look at some of the amazing African Americans who have contributed so much to STEM fields; that is, they worked as a scientist, technologist, engineer, or mathematician. Below are a selection of biographies and memoirs about prominent African Americans in these important fields who helped push our country forward in the space race, creating new inventions, and many other areas.
Chasing Space: An Astronaut's Story of Grit, Grace, and Second Chances by Leland Melvin
In this revelatory and moving memoir, a former NASA astronaut and NFL wide receiver shares his personal journey from the gridiron to the stars, examining the intersecting roles of community, perseverance and grace that align to create the opportunities for success.
Leland Melvin is the only person in human history to catch a pass in the National Football League and in space. Though his path to the heavens was riddled with setbacks and injury, Leland persevered to reach the stars.
While training with NASA, Melvin suffered a severe injury that left him deaf. Leland was relegated to earthbound assignments, but chose to remain and support his astronaut family. His loyalty paid off. Recovering partial hearing, he earned his eligibility for space travel. He served as mission specialist for two flights aboard the shuttle Atlantis, working on the International Space Station.
In this uplifting memoir, the former NASA astronaut and professional athlete offers an examination of the intersecting role of community, determination, and grace that align to shape our opportunities and outcomes. Chasing Space is not the story of one man, but the story of many men, women, scientists, and mentors who helped him defy the odds and live out an uncommon destiny.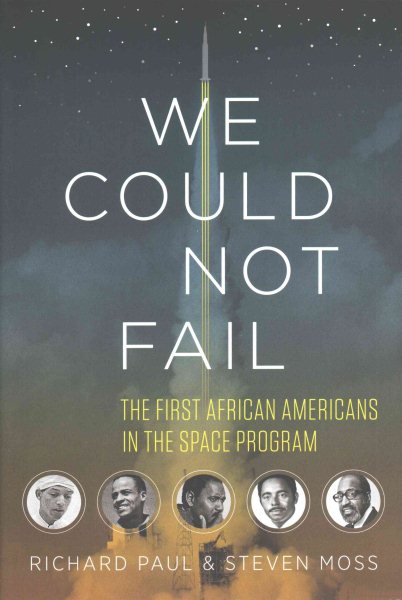 We Could Not Fail: The First African Americans in the Space Program by Richard Paul & Steven Moss
The Space Age began just as the struggle for civil rights forced Americans to confront the long and bitter legacy of slavery, discrimination, and violence against African Americans. Presidents John F. Kennedy and Lyndon Johnson utilized the space program as an agent for social change, using federal equal employment opportunity laws to open workplaces at NASA and NASA contractors to African Americans while creating thousands of research and technology jobs in the Deep South to ameliorate poverty. We Could Not Fail tells the inspiring, largely unknown story of how shooting for the stars helped to overcome segregation on earth.
Richard Paul and Steven Moss profile ten pioneer African American space workers whose stories illustrate the role NASA and the space program played in promoting civil rights. They recount how these technicians, mathematicians, engineers, and an astronaut candidate surmounted barriers to move, in some cases literally, from the cotton fields to the launching pad. The authors vividly describe what it was like to be the sole African American in a NASA work group and how these brave and determined men also helped to transform Southern society by integrating colleges, patenting new inventions, holding elective office, and reviving and governing defunct towns. Adding new names to the roster of civil rights heroes and a new chapter to the story of space exploration, We Could Not Fail demonstrates how African Americans broke the color barrier by competing successfully at the highest level of American intellectual and technological achievement.
Hidden Figures: The American Dream and the Untold Story of the Black Women Mathematicians Who Helped Win the Space Race by Margot Lee Shetterly
Before John Glenn orbited the earth, or Neil Armstrong walked on the moon, a group of dedicated female mathematicians known as "human computers" used pencils, slide rules and adding machines to calculate the numbers that would launch rockets, and astronauts, into space.
Among these problem-solvers were a group of exceptionally talented African American women, some of the brightest minds of their generation. Originally relegated to teaching math in the South's segregated public schools, they were called into service during the labor shortages of World War II, when America's aeronautics industry was in dire need of anyone who had the right stuff. Suddenly, these overlooked math whizzes had a shot at jobs worthy of their skills, and they answered Uncle Sam's call, moving to Hampton, Virginia and the fascinating, high-energy world of the Langley Memorial Aeronautical Laboratory.
Even as Virginia's Jim Crow laws required them to be segregated from their white counterparts, the women of Langley's all-black "West Computing" group helped America achieve one of the things it desired most: a decisive victory over the Soviet Union in the Cold War, and complete domination of the heavens.
Starting in World War II and moving through to the Cold War, the Civil Rights Movement and the Space Race, Hidden Figures follows the interwoven accounts of Dorothy Vaughan, Mary Jackson, Katherine Johnson and Christine Darden, four African American women who participated in some of NASA's greatest successes. It chronicles their careers over nearly three decades they faced challenges, forged alliances and used their intellect to change their own lives, and their country's future.
The Inventive Spirit of African Americans: Patented Ingenuity by Patricia Carter Sluby
In this important study, former United States primary patent examiner Patricia Carter Sluby pays homage to the inventive spirit of African Americans. Beginning with the contributions of enslaved Africans brought to American shores, Sluby introduces inventors and patent holders from all fields up to and including the leading edge of today's technology. Along with such recognizable figures as George Washington Carver and Madam C. J. Walker, readers will discover little-known or forgotten pioneers of devices such as a tobacco substitute, a home security system, and a portable heart monitor. Particular attention is given to the innovations of women inventors and scientists.
Black Man in a White Coat: A Doctor's Reflections on Race and Medicine by Damon Tweedy, M.D
When Damon Tweedy begins medical school, he envisions a bright future where his segregated, working-class background will become largely irrelevant. Instead, he finds that he has joined a new world where race is front and center. The recipient of a scholarship designed to increase black student enrollment, Tweedy soon meets a professor who bluntly questions whether he belongs in medical school, a moment that crystallizes the challenges he will face throughout his career. Making matters worse, in lecture after lecture the common refrain for numerous diseases resounds, "More common in blacks than in whites."

Black Man in a White Coat examines the complex ways in which both black doctors and patients must navigate the difficult and often contradictory terrain of race and medicine. As Tweedy transforms from student to practicing physician, he discovers how often race influences his encounters with patients. Through their stories, he illustrates the complex social, cultural, and economic factors at the root of many health problems in the black community. These issues take on greater meaning when Tweedy is himself diagnosed with a chronic disease far more common among black people. In this powerful, moving, and deeply empathetic book, Tweedy explores the challenges confronting black doctors, and the disproportionate health burdens faced by black patients, ultimately seeking a way forward to better treatment and more compassionate care.
The Sky Is Not the Limit: Adventures of an Urban Astrophysicist by Neil de Grasse Tyson
This is the absorbing story of Neil de Grasse Tyson's lifelong fascination with the night sky, a restless wonder that began some thirty years ago on the roof of his Bronx apartment building and eventually led him to become the director of the Hayden Planetarium. A unique chronicle of a young man who at one time was both nerd and jock, Tyson's memoir could well inspire other similarly curious youngsters to pursue their dreams.
Like many athletic kids he played baseball, won medals in track and swimming, and was captain of his high school wrestling team. But at the same time he was setting up a telescope on winter nights, taking an advanced astronomy course at the Hayden Planetarium, and spending a summer vacation at an astronomy camp in the Mojave Desert.
Eventually, his scientific curiosity prevailed, and he went on to graduate in physics from Harvard and to earn a Ph.D. in astrophysics from Columbia. There followed postdoctoral research at Princeton. In 1996, he became the director of the Hayden Planetarium, where some twenty-five years earlier he had been awed by the spectacular vista in the sky theater.
Tyson pays tribute to the key teachers and mentors who recognized his precocious interests and abilities, and helped him succeed. He intersperses personal reminiscences with thoughts on scientific literacy, careful science vs. media hype, the possibility that a meteor could someday hit the Earth, dealing with society's racial stereotypes, what science can and cannot say about the existence of God, and many other interesting insights about science, society, and the nature of the universe.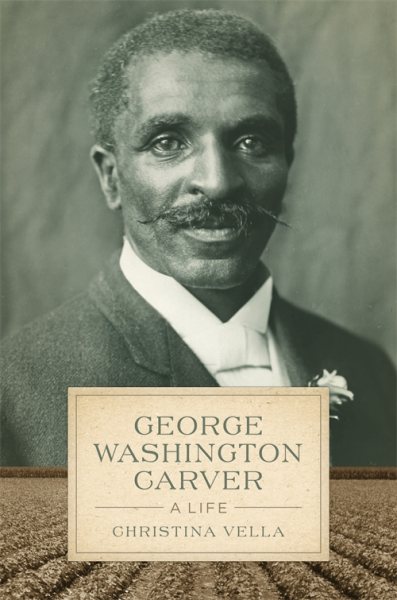 George Washington Carver: A Life by Christina Vella
Nearly every American can cite at least one of the accomplishments of George Washington Carver. The many tributes honoring his contributions to scientific advancement and black history include a national monument bearing his name, a U.S.-minted coin featuring his likeness, and induction into the National Inventors Hall of Fame. Born into slavery, Carver earned a master's degree at Iowa State Agricultural College and went on to become that university's first black faculty member. A keen painter who chose agricultural studies over art, he focused the majority of his research on peanuts and sweet potatoes. His scientific breakthroughs with the crops — both of which would replenish the cotton-leached soil of the South — helped spare multitudes of sharecroppers from poverty. Despite Carver's lifelong difficulties with systemic racial prejudice, when he died in 1943, millions of Americans mourned the passing of one of the nation's most honored and well-known scientists.
Christina Vella offers a thorough biography of George Washington Carver, including in-depth details of his relationships with his friends, colleagues, supporters, and those he loved. Despite the exceptional trajectory of his career, Carver was not immune to the racism of the Jim Crow era or the privations and hardships of the Great Depression and two world wars. Yet throughout this tumultuous period, his scientific achievements aligned him with equally extraordinary friends, including Teddy Roosevelt, Mohandas Gandhi, Henry A. Wallace, and Henry Ford.
A prodigious and generous scholar whose life was shaped by struggle and heartbreak as well as success and fame, George Washington Carver remains a key figure in the history of southern agriculture, botanical advancement, and the struggle for civil rights. Vella's extensively researched biography offers a complex and compelling portrait of one of the most brilliant men of the last century.