It's that time of year: those infamous Santa Anas are blowing in: hot, dry, contributing to the danger of wildfires.  Many of us in SoCal sense a psychological component to this weather feature, citing a rise in tension, frustration or restlessness while the Santa Anas are blowing.  Inspired by an excellent piece from KCET –"The Devil Wind: A Brief History of the Santa Anas"– on the phenomenon, and how they figure in regional literature (often suspense, and crime writing–whether ficiton or nonfiction), we're sharing some titles below that mention, or even highlight Santa Anas.
Two Years Before the Mast: A Personal Narrative of Life at Sea by Richard Henry Dana
In 1836, a "violent northeaster" forced the Pilgrim to pull up anchor from San Pedro harbor for shelter at Santa Catalina Island.
When doctors told Richard Henry Dana that an ocean voyage might halt his impending blindness, the nineteen-year-old Harvard undergraduate dropped out of school and became an ordinary deckhand on the brig Pilgrim. The perilous journey from Boston, begun in 1834, took the ailing yet determined youth past Cape Horn and around the Americas, concluding in the Mexican territory California.
This expedition inspired Two Years before the Mast, a first-hand account of the life of a common sailor" and a work that combines history, philosophy, and personal experience. Published in 1840, the book convincingly re-creates life at sea–the beauty and adventure but also the cold, danger, and backbreaking labor. Dana's depiction of the inhuman conditions suffered by seamen at the hands of capricious, brutal, and even mad captains and ship owners was so stark that the book fueled urgent cries for reform. It also was deeply admired by Herman Melville, Dana's most famous literary confidante.
Dana eventually became a lawyer, devoting himself to fighting for the rights of sailors and slaves in court. He went on to help form the anti-slavery Free Soil Party, work for the federal government during the Civil War, and serve on the Massachusetts legislature.
"Red Wind,"  in Collected Stories by Raymond Chandler 
"There was a desert wind blowing that night. It was one of those hot dry Santa Anas that come down through the mountain passes and curl your hair and make your nerves jump and your skin itch. On nights like that, every booze party ends in a fight. Meek little wives feel the edge of the carving knife and study their husband's necks. Anything can happen."
The only complete edition of stories by the undisputed master of detective literature, collected here for the first time in one volume, including some stories that have been unavailable for decades.
When Raymond Chandler turned to writing at the age of forty-five, he began by publishing stories in pulp magazines such as "Black Mask" before later writing his famous novels. These stories are where Chandler honed his art and developed his uniquely vivid underworld, peopled with good cops and bad cops, informers and extortionists, lethally predatory blondes and redheads, and crime, sex, gambling, and alcohol in abundance. In addition to his classic hard-boiled stories–in which his signature atmosphere of depravity and violence swirls around the cool, intuitive loners whose type culminated in the famous detective Philip Marlowe–Chandler also turned his hand to fantasy and even a gothic romance.
This rich treasury of twenty-five stories shows Chandler developing the terse, laconic, understated style that would serve him so well in his later masterpieces, and immerses the reader in the richly realized fictional universe that has become an enduring part of our literary landscape
"Los Angeles Notebook" in Slouching Towards Bethlehem by Joan Didion
"[T]he violence and the unpredictability of the Santa Ana affect the entire quality of life in Los Angeles, accentuate its impermanence, its unreliability. The wind shows us how close to the edge we are."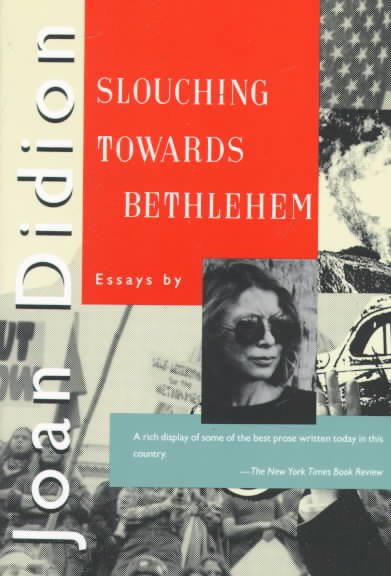 Universally acclaimed when it was first published in 1968, Slouching Towards Bethlehem has become a modern classic. More than any other book of its time, this collection captures the mood of 1960s America, especially the center of its counterculture, California. These essays, keynoted by an extraordinary report on San Francisco's Haight-Ashbury, all reflect that, in one way or another, things are falling apart, "the center cannot hold." An incisive look at contemporary American life, Slouching Towards Bethlehem has been admired for several decades as a stylistic masterpiece.
"Some Dreamers of the Golden Dream" by Joan Didion, May 7 1966 issue of Saturday Evening Post
"The San Bernardino Valley lies only an hour east of Los Angeles by way of the San Bernardino Freeway but is in certain ways an alien place: not the coastal the California of subtropical twilights and the soft westerlies off the Pacific but a harsher California, haunted by the Mohave just beyond the mountains, devastated by the hot dry Santa Ana wind that comes down through the passes at 100 miles an hour and whines through the Eucalypts windbreaks and works on the nerves. October is the bad month for the wind, the month when breathing is difficult and the hills blaze up spontaneously. There has been no rain since April. Every voice seems a scream. It is the season of suicide and divorce and prickly dread, wherever the wind blows."
Classic Joan Didion writing on a Southern California crime in 1964. Read a wonderful explanation of what makes it such a great piece at the Nieman Storyboard, from the Nieman Foundation at Harvard.
The link above is to an accessible online version of the essay via Longform, which is a site that "recommends new and classic non-fiction from around the web," and makes it available in one place (they also produce a popular podcast).
If you really want to get a good feel for the events and atmosphere in the article, you can read it in its original published context at Central Library. We carry bound issues of Saturday Evening Post from 1919-1978.
The Husband by Dean Koontz
"Eager breathing, hissing, and hungry panting arose at every vent in the eaves, as though the attic were a canary cage and the wind a voracious cat. Such was the disquieting nature of a Santa Ana wind that even the spiders were agitated by it. They moved restlessly on their webs."
It's another boring day in paradise for gardener Mitch Rafferty, planting impatiens on a rich client's lawn. Then his cell rings. It's Holly, his wife, and she doesn't sound good. Someone slaps her, she screams, and a man comes on to tell Mitch that he has 60 hours to raise $2 million to ransom her. Just so Mitch knows they mean business, the man says, see the guy walking a dog across the street? Mitch looks and blam! A bullet to the head kills the dog walker. Let this be a warning, too, that the kidnapper-killers will know if Mitch says word one to the cops about his predicament, and Holly will suffer. Where is a gardener supposed to get $2 million? The sinister caller says he'll let Mitch know; just be a good machine and follow instructions. Despite his terror, Mitch does until . . .But uh-uh-uh, nothing should be given away about this sinuous nail-biter's developments. Suffice it to say that Mitch's intensely warped family, managed according to his rigidly materialistic psychologist-father's theories; two betrayals, one of Mitch, the other of the kidnappers; a slick child pornography entrepreneur; a humane but persistent police detective; and a New Ager psychopath all help ratchet up the suspense and the violence. But Koontz focuses relentlessly on Mitch and, in chapters scattered judiciously throughout the latter 230 pages, Holly. Not for him the flirtation with evil thinking that an Elmore Leonard does so well or the temptation to sympathize with evildoers that an Alfred Hitchcock offers. And yet Koontz is no less an artist for his championing of the good and his determination to have readers identify with it, as this hair-raising thriller attests.
Jojo's Bizarre Adventure [Manga Series] by Hirohiko Araki
The character "Santana" has a named derived from the Satna Ana Winds.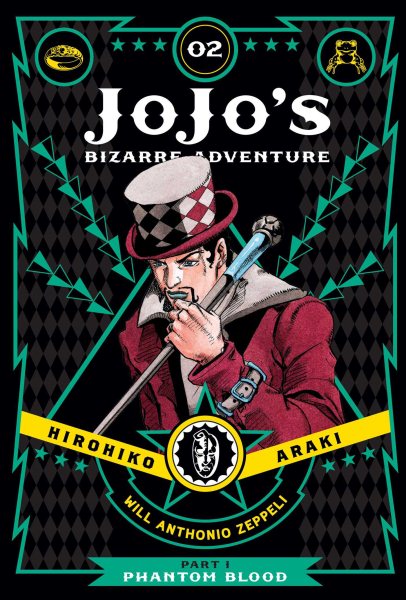 JoJo's Bizarre Adventure is a groundbreaking manga famous for its outlandish characters, wild humor and frenetic battles. A multigenerational tale of the heroic Joestar family and their never-ending battle against evil!
As if Dio wasn't diabolical enough, now he's an immortal vampire with incredible strength! But Jonathan Joestar's not one to back down, even when it seems like victory is impossible! It's a classic battle! Good versus evil! Grit and determination against power and arrogance! Who will win?!
White Oleander  by Janet Fitch
Santa Anas feature in the plot of this 1999 novel.
Thirteen-year-old Astrid Magnussen, the sensitive and heart-wrenching narrator of this impressive debut, is burdened with an impossible mother in Ingrid, a beautiful, gifted poet whose scattered life is governed by an enormous ego. When Ingrid goes to prison for murdering her ex-lover, Astrid enters the Los Angeles foster care program and is placed with a series of brilliantly characterized families… Meanwhile, Ingrid, poet-in-prison, becomes a feminist icon who now has a chance at freedom if Astrid will agree to testify untruthfully at the trial. Astrid's difficult choice yields unexpected truths about her hidden past, and propels her already epic story forward, with genuinely surprising and wrenching twists. Fitch is a splendid stylist; her prose is graceful and witty; the dialogue, especially Astrid's distinctive utterances and loopy adages, has a seductive pull. This sensitive exploration of the mother-daughter terrain (sure to be compared to Mona Simpson's Anywhere but Here) offers a convincing look at what Adrienne Rich has called "this womanly splitting of self," in a poignant, virtuosic, utterly captivating narrative.
Less Than Zero by Bret Easton Ellis
Santa Anas feature in the plot of this 1985 novel.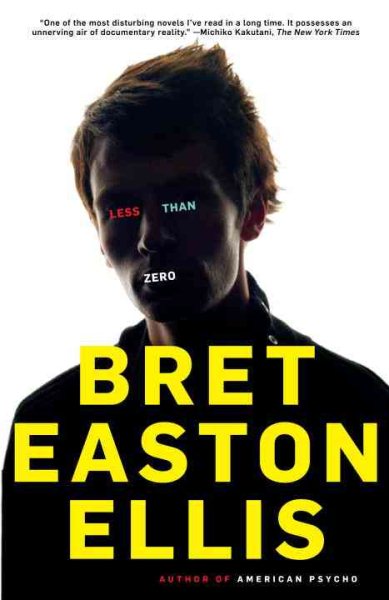 Set in Los Angeles in the early 1980's, Less than Zero has become a timeless classic. This coolly mesmerizing novel is a raw, powerful portrait of a lost generation who have experienced sex, drugs, and disaffection at too early an age.  They live in a world shaped by casual nihilism, passivity, and too much money in a place devoid of feeling or hope.
Clay comes home for Christmas vacation from his Eastern college and re-enters a landscape of limitless privilege and absolute moral entropy, where everyone drives Porches, dines at Spago, and snorts mountains of cocaine. He tries to renew feelings for his girlfriend, Blair, and for his best friend from high school, Julian, who is careering into hustling and heroin. Clay's holiday turns into a dizzying spiral of desperation that takes him through the relentless parties in glitzy mansions, seedy bars, and underground rock clubs and also into the seamy world of L.A. after dark.