While we are beginning to understand more about how memory works, the idea of amnesia is still a profoundly unsettling disorder because of the way that it strikes at our fundamental self. Because amnesia can work in many different ways, and affects the subject and their family so profoundly, it also can create very fascinating stories. Below are some books and movies that explore and play with the concept of amnesia in many different situations and from many different angles. From thrillers, to memoirs, to romantic comedies, there's something here for everyone.
Patient H.M.: A Story of Memory, Madness, and Family Secrets by Luke Dittrich
In 1953, a twenty-seven-year-old factory worker named Henry Molaison—who suffered from severe epilepsy—received a radical new version of the then-common lobotomy, targeting the most mysterious structures in the brain. The operation failed to eliminate Henry's seizures, but it did have an unintended effect: Henry was left profoundly amnesic, unable to create long-term memories. Over the next sixty years, Patient H.M., as Henry was known, became the most studied individual in the history of neuroscience, a human guinea pig who would teach us much of what we know about memory today.
Patient H.M. is, at times, a deeply personal journey. Dittrich's grandfather was the brilliant, morally complex surgeon who operated on Molaison—and thousands of other patients. The author's investigation into the dark roots of modern memory science ultimately forces him to confront unsettling secrets in his own family history, and to reveal the tragedy that fueled his grandfather's relentless experimentation—experimentation that would revolutionize our understanding of ourselves.
Dittrich uses the case of Patient H.M. as a starting point for a kaleidoscopic journey, one that moves from the first recorded brain surgeries in ancient Egypt to the cutting-edge laboratories of MIT. He takes readers inside the old asylums and operating theaters where psychosurgeons, as they called themselves, conducted their human experiments, and behind the scenes of a bitter custody battle over the ownership of the most important brain in the world.
Remember Me? by Sophie Kinsella
When twenty-eight-year-old Lexi Smart wakes up in a London hospital, she's in for a big surprise. Her teeth are perfect. Her body is toned. Her handbag is Vuitton. Having survived a car accident—in a Mercedes no less—Lexi has lost a big chunk of her memory, three years to be exact, and she's about to find out just how much things have changed.
Somehow Lexi went from a twenty-five-year-old working girl to a corporate big shot with a sleek new loft, a personal assistant, a carb-free diet, and a set of glamorous new friends. And who is this gorgeous husband—who also happens to be a multimillionaire? With her mind still stuck three years in reverse, Lexi greets this brave new world determined to be the person she…well, seems to be. That is, until an adorably disheveled architect drops the biggest bombshell of all.
Suddenly Lexi is scrambling to catch her balance. Her new life, it turns out, comes complete with secrets, schemes, and intrigue. How on earth did all this happen? Will she ever remember? And what will happen when she does?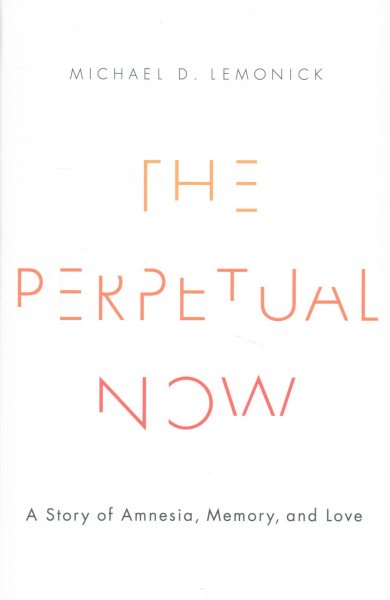 The Perpetual Now: A Story of Amnesia, Memory, and Love by Michael D. Lemonick
In the aftermath of a shattering illness, Lonni Sue Johnson lives in a "perpetual now," where she has almost no memories of the past and a nearly complete inability to form new ones. The Perpetual Now is the moving story of this exceptional woman, and the groundbreaking revelations about memory, learning, and consciousness her unique case has uncovered.
Lonni Sue Johnson was a renowned artist who regularly produced covers for The New Yorker, a gifted musician, a skilled amateur pilot, and a joyful presence to all who knew her. But in late 2007, she contracted encephalitis. The disease burned through her hippocampus like wildfire, leaving her severely amnesic, living in a present that rarely progresses beyond ten to fifteen minutes. Remarkably, she still retains much of the intellect and artistic skills from her previous life, but it's not at all clear how closely her consciousness resembles yours or mine.
As such, Lonni Sue's story has become part of a much larger scientific narrative–one that is currently challenging traditional wisdom about how human memory and awareness are stored in the brain. In this probing, compassionate, and illuminating book, award-winning science journalist Michael D. Lemonick uses the unique drama of Lonni Sue Johnson's day-to-day life to give us a nuanced and intimate understanding of the science that lies at the very heart of human nature.
The Answer to the Riddle Is Me: A Memoir of Amnesia by David Stuart MacLean
In 2002, at age twenty-eight, David MacLean "woke up" in a foreign land with his memory wiped clean. No money. No passport. No identity. Taken to a mental hospital by the police, MacLean then started to hallucinate so severely he had to be tied down. Soon he could remember song lyrics and scenes from television shows, but not his family, his friends, or the woman he loved. All of these symptoms, it turned out, were the result of the commonly prescribed malarial medication he was taking. Upon his return to the States, he struggled to piece together the fragments of his former life in a harrowing, absurd, and unforgettable journey back to himself. A deeply felt, closely researched, and intensely personal book, The Answer to the Riddle Is Me, drawn from MacLean's award-winning This American Life essay, confronts and celebrates the dark, mysterious depths of our psyches and the myriad ways we are all unknowable, especially to ourselves.
What Alice Forgot by Liane Moriarty
Alice Love is twenty-nine years old, madly in love with her husband, and pregnant with their first child. So imagine her surprise when, after a fall, she comes to on the floor of a gym (a gym! she HATES the gym!) and discovers that she's actually thirty-nine, has three children, and is in the midst of an acrimonious divorce.
A knock on the head has misplaced ten years of her life, and Alice isn't sure she likes who she's become. It turns out, though, that forgetting might be the most memorable thing that has ever happened to Alice.
The Rook by Daniel O'Malley
"The body you are wearing used to be mine." So begins the letter Myfanwy Thomas is holding when she awakes in a London park surrounded by bodies all wearing latex gloves. With no recollection of who she is, Myfanwy must follow the instructions her former self left behind to discover her identity and track down the agents who want to destroy her.
She soon learns that she is a Rook, a high-ranking member of a secret organization called the Chequy that battles the many supernatural forces at work in Britain. She also discovers that she possesses a rare, potentially deadly supernatural ability of her own.
In her quest to uncover which member of the Chequy betrayed her and why, Myfanwy encounters a person with four bodies, an aristocratic woman who can enter her dreams, a secret training facility where children are transformed into deadly fighters, and a conspiracy more vast than she ever could have imagined.
Before I Go to Sleep by S.J. Watson
As I sleep, my mind will erase everything I did today. I will wake up tomorrow as I did this morning. Thinking I'm still a child, thinking I have a whole lifetime of choice ahead of me…
Memories define us. So what if you lost yours every time you went to sleep? Your name, your identity, your past, even the people you love–all forgotten overnight. And the one person you trust may only be telling you half the story.
Welcome to Christine's life.
DVDs
A young man meets his soulmate who suffers from a memory disorder which wipes her memory clean each evening.
Bourne is a spy who has amnesia; other agents are trying to track him down & he is at a loss to know who or what it is all about – all he really knows is that his life is in danger.
An intricate crime story about a man who has lost his short term memory due to a rare brain disorder. Now he is out to catch his wife's murderer, whose identity he cannot ever know for sure. The more he tries to figure out what is true and real, the more he sinks deeper into a multi-layered abyss of uncertainty and surprises.
After a car wreck on the winding Mulholland Drive renders a woman amnesiac, she and a perky Hollywood-hopeful search for clues and answers across Los Angeles in a twisting venture beyond dreams and reality.