Tomorrow, January 4th, is National Trivia Day and to celebrate all facts unknown and fascinating, take a look at one of the titles below. We have books to help you brush up on your trivia knowledge in preparation for a pub trivia night or to impress people at a party, as well as stories of the niche arena of trivia competitions. Enjoy exploring the interesting, odd, and not-always-so-trivial world of trivia.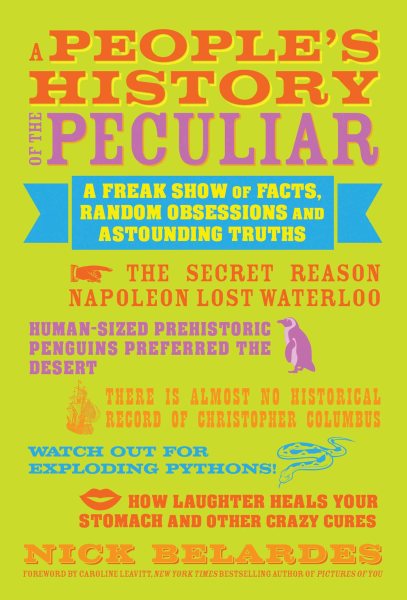 A People's History of the Peculiar: A Freak Show of Facts, Random Obsessions, and Astounding Truths by Nick Belardes
Did you know that Thomas Jefferson's grandson was an ax murderer? Do you delight knowing that some dinosaurs were as teeny tiny as hens? Wonder what it's like to live in Hell Town at the End of the World? How about an ailment so surreal it's named after Alice in Wonderland? In A People's History of the Peculiar, historian Nick Belardes has dug into the raw source material found in historical archives, scientific studies, and libraries the world over to find facts, lists, definitions, and astonishing information guaranteed to provide readers with the best cocktail conversation topics for many years to come! Also found here are first-person interviews with people who can explain the unexplained, from the permanently puzzling Mothman conspiracy to secret Star Wars Jedi religious cults and the charmingly eccentric reason why British aerospace engineers sent teddy bears floating out into space. These real-world facts are outlandish enough to sharpen the brain and occupy readers' minds for hours of entertainment.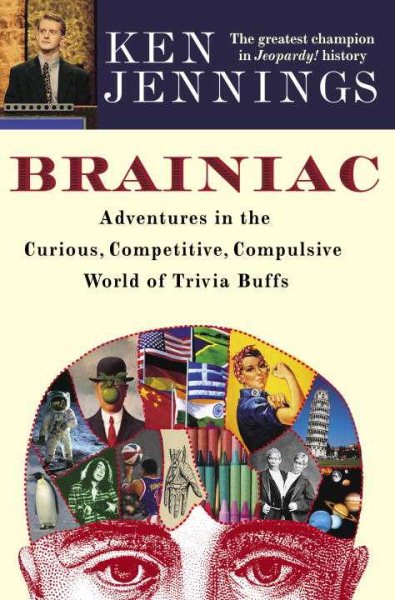 Brainiac: Adventures in the Curious, Competitive, Compulsive World of Trivia Buffs by Ken Jennings
Jennings had always been minutiae-mad, poring over almanacs and TV Guide listings at an age when most kids are still watching Elmo and putting beans up their nose. But trivia, he has found, is centuries older than his childhood obsession with it. Whisking us from the coffeehouses of seventeenth-century London to the Internet age, Jennings chronicles the ups and downs of the trivia fad: the quiz book explosion of the Jazz Age; the rise, fall, and rise again of TV quiz shows; the nostalgic campus trivia of the 1960s; and the 1980s, when Trivial Pursuit® again made it fashionable to be a know-it-all.
Jennings also investigates the shadowy demimonde of today's trivia subculture, guiding us on a tour of trivia hotspots across America. He goes head-to-head with the blowhards and diehards of the college quiz-bowl circuit, the slightly soused faithful of the Boston pub trivia scene, and the raucous participants in the annual Q&A marathon in Stevens Point, Wisconsin, "The World's Largest Trivia Contest." And, of course, he takes us behind the scenes of his improbable 75-game run on Jeopardy!
But above all, Brainiac is a love letter to the useless fact. What marsupial has fingerprints that are indistinguishable from human ones? What planet has a crater on it named after Laura Ingalls Wilder? What comedian had the misfortune to be born with the name "Albert Einstein"? Jennings also ponders questions that are a little more philosophical: What separates trivia from meaningless facts? Is being good at trivia a mark of intelligence? And is trivia just a waste of time, or does it serve some not-so-trivial purpose after all?
Uproarious, silly, engaging, and erudite, this book is an irresistible celebration of nostalgia, curiosity, and nerdy obsession–in a word, trivia.
1,227 Quite Interesting Facts to Blow Your Socks Off compiled by John Lloyd, John Mitchinson, and James Harkin
Did you know? Cows moo in regional accents. The international dialing code for Russia is 007. The water in the mouth of a blue whale weighs more than its body. Pants are responsible for twice as many accidents as chain saws. Saddam Hussein's bunker was designed by the grandson of the woman who built Hitler's bunker. Heroin was originally sold as cough medicine. 1,227 Quite Interesting Facts to Blow Your Socks Off is a trove of the strangest, funniest, and most improbable tidbits of knowledge—all painstakingly researched and distilled to a brilliant and shocking clarity by the creators of the popular BBC quiz show QI.
The Visual Miscellaneum: A Colorful Guide to the World's Most Consequential Trivia by David McCandless
The bestselling classic has been revised and updated! A colorful guide to the world's most consequential trivia, Visual Miscellaneum by David McCandless is a reference book like no other. It helps us make sense of our world by putting the data we are bombarded with every day—health findings, technological advances, cultural touch points, war statistics—into creative visual perspective. Like Show Me How by Lauren Smith and Schott's Miscellany, only more complete and satisfying, Visual Miscellaneum is a treat for the mind and the eye.
Ultimate Book of Trivia: The Essential Collection of over 1,000 Curious Facts to Impress Your Friends and Expand Your Mind by Scott McNeely
Trivia fans will be eager to dive into this book for an edifying and entertaining tour of all the things they didn't know that they didn't know. There is something here for everyone and every occasion, with topics including Space and Science, Being Human, Sports, Music, Food and Drink, and Famous Inventions. It's full of conversation starters, from Herbert Hoover's pet alligators to the longest recorded bout of hiccups (it lasted for 68 years). Brimming with surprising facts, this comprehensive collection of trivia is sure to puzzle and delight.
A Question of Attraction by David Nicholls
The year is 1985. Brian Jackson, a working-class kid on full scholarship, has started his first term at university. He has a dark secret—a long-held, burning ambition to appear on the wildly popular British TV quiz show University Challenge—and now, finally, it seems the dream is about to become reality. He's made the school team, and they've completed the qualifying rounds and are limbering up for their first televised match. (And, what's more, he's fallen head over heels for one of his teammates, the beautiful, brainy, and intimidatingly posh Alice Harbinson.) Life seems perfect and triumph inevitable—but as his world opens up, Brian learns that a little knowledge can be a dangerous thing.
Q & A by Vikas Swarup
Vikas Swarup's spectacular debut novel opens in a jail cell in Mumbai, India, where Ram Mohammad Thomas is being held after correctly answering all twelve questions on India's biggest quiz show, Who Will Win a Billion? It is hard to believe that a poor orphan who has never read a newspaper or gone to school could win such a contest. But through a series of exhilarating tales Ram explains to his lawyer how episodes in his life gave him the answer to each question.
Ram takes us on an amazing review of his own history — from the day he was found as a baby in the clothes donation box of a Delhi church to his employment by a faded Bollywood star to his adventure with a security-crazed Australian army colonel to his career as an overly creative tour guide at the Taj Mahal.
Swarup's Q & A is a beguiling blend of high comedy, drama, and romance that reveals how we know what we know — not just about trivia, but about life itself. Cutting across humanity in all its squalor and glory, Vikas Swarup presents a kaleidoscopic vision of the struggle between good and evil — and what happens when one boy has no other choice in life but to survive.