Today is Giving Tuesday, the Tuesday following Cyber Monday; a day when you are encouraged to give money to your favorite charity or non-profit if you can afford to do so, and a day serving as a reminder to give back to our communities and to the world in the midst of the holiday madness. Giving doesn't have to mean handing out money, it can mean a donation of your time as a volunteer or donating goods or services to a local or national charitable organization. However, if you do decide to donate money to a charity, it's a good idea to do some research first to figure out exactly where your money will be going and who will be benefiting from it. Below are some online tools that can help you evaluate different charities as well as some books on the subject of smart charitable giving if you'd like to do even more in depth reading.
A good place to start is with this article from the Federal Trade Commission (FTC) on things to look at before deciding to donate to a specific charity: https://www.consumer.ftc.gov/articles/0074-giving-charity
Online Charity Evaluators
Better Business Wise Giving Alliance
From their website, "The BBB Wise Giving Alliance helps donors make informed giving decisions and promotes high standards of conduct among organizations that solicit contributions from the public. It produces reports about national charities, evaluating them against comprehensive Standards for Charity Accountability, and publishes a magazine, the Wise Giving Guide, three times a year.
BBB WGA does not rank charities but rather seeks to assist donors in making informed judgments about those that solicit their support. Evaluations are done without charge to the charity and are posted for free public access on give.org."
From their website, "Founded in 2001, Charity Navigator has become the nation's largest and most-utilized evaluator of charities. In our quest to help donors, our team of professional analysts has examined tens of thousands of non-profit financial documents. We've used this knowledge to develop an unbiased, objective, numbers-based rating system to assess over 8,000 of America's best-known and some lesser known, but worthy, charities.
Specifically, Charity Navigator's rating system examines two broad areas of a charity's performance; their Financial Health and their Accountability & Transparency. Our ratings show givers how efficiently we believe a charity will use their support today, how well it has sustained its programs and services over time and their level of commitment to good governance, best practices and openness with information. In the not-too-distant future, we plan to also rate charities' reporting of their results. We provide these ratings so that charitable givers/ social investors can make intelligent giving decisions, and so that the nonprofit sector can improve its performance."
From their website, "CharityWatch—founded more than 20 years ago as the American Institute of Philanthropy (AIP)—is America's most independent, assertive charity watchdog. CharityWatch does not merely repeat what a charity reports using simplistic or automated formulas. We dive deep to let you know how efficiently a charity will use your donation to fund the programs you want to support. CharityWatch exposes nonprofit abuses and advocates for your interests as a donor."
Books
Every Gift Matters: How Your Passion Can Change the World by Carrie Morgridge
In her book, Every Gift Matters, Carrie Morgridge shares inspiring stories of powerful gifts in action showing readers how to turn the act of giving into a vehicle for positive change. Drawing on 15 years of experience supporting causes that align with her passions through gifts, Morgridge demonstrates how a smart strategy, high expectations, a deep network, and hands-on personal involvement will ensure that one's gift is compounded over time to have the biggest impact possible.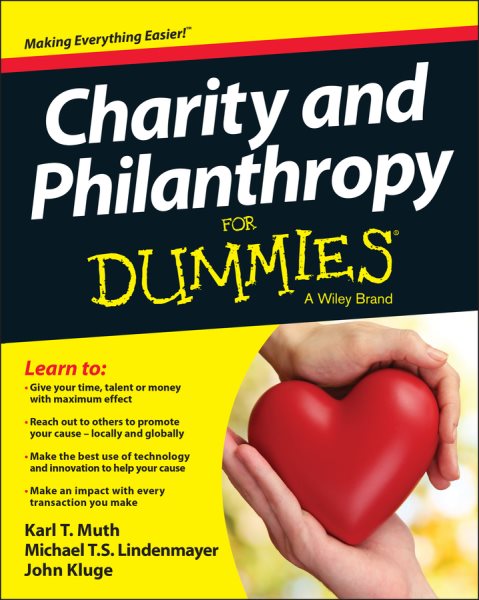 Charity and Philanthropy for Dummies by Karl Muth, Michael Lindenmayer, and John Kluge
This is your one-stop, no-nonsense guide to charitable activities. Inside you'll find lots of strategies for philanthropic work such as volunteering your time, raising funds, donating your own cash or expertise, impact investing, and social entrepreneurship. You'll also find lots of case studies from charities big and small to show you what works and what doesn't.
Help with selecting where to donate or invest
Ideas for how you can make a difference without having pots of money
Advice on socially responsible and impact investing
Techniques for reaching out to others to help your cause – from a local to a global level
You don't need deep pockets to make a difference—you need Charity & Philanthropy For Dummies.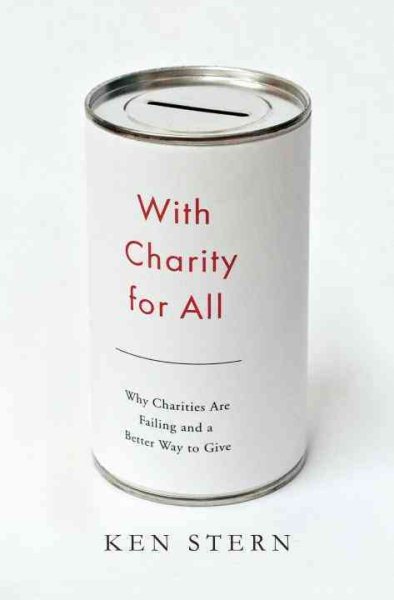 With Charity for All: Why Charities Are Failing and a Better Way to Give by Ken Stern
Each year, two thirds of American households donate to charities, with charitable revenues exceeding one trillion dollars. Yet while the mutual fund industry employs more than 150,000 people to rate and evaluate for-profit companies, nothing remotely comparable exists to monitor the nonprofit world. Instead, each individual is on his or her own, writing checks for a cause and going on faith. Ken Stern, former head of NPR and a long-time nonprofit executive, set out to investigate the vast world of U.S. charities and discovered a sector hobbled by deep structural flaws. Unlike private corporations that respond to market signals and go out of business when they fail, nonprofit organizations have a very low barrier to entry (the IRS approves 99.5 percent of applications) and once established rarely die. From water charities aimed at improving life in Africa to drug education programs run by police officers in thousands of U.S. schools, and including American charitable icons such as the Red Cross, Stern tells devastating stories of organizations that raise and spend millions of dollars without ever cracking the problems they set out to solve.
But he also discovered some good news: a growing movement toward accountability and effectiveness in the nonprofit world. With Charity for All is compulsively readable, driven in its early pages by the plight of millions of Americans donating to good causes to no good end, and in its last chapters by an inspiring prescription for individual giving and widespread reform.
Give Smart: Philanthropy that Gets Results by Thomas J. Tierney and Joel L. Fleishman
In the first half of the twenty-first century, giving to family and community foundations alone will be ten times in today's dollars what it was throughout the entire twentieth century. Yet despite tremendous innovation in the social sector, philanthropy's natural state is under-performance. Not since Andrew Carnegie wrote The Gospel of Wealth has a book been written that provides practical guidance for donors to get the most impact from their giving.
Almost a decade ago, Thomas J. Tierney left Bain & Company to co-found The Bridgespan Group, a nonprofit focused on helping donors and nonprofit leaders to develop and execute strategies to accelerate social change. In Give Smart, Tierney pools his hands-on knowledge with philanthropy expert Joel L. Fleishman to create a much-needed primer for philanthropists and the nonprofit organizations they support. Drawing from personal experiences, testimonials, and Bridgespan's case studies, including those of the Bill and Melinda Gates Foundation and the John D. and Catherine T. MacArthur Foundation, Give Smart picks up where Jim Collins' Good to Great and the Social Sectors left off and presents the first in-depth, expert guide for engaged donors and nonprofit leaders.