Hot days call for cold treats. After school-at-home, post-dinner dessert, or a weekend cool down to accompany a run through the sprinklers? Try a recipe from one of the following books or eBooks, available from the Pasadena Public Library with your library card and a few clicks, or to reserve for curbside checkout. Not up for making ice cream? The last few titles are fiction with some ice cream figuring into the plot. Get yourself a scoop of storebought and dig in to read!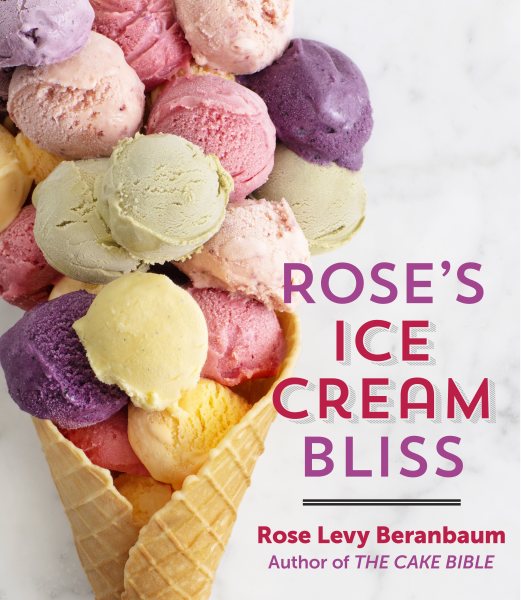 Rose's Ice Cream Bliss by Rose Levy Beranbaum
With Rose's easy-to-follow, meticulously tested, and innovative recipes, perfect ice creams and other frozen treats are simple to churn up anytime. Here she gives her foolproof base method, plus all the tips and info you need to know on machines, ingredients, techniques, and her own unique approaches and discoveries (for example, an easier method of mixing custard bases without needing to temper them; how to make a substitution for glucose by microwaving corn syrup; and how adding milk powder can help prevent ice crystals). Flavors include classics and new twists, including Lemon Ginger, Peanut Butter and Chocolate Fudge, Back Road Mint Chocolate Chip, Brown Sugar with Black Pepper, Roasted Corn, and Red Wine, plus mix-ins, toppings, and ice cream social desserts like waffle cones, ice cream sandwiches, brownies, ice cream cake, and more.
Mexican Ice Cream: Beloved Recipes and Stories by Fany Gerson
This … offering from the incredibly popular baker and sweets maker Fany Gerson, the powerhouse behind Brooklyn's La Newyorkina and Dough, showcases the incredibly diverse flavors of Mexican ice cream while exploring the cultural aspects of preparing and consuming ice cream in Mexico. Gerson uses unique ingredients to create exciting and fresh flavors like Red Prickly Pear Ice Cream,
Oaxacan-style Lime Sorbet, Avocado-Chocolate Ice Cream, and Rice-Almond Ice Cream with Cinnamon. All recipes are created with the home cook in mind, and written in Fany's knowledgeable but accessible voice. Mexican Ice Cream features vibrant location photography and captures the authentic Mexican heladerias that Gerson has been visiting for decades. For anyone looking to up their summer ice cream game, this is the book.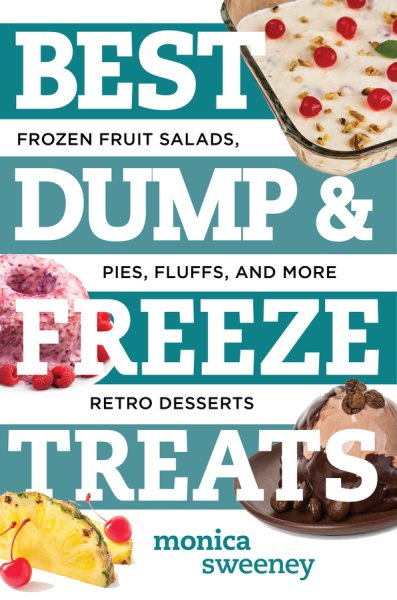 Best Dump & Freeze Treats: Frozen Fruit Salads, Pies, Fluffs, and More Retro Desserts by Monica Sweeney
These retro-style treats are fun to make and fun to eat. Using ingredients you can find at any supermarket, these easy recipes combine something creamy (think Cool Whip, sweetened condensed milk, or cream cheese) with something fruity (if you're feeling lazy, old-school canned fruit is a surprisingly delicious option) or something chocolate. Just mix it up and freeze it. If you're feeling fancy, dump it into a ready-made piecrust before freezing! Recipes include:Frozen AmbrosiaSouthern Cherry FluffOrange Cream Fruit SaladFrozen Key Lime PieBanana Split Salad Great for any occasion, these desserts are real crowd-pleasers.
Ice Cream & Friends: 60 Recipes & Riffs for Sorbets, Sandwiches, No-Churn Ice Creams and More by the editors of Food 52
[T]he editors of Food52 brought together sixty well-tested recipes for frozen desserts of all styles and a billion (give or take a few) ideas for toppings and add-ons. There are surprising flavors—think cinnamon roll ice cream, coffee frozen custard, and grilled watermelon cremolada—and spins on enduring favorites, such as spiced fudgesicles, cherry-mint snow cones, and even a chocolate-hazelnut baked Alaska. There are Saltine and waffle sandwiches, boozy floats, and something called "spoom." There are tricks for making ice cream without a maker and spiffing up the store-bought stuff, and Hail Marys for when things go wrong (like when—whoops!—all the ice cream melts). But don't be nervous: even if you've never made ice cream before, you're in good hands with this no-fuss, all-fun book. Consider it your permission to play (and eat a ton of really good ice cream).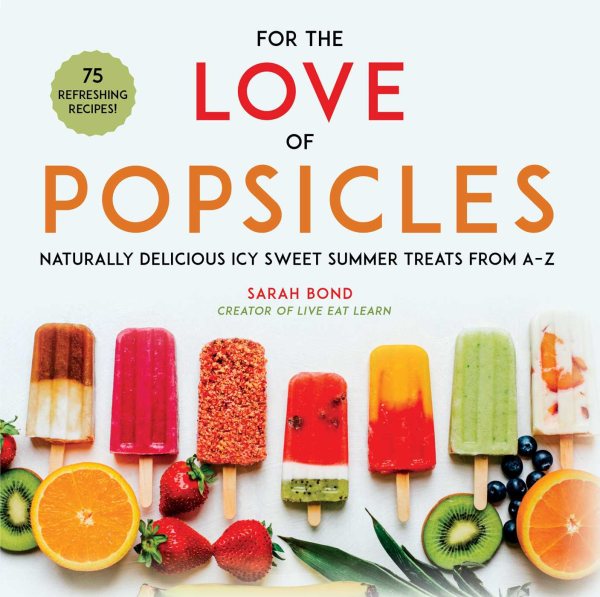 For the Love of Popsicles: Naturally Delicious Icy Sweet Summer Treats From A-Z by Sarah Bond [instantly available on hoopla)
Taking readers on a journey through the world of healthy popsicles, these approachable and inviting recipes highlight ease and simplicity with natural ingredients and uncomplicated preparations. Bright, colorful photos of every recipe and a minimalist, trendy design will entice readers to try out both the classic and modern pops, from Orange Creamsicles to Pineapple Upside Down!
Unlike other popsicle books whose recipes are high in sugar, or use "shortcuts" like store bought ice cream, Sarah Bond keeps your health a top priority. Written by a degreed nutritionist with a master's in sensory science, For the Love of Popsicles exhilarates the senses without compromising on flavor! Nutrition information of every recipe with helpful substitution and preparation tips ensure readers find recipes that suit their diet type. The range of flavors includes:
Almond maple popsicles
Blackberry basil
Caramel macchiato popsicles
Darling lemon thyme
Honey mint
Margarita madness
Pink power beet pops
Spiced mango paletas
With innovative, and undeniably refreshing recipes for the whole family, this is your one-stop-shop for modern, unique pops from A to Z.
Van Leeuwen Artisan Ice Cream by Laura O'Neill, Ben Van Leeuwen and Pete Van Leeuwen with Olga Massov
A collection of delicious and flavorful frozen treats made from simple, natural ingredients easily found in most pantries from Brooklyn's beloved and wildly popular ice cream emporium.
Van Leeuwen Artisan Ice Cream includes ice cream recipes for every palate and season, from beloved favorites like Vanilla to adventurous treats inspired by a host of international culinary influences, such as Masala Chai with Black Peppercorns and Apple Crumble with Calvados and Crème Fraîche. Each recipe–from the classic to the unexpected, from the simple to the advanced–features intense natural flavors, low sugar, and the best ingredients available.
Determined to revive traditional ice cream making using only whole ingredients sourced from the finest small producers, Ben, Pete, and Laura opened their ice cream business in Greenpoint, Brooklyn, with little more than a pair of buttercup yellow trucks. In less than a decade, they've become a nationally recognized name while remaining steadfast to their commitment of bringing ice cream back to the basics: creating rich flavors using real ingredients.
Richly illustrated, told in a whimsical style, and filled with invaluable, easy-to-follow techniques and tips for making old-fashioned ice cream at home, Van Leeuwen Artisan Ice Cream includes captivating stories and an explanation of the basic science behind these delicious creations. Enjoy these irresistible artisanal delights anytime; Van Leeuwen Artisan Ice Cream shows you how.
Big Gay Ice Cream: Saucy Stories & Frozen Treats: Going All the Way with Ice Cream by Bryan Petroff and Douglas Quint
Welcome to Big Gay Ice Cream's debut cookbook, a yearbook of ice cream accomplishments—all the recipes you need to create delicious frozen treats.
• New to making ice cream at home? Never fear—freshman year starts off simple with store-bought toppings and shopping lists for the home ice cream parlor.
• Sophomore year kicks it up a notch with tasty sauces and crunchy toppings.
• Junior year puts your new skills to work with shakes, floats, and sundaes inspired by some of Big Gay Ice Cream's top-selling treats, including, of course, the Salty Pimp.
• In Senior year, get serious with outrageously delicious sorbets and ice cream recipes.
Coolhaus Ice Cream Book by Natasha Case & Freya Estreller with Kathleen Squires
From a beat-up postal van turned food truck, Coolhaus has rocketed to a national brand. Yahoo! called it"the best ice cream in America." The inventive sandwiches, named after famous architects, are sold in supermarkets across the country, as well as from trucks in Los Angeles, New York, Austin, and Dallas. Coolhaus has drawn accolades from the New York Times, Every Day with Rachael Ray, Time, and Good Morning America, to name a few, and from such celebrities as Will Ferrell, Jimmy Kimmel, and Alex Guarnaschelli.
Now the owners part with the recipes for their coolest creations, like the BuckMINTster Fuller (Dirty Mint Chip Ice Cream with Chocolate Chip Cookies) and the Frank Behry (Strawberry Gelato with Snickerdoodles). Daring flavors range from classic (Cookies and Sweet Cream), to boozy (Bourbon Manhattan), to vegan (Lychee Martini), and even savory (Fried Chicken and Waffle).
Sandwiched among the treats are tips on ice cream making, profiles of major and up-and-coming architects, and amusing tales of the owners' forays into the ice cream business.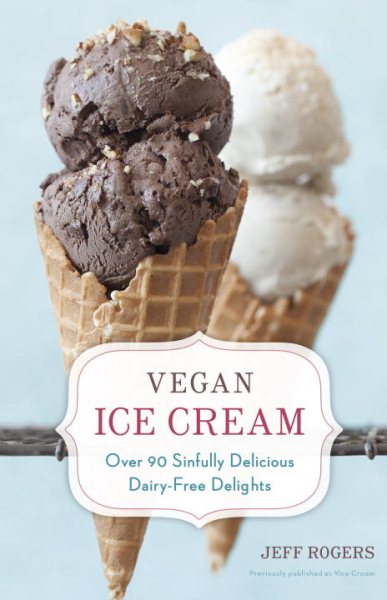 Vegan Ice Cream: Over 90 Sinfully Delicious Dairy-Free Delights by Jeff Rogers
This revised edition of Vice Cream features more than 90 delicious ice cream recipes using all-vegan ingredients like nuts, dates, coconut milk, maple syrup, and fruit, plus recipes for raw vegan ice creams and sauces. With interest in vegan and dairy-free diets increasing because of health reasons, food allergies, and dietary restrictions, Vegan Ice Cream offers a decadent alternative: ice creams that taste rich and luscious without relying on milk, cream, and refined white sugar. Instead, nut milks, carob, fresh fruit, and maple syrup combine to create simple and inventive ice cream flavors. Repackaged in a full-color format and updated with new recipes throughout, Vegan Ice Cream combines the recent popularity of vegan cookbooks with the perenniallypopular ice cream category. Including classic recipes like Chocolate and refreshing fruit-based flavors like Strawberry-Rhubarb, as well as more exotic new flavors like Mayan Chocolate, Pistachio Coconut, and Pomegranate, this colorful guide transforms abeloved treat into a delicious, wholesome vegan delight.
The Ice-Cream Makers by Ernest van der Kwast
Van der Kwast (Mama Tandoori) returns to themes of family, legacy, and tradition in this novel about a poet returning home to Northern Italy to help run his family's ice cream company. The Calamine family has been in the ice cream business for three generations, making yearly trips to the Netherlands to sell hand-churned ice cream ever since Giovanni Calamine's great-grandfather started the business, establishing their strong reputation on these seasonal trips. Ice cream has been the family's passion for decades, and when Giovanni decides that he wants something else for his life, his father and brother see the choice as a betrayal of a family legacy. Van der Kwast jumps around the Calamine family tree to reveal a complex web of duty and love that ties the family to the dream of the original patriarch and uncovers how that dream has transformed through the years. Although plot takes a back seat to a thoughtful portrait of the family, van der Kwast ultimately tells a moving story of how sacrifices accumulate in the wake of passions left unfulfilled.
Last Licks [a Lickety Splits Ice Cream Shoppe Mystery] by Cynthia Baxter
In Baxter's sprightly third Lickety Splits Ice Cream Shoppe mystery (after 2019's Hot Fudge Murder), Kate McKay, the owner of the Wolfert's Roost, N.Y., ice cream emporium, is in the throes of decorating for the upcoming Halloween festivities when Chelsea Atkins, the assistant director of a movie being filmed in the Hudson Valley town, strides through the front door. She asks to use the shop as a location for a key scene featuring starlet Savannah Crane. The jaw-droppingly high fee for the one-day shoot prompts Kate to accept the offer. Besides the location, Kate also provides a bowl, spoon, and a big scoop of chocolate almond fudge, which Savannah eats during the scene. After polishing off the last of the ice cream, Savannah drops dead, and Kate becomes a suspect in her poisoning. Even while investigating plausible motives and potential suspects, Kate finds time to think up tantalizing ice cream flavors and enjoy the company of family and friends. This cozy has everything genre fans could want: an intelligent and plucky protagonist, a soundly plotted mystery, and solid character development.