In honor of tomorrow's Independence Day holiday, we'd like to share some historical fiction set in America during the Revolutionary War. We wish you a safe, happy and health July 4th!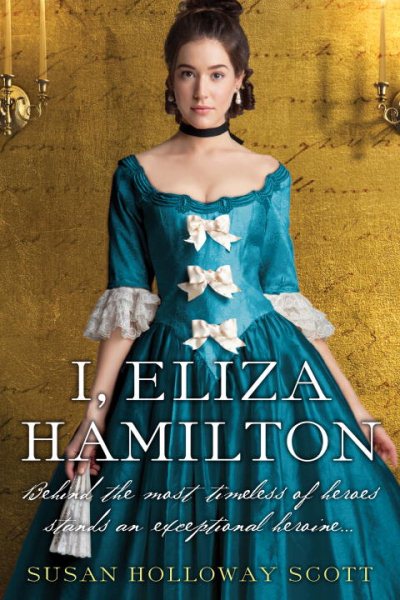 I, Eliza Hamilton by Susan Holloway Scott
Scott (The Countess and the King) stands to capitalize on the popularity of the Broadway hit Hamilton with this story of the founding father's wife, Elizabeth Schuyler, who proves not only a passionate guardian of her husband's home and children, but a protector of his legacy. "Love is not easy with a man chosen by Fate for greatness," Eliza writes at the opening of this novel, and Scott expertly handles the complex history and complicated romance, moving the personal and political plots briskly. The story follows Eliza's head-over-heels love of the ambitious, gifted Alexander, through a marriage tested by his boundless energy and attraction to beautiful women, including Eliza's talented and vivacious sister, Angelica; the grueling fight between the well-equipped British and ragtag Continental armies; the foundering Federalist union; and, finally, the emergence of a new nation after the Constitutional Convention in Philadelphia. "I will see that he receives all the honor that is his due, and that he will always be remembered by the country he loved and served so well," Eliza writes five years after Alexander was killed in a duel with political rival Aaron Burr. Readers will be captivated by the affecting portrait Scott has painted of Eliza as an American patriot who was witness and counsel to Alexander's enduring legacy and a heroine tested by his romantic recklessness. "What you dismiss as gallantry might be perceived as more by others…. Think of how openly he flirts even with me," Angelica warns Eliza. Yet Eliza acknowledges only the "true and lasting brilliance" of a husband who saw his own valor mirrored in her. "You crave liberty and have no more patience with injustice or tyranny than I," he tells her, even as she realizes "that these dreams and glories exact a terrible price."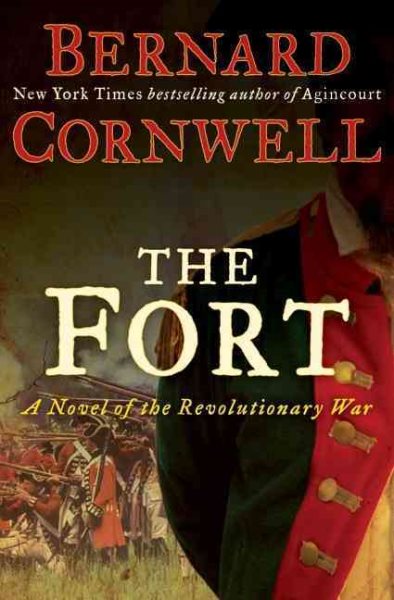 The Fort: A Novel of the Revolutionary War by Bernard Cornwell
In a slight departure from his usual sword and musket epics, Cornwell (Agincourt) delivers a straightforward fictionalized account of a disastrous 1779 American military campaign in today's Maine (then Massachusetts) that's heavy on historical figures and tense battle scenes. After the British establish a fort on the Penobscot River, the Massachusetts patriots mount an expedition to oust the redcoats. Unfortunately, the campaign is poorly planned and ineptly executed, pitting an ill-trained and undisciplined force against experienced British soldiers and the Royal Navy. The commander of the American land force is Gen. Solomon Lovell, a useless and dithering Boston politician, and the American navy is led by Cmdr. Dudley Saltonstall, an obstinate officer who refuses to risk his ships. Then there's Paul Revere, artillery commander and shameful yellow belly. In fact, the only American officer with any spirit for a fight is a former schoolteacher, Gen. Peleg Wadsworth. This is a rousing yarn of clashing personalities, crashing cannons, and lively musket and bayonet work, along with spies, cowardice, and moments of incredible bravery. Cornwell presents a fascinating, accurate, and exciting history lesson enlivened with a generous blast of gun smoke and grapeshot.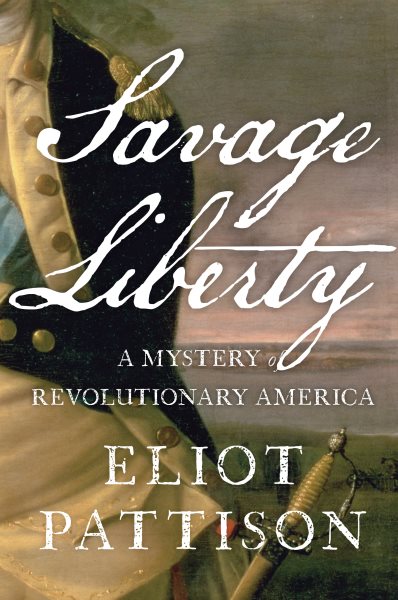 Savage Liberty: A Mystery of Revolutionary America by Eliot Pattison
Set in 1768, Edgar-winner Pattison's excellent fifth mystery featuring Duncan McCallum (after 2016's Blood of the Oak) finds Duncan, an exiled survivor of a slaughtered Scottish clan, in Boston, where tensions are growing between the Sons of Liberty and British officials over the increasing economic pressures on the colonials. Patriot Samuel Adams asks Duncan to use his medical training to determine what killed Jonathan Pine, a Native American Christian convert. The victim was aboard a British ship that exploded in Boston Harbor, but Adams has reason to suspect that Pine's death was different from those of the nearly 40 others who died in the blast. Soon after determining that Pine was tortured and fatally stabbed, Duncan learns that the explosion was an act of sabotage connected with a list that prominent Bostonian John Hancock began compiling of men with military experience whom he expects would "not shirk the call of liberty." Duncan's search for the list, and the truth behind the incident, is complicated when he's accused of blowing up the vessel and must flee for his life. Pattison has few peers when it comes to integrating historical events into a complex but plausible whodunit plot.
The Midwife's Revolt by Jodi Daynard
On a dark night in 1775, Lizzie Boylston is awakened by the sound of cannons. From a hill south of Boston, she watches as fires burn in Charlestown, in a battle that she soon discovers has claimed her husband's life.
Alone in a new town, Lizzie grieves privately but takes comfort in her deepening friendship with Abigail Adams. Soon, word spreads of Lizzie's extraordinary midwifery and healing skills, and she begins to channel her grief into caring for those who need her. But when two traveling patriots are poisoned, Lizzie finds herself with far more complicated matters on her hands—she suspects a political plot intended to harm Abigail and her family. Determined to uncover the truth, Lizzie becomes entangled in a conspiracy that could not only destroy her livelihood—and her chance at finding love again—but also lead to the downfall of a new nation.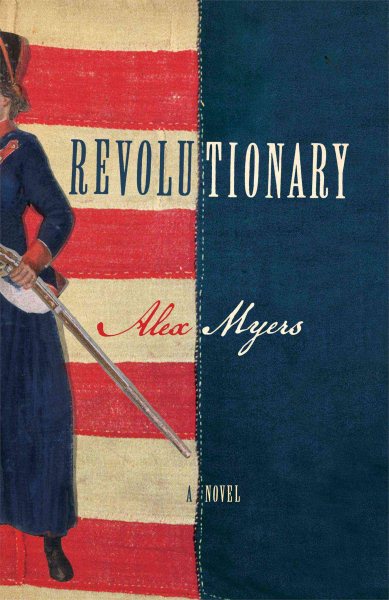 Revolutionary by Alex Myers
This deftly written debut historical novel from male transgender author Alex Myers follows a strong-willed young woman who takes a huge gamble and fights as a male soldier for the American colonists. Deborah Sampson is a 22-year-old indentured weaver who confides in her closest friend, Jennie Newcomb, about her desperate need to escape their oppressive small Massachusetts town. After surviving a sexual assault, Deborah dresses as a young man, skips town, and reinvents herself as "Robert D. S. Shurtliff." She meets a recruiter and manages to pass herself off as a boy old enough to enlist in the Continental Army. Writing as Robert, she begins a correspondence with Jennie before Deborah marches with her regiment to their new military base at West Point. She befriends James Snow, an apprentice blacksmith and fellow private. Keeping up her male disguise proves tricky, but her army peers accept her as a full member of the light infantry. She likes the freedom and respect accorded a male enough to convince herself she wants to maintain her masquerade. Problems arise when Corporal Shaw threatens to expose her true gender before she makes a good showing during a British ambush. After suffering a tremendous personal loss, Deborah undergoes a change of heart about her role as a man (Robert), and as a woman (Deborah), in Myers's original and affecting novel.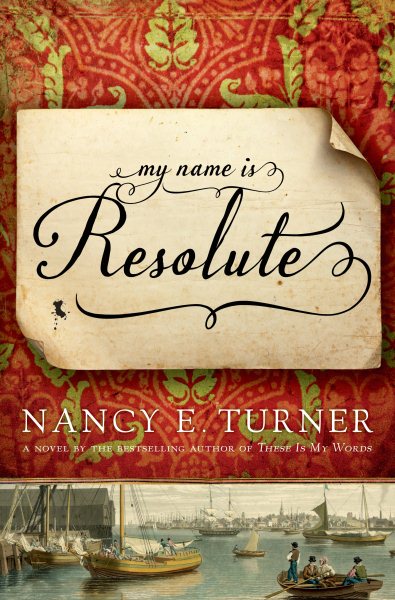 My Name Is Resolute by Nancy E. Turner
Turner's (These Is My Words; Sarah's Quilt; The Star Garden) latest historical novel follows Resolute Talbot after she's kidnapped by pirates from her family's Jamaica plantation. Enslaved at the age of nine and brought to New England in 1729, the aristocrat's daughter struggles to survive in a harsh new world. Once freed, Resolute learns to rely on her spinning and weaving for an income and marries a wonderful man but later gets enmeshed in the beginnings of the American Revolution. Throughout her life, Resolute must reconcile her belief in being just and honest with the horrors others inflict on her. VERDICT Every page of Turner's engrossing and fascinating work is better than the last. Not only historical fiction fans will love this beautifully written and compelling novel.
The Story of Land and Sea by Katy Simpson Smith
A bereaved father and his son-in-law struggle to understand the tragedies that have befallen them in Smith's debut novel, which is set among the marshes of coastal North Carolina during the uncertain time of the American Revolution. John, a widowed soldier, is perplexed by the faith of others in a God who takes so much and gives so little. When his beloved daughter, Tabitha, contracts yellow fever, he stows her away with him on a schooner bound for Bermuda in a desperate attempt to curb the ravages of the disease. Tabitha's grandfather, Asa, owner of a small plantation called Long Ridge, grieves over the loss of his granddaughter. He also mourns her mother, his only daughter Helen, whom John stole away for a happy interlude of love and freedom on the high seas before her untimely death in childbirth. Helen's slave companion, Moll, like Asa, feels left behind, married off to another slave she did not know. Her only consolation is her feisty first-born son Davy, although she has other children, all girls. When John decides to strike out over land on a journey westward, Moll's heart is irrevocably shattered. Smith's soulful language of loss is almost biblical, and the descriptions of her characters' sorrows are poetic and moving.
Revere: Revolution in Silver by Edward Lavallee; Illustrated by Grant Bond [Graphic Novel]
When a supernatural killer stalks the townspeople of Boston, renowned silversmith and monster hunter Paul Revere is called in to fight the evil. While tracking down clues to the killer's identity, the first shots of the Revolution are fired, and Revere finds himself fighting a war on two fronts in a struggle to save his family. Revere battles a marauding band of outlaw Redcoats led by a bloodthirsty general, rescues a damsel in distress, and saves a lost soul from demons of the past. All of this sets the stage for a climactic battle at the Old North Church, where enemies become allies in an effort to save the land from this unspeakable terror. And in the end, Revere finds the fate of his beloved wife lies in the hands of the only werewolf he couldn't bring himself to kill…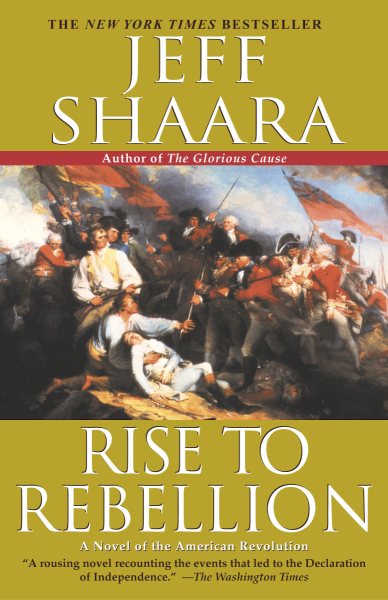 Rise To Rebellion by Jeff Shaara
Once more breathing vigor and passion into the dusty annals of our nation's history, the author of the bestselling Civil War trilogy (Gods and Generals; The Last Full Measure; Gone for Soldiers) demonstrates an ever-growing level of literary competence in the first installment of his two-volume saga of the American Revolution. Spanning the crucible years beginning with the Boston Massacre in March 1770 and continuing through the signing of the Declaration of Independence on July, 4, 1776, the story is told from the perspective of a handful of characters well known from our history books. In Boston, the Sons of Liberty activist Samuel Adams and his younger, more intellectual and oratorical second cousin, John Adams, speak out against King George III. In London there's aging Philadelphian Benjamin Franklin, who has resided for a number of years abroad, an agent for home colony Pennsylvania (and others). In New York, Gen. Thomas Gage is the ranking British officer on American soil. And heroic colonial planter George Washington has risen to full colonel in the Virginia militia fighting for George III during the French and Indian War. This masterful dramatization of the fateful escalation of the rebellion following the Boston Massacre moves from the battles of 1775 at Lexington, Concord, Fort Ticonderoga, Bunker Hill and the siege of Boston, through the convening in 1776 of the Continental Congress and the reading of the Declaration of Independence. Richly embroidered with portraits of such heroes as Patrick Henry, Thomas Paine, Paul Revere, John Hancock and Thomas Jefferson, the tapestry chronicles America's plunge toward liberty.
Citizen Washington by William Martin
Martin's (Annapolis) brisk, engaging and far from worshipful portrayal of the childless father of this country is told from multiple points of view by those who knew him. The first president, war hero and political icon has hardly died when Hesperus Draper, an old nemesis of Washington's and the publisher of a political scandal sheet called Alexandria Gazette, is tipped off that Washington was not all that he appeared to be. Martha is seen burning his letters shortly after his death in an apparent attempt to hide some dark secret. Draper asks his nephew, Christopher, who narrates introductory passages in the first person, to investigate, taking him and the reader on a far-reaching trip through Washington's past. The characters who record their impressions of the late founding father range from Martha, his wife, to Jacob, his slave; his physician, Dr. James Craike; a loyal aide de camp; and such other historical figures as Thomas Jefferson, John Adams and Alexander Hamilton. Overall, the narratives are lively, rendered in the colloquialisms of the era (though the black dialect may be off-putting to some readers). Washington emerges as less than perfect, a man whose private peccadilloes and initial setbacks in pursuing a career became secondary to his emerging talents as a leader and statesman. According to the narrative, he had an affair with another man's wife before marrying Martha. He was not in fact cut out for politics and would have preferred being a wealthy landowner. Eschewing opportunities to render his subject's life in a sensational manner, Martin exercises considerable restraint in sticking closely to the historical details and social constructs of the time. Yet he enlivens the novel with ribald humor and even some graphic sex scenes, meanwhile humanizing Washington and delivering an entertaining slice of history.