On the 4th Monday of every month, a small group gathers at Lamanda Park Branch Library to hear about a selection of new(ish) books that are receiving great reviews.  It's a fun way to learn about new titles and talk with other book lovers.
Here's the titles that were discussed at our November meeting:
(Click on the titles or covers to be taken to these books in the library catalog.)
 Sweet Home Cafe Cookbook: A Celebration of African American Cooking by Albert Lukas and Jessica B. Harris, with contributions by Jerome Grant ; foreword by Lonnie G. Bunch III ; introduction by Jacquelyn Serwer
Release Date: 10/23/2018
Summary:
Since the 2016 opening of the National Museum of African American History and Culture, its Sweet Home Café has become a destination in its own right. Showcasing African American contributions to American cuisine, the café offers favorite dishes made with locally sourced ingredients, adding modern flavors and contemporary twists on classics. Now both readers and home cooks can partake of the café's bounty: drawing upon traditions of family and fellowship strengthened by shared meals, Sweet Home Café Cookbook celebrates African American cooking through recipes served by the café itself and dishes inspired by foods from African American culture.
What the Reviews say:
"Expected soul food standards, such as collards and potlikker, fried chicken, and sweet potato pie, appear in this beautifully illustrated cookbook, and there are also supplemental ideas from other New World African traditions, such as Jamaica's curried goat, Trinidad's Afro-Indian Trini doubles, and Guyanese oxtail pepper pot. … Befitting a cookbook produced by a museum, every recipe is carefully categorized by geographic origins, and a paragraph illuminates how each dish fits specifically within African American cuisine's diverse history and origins." – Booklist, starred review
"A satisfying blend of recipes and culinary history. Highly recommended.." – Library Journal
Spinning Silver by Naomi Novik
Release Date: 7/10/2018
Summary: 
Miryem is the daughter and granddaughter of moneylenders, but her father's inability to collect his debts has left his family on the edge of poverty–until Miryem takes matters into her own hands. Hardening her heart, the young woman sets out to claim what is owed and soon gains a reputation for being able to turn silver into gold. When an ill-advised boast draws the attention of the king of the Staryk–grim fey creatures who seem more ice than flesh–Miryem's fate, and that of two kingdoms, will be forever altered. Set an impossible challenge by the nameless king, Miryem unwittingly spins a web that draws in a peasant girl, Wanda, and the unhappy daughter of a local lord who plots to wed his child to the dashing young tsar. But Tsar Mirnatius is not what he seems. And the secret he hides threatens to consume the lands of humans and Staryk alike. Torn between deadly choices, Miryem and her two unlikely allies embark on a desperate quest that will take them to the limits of sacrifice, power, and love.
What the Reviews say:
"This masterly, immersive high fantasy tale is grounded in real-world challenges and opportunities for growth. Highly recommended for fans of Novik's previous titles or fairy-tale retellings." – Library Journal, starred review

"This gorgeous, complex, and magical novel, grounded in Germanic, Russian, and Jewish folklore but richly overlaid with a cohesive, creative story of its own, rises well above a mere modern re-imagining of classic tales. …Readers will be impressed by the way Novik ties the myriad threads of her story together by the end, and, despite the book's length, they will be sad to walk away from its deeply immersive setting. This is the kind of book that one might wish to inhabit forever." – Publishers Weekly, starred review
"This magical tale is a story of strong women overcoming hardship through perseverance, intelligence, family, and faith. With each chapter told from a different perspective, this masterly work pulls readers into the characters' world, making it impossible not to root for them." – School Library Journal, starred review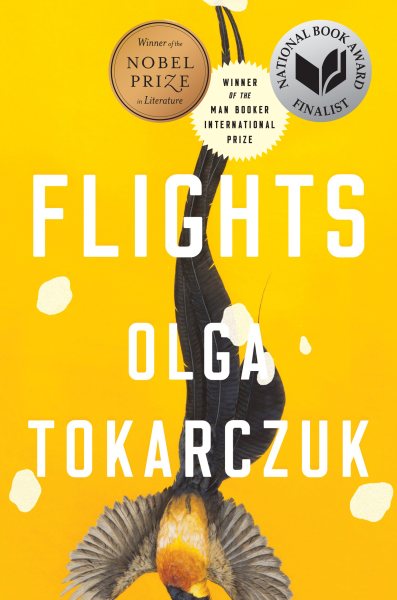 Flights by Olga Tokarczuk
Release Date: 08/14/2018
Summary:
A seventeenth-century Dutch anatomist discovers the Achilles tendon by dissecting his own amputated leg. Chopin's heart is carried back to Warsaw in secret by his adoring sister. A woman must return to her native Poland in order to poison her terminally ill high school sweetheart, and a young man slowly descends into madness when his wife and child mysteriously vanish during a vacation and just as suddenly reappear. Through these brilliantly imagined characters and stories, interwoven with haunting, playful, and revelatory meditations, Flights explores what it means to be a traveler, a wanderer, a body in motion not only through space but through time. Where are you from? Where are you coming in from? Where are you going? we call to the traveler.
What the Reviews say:
"This host of haunting narratives teases the mind and taunts the soul, providing multiple paths of escape in response to questions about existence and the life's struggles. As a preservative solution of severed threads, it relies on readers for assemblage, and the task is exhilarating indeed." – Library Journal, starred review
"Winner of the Man Booker International Prize, this novel from Tokarczuk … is an indisputable masterpiece of "controlled psychosis," as one of the characters phrases it." – Publishers Weekly, starred review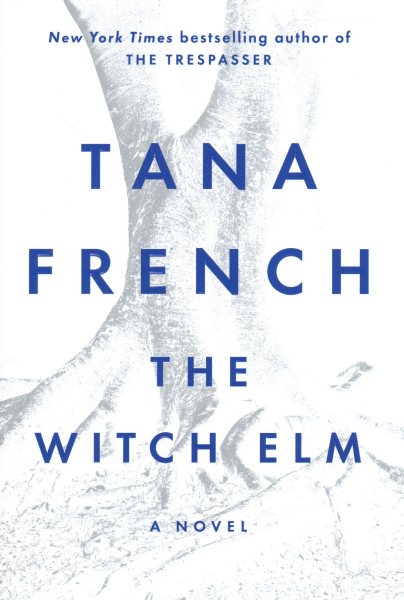 The Witch Elm: A Novel by Tana French
Release Date: 10/09/2018
Summary:
Toby is a happy-go-lucky charmer who's dodged a scrape at work and is celebrating with friends when the night takes a turn that will change his life – he surprises two burglars who beat him and leave him for dead. Struggling to recover from his injuries, beginning to understand that he might never be the same man again, he takes refuge at his family's ancestral home to care for his dying uncle Hugo. Then a skull is found in the trunk of an elm tree in the garden – and as detectives close in, Toby is forced to face the possibility that his past may not be what he has always believed. A spellbinding standalone from one of the best suspense writers working today, The Witch Elm asks what we become, and what we're capable of, when we no longer know who we are.
What the Reviews say: 
"French, author of the award-winning Dublin Murder Squad series, delivers a spellbinding stand-alone novel carefully crafted in her unique, darkly elegant prose style, which Stephen King has called "incandescent."" – Booklist, starred review
"French's slow-burning, character-driven examination of male privilege is timely, sharp, and meticulously crafted. Recommended for her legions of fans, as well as any readers of literary crime fiction." – Library Journal, starred review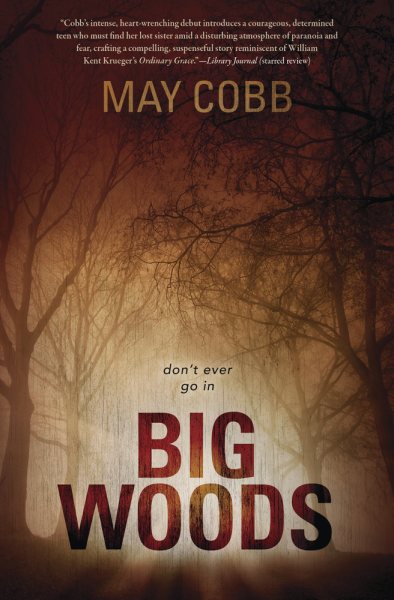 Big Woods by May Cobb
Release Date:
07/08/2018
Summary:
It's 1989 in the sleepy town of Longview, Texas, when ten-year-old Lucy disappears. Her parents, the police, and the community all brace for the worst, assuming her body will soon be found in Big Woods. Just like the other unsolved kidnappings.
But then Lucy's fourteen-year-old sister, Leah, starts having dreams about Lucy—dreams that reveal startling clues as to what happened. Leah begins her own investigation, and soon she meets a reclusive widow who may hold the key to finding Lucy…if only she can find the courage to come forward.
Delving into the paranoia surrounding satanic cults in the 1980s, Big Woods is an emotionally wrought, propulsive thriller about the enormity of grief, the magical bond between sisters, and a small town's dark secrets.
What the Reviews say:
"Cobb's intense, heart-wrenching debut introduces a courageous, determined teen who must find her lost sister amid a disturbing atmosphere of paranoia and fear, crafting a compelling, suspenseful story reminiscent of William Kent Krueger's Ordinary Grace." – Library Journal, starred review
A Well Behaved Woman: a Novel of the Vanderbilts by Therese Anne Fowler
Release Date: 10/16/2018
Summary:
Alva Smith, her southern family destitute after the Civil War, married into one of America's great Gilded Age dynasties: the newly wealthy but socially shunned Vanderbilts. Ignored by New York's old-money circles and determined to win respect, she designed and built 9 mansions, hosted grand balls, and arranged for her daughter to marry a duke. But Alva also defied convention for women of her time, asserting power within her marriage and becoming a leader in the women's suffrage movement. With a nod to Jane Austen and Edith Wharton, in A Well-Behaved Woman Therese Anne Fowler paints a glittering world of enormous wealth contrasted against desperate poverty, of social ambition and social scorn, of friendship and betrayal, and an unforgettable story of a remarkable woman. Meet Alva Smith Vanderbilt Belmont, living proof that history is made by those who know the rules―and how to break them.
What the Reviews say:
"Watching Fowler's heroine vanquish the gatekeepers and minions who stand in her way is nothing short of mesmerizing." – Kirkus Reviews, starred review
"As accomplished as its subject, redoubtable socialite and women's suffrage crusader Alva Vanderbilt Belmont, Fowler's engrossing successor to 2013's Z: A Novel of Zelda Fitzgerald, again showcases her genius for seeing beyond the myths of iconic women." – Publishers Weekly, starred review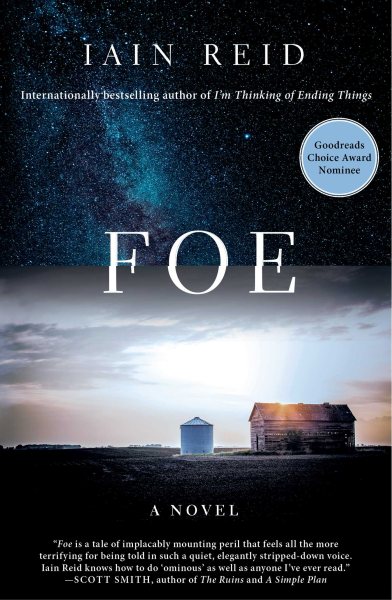 Foe: A Novel by Iain Reid
Release Date: 9/4/2018
Summary:
In Iain Reid's second haunting, philosophical puzzle of a novel, set in the near-future, Junior and Henrietta live a comfortable, solitary life on their farm, far from the city lights, but in close quarters with each other. One day, a stranger from the city arrives with alarming news: Junior has been randomly selected to travel far away from the farm … very far away. The most unusual part? Arrangements have already been made so that when he leaves, Henrietta won't have a chance to miss him, because she won't be left alone–not even for a moment. Henrietta will have company. Familiar company.
What the Reviews say: 
"Reid is at it again, exploiting readers with plot twists, narrative unease, and explosive conclusions in his second novel. …Reid has the rare ability to make readers both uncomfortable and engaged, and this drama will surely send them back to the beginning pages to track the clues he left to the surprise ending." – Booklist, starred review
"Reid, however, brilliantly executes his vision through short chapters filled with well-crafted internal and external dialogue. With Foe, Reid has written a page-turning novel that will entertain you and have you questioning the very foundation of your existence at the exact same time." – Bookpage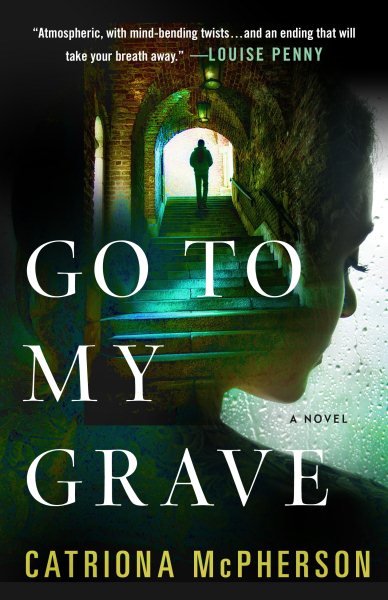 Go to My Grave by Catriona McPherson
Release Date: 10/23/18
Summary:
Ann Cleeves Donna Weaver has put everything into The Breakers, a Bed and Breakfast that she and her mother are opening on a remote stretch of beach. Now it waits–freshly painted, richly furnished, filled with flowers. But as the guests arrive, they feel like they've been here before. Amid home-baked scones, gorgeous guest rooms, and lavish dinners fit for a king, the feeling of menace grows. Someone has broken their vow. Someone is playing games. And then the games turn deadly…

What the Reviews say:

"A rousing gothic tale of past and present in a Galloway beach house. …McPherson provides a virtuoso exploration of guilt, remorse, and revenge in a haunting psychological thriller. The ending will leave you astounded." – Kirkus Reviews, starred review
"Agatha Award-winning McPherson's deliciously gothic country house mystery with a contemporary twist is devious and suspenseful and keeps readers guessing to the shocking end. Highly recommended." – Library Journal, starred review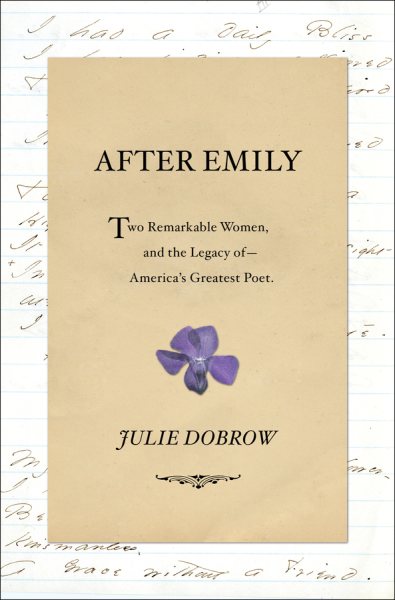 After Emily: Two Remarkable Women, and the Legacy of– America's Greatest Poet. by Julie Dobrow
Release Date: 10/30/2018
Summary:
The untold story of the mother and daughter who opened the door to Emily Dickinson's poetry. Emily Dickinson may be the most widely read and beloved of all American poets, but the story behind her work's initial, posthumous publication in 1890 and the mother-and-daughter team most responsible for her enduring legacy are barely known. After Emily recounts the extraordinary lives of Mabel Loomis Todd and her daughter, Millicent Todd Bingham, and the powerful literary legacy they shared. Mabel's complicated relationships with the Dickinsons–including her thirteen-year extramarital affair with Emily's brother, Austin–roiled the small town of Amherst, Massachusetts. Mabel and Austin's love led to her work with Emily Dickinson's poetry, which inspired both Mabel's life and her daughter's, and fed controversies over the poetry's promotion, editing, and ownership. Julie Dobrow has unearthed hundreds of primary sources to tell this compelling narrative and reveal the surprising impact Mabel and Millicent had on the Emily Dickinson we know today
What the Reviews say: 
"Dobrow's intimate portrait of these artistically talented and intelligent women, based largely on their extensive, detailed diaries and correspondence, reveals fallible women who painstakingly attempted to share an extraordinary poet's vision. What is more remarkable is how they balanced that work and the demands of marriage and family, handled the corset-tight gender restrictions of their time, dealt with male input regarding their editorial approach, navigated delicate and shifting alliances within the Dickinson family, and opened public minds to Emily's singular poetic vision, often through intuitive and savvy marketing. Hopefully, Dobrow's chronicle will draw readers back to Dickinson, whom Dobrow rightly names as America's greatest poet." – Booklist, starred review
"The biographical material related to Emily Dickinson's legacy is the work's driving force, but Dobrow's skillful account of Mabel's and Millicent's lives makes this page-turner a must-read for the poet's most ardent fans." – Library Journal, starred review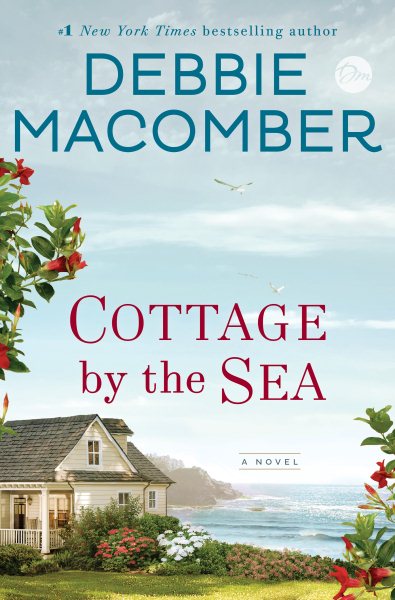 Cottage by the Sea: A Novel by Debbie Macomber
Release Date: 7/17/2018
Summary:
Annie Marlow has been through the worst. Rocked by tragedy, she heads to the one place that makes her happy: Oceanside in the Pacific Northwest, the destination of many family vacations when Annie was a teenager. Once there, Annie begins to restore her broken spirit, thanks in part to the folks she meets: a local painter, Keaton, whose large frame is equal to his big heart, and who helps Annie fix up her rental cottage by the sea; Mellie, the reclusive, prickly landlord Annie is determined to befriend; and Britt, a teenager with a terrible secret. But it is Keaton to whom Annie feels most drawn. His quiet, peaceful nature offers her both comfort and reprieve from her grief, and the two begin to grow closer. Then events threaten to undo the idyll Annie has come to enjoy. And when the opportunity of a lifetime lands in her lap, she is torn between the excitement of a new journey toward success and the safe and secure arms of the haven — and the man — she's come to call home.
What the Reviews say:
"Macomber never disappoints. Tears and laughter abound in this story of loss and healing that will wrap you up and pull you in; readers will finish it in one sitting." – Library Journal, starred review
"Romantic, warm, and a breeze to read–one of Macomber's best." – Kirkus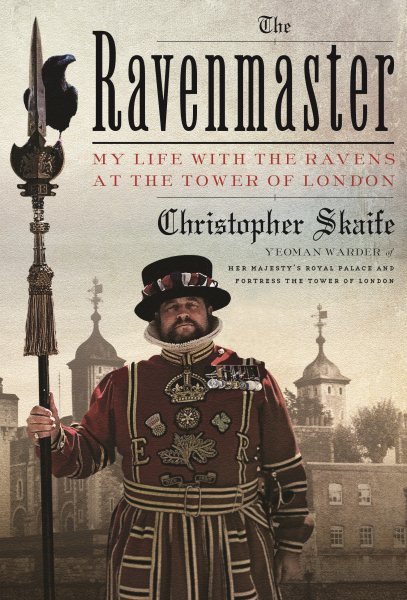 The Ravenmaster: My Life with the Ravens at the Tower of London by Christopher Skaife
Release Date: 10/2/2018
Summary: 
A narrative by the Tower of London's official Ravenmaster about what it's like to live among the ravens at England's most famous national monument, woven together with insight from folklore, history, and contemporary behavioral science about this unusual bird.
What the Reviews say:
"This is an utterly fascinating book about one of those subjects you never thought you'd be interested in until, well, you were. …Skaife is a very good storyteller, and the book is full of the kind of anecdote that would make a great scene in a movie (like, for instance, the time one of the ravens orchestrated a daring escape from the Tower). A splendid and constantly surprising book." – Booklist, starred review
"Balancing fascinating tidbits (a raven's need for order and routine) with macabre details (blood-soaked dog biscuits and ghostly sightings), he titillates as he educates, rehabilitating the gloomy reputation of the raven. Skaife's conversational style and disarming candor make this a rollicking tale fit for nearly any armchair adventurer." – Publishers Weekly
What are you most excited about reading?
If you're interested in participating in Rave Reviews, please join us for our next meeting, Monday, January 28, 2019 at 2 pm at:
Lamanda Park Branch Library
140 S. Altadena Drive
Pasadena CA 91107
For more information, contact Lamanda Park Branch at 626-744-7266.