This Saturday, November 11, is the Veterans Day holiday in the U.S. Veterans Day is a day we honor all the men and women who have served in the military. Veterans Day coincides with Armistice Day, the anniversary of the signing of the armistice to end the Great War (World War I), famously and precisely, at the "eleventh hour of the eleventh day of the eleventh month" of 1918.
Here are some titles, fiction and fact, set just before, during, and after World War I.  Of course, there's always the tried-and-true: books by and about Ernest Hemingway, or Barbara Tuchman's definitive, Pulitzer Prize-winning history, The Guns of August. Or, search our catalog using "World War 1914-1918" to browse for more about the "war to end all wars."
To all the veterans out there, we thank you for your service and honor your sacrifice.
World War I and America: Told by the Americans Who Lived It, ed. by A. Scott Berg
For the centenary of America's entry into World War I, A. Scott Berg presents a landmark anthology of American writing from the cataclysmic conflict that set the course of the 20th century.
Few Americans appreciate the significance and intensity of America's experience of World War I, the global cataclysm that transformed the modern world. Published to mark the centenary of the U.S. entry into the conflict, World War I: Told by the Americans Who Lived It brings together a wide range of writings by American participants and observers to tell a vivid and dramatic firsthand story from the outbreak of war in 1914 through the Armistice, the Paris Peace Conference, and the League of Nations debate. The eighty-eight men and women collected in the volume–soldiers, airmen, nurses, diplomats, statesmen, political activists, journalists–provide unique insights into how Americans of every stripe perceived the war, why they supported or opposed intervention, how they experienced the nightmarish reality of industrial warfare, and how the conflict changed American life.
The Midnight Cool by Lydia Peelle
In this satisfying debut novel, Billy Monday, an Irish immigrant, and Charles McLaughlin, his young, orphaned accomplice, are small-time con artists who end up in Richfield, Tenn. The year is 1916 and war fever is mounting in the U.S. The two begin buying and selling mules to be used by the British Expeditionary Force on the Western Front, but they are themselves taken when they buy a mare from local bigwig Leland Hatcher that turns out to be a killer. Further complicating matters is Hatcher's daughter, Catherine, with whom Charles promptly falls in love, finding himself out of his depth in her elite social world. Footloose Charles decides to buy some land and put down roots in Richfield, hoping to impress Catherine and her father. These chapters are interspersed with flashbacks of new immigrant Billy's relationship with a young woman named Maura. America's entry into World War I and Charles's relationship with Catherine impel the young man to make a fateful decision that will have consequences for all concerned. Reading like a cross between Faulkner's "Spotted Horses" and Fitzgerald's "The Last of the Belles," this novel is filled with nearly melodramatic situations that are rescued by the intelligence of the writing and the acuity of the characterizations, on the way to its bittersweet denouement.
Copper Kettle: An Ike Schwartz Mystery by Frederick Ramsay
Set in 1920, Ramsey's satisfying prequel to his contemporary Ike Schwartz series (The Vulture, etc.) provides fascinating details of a soldier's life during WWI. Jesse Sutherlin has returned to his home on Buffalo Mountain in Virginia as a war hero. His experiences in the trenches have changed him, setting him apart from his hill-folk kin. He no longer shares their shoot-first-ask-questions-later attitude. When his shell-shocked army buddy and cousin, Solomon McAdoo, is found shot to death near the illegal still owned by Jesse's grandpa Big Tom McAdoo, trouble starts brewing. The McAdoos grab their guns and are ready to wreak vengeance on their longtime rivals, the Bruin clan. Jesse intercedes, telling his bellicose relatives that proof is needed before any bullets fly. Big Tom gives him four days to find Solomon's killer. It's a genuine pleasure to read a story of detection that depends purely on observation and logical deduction to reach its conclusions.
The Hello Girls: America's First Women Soldiers by Elizabeth Cobbs
Cobbs (history, Texas A&M Univ.; American Umpire) shines a new light on the history of suffrage and women's rights in the United States, using as a lens the servicewomen enlisted in the U.S. Army Signal Corps during World War I. Dubbed the Hello Girls, these women operated the telephone switchboards that facilitated communication between Allied forces and worked, in President Woodrow Wilson's words, "wherever men have worked and on the very skirts and edges of the battle itself." In this groundbreaking work, Cobbs weaves the trials and triumphs of America's first female soldiers (although they wouldn't win the right to claim that distinction until 1979) with the fight for women's rights and the rising waves of feminism. Although presenting a story of national interest and international impact, the author manages to keep the story personal and relatable by focusing on the experiences of the women in the Signal Corps.
The World Remade: America in World War I by G.J. Meyer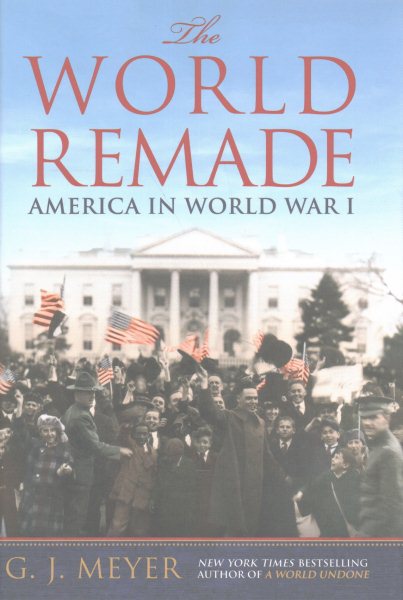 In his widely praised previous work, A World Undone: The Story of the Great War, 1914–1918 (2006) journalist and author Meyer focused primarily on Europe's role in the conflict, giving limited attention to America's participation. He describes this new volume as a complement to its predecessor, and it is a massive and ambitious effort that strives to cover and explain a very broad range of aspects, including our entry and participation in the war, the failure of the "peace," and the changes the war brought to our political and social fabric. Meyer offers wonderful insights into many of the key players in this arresting saga, including William Jennings Bryan, presidential advisor and diplomat Edward House, and General John "Black Jack" Pershing. Towering above them all, however, is the character of President Woodrow Wilson, and Meyer's portrait of him is scathingly negative. He views Wilson as rigid, self-righteous, and a sham progressive whose claims of neutrality were contradicted by his overt hostility towards Germany and his willingness to accept British propaganda claims about German atrocities. According to Meyer, that same rigidity and refusal to compromise helped doom the subsequent "peace" settlement at Versailles. This is a provocative and sometimes harshly judgmental history, but one that should be read to understand our emergence as a global power.
Fall of Giants (Book 1 of the Century Trilogy) by Ken Follett
This first in a century-spanning trilogy from bestseller Follett (Eye of the Needle) makes effective and economical use of its lead characters, despite its scope and bulk. From a huge cast, eight figures emerge to play multiple roles that illustrate and often illuminate the major events, trends, and issues of the years leading up to and immediately beyond WWI: American diplomat Gus Dewar; Earl Fitzherbert, a wealthy Englishman; Fitz's sister, Lady Maud; German military attaché Walter von Ulrich; Russian brothers Grigori and Lev Peshkov; Welsh collier Billy Williams and his sister, Ethel, whom Fitz hires as a housemaid. Ingenious plotting allows Follett to explore such salient developments of the era as coal mine safety in Wales, women's suffrage, the diplomatic blundering that led to war, the horrors of trench warfare, and the triumph of the Bolsheviks. While this tome doesn't achieve the emotional depth of the best historicals, it is a remarkable and wonderfully readable synthesis of fact and fiction.
No Man's Land by Simon Tolkien
Tolkien, grandson of J. R. R. Tolkien, breaks from his edge-of-the-seat suspense novels in this moving fictional tribute to both his grandfather and the men who fought and died in the Great War. Loosely based on John R. R. Tolkien's life, the two halves of the story describe "no man's land" in both the coal mines of northeastern Derbyshire and the trenches in France. Through an act of astonishing bravery, Adam Raine saves another boy's life during a mine accident, echoing the courage of his father, who dies a hero in a fire at the mine owner's home. This is the turning point in Adam's life:he's adopted by the mine owner and given a chance at worldly success and at wooing the parson's daughter. The war's abrupt intervention, and the machinations of Adam's disgruntled enemies during his absence at the Front, provide a heartwrenching tension, while the pace quickens dramatically throughout the gut-turning episodes of trench warfare. The author's visceral account of the Battle of the Somme underscores the individual suffering and courage involved—an unforgettable paean and a gripping war story, with a sensitive perspective on the home front. This compares in depth of feeling and insight to Elizabeth Speller's The First of July (2013) and to Jeff Shaara's well-researched, absorbing To the Last Man (2004).
World War I: The Definitive Visual History: From Sarajevo to Versailles by R.G. Grant
Capturing the full experience of WWI is a formidable task, but this … comprehensive account by historian Grant comes close. He presents information in an accessible manner and makes it easy to peruse a rich array of articles, detailed maps, and images. Remarkable yet little-known figures like Eugene Bullard, an African-American who became the world's first black fighter pilot, are given their due alongside major figures like Marshal Pétain and Field Marshal von Hindenburg. The selection of images builds a remarkable portrait of the war, including an aerial camera used to observe enemy troop movements, wartime propaganda posters, a pigeon named Cher Ami awarded the Croix de Guerre for bravery, and sculptures created by Kathe Kollwitz in honor of her son slain at the first battle of Ypres. Eyewitness accounts of the 1914 Christmas Truce, and startling details like Gen. Douglas Haig's insistence that cavalry armed with sabers had a place in modern warfare, serve as reminders of both the remarkable displays of respect and horrifying incompetence that arose during the conflict. This is a broad, moving, informative account of the war that's perfect for both the young, budding historian and the well-versed WWI reader.
The Asylum of Dr. Caligari  by James Morrow
Entrancing prose enhances the unusual plot of Morrow's successful melding of history and fantasy. Francis Wyndham, a self-described "bookish farm boy from central Pennsylvania," had his life changed, in 1913, by an inspirational visit to a modern art exhibition. Wyndham heads to Paris, where he adopts the identity of a descendant of "a line of North American gypsies famous for their spare but powerful folk art." His initial efforts to get access to the giants of the age ends poorly, but he gets a new lease on life in 1914 when he's offered the chance to serve as an art therapist at an asylum run by Dr. Alessandro Caligari. Despite Caligari's poor opinion of Wyndham's work, Wyndham lands the job, only to learn that his employer, who views WWI as a "grand-scale Nietzschean work of art," has produced a painting, Ecstatic Wisdom, with unsettling powers that the American feels compelled to counter. Readers with a taste for the bizarre and unexpected will be satisfied.