The author of our 2017 One City, One Story pick The Sympathizer, Viet Thanh Nguyen, will be in conversation with Library Director, Michelle Perera at our author talk event at All Saints Church on Thursday, March 2 at 7 p.m. In The Sympathizer, the narrator is a refugee from Vietnam after the end of the Vietnam War. While some of his thoughts and feelings are different than those of may refugees due to his double agent status, many of his experiences mirror those of the thousands of other refugees from Vietnam and elsewhere who have had to flee their homes. Nguyen's new book, a short story collection entitled The Refugees, delves even deeper into the refugee experience. Here are some additional novels and memoirs of refugees from all over the world to help you explore a topic that is very present in our world today.
The Refugees by Viet Thanh Nguyen
With the coruscating gaze that informed The Sympathizer, in The Refugees Viet Thanh Nguyen gives voice to lives led between two worlds, the adopted homeland and the country of birth. From a young Vietnamese refugee who suffers profound culture shock when he comes to live with two gay men in San Francisco, to a woman whose husband is suffering from dementia and starts to confuse her for a former lover, to a girl living in Ho Chi Minh City whose older half-sister comes back from America having seemingly accomplished everything she never will, the stories are a captivating testament to the dreams and hardships of immigration. The second piece of fiction by a major new voice in American letters, The Refugees is a beautifully written and sharply observed book about the aspirations of those who leave one country for another, and the relationships and desires for self-fulfillment that define our lives.
Prague Winter: A Personal Story of Remembrance and War, 1937-1948 by Madeleine Albright

From former Secretary of State Madeleine Albright comes a moving and thoughtful memoir of her formative years in Czechoslovakia during the tumult of Nazi occupation, World War II, fascism, and the onset of the Cold War. An intensely personal journey into the past that offers vital lessons for the future, Prague Winter combines the intimacy of an autobiography with the drama of an exciting and well-told story—all underpinned by the gravity and intelligence of a serious work of history. The result is a highly readable and incisive work filled with tragedy and triumph, a resonant narrative informed by Albright's remarkable life experience and her characteristic candor in speaking hard truths.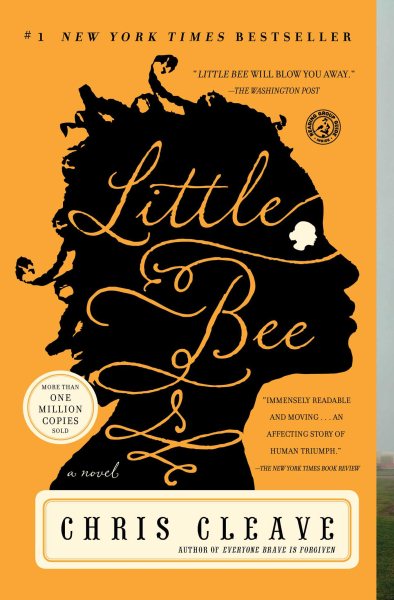 Little Bee by Chris Cleve
A haunting novel about the tenuous friendship that blooms between two disparate strangers–one an illegal Nigerian refugee, the other a recent widow from suburban London.
What Is the What: The Autobiography of Valentino Achak Deng by Dave Eggers
In a heartrending and astonishing novel, Eggers illuminates the history of the civil war in Sudan through the eyes of Valentino Achak Deng, a refugee now living in the United States. We follow his life as he's driven from his home as a boy and walks, with thousands of orphans, to Ethiopia, where he finds safety for a time. Valentino's travels, truly Biblical in scope, bring him in contact with government soldiers, janjaweed-like militias, liberation rebels, hyenas and lions, disease and starvation and a string of unexpected romances. Ultimately, Valentino finds safety in Kenya and, just after the millennium, is finally resettled in the United States, from where this novel is narrated. In this book, written with expansive humanity and surprising humor, we come to understand the nature of the conflicts in Sudan, the refugee experience in America, the dreams of the Dinka people, and the challenge one indomitable man faces in a world collapsing around him.
A Hope More Powerful than the Sea: One Refugee's Incredible Story of Love, Loss, and Survival by Melissa Fleming
Melissa Fleming shares the harrowing journey of Doaa Al Zamel, a young Syrian refugee in search of a better life. Doaa and her family leave war-torn Syria for Egypt where the climate is becoming politically unstable and increasingly dangerous. She meets and falls in love with Bassem, a former Free Syrian Army fighter and together they decide to leave behind the hardship and harassment they face in Egypt to flee for Europe, joining the ranks of the thousands of refugees who make the dangerous journey across the Mediterranean on overcrowded and run-down ships to seek asylum overseas and begin a new life. After four days at sea, their boat is sunk by another boat filled with angry men shouting threats and insults. With no land in sight and surrounded by bloated, floating corpses, Doaa is adrift with a child's inflatable water ring around her waist, while two little girls cling to her neck. Doaa must stay alive for them. She must not lose strength. She must not lose hope.
More by Hakan Günday
Gaza lives on the shores of the Aegean Sea. At the age of nine he becomes a human trafficker, like his father. Together with his father and local boat owners Gaza helps smuggle desperate illegals," by giving them shelter, food, and water before they attempt the crossing to Greece. One night everything changes and Gaza is suddenly faced with the challenge of how he himself is going to survive. This is a heartbreaking work that examines the lives of refugees struggling to flee their homeland and the human traffickers who help them reach Europe–for a price.
When the Moon Is Low by Nadia Hashimi
Mahmoud's passion for his wife Fereiba, a schoolteacher, is greater than any love she's ever known. But their happy, middle-class world—a life of education, work, and comfort—implodes when their country is engulfed in war, and the Taliban rises to power.
Mahmoud, a civil engineer, becomes a target of the new fundamentalist regime and is murdered. Forced to flee Kabul with her three children, Fereiba has one hope to survive: she must find a way to cross Europe and reach her sister's family in England. With forged papers and help from kind strangers they meet along the way, Fereiba make a dangerous crossing into Iran under cover of darkness. Exhausted and brokenhearted but undefeated, Fereiba manages to smuggle them as far as Greece. But in a busy market square, their fate takes a frightening turn when her teenage son, Saleem, becomes separated from the rest of the family.
Faced with an impossible choice, Fereiba pushes on with her daughter and baby, while Saleem falls into the shadowy underground network of undocumented Afghans who haunt the streets of Europe's capitals. Across the continent Fereiba and Saleem struggle to reunite, and ultimately find a place where they can begin to reconstruct their lives.
The Lightless Sky: A Twelve-Year-Old Refugee's Harrowing Escape from Afghanistan and his Extraordinary Journey across Half the World by Gulwali Passarlay with Nadene Ghouri
In 2006, after his father was killed, Gulwali Passarlay was caught between the Taliban who wanted to recruit him, and the Americans who wanted to use him. To protect her son, Gulwali's mother sent him away. The search for safety would lead the twelve-year-old across eight countries, from the mountains of eastern Afghanistan through Iran and Europe to Britain. Over the course of twelve harrowing months, Gulwali endured imprisonment, hunger, cruelty, brutality, loneliness, and terror—and nearly drowned crossing the Mediterranean Sea. Eventually granted asylum in England, Gulwali was sent to a good school, learned English, won a place at a top university, and was chosen to help carry the Olympic Torch in the 2012 London Games.
In The Lightless Sky, Gulwali recalls his remarkable experience and offers a firsthand look at one of the most pressing issues of our time: the modern refugee crisis—the worst displacement of millions of men, women, and children in generations. Few, like Gulwali, make it to a country that offers the chance of freedom and opportunity. A celebration of courage and determination,The Lightless Sky is a poignant account of an exceptional human being who is today an ardent advocate of democracy—and a reminder of our responsibilities to those caught in terrifying and often deadly circumstances beyond their control.
Alek: From Sudanese Refugee to International Supermodel by Alek Wek
Since the day she was scouted by a modeling agent while shopping at a London street fair when she was just nineteen, Alek Wek's life has been nothing short of a fantasy. When she's not the featured model in hip advertising campaigns, she is working the runways for the world's leading designers. But nothing in her early years prepared her for the life of a model. Born in the southern Sudan, Alek knew only a few years of peace with her family before they were caught up in a ruthless civil war that pitted outlaw militias, the Muslim-dominated government, and southern rebels against each other in a brutal conflict that killed nearly two million people. Here is her story of fleeing the war on foot and her escape to London, where her rise to supermodel was all the more notable because of Alek's non-European looks.