The heat is on and Southern California is hot, hot, hot. We hope you're being able to stay cool in this heat wave; remember that you can always come cool down in the AC at any of the Pasadena Public Libraries during our open hours. To go with these high temperatures we've got some steamy erotic fiction for you to explore. We know everyone has different taste in erotic fiction, but take a look at the titles below to see if something catches your eye.
Slippery When Wet by Cairo
These five salacious stories are filled to the brim with sizzling, steamy encounters for anyone who enjoys, fantasizes about, or simply craves girl-girl sex.
Ava Wilson, a full-figured single diva, has always wondered what having sex with a woman would be like. So when she goes on a weekend getaway with her friend, Ava allows curiosity to get the best of her.
Miasha Simmons is the perfect little trophy wife for her wealthy attorney-husband, and she knows how to keep her man happy. But when he's away, his sweet, loving wife likes to play…with other women.
Laila Reynolds loves the sweet sting of a whip from those who seek her out through her website, promising solicitors a night of hot, steamy fun they'll never forget.
There's nothing more delicious to businesswoman Ebony Rice than being on the receiving end of a gang-bang with six lovely, harness-strapped women.
Playboi-stud Reggie Sanders loves the chase of beautiful straight women. That's until she seduces a woman who gives Reggie a taste of her own medicine—straight with no chaser.
Laid Bare by Lauren Dane
It's been ten years since clean-cut, sexy-as-hell police officer Todd Keenan had a white-hot fling with wild, uninhibited rocker Erin Brown. What happened between them got under his skin—even if love wasn't in the cards just yet…
Now that they're back together, picking up where they left off is tough in light of Erin's troubled past. As Todd earns her trust, their relationship takes an unexpected turn. Todd's best friend, Ben, comes to play, arousing their deepest fantasies. The passion they share transforms Erin, but it may not be enough to face the evil she thought she had left behind.
Real by Katy Evans
Remington Tate has a bad-boy rep in and out of the ring, a granite-hard body, and a raw, animal power that sends his female fans into a frenzy. But from the moment their eyes lock, the only woman he wants is Brooke Dumas. His desire is pure, all-consuming, and REAL.
Hired to keep his perfect body working like a machine, Brooke finally has the lucrative sports therapy job she's been dreaming of. But as she tours the dangerous underground fighting circuit with Remy and his team, Brooke's own body becomes alive with the most primal of hungers. If what happens between Brooke and Remy is ever as light as a flirtation, it quickly becomes an erotic obsession for them both, and promises so much more.
But their white-hot lust has a dark side—and when Remy's deepest secret comes to light and Brooke's familial duties demand action, will the pair be able to hang on, or will everything that once seemed so real suddenly fade away like an illusion?
Seduction by Geneva Holliday
Mildred Johnson is the last woman on earth that gorgeous Tony Landry would dare to be seen with. That is, until Tony wants to pull a scam on the company where she works. In order to keep Mildred signing phony documents, Tony gives Mildred a taste of romance and keeps raising the stakes until he's eventually forced to propose. But when the big day arrives he skips town with the money he's stolen.
Heartbroken, Mildred takes a trip to Barbados where her "vacation" turns out to be a boot-camp style weight loss clinic! Soon she discovers a goddess that had been hiding beneath her homely exterior. And when she runs into Tony on the island, he doesn't even recognize the sexy fox standing before him. Little does he know that this fox has a plan for revenge that will leave him whimpering with his tail between his legs for a good, long time.
Guilty Pleasures by Deborah Fletcher Mello
Former NBA star Alexander Barrett has slam dunked his career into second gear with the grand opening of his hot new gym in Boulder, Colorado. But his excitement is tempered when his estranged twin brother, MMA title holder Zachary "The Hammer" Barrett returns home from Thailand. Alex has never forgiven Zach for marrying his college sweetheart. And while they're now divorced, his bitterness lingers.
Zach hoped to re-connect with his brother, but when his personal assistant and trainer, Sarai Montri, arrives, their rivalry is soon reignited. Highly educated, not to mention gorgeous, the former Miss Thailand captivates Alex for the first time since his heartbreak. But Sarai's devotion to Zach only stirs up the past. Will the brothers' competitive natures tear them apart once more–with Sarai caught in the middle?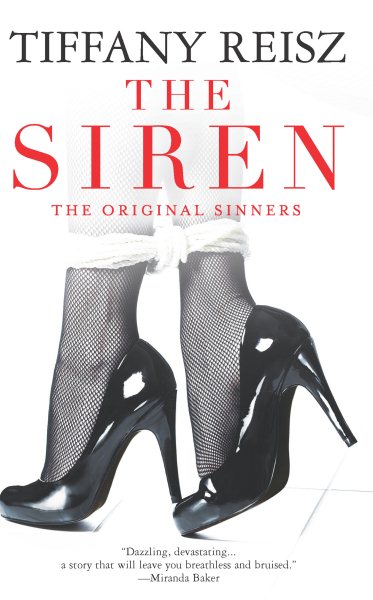 The Siren by Tiffany Reisz
Notorious Nora Sutherlin is famous for her delicious works of erotica, each one more popular with readers than the last. But her latest manuscript is different, more serious, more personal, and she's sure it'll be her breakout book–if it ever sees the light of day.
Zachary Easton holds Nora's fate in his well-manicured hands. The demanding British editor agrees to handle the book on one condition: he wants complete control. Nora must rewrite the entire novel to his exacting standard–in six weeks–or it's no deal.
Nora's grueling writing sessions with Zach are draining and shockingly arousing. And a dangerous former lover has her wondering which is more torturous, staying away from him, or returning to his bed?
Nora thought she knew everything about being pushed to your limits. But in a world where passion is pain, nothing is ever that simple.
On Dublin Street by Samantha Young
Four years ago, Jocelyn left her tragic past behind in the States and started over in Scotland, burying her grief, ignoring her demons, and forging ahead without attachments. Her solitary life is working well—until she moves into a new apartment on Dublin Street where she meets a man who shakes her carefully guarded world to its core.
Braden Carmichael is used to getting what he wants, and he's determined to get Jocelyn into his bed. Knowing how skittish she is about entering a relationship, Braden proposes an arrangement that will satisfy their intense attraction without any strings attached.
But after an intrigued Jocelyn accepts, she realizes that Braden won't be satisfied with just mind-blowing passion. The stubborn Scotsman is intent on truly knowing her… down to the very soul.