Need another reason to visit the Pasadena Public Library? We're a Poke Stop! So come and collect some Pokémon and other Poke-goodies then stay and take a look at the these great books and videos for Pokémon fans.
Ready Player One by Ernest Cline
In the year 2044, reality is an ugly place. The only time teenage Wade Watts really feels alive is when he's jacked into the virtual utopia known as the OASIS. Wade's devoted his life to studying the puzzles hidden within this world's digital confines—puzzles that are based on their creator's obsession with the pop culture of decades past and that promise massive power and fortune to whoever can unlock them. But when Wade stumbles upon the first clue, he finds himself beset by players willing to kill to take this ultimate prize. The race is on, and if Wade's going to survive, he'll have to win—and confront the real world he's always been so desperate to escape.
For the Win by Cory Doctorow
At any hour of the day or night, millions of people around the globe are engrossed in multiplayer online games, questing and battling to win virtual "gold," jewels, and precious artifacts. Meanwhile, others seek to exploit this vast shadow economy, running electronic sweatshops in the world's poorest countries, where countless "gold farmers," bound to their work by abusive contracts and physical threats, harvest virtual treasure for their employers to sell to First World gamers who are willing to spend real money to skip straight to higher-level gameplay.
Mala is a brilliant 15-year-old from rural India whose leadership skills in virtual combat have earned her the title of "General Robotwalla." In Shenzen, heart of China's industrial boom, Matthew is defying his former bosses to build his own successful gold-farming team. Leonard, who calls himself Wei-Dong, lives in Southern California, but spends his nights fighting virtual battles alongside his buddies in Asia, a world away. All of these young people, and more, will become entangled with the mysterious young woman called Big Sister Nor, who will use her experience, her knowledge of history, and her connections with real-world organizers to build them into a movement that can challenge the status quo.
The ruthless forces arrayed against them are willing to use any means to protect their power–including blackmail, extortion, infiltration, violence, and even murder. To survive, Big Sister's people must out-think the system. This will lead them to devise a plan to crash the economy of every virtual world at once–a Ponzi scheme combined with a brilliant hack that ends up being the biggest, funnest game of all.
Guinness World Records Gamer's Edition
A guide to the 'greatest' computer and video game facts and feats. Features interviews with champion gamers, hints and tips to improve gameplay, profiles of the world's best-selling titles, and features on the latest games and consoles.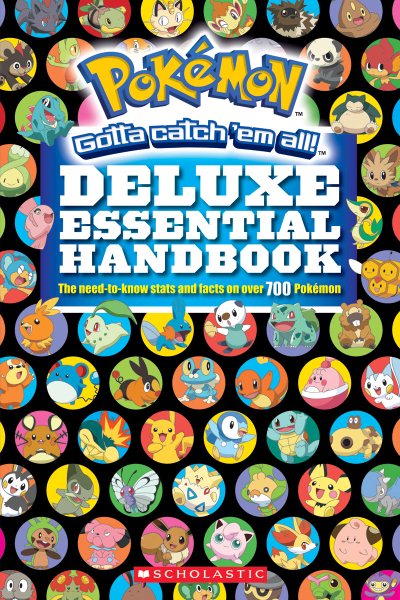 Pokémon Gotta Catch 'em All! : Deluxe Essential Handbook
Gotta read about 'em all! This revised and updated edition of the mega-bestselling Pokémon Essential Handbook includes stats and facts on over 700 Pokémon.
It's everything you ever wanted to know about every Pokémon — all in one place! This revised and updated edition of the 2012 bestseller has stats and facts on over 700 Pokemon. The book includes 64 new pages focusing on the new Kalos characters that just debuted in the Pokémon X & Y videogames, plus inside info on the new Mega Evolved Pokémon.
Mr. Penumbra's 24-Hour Bookstore by Robin Sloan
The Great Recession has shuffled Clay Jannon out of his life as a San Francisco Web-design drone—and serendipity, sheer curiosity, and the ability to climb a ladder like a monkey has landed him a new gig working the night shift at Mr. Penumbra's 24-Hour Bookstore. But after just a few days on the job, Clay begins to realize that this store is even more curious than the name suggests. There are only a few customers, but they come in repeatedly and never seem to actually buy anything, instead "checking out" impossibly obscure volumes from strange corners of the store, all according to some elaborate, long-standing arrangement with the gnomic Mr. Penumbra. The store must be a front for something larger, Clay concludes, and soon he's embarked on a complex analysis of the customers' behavior and roped his friends into helping to figure out just what's going on. But once they bring their findings to Mr. Penumbra, it turns out the secrets extend far outside the walls of the bookstore.
Press Start to Play edited by Daniel H. Wilson and John Joseph Adams
From text-based adventures to first-person shooters, dungeon crawlers to horror games, these twenty-six stories play with our notion of what video games can be—and what they can become—in smart and singular ways. With a foreword from Ernest Cline, bestselling author of Ready Player One, Press Start to Play includes work from: Daniel H. Wilson, Charles Yu, Hiroshi Sakurazaka, S.R. Mastrantone, Charlie Jane Anders, Holly Black, Seanan McGuire, Django Wexler, Nicole Feldringer, Chris Avellone, David Barr Kirtley,T.C. Boyle, Marc Laidlaw, Robin Wasserman, Micky Neilson, Cory Doctorow, Jessica Barber, Chris Kluwe, Marguerite K. Bennett, Rhianna Pratchett, Austin Grossman, Yoon Ha Lee, Ken Liu, Catherynne M. Valente, Andy Weir, and Hugh Howey.
From nerd niche to a multi-billion dollar industry, this is the story of video games from the minds of their greatest creators and super-players. Featuring the favorite industry, gamer and geek icons including Zach Braff, Chris Hardwick and Sean Astin.
From Walt Disney Animation Studios comes a hilarious, arcade game-hopping journey in Wreck-It Ralph. For decades, Ralph has played the bad guy in his popular video game. In a bold move, he embarks on an action-packed adventure and sets out to prove to everyone that he is a true hero with a big heart. As he explores exciting new worlds, he teams up with some unlikely new friends including feisty misfit Vanellope von Schweetz. Then, when an evil army threatens their world, Ralph realizes he holds the fate of the entire arcade in his massive hands. Featuring an all-star voice cast and a groundbreaking animated short film, Wreck-It Ralph has something for every player.