10 YA Books About Race
by Jane Gov, Youth Services Librarian
updated 12/11, 2017
This month, our book club discussed The Hate U Give by Angie Thomas. It was the most highly rated book we have ever selected for YA Book Club–with five star ratings from everyone. The book's exploration of race and racism is complex, realistic, and hyper-relevant to today's social climate. With rich, full-bodied, diverse, and relatable characters, it's one of the best, must-read books in recent years. However, if you've already read The Hate U Give, here are nine more to check out.
by Sherman Alexie
Budding cartoonist Junior leaves his troubled school on 
the
 Spokane 
Indian
 Reservation to attend an all-white farm town school where 
the
 only other 
Indian
 is 
the
 school mascot.
by Jason Reynolds and Brendan Kiely
 In an unforgettable new novel from award-winning authors Jason Reynolds and Brendan Kiely, two teens—one black, one white—grapple with the repercussions of a single violent act that leaves their school, their community, and, ultimately, the country bitterly divided by racial tension.
by Gene Luen Yang
 Jin Wang starts at a new school where he's the only Chinese-American student. When a boy from Taiwan joins his class, Jin doesn't want to be associated with an FOB like him. Jin just wants to be an all-American boy, because he's in love with an all-American girl.
by Nic Stone
Profiled by a racist police officer in spite of his excellent academic achievements and Ivy League acceptance, a disgruntled college youth navigates the prejudices of new classmates and his crush on a white girl by writing a journal to Dr. Martin Luther King, Jr., in the hopes that his iconic role model's teachings will be applicable half a century later.
by Angie Thomas 
 Caught between her poor neighborhood and her fancy prep school, sixteen-year-old Starr Carter becomes the focus of intimidation and more after witnessing the fatal shooting of her childhood best friend, Khalil, by a police officer.
by Robin Talley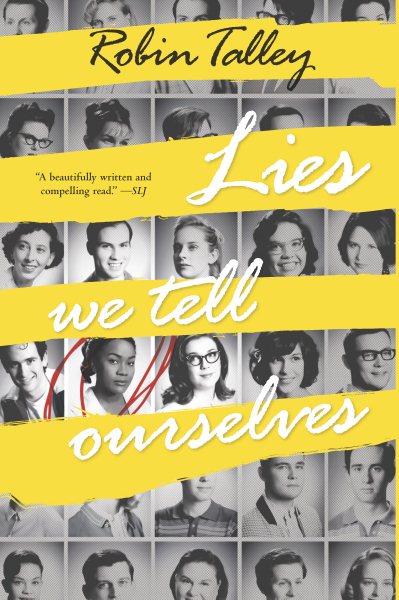 The civil rights movement in 1959 Virginia irrevocably changes the lives of two girls: a persecuted black student who is one of the first to attend a newly integrated school and a white integration opponent's daughter with whom she confronts harsh truths during a school project.
by Ashley Hope Perez
Loosely based on a school explosion that took place in New London, Texas in 1937, this is the story 
of
 two teenagers: Naomi, who is Mexican, and Wash, who is black, and their dealings with race, segregation, love, and the forces that destroy people.
by Stacey Lee
Gaining admittance into an elite school usually limited to white girls, 15-year-old Mercy Wong, who strives to escape from her disadvantaged life through education, endures harsh conditions in a park encampment when the 1906 San Francisco earthquake destroys her home and school.
by Sandhya Menon
A heartfelt romantic comedy told from the alternating perspectives of two Indian-American teens whose parents have arranged their marriage follows the efforts of one to distance herself from the agreement and the other to woo his intended during a summer program they are attending together.
by 
Meg Medina
I
nformed that a bully she does not know is determined to beat her up because of her pale skin, good grades and lack of accent, Latin American teen Piddy struggles to stay on top of a busy work schedule and learn more about the father she has never met until the bully's gang forces her to confront more difficult challenges.
Continue reading…