Q: What's a pirate's favorite letter of the alphabet?
A: Ye may say it's R, but me first love be the C!
Avast! It's "Talk Like a Pirate Day" today, and if you aren't too busy brushing up on your "Arrrr"s or swashbuckling, take a sail on the high seas of literature with a title about pirates.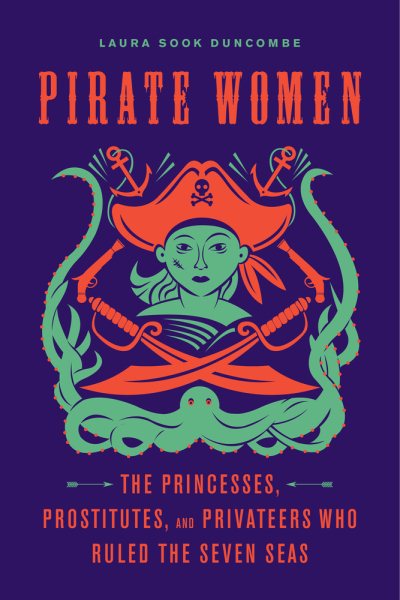 Pirate Women: The Princesses, Prostitutes, and Privateers Who Ruled the Seven Seas by Laura Sook Duncombe
Pirate. The word typically evokes images of a rum-drinking, swashbuckling male scoundrel who prowls the Caribbean plundering and searching for treasure. Duncombe turns this stereotype on its head in her wave-making history chronicling the females who ruled the Seven Seas. From women who commanded fearsome fleets in the ancient Mediterranean, to the powerful and daring women who terrorized the South China Sea, readers meet women from all walks of life in this engrossing exploration of the legends, myths, and truths of an aspect of global piracy that has been woefully overlooked. In addition to gathering and presenting information about these successful women pirates, Duncombe also illuminates the periods in which they lived and asks what drove them to piracy. Why were their lives and feats ignored or concealed? Their stories are wonderfully varied and fascinating, as one theme resonates: their desire for freedom. Duncombe's well-researched account will appeal to history and women's studies aficionados, lovers of myth and lore, and all interested in viewing the past through a new lens.
Pirate by Clive Cussler
All the familiar elements are in place in bestseller Cussler's eighth Sam and Remi Fargo adventure (after 2015's Solomon's Curse), coauthored with Burcell: a king's treasure lost in the mists of time; an ancient book that hints at the location of the treasure; and a wealthy evildoer, Charles Avery, who will stop at nothing to find it. The handsome Sam and the beautiful Remi engage in their trademark comic banter, but the action comes across as labored and the quest something of a grind. The scene shifts from 1216 Norfolk, England, to present-day San Francisco, where Remi acquires the ancient tome from a bookseller who ends up dead shortly after the transaction. The Fargos jet to Nova Scotia, a Brazilian island, and Jamaica; they are almost constantly in deadly danger from Avery's minions, who are one step ahead in the treasure search. Good guys and bad guys end up in a cavern beneath Nottingham Castle for a grand shoot-out. Along with the Fargos, readers will heave a sigh of relief that the end has finally arrived.
Pirate Alley by Stephen Coonts
Naval aviator Jake Grafton joins forces with CIA operative Tommy Carmellini, the hero of his own series (The Disciple, etc.), in bestseller Coonts's 11th Jake Grafton thriller (after 2003's Liberty), a can't-put-it-down plunge into the fast-growing Somali pirates subgenre. A team of pirates, led by ruthless, brutal Mustafa al-Said, who works for warlord Sheikh Ragnar, seizes the 850-passenger cruise ship Sultan of the Seas after a hard chase. American forces under the command of Adm. Toad Tarkington aboard Chosin Reservoir, an amphibious assault ship, are ready to intervene, but they operate under constraints. Politicians far away control the action and may in the end pay the pirates' ransom. After the liner is taken to the port of Eyl, Somalia, and the passengers are locked up in an old fortress, Grafton and Carmellini put boots on the ground and face down the bad guys with the help of SEALs, Force Recon, and other military units. This is a stomach-clenching nail-biter that will leave readers exhausted and satisfied that justice—very rough justice—has been served.
Pirate Devlin by Mark Keating
This brawny, briny, early 18th-century seagoing adventure debut finds pirate Patrick Devlin, through a combination of luck, pluck, and circumstance, the new captain of the pirate brigantine Lucy. Treasure map in hand, he sets course for a Caribbean island on which a fortune in French gold is under guard. Opposing him is his former master, Royal Navy Capt. John Coxon, who, still smarting at having lost his ship to pirates, is under admiralty orders to retrieve the gold and relieve Devlin, his one-time manservant, of his piratical command. After dealing with a near mutiny and a chilling confrontation with Blackbeard, Devlin arrives at the island, where he must outsmart the French and the British if he is to get away with the treasure. Keating's pirates are no mere escapees from a Disney thrill ride; they're bloodthirsty, cruel, and sadistic to a man. The author seems hell-bent on restoring the pirate to his formerly fearsome berserker glory. And in this rousing swashbuckler, he resoundingly succeeds.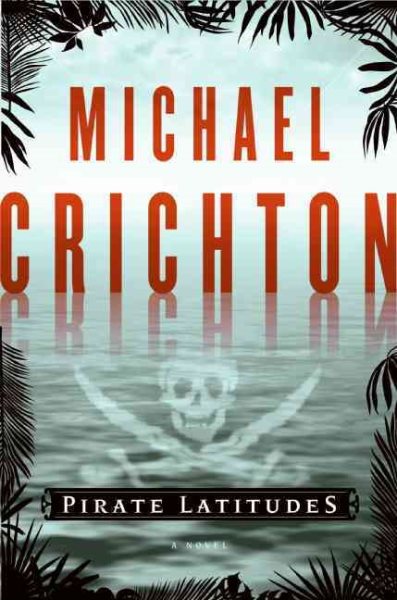 Pirate Latitudes by Michael Crichton
Crichton, who died in 2008, was known primarily for such high-tech thrillers as Jurassic Park and The Andromeda Strain. This…novel, found in manuscript form among his papers, will come as a bit of a surprise to many of his fans. It is, of all things, a pirate novel. Set in 1665, it tells the story of Captain Charles Hunter, a privateer who's hired by the governor of Jamaica's Port Royal to steal a Spanish galleon and its cargo of gold treasure. Don't expect to see Jack Sparrow in this story of pirates of the Caribbean, though: Crichton doesn't play his pirates for laughs. And this is no typical pirate adventure, either: it's actually a caper novel posing as a high-seas adventure. All the key caper-novel elements are here: the target, the mastermind, the plan, the motley crew, the ruthless villain, the gadgets, the twist, and the turncoat. Crichton keeps us in a constant state of suspense, never revealing quite what his hero, Captain Hunter, has up his sleeve, and the novel ends most unexpectedly. Pirate fans will love the book for its flashy characters and historical authenticity. Crime fans will enjoy the caper-novel structure and the way the author keeps them on their toes. If this really is Crichton's final book, it's a splendid send-off: something new, different, and daring.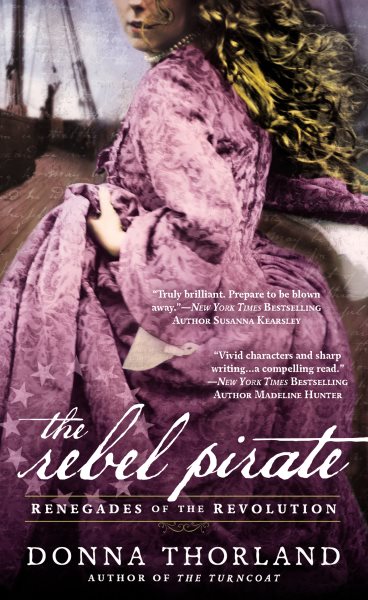 Rebel Pirate: Renegades of the Revolution by Donna Thorland
1775, Boston Harbor. The gold is Spanish, the sloop is American, and the captain is dead. James Sparhawk, master and commander in the British Navy, knows trouble when he sees it. The ship he's boarded is carrying ammunition for ballast and a fortune in foreign gold…into a country on the very knife's edge of war. Sparhawk's duty is clear: confiscate the bullion, impound the vessel, and seize the crew. But when one of the ship's boys turns out to be a lovely girl with a loaded pistol and dead-shot aim, Sparhawk finds himself held hostage aboard a Rebel privateer. Sarah Ward is no Rebel. Before the misfortune in Boston started, she was poised to escape the stigma of her piratical father by wedding Eli Darby, one of Salem's most successful merchants. Thena Patriot mob destroyed her fortune, and the pragmatic Darby decided to marry her best friend instead. The Charming Sally's voyage had been intended to restore the Ward wealth, but Darby has played her false again by smuggling a chest of Rebel gold aboard. Now branded a pirate herself, Sarah has no choice but to press on, recklessly tempted by her enigmatic captive, James Sparhawk, and facing a future as passionate as it is dangerous…