Tomorrow, September 27 is the big reveal of our 2019 One City, One Story selection! Come by the Central Library at 5:30 pm to be the first to know what our 17th One City, One Story book will be. Below is more information about each of the nominated books as well as links to their catalog records so that you can request them. No matter what the selection is for our City-wide program in March, all five of the nominees are well worth a read!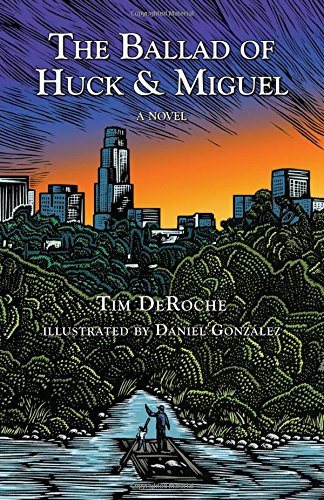 The Ballad of Huck & Miguel by Tim DeRoche with illustrations by Daniel González
In this retelling of Mark Twain's The Adventures of Huckleberry Finn, Tim DeRoche dares to imagine that Huck Finn is alive today. Chased by his vengeful and psychotic father, Pap, Huck escapes down the concrete gash that is the Los Angeles River with his friend Miguel, an illegal immigrant who has been falsely accused of murder. Riding the dangerous waters of a rainstorm, the two fugitives meet a strange cast of Angelenos both animal and human who live down by the river. And they learn the true value of love and loyalty. The Ballad of Huck and Miguel is not only a thrilling urban adventure, but also an inspired tribute to one of the most beloved novels ever written.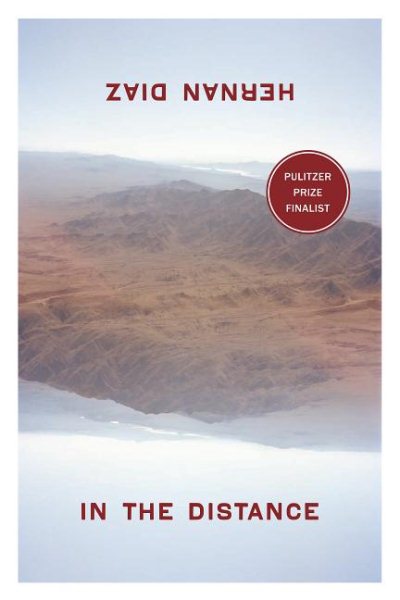 In the Distance by Hernan Diaz
A young Swedish immigrant finds himself penniless and alone in California. The boy travels East in search of his brother, moving on foot against the great current of emigrants pushing West. Driven back again and again, he meets naturalists, criminals, religious fanatics, swindlers, Indians, and lawmen, and his exploits turn him into a legend. Diaz defies the conventions of historical fiction and genre, offering a probing look at the stereotypes that populate our past and a portrait of radical foreignness.
News of the World by Paulette Jiles
It is 1870 and Captain Jefferson Kyle Kidd travels through northern Texas, giving live readings to paying audiences hungry for news of the world. An elderly widower who has lived through three wars and fought in two of them, the captain enjoys his rootless, solitary existence.
In Wichita Falls, he is offered a $50 gold piece to deliver a young orphan to her relatives in San Antonio. Four years earlier, a band of Kiowa raiders killed Johanna's parents and sister; sparing the little girl, they raised her as one of their own. Recently rescued by the U.S. army, the ten-year-old has once again been torn away from the only home she knows.
Their 400-mile journey south through unsettled territory and unforgiving terrain proves difficult and at times dangerous. Johanna has forgotten the English language, tries to escape at every opportunity, throws away her shoes, and refuses to act "civilized." Yet as the miles pass, the two lonely survivors tentatively begin to trust each other, forging a bond that marks the difference between life and death in this treacherous land.
Arriving in San Antonio, the reunion is neither happy nor welcome. The captain must hand Johanna over to an aunt and uncle she does not remember—strangers who regard her as an unwanted burden. A respectable man, Captain Kidd is faced with a terrible choice: abandon the girl to her fate or become—in the eyes of the law—a kidnapper himself. Exquisitely rendered and morally complex, News of the World is a brilliant work of historical fiction that explores the boundaries of family, responsibility, honor, and trust.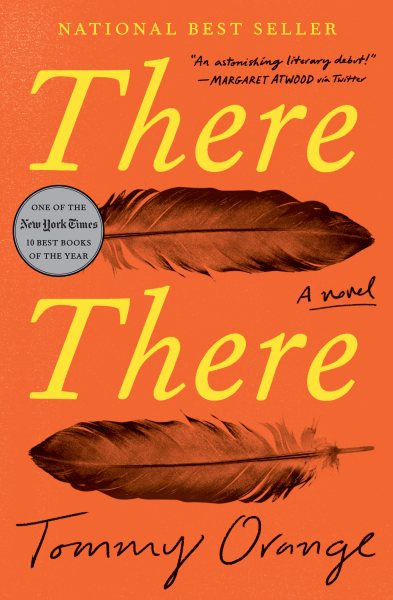 There There by Tommy Orange
Tommy Orange's There There is the story of twelve unforgettable characters, Urban Indians living in Oakland, California, who converge and collide on one fateful day.
As we learn the reasons that each person is attending the Big Oakland Powwow—some generous, some fearful, some joyful, some violent—momentum builds toward a shocking yet inevitable conclusion that changes everything. Jacquie Red Feather is newly sober and trying to make it back to the family she left behind in shame. Dene Oxendene is pulling his life back together after his uncle's death and has come to work at the powwow to honor his uncle's memory. Opal Viola Victoria Bear Shield has come to watch her nephew Orvil, who has taught himself traditional Indian dance through YouTube videos and will perform in public for the very first time. There will be glorious communion, and a spectacle of sacred tradition and pageantry. And there will be sacrifice, and heroism, and loss.
The Underground Railroad by Colson Whitehead
Cora is a slave on a cotton plantation in Georgia. Life is hell for all the slaves, but especially bad for Cora; an outcast even among her fellow Africans, she is coming into womanhood—where even greater pain awaits. When Caesar, a recent arrival from Virginia, tells her about the Underground Railroad, they decide to take a terrifying risk and escape. Matters do not go as planned—Cora kills a young white boy who tries to capture her. Though they manage to find a station and head north, they are being hunted.
In Whitehead's ingenious conception, the Underground Railroad is no mere metaphor—engineers and conductors operate a secret network of tracks and tunnels beneath the Southern soil. Cora and Caesar's first stop is South Carolina, in a city that initially seems like a haven. But the city's placid surface masks an insidious scheme designed for its black denizens. And even worse: Ridgeway, the relentless slave catcher, is close on their heels. Forced to flee again, Cora embarks on a harrowing flight, state by state, seeking true freedom.
Like the protagonist of Gulliver's Travels, Cora encounters different worlds at each stage of her journey—hers is an odyssey through time as well as space. As Whitehead brilliantly re-creates the unique terrors for black people in the pre–Civil War era, his narrative seamlessly weaves the saga of America from the brutal importation of Africans to the unfulfilled promises of the present day. The Underground Railroad is at once a kinetic adventure tale of one woman's ferocious will to escape the horrors of bondage and a shattering, powerful meditation on the history we all share.