The Jazz Age. The Roaring Twenties. Whatever you call them, the 1920s were a fascinating time of social and historical change. As April is Jazz Appreciation Month, we'll take a look at the time when jazz was on the rise and the bright young things were dancing to it in their prohibition speakeasies. With a growing sense of social liberation after the Great War, leaping technological advances, and 18th Amendment prohibiting alcohol, the roaring twenties makes a great backdrop for some excellent stories.
The Diviners by Libba Bray
Evie O'Neill has been exiled from her boring old hometown and shipped off to the bustling streets of New York City–and she is pos-i-tute-ly ecstatic. It's 1926, and New York is filled with speakeasies, Ziegfield girls, and rakish pickpockets. The only catch is that she has to live with her Uncle Will and his unhealthy obsession with the occult. Evie worries he'll discover her darkest secret: a supernatural power that has only brought her trouble so far. But when the police find a murdered girl branded with a cryptic symbol and Will is called to the scene, Evie realizes her gift could help catch a serial killer.
As Evie jumps headlong into a dance with a murderer, other stories unfold in the city that never sleeps. A young man named Memphis is caught between two worlds. A chorus girl named Theta is running from her past. A student named Jericho hides a shocking secret. And unknown to all, something dark and evil has awakened….
Z: A Novel of Zelda Fitzgerald by Therese Anne Fowler
When beautiful, reckless Southern belle Zelda Sayre meets F. Scott Fitzgerald at a country club dance in 1918, she is seventeen years old and he is a young army lieutenant stationed in Alabama. Before long, the "ungettable" Zelda has fallen for him despite his unsuitability: Scott isn't wealthy or prominent or even a Southerner, and keeps insisting, absurdly, that his writing will bring him both fortune and fame. Her father is deeply unimpressed. But after Scott sells his first novel, This Side of Paradise, to Scribner's, Zelda optimistically boards a train north, to marry him in the vestry of St. Patrick's Cathedral and take the rest as it comes.
What comes, here at the dawn of the Jazz Age, is unimagined attention and success and celebrity that will make Scott and Zelda legends in their own time. Everyone wants to meet the dashing young author of the scandalous novel—and his witty, perhaps even more scandalous wife. Zelda bobs her hair, adopts daring new fashions, and revels in this wild new world. Each place they go becomes a playground: New York City, Long Island, Hollywood, Paris, and the French Riviera—where they join the endless party of the glamorous, sometimes doomed Lost Generation that includes Ernest Hemingway, Sara and Gerald Murphy, and Gertrude Stein.
Everything seems new and possible. Troubles, at first, seem to fade like morning mist. But not even Jay Gatsby's parties go on forever. Who is Zelda, other than the wife of a famous—sometimes infamous—husband? How can she forge her own identity while fighting her demons and Scott's, too? With brilliant insight and imagination, Therese Anne Fowler brings us Zelda's irresistible story as she herself might have told it.
New World Coming: The 1920s and the Making of Modern America by Nathan Miller
The images of the 1920s have been indelibly imprinted on the American imagination: jazz, bootleggers, flappers, talkies, the Model T Ford, Babe Ruth, Charles Lindbergh's history-making flight over the Atlantic. But it was also the era of the hard-won vote for women, racial injustice, censorship, widespread social conflict, and the birth of organized crime. Bookended by the easy living of the Jazz Age, when the booze and money flowed seemingly without end, and the crash of '29 that led to breadlines and a level of human suffering not seen since World War I, New World Coming is a lively, entertaining, and all-encompassing chronological account of an age that defined America.
In the Twenties, the American people soared higher and fell lower than they ever had before. As unprecedented economic prosperity and sweeping social change dazzled the public, the sensibilities and restrictions of the nineteenth century vanished, and many of the institutions, ideas, and preoccupations of our own age emerged. With scandal, sex, and crime the lifeblood of the tabloids, the contemporary culture of celebrity and sensationalism took root and journalism became popular entertainment. By discarding Victorian idealism and embracing twentieth-century skepticism, America became, for the first time, thoroughly modernized. There is hardly a dimension of our present world, from government to popular culture, that doesn't trace its roots to the 1920s, and few decades are more intriguing or significant today.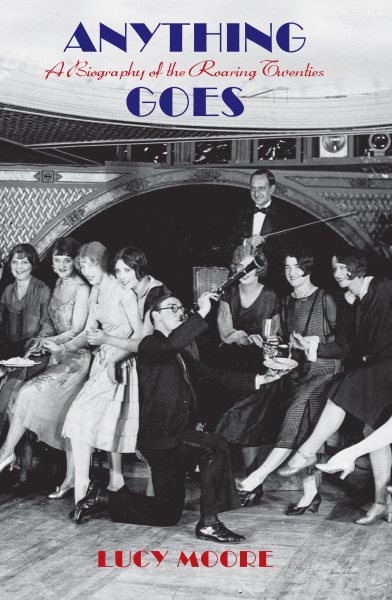 Anything Goes: A Biography of the Roaring Twenties by Lucy Moore
The glitter of 1920s America was seductive, from jazz, flappers, and wild all- night parties to the birth of Hollywood and a glamorous gangster-led crime scene flourishing under Prohibition. But the period was also punctuated by momentous events-the political show trials of Sacco and Vanzetti, the huge Ku Klux Klan march down Washington DC's Pennsylvania Avenue-and it produced a dizzying array of writers, musicians, and film stars, from F. Scott Fitzgerald to Bessie Smith and Charlie Chaplin.
In Anything Goes, Lucy Moore interweaves the stories of the compelling people and events that characterized the decade to produce a gripping portrait of the Jazz Age. She reveals that the Roaring Twenties were more than just "the years between wars." It was an epoch of passion and change-an age, she observes, not unlike our own.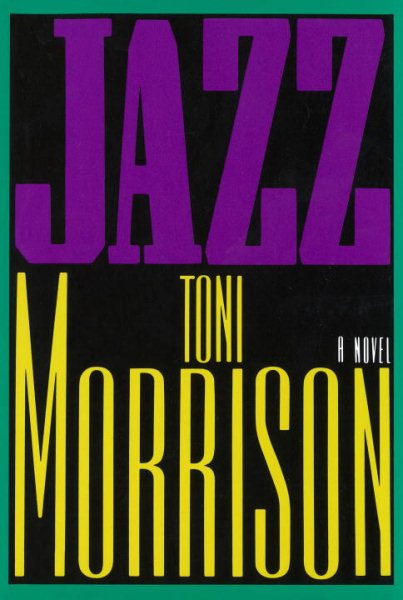 Jazz by Toni Morrison
It is winter, barely three days into 1926, seven years after Armistice; we are in the scintillating City, around Lenox Avenue, "when all the wars are over and there will never be another one…At last, at last, everything's ahead…Here comes the new. Look out. There goes the sad stuff. The bad stuff. The things-nobody-could-help stuff." But amid the euphoric decisiveness, a tragedy ensues among people who had train-danced into the City, from points south and west, in search of promise.
Joe Trace–in his fifties, door-to-door salesman of Cleopatra beauty products, erstwhile devoted husband–shoots to death his lover of three months, impetuous, eighteen-year-old Dorcas ("Everything was like a picture show to her"). At the funeral, his determined, hard-working wife, Violet, herself a hairdresser–who is given to stumbling into dark mental cracks, and who talks mostly to birds–tries with a knife to disfigure the corpse.
In a dazzling act of jazz-like improvisation, moving seamlessly in and out of past, present, and future, a mysterious voice–whose identity is a matter of each reader's imagination–weaves this brilliant fiction, at the same time showing how its blues are informed by the brutal exigencies of slavery. Richly combining history, legend, reminiscence, this voice captures as never before the ineffable mood, the complex humanity, of black urban life at a moment in our century we assumed we understood.
Jazz Moon by Joe Okonkwo
On a sweltering summer night in 1925, beauties in beaded dresses mingle with hepcats in dapper suits on the streets of Harlem. The air is thick with reefer smoke, and jazz pours out of speakeasy doorways. Ben Charles and his devoted wife, Angeline, are among the locals crammed into a basement club to hear jazz and drink bootleg liquor. For aspiring poet Ben, the swirling, heady rhythms are a revelation. So is Baby Back Johnston, an ambitious trumpet player who flashes a devilish grin and blasts jazz dynamite from his horn. Ben finds himself drawn to the trumpeter–and to Paris where Baby Back says everything is happening.
In Paris, jazz and champagne flow eternally, and blacks are welcomed as exotic celebrities, especially those from Harlem. It's an easy life that quickly leaves Bed adrift and alone, craving solace through anonymous dalliances in the city's decadent underground scene. From chic Parisian cafés to seedy opium dens, his odyssey will bring new love, trials, and heartache, even as echoes from the past urge him to decide where true fulfillment and inspiration lie.
The Girls at the Kingfisher Club by Genevieve Valentine
Jo, the firstborn, "The General" to her eleven sisters, is the only thing the Hamilton girls have in place of a mother. She is the one who taught them how to dance, the one who gives the signal each night, as they slip out of the confines of their father's townhouse to await the cabs that will take them to the speakeasy. Together they elude their distant and controlling father, until the day he decides to marry them all off.
The girls, meanwhile, continue to dance, from Salon Renaud to the Swan and, finally, the Kingfisher, the club they come to call home. They dance until one night when they are caught in a raid, separated, and Jo is thrust face-to-face with someone from her past: a bootlegger named Tom whom she hasn't seen in almost ten years. Suddenly Jo must weigh in the balance not only the demands of her father and eleven sisters, but those she must make of herself.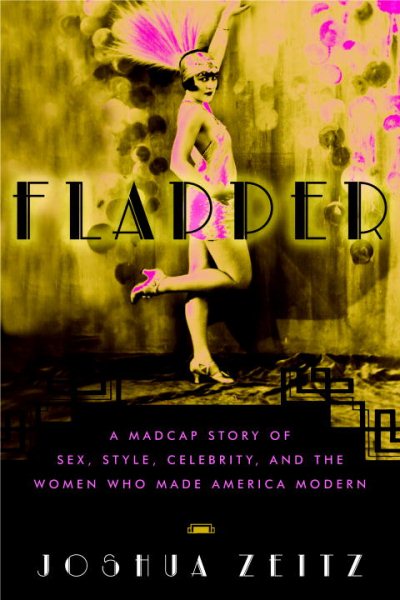 Flapper: A Madcap Story of Sex, Style, Celebrity, and the Women Who Made America Modern by Joshua Zeitz
Blithely flinging aside the Victorian manners that kept her disapproving mother corseted, the New Woman of the 1920s puffed cigarettes, snuck gin, hiked her hemlines, danced the Charleston, and necked in roadsters. More important, she earned her own keep, controlled her own destiny, and secured liberties that modern women take for granted. Her newfound freedom heralded a radical change in American culture.
Whisking us from the Alabama country club where Zelda Sayre first caught the eye of F. Scott Fitzgerald to Muncie, Indiana, where would-be flappers begged their mothers for silk stockings, to the Manhattan speakeasies where patrons partied till daybreak, historian Joshua Zeitz brings the era to exhilarating life. This is the story of America's first sexual revolution, its first merchants of cool, its first celebrities, and its most sparkling advertisement for the right to pursue happiness.
The men and women who made the flapper were a diverse lot. There was Coco Chanel, the French orphan who redefined the feminine form and silhouette, helping to free women from the torturous corsets and crinolines that had served as tools of social control. Three thousand miles away, Lois Long, the daughter of a Connecticut clergyman, christened herself "Lipstick" and gave New Yorker readers a thrilling entree into Manhattan's extravagant Jazz Age nightlife. Towering above all were Zelda and Scott Fitzgerald, whose swift ascent and spectacular fall embodied the glamour and excess of the era that would come to an abrupt end on Black Tuesday, when the stock market collapsed and rendered the age of abundance and frivolity instantly obsolete. With its cocktail of storytelling and big ideas, Flapper is a look at the women who launched the first truly modern decade.