For National Poetry Month we're sharing some of our favorite poems and poets with you. When we asked Pasadena Public Library staff what their favorite poems were, there were some poets whose poems kept getting recommended by many different people. Here are poets who had more than one poem recommended by different library staff. Enjoy a sample of their work and then check out a book of their poems from the library to try some of the other recommended works.
i carry your heart with me(i carry it in by E. E. Cummings
i carry your heart with me (i carry it in
my heart) i am never without it (anywhere
i go you go, my dear; and whatever is done
by only me is your doing, my darling)
i fear
no fate (for you are my fate, my sweet) i want
no world (for beautiful you are my world, my true)
and it's you are whatever a moon has always meant
and whatever a sun will always sing is you

here is the deepest secret nobody knows
(here is the root of the root and the bud of the bud
and the sky of the sky of a tree called life; which grows
higher than the soul can hope or mind can hide)
and this is the wonder that's keeping the stars apart

i carry your heart (i carry it in my heart)
Complete Poems, 1904-1962 by E.E. Cummings
Also try "in Just-" and "anyone lived in a pretty how town" from Cummings.
Lodged by Robert Frost
The rain to the wind said,
'You push and I'll pelt.'
They so smote the garden bed
That the flowers actually knelt,
And lay lodged–though not dead.
I know how the flowers felt.
The Poetry of Robert Frost by Robert Frost
Also try "The Road Not Taken" from Frost.
Observation by Dorothy Parker
If I don't drive around the park,
I'm pretty sure to make my mark.
If I'm in bed each night by ten,
I may get back my looks again,
If I abstain from fun and such,
I'll probably amount to much,
But I shall stay the way I am,
Because I do not give a damn.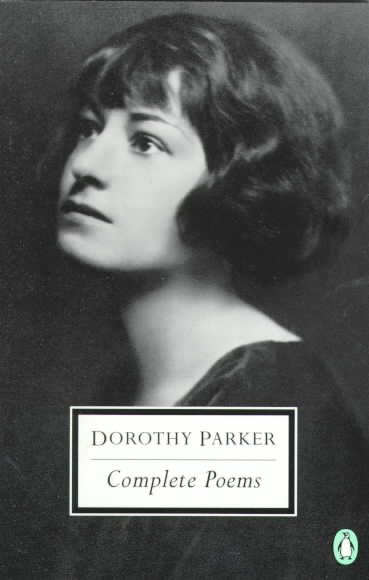 Complete Poems by Dorothy Parker
Also try "One Perfect Rose" from Parker.
A Dream within a Dream by Edgar Allen Poe
Take this kiss upon the brow!
And, in parting from you now,
Thus much let me avow:
You are not wrong who deem
That my days have been a dream;
Yet if hope has flown away
In a night, or in a day,
In a vision, or in none,
Is it therefore the less gone?
All that we see or seem
Is but a dream within a dream.

I stand amid the roar
Of a surf-tormented shore,
And I hold within my hand
Grains of the golden sand–
How few! yet how they creep
Through my fingers to the deep,
While I weep–while I weep!
O God! can I not grasp
Them with a tighter clasp?
O God! can I not save
One from the pitiless wave?
Is all that we see or seem
But a dream within a dream?
Complete Poems by Edgar Allan Poe
Also try "Annabel Lee" from Poe.
When You Are Old by William Butler Yeats
When you are old and grey and full of sleep,
And nodding by the fire, take down this book,
And slowly read, and dream of the soft look,
Your eyes had once, and of their shadows deep;

How many loved your moments of glad grace,
And loved your beauty with love false or true,
But one man loved the pilgrim soul in you,
And loved the sorrows of your changing face;

And bending down beside the glowing bars,
Murmur, a little sadly, how Love fled
And paced upon the mountains overhead
And hid his face amid a crowd of stars.
The Collected Poems of W. B. Yeats by W. B. Yeats
Also try "The Stolen Child", "The Lake Isle of Innisfree", and "The Song of Wandering Aengus" from Yeats.