Our One City, One Story month is winding down, but there are still some great films and book discussions coming up to help you delve deeper into Viet Thanh Nguyen's The Sympathizer. Check out the events calendar on our One City, One Story Guide for more information. If your interest was piqued by the spy thriller side of The Sympathizer, here are some books about spies and moles that you may want to explore.
The Spies of Warsaw by Alan Furst
War is coming to Europe. French and German intelligence operatives are locked in a life-and-death struggle on the espionage battlefield. At the French embassy, the new military attaché, Colonel Jean-Francois Mercier, a decorated hero of the 1914 war, is drawn into a world of abduction, betrayal, and intrigue in the diplomatic salons and back alleys of Warsaw. At the same time, the handsome aristocrat finds himself in a passionate love affair with a Parisian woman of Polish heritage, a lawyer for the League of Nations.
Colonel Mercier must work in the shadows, amid an extraordinary cast of venal and dangerous characters–Colonel Anton Vyborg of Polish military intelligence; the mysterious and sophisticated Dr. Lapp, senior German Abwehr officer in Warsaw; Malka and Viktor Rozen, at work for the Russian secret service; and Mercier's brutal and vindictive opponent, Major August Voss of SS counterintelligence. And there are many more, some known to Mercier as spies, some never to be revealed.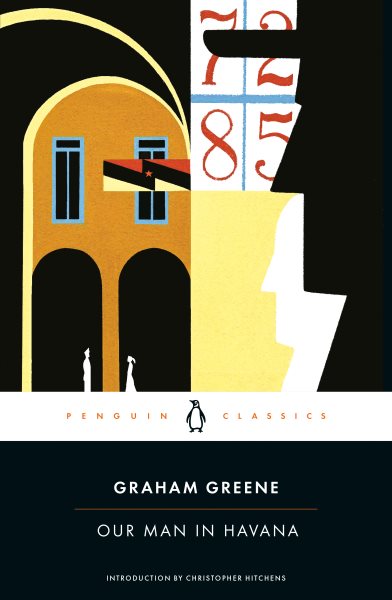 Our Man in Havana by Graham Greene
MI6's man in Havana is Wormold, a former vacuum-cleaner salesman turned reluctant secret agent out of economic necessity. To keep his job, he files bogus reports based on Charles Lamb's Tales from Shakespeare and dreams up military installations from vacuum-cleaner designs. Then his stories start coming disturbingly true…
First published in 1959 against the backdrop of the Cold War, Our Man in Havana remains one of Graham Greene's most widely read novels. It is an espionage thriller, a penetrating character study, and a political satire of government intelligence that still resonates today.
A Map of Betrayal by Ha Jin
When Lilian Shang, born and raised in America, discovers her father's diary after the death of her parents, she is shocked by the secrets it contains. She knew that her father, Gary, convicted decades ago of being a mole in the CIA, was the most important Chinese spy ever caught. But his diary, an astonishing chronicle of his journey as a Communist intelligence agent, reveals the pain and longing that his double life entailed—and point to a hidden second family that he'd left behind in China. As Lilian follows her father's trail back into the Chinese provinces, she begins to grasp the extent of his dilemma: he is a man torn between loyalty to his motherland and the love he came to feel for his adopted country. She sees how his sense of duty distorted his life, and as she starts to understand that Gary too had been betrayed, Lilian finds that it is up to her to prevent his tragedy from endangering yet another generation of Shangs.
Leaving Berlin by Joseph Kanon
Berlin 1948. Almost four years after the war's end, the city is still in ruins, a physical wasteland and a political symbol about to rupture. In the West, a defiant, blockaded city is barely surviving on airlifted supplies; in the East, the heady early days of political reconstruction are being undermined by the murky compromises of the Cold War. Espionage, like the black market, is a fact of life. Even culture has become a battleground, with German intellectuals being lured back from exile to add credibility to the competing sectors.
Alex Meier, a young Jewish writer, fled the Nazis for America before the war. But the politics of his youth have now put him in the crosshairs of the McCarthy witch-hunts. Faced with deportation and the loss of his family, he makes a desperate bargain with the fledgling CIA: he will earn his way back to America by acting as their agent in his native Berlin. But almost from the start things go fatally wrong. A kidnapping misfires, an East German agent is killed, and Alex finds himself a wanted man. Worse, he discovers his real assignment—to spy on the woman he left behind, the only woman he has ever loved. Changing sides in Berlin is as easy as crossing a sector border. But where do we draw the lines of our moral boundaries? At betrayal? Survival? Murder? Joseph Kanon's compelling thriller is a love story that brilliantly brings a shadowy period of history vividly to life.
A Spy Among Friends: Kim Philby and the Great Betrayal by Ben Macintyre
Kim Philby was the greatest spy in history, a brilliant and charming man who rose to head Britain's counterintelligence against the Soviet Union during the height of the Cold War—while he was secretly working for the enemy. And nobody thought he knew Philby like Nicholas Elliott, Philby's best friend and fellow officer in MI6. The two men had gone to the same schools, belonged to the same exclusive clubs, grown close through the crucible of wartime intelligence work and long nights of drink and revelry. It was madness for one to think the other might be a communist spy, bent on subverting Western values and the power of the free world.
But Philby was secretly betraying his friend. Every word Elliott breathed to Philby was transmitted back to Moscow—and not just Elliott's words, for in America, Philby had made another powerful friend: James Jesus Angleton, the crafty, paranoid head of CIA counterintelligence. Angleton's and Elliott's unwitting disclosures helped Philby sink almost every important Anglo-American spy operation for twenty years, leading countless operatives to their doom. Even as the web of suspicion closed around him, and Philby was driven to greater lies to protect his cover, his two friends never abandoned him—until it was too late. The stunning truth of his betrayal would have devastating consequences on the two men who thought they knew him best, and on the intelligence services he left crippled in his wake.
Told with heart-pounding suspense and keen psychological insight, and based on personal papers and never-before-seen British intelligence files, A Spy Among Friends is Ben Macintyre's best book yet, a high-water mark in Cold War history telling.
Target Tokyo: The Story of the Sorge Spy Ring by Gordon W. Prange
Richard Sorge was dispatched to Tokyo in 1933 to serve the spymasters of Moscow. For eight years, he masqueraded as a Nazi journalist and burrowed deep into the German embassy, digging for the secrets of Hitler's invasion of Russia and the Japanese plans for the East. In a nation obsessed with rooting out moles, he kept a high profile—boozing, womanizing, and operating entirely under his own name. But he policed his spy ring scrupulously, keeping such a firm grip that by the time the Japanese uncovered his infiltration, he had done irreversible damage to the cause of the Axis.
The first definitive account of one of the most remarkable espionage sagas of World War II, Target Tokyo is a tightly wound portrayal of a man who risked his life for his country, hiding in plain sight.
The Mole: The Cold War Memoir of Winston Bates, a Novel by Peter Warner
Recruited by a foreign power in postwar Paris and sent to Washington, Winston Bates is without training or talent. He might be a walking definition of the anti-spy. Yet he makes his way onto the staff of the powerful Senator Richard Russell, head of the Armed Services Committee. From that perch, Bates has extensive and revealing contacts with the Dulles brothers, Richard Bissell, Richard Helms, Lyndon Johnson, Joe Alsop, Walter Lippman, Roy Cohn, and even Ollie North to name but a few of the historical players in the American experience Winston befriends—and haplessly betrays for a quarter century.
A comedy of manners set within the circles of power and information, Peter Warner's The Mole is a witty social history of Washington in the latter half of the twentieth century that presents the question: How much damage can be done by the wrong person in the right place at the right time?