Recent reports of activity along the San Andreas Fault may have you thinking about the last time you updated your earthquake/emergency supplies. Living in California, we all know the reality, and anxiety, that can come with living in "Earthquake Country." Visit the U.S. Geological Survey's Earthquakes site for lots more info about the science of  earthquakes, latest earthquakes data, and lots more.
Thursday, October 20, at 10:20 am, all Pasadena Public Library sites will participate in the annual Great California Shakeout. We encourage all our visitors to practice how to  "Drop, Cover and Hold On" along with us, or anywhere you happen to be. The Great California ShakeOut website has a lot of useful information about earthquakes and earthquake safety. Be prepared and stay informed.
Following is a list of books about earthquakes, literal and otherwise, including facts and fiction, some science fiction, a couple of titles to read with kids, and a feature film, to shake up your usual reading.
---
Earthquake Time Bombs by Robert Yeats
Yeats sheds new light on 'earthquake time bombs' worldwide and the communities at most risk. Comparing first-world and developing-world countries, he examines the seismic threat in the context of recent cultural history. Essential reading for infrastructure and emergency planners, scientists, and anyone living in the shadow of an earthquake.
Available from the Glendale Public Library collection with your Pasadena library card.
---
San Andreas produced by Beau Flynn; directed by Brad Peyton (DVD)
When a magnitude nine earthquake leaves California in ruins, a helicopter pilot and his estranged wife make their way to San Francisco to save their only daughter.
---
Sisterland by Curtis Sittenfeld
Curtis Sittenfeld, author of American Wife and Prep, returns with a mesmerizing novel of family and identity, loyalty and deception, and the delicate line between truth and belief.
From an early age, Kate and her identical twin sister, Violet, knew that they were unlike everyone else. Kate and Vi were born with peculiar "senses"—innate psychic abilities concerning future events and other people's secrets. Though Vi embraced her visions, Kate did her best to hide them.
Now, years later, their different paths have led them both back to their hometown of St. Louis. Vi has pursued an eccentric career as a psychic medium, while Kate, a devoted wife and mother, has settled down in the suburbs to raise her two young children. But when a minor earthquake hits in the middle of the night, the normal life Kate has always wished for begins to shift. After Vi goes on television to share a premonition that another, more devastating earthquake will soon hit the St. Louis area, Kate is mortified. Equally troubling, however, is her fear that Vi may be right. As the date of the predicted earthquake quickly approaches, Kate is forced to reconcile her fraught relationship with her sister and to face truths about herself she's long tried to deny.
Funny, haunting, and thought-provoking, Sisterland is a beautifully written novel of the obligation we have toward others, and the responsibility we take for ourselves.
---
Earthquake Storms: The Fascinating History and Volatile Future of the San Andreas Fault by John Dvorak
It is a prominent geological feature that is almost impossible to see unless you know where to look. Hundreds of thousands of people drive across it every day. The San Andreas Fault is everywhere, and primed for a colossal quake. For decades, scientists have warned that such a sudden shifting of the Earth'€™s crust is inevitable. In fact, it is a geologic necessity.The San Andreas fault runs almost the entire length of California, from the redwood forest to the east edge of the Salton Sea. Along the way, it passes through two of the largest urban areas of the country: San Francisco and Los Angeles. Dozens of major highways and interstates cross it. Scores of housing developments have been planted over it. The words "San Andreas" are so familiar today that they have become synonymous with earthquake.Yet, few people understand the San Andreas or the network of subsidiary faults it has spawned. Some run through Hollywood, others through Beverly Hills and Santa Monica. The Hayward fault slices the football stadium at the University of California in half. Even among scientists, few appreciate that the San Andreas fault is a transient, evolving system that, as seen today, is younger than the Grand Canyon and key to our understanding of earthquakes worldwide.
The lives of millions will be changed after it breaks, and yet so few people understand it, or even realize it runs through their backyard. Dvorak reveals the San Andreas Fault'€™s fascinating history, and its volatile future.
---
A young woman possessed by a ghost has slain the Fisher King of the West, Scott Crane. Now, temporarily freed from the malevolent spirit, she seeks to restore the King to life and thwart the would-be usurper.
But Crane's body has been taken by his loyal servants to the magically protected home of Pete and Angelica Sullivan, where their adopted son, Koot Hoomie, is bleeding from a wound that will not heal. Kootie is destined to be the next King, but he is only thirteen years old – too young, his mother thinks, to perform the rituals to assume the Kingship. But not too young, perhaps, to assist in reuniting Scott Crane's body and spirit and restoring him to life.
Earthquakes, fires, floods, and riots plague California. Powerful ghosts wander the cities, too strong for even the cleverest hunters. Only the restoration of the King can restore the balance, and it must be done soon.
---
Earthquake: Nature and Culture by Andrew Robinson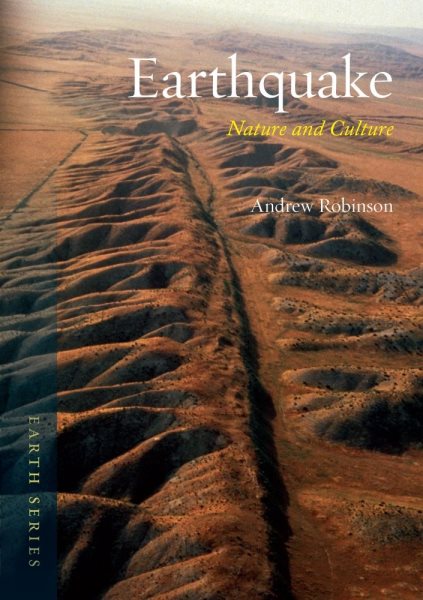 Looks at the cultural history, mythology, and depiction in artworks of earthquakes.
The 2011 devastating, tsunami-triggering quake off the coast of Japan and 2010'€™s horrifying destruction in Haiti reinforce the fact that large cities in every continent are at risk from earthquakes. Quakes threaten Los Angeles, Beijing, Cairo, Delhi, Singapore, and many more cities, and despite advances in earthquake science and engineering and improved disaster preparedness by governments and international aid agencies, they continue to cause immense loss of life and property damage.
Earthquake explores the occurrence of major earthquakes around the world, their effects on the societies where they strike, and the other catastrophes they cause, from landslides and fires to floods and tsunamis. Examining the science involved in measuring and explaining earthquakes, Andrew Robinson looks at our attempts to design against their consequences and the possibility of having the ability to predict them one day. Robinson also delves into the ways nations have mythologized earthquakes through religion and the arts: Norse mythology explained earthquakes as the violent struggling of the god Loki as he was punished for murdering another god, the ancient Greeks believed Poseidon caused earthquakes whenever he was in a bad mood or wanted to punish people, and Japanese mythology states that Namazu, a giant catfish, triggers quakes when he thrashes around. He discusses the portrayal of earthquakes in popular culture, where authors and filmmakers often use the memory of cities laid to waste–such as Kobe, Japan, in 1995 or San Francisco in 1906–or imagine the hypothetical "Big One,"€ the earthquake expected someday out of California'€™s San Andreas Fault.
With tremors happening in seemingly implausible places like Chicago and Washington DC, Earthquake is a timely book that will enrich earthquake scholarship and enlighten anyone interested in these ruinous natural disasters.
Three bright, punchy snapshots from poet and painter Barnes, first published in a limited edition in 1990, track a family's unconventional approach to divorce. The opening, The Boat, finds the intact family in Alaska, where the young, female narrator lives with her veterinarian father; her dark, elusive mother; and her three sisters. The unnamed girl finds escape and contentment on a leaky boat out on the nearby river, leading to conflict with her protective father. In Earthquake, the parents get a divorce, dividing the four girls up by ages. The narrator and her older sister, Linda, are sent to live with their father and grandparents in Waltham, Mass.—with predictable new-kid results. Calling Home records the later years in the eclipse of the narrator's liberty, signified by restrictions put on the girls as they attempt to skip school, join a church and explore the countryside around their house. What makes it work, beautifully, is Barnes's simple declarative style: He cleaned up my hand in the kitchen sink. He didn't say anything. In these arresting vignettes, Barnes vividly portrays a youthful yearning for freedom. –Review from 
Publisher's Weekly
. Copyright © Reed Business Information, a division of Reed Elsevier Inc.
---
---
Books about earthquakes to share with children:
Panda's Earthquake Escape  by Phyllis J. Perry; illustrated by Susan Detwiler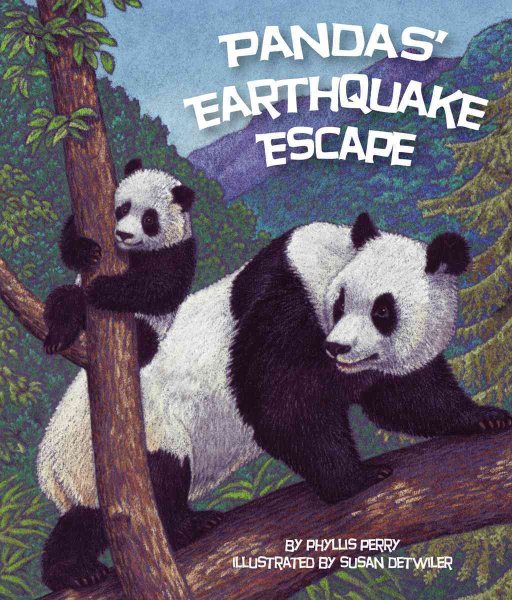 A fictional story based on a real-life event, Pandas' earthquake escape describes the adventures of a mother panda, LiLing, and her one-year old cub, Tengfei, as they escape a panda reserve following an earthquake. Can be used to teach children about earthquakes, animal survival, and a mother's instinct to protect her child. Includes "For Creative Minds" section.
---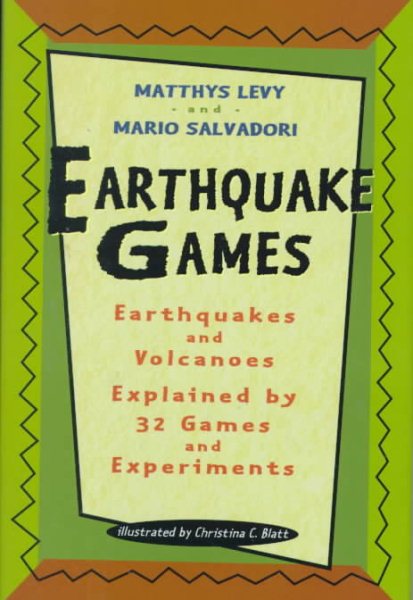 Using everyday materials, such as a rolling pin and a cereal box, young readers can delve into the science of studying earthquakes while learning about when and where they strike through a series of simple-to-follow games.