It's not quite Solstice, but summer's here, just the same. School's out, we've seen some heat already, and you know what they say: if you can't beat 'em, join 'em. Here are a few books and films to consider–check out a few, pour a tall, iced something, and turn the fan up to "High."
The Long, Hot Summer by Kathleen MacMahon
Nine Lives. Four Generations. One Family. The MacEntees are no ordinary family.
Determined to be different from other people, they have carved out a place for themselves in Irish life by the sheer force of their personalities. But when a series of misfortunes befall them over the course of one long hot summer, even the MacEntees will struggle to make sense of who they are.
As media storms rage about them and secrets rise to the surface, Deirdre plans a family party for her 80th birthday-and with it one final, shocking surprise.
From Kathleen MacMahon, the Number One bestselling author of This is How it Ends, comes this powerful and poignant novel capturing a moment in the life of one family.
One Hot Summer by Carolina Garcia-Aguilera
During the span of a summer, anything can happen. Former lovers return, husbands lose all rationale, and family can suffocate a person more easily than the sweltering humidity of a late Florida afternoon.
Set in Miami Beach, One Hot Summer follows the life Margarita Maria Santos Silva, a woman bent on making her own decisions in a family that seems to have the future, as well as the rules, neatly laid out for her. After the birth of her son, Margarita is at the end of taking a year off from the stressful legal career she worked so hard to earn. Margarita suddenly faces the daunting task of deciding whether she should go back to work or stay home and dutifully raise her two-year-old son – the latter being the choice both her overachieving husband, Ariel, and old-fashioned family desperately want her to make.
But when her old law school boyfriend, the ultrasuave and handsome Luther Simmonds, shows up out of nowhere, all hell breaks loose. Along with her newly awakened passion, Margarita again understands the empowering warmth of having Luther listen to her needs and desires. She now has twice as many critical decisions to make and only one hot summer in which to make them.
Heat — produced by Michael Mann, Art Linson; written and directed by Michael Mann
A determined LAPD detective tracks down a slick crew of criminals, even though he admires the leader of the group.
Vincent Hanna is a brilliant L.A. cop. following the trail from a deadly armed robbery to a crew headed by master thief Neil McCauley. The trouble is, McCauley's expertise is at least equal to Hanna's.
(Available to request from Glendale Public Library with your Pasadena library card)
Summerlong by Dean Bakopoulos
The author of Please Don't Come Back from the Moon and My American Unhappiness delivers his breakout novel: a deft and hilarious exploration of the simmering tensions beneath the surface of a contented marriage which explode in the bedrooms and backyards of a small town over the course of a long, hot summer.
In the sweltering heat of one summer in a small Midwestern town, Claire and Don Lowry discover that married life isn't quite as they'd predicted. One night Don, a father of three, leaves his house for an evening stroll, only to wake up the next morning stoned, and sleeping in a hammock next to a young woman he barely knows. His wife, Claire, leaves the house on this same night to go on a midnight run –only to find herself bumming cigarettes and beer outside the all-night convenience store.  As the summer lingers and the temperature rises, this quotidian town's adults grow wilder and more reckless while their children grow increasingly confused. Claire, Don, and their neighbors and friends find themselves on an existential odyssey, exploring the most puzzling quandaries of marriage and maturity. When does a fantasy become infidelity? When does compromise become resentment? When does routine become boring monotony? Can Claire and Don survive everything that befalls them in this one summer, forgive their mistakes, and begin again?
Award-winning writer Dean Bakopoulos delivers a brutally honest and incredibly funny novel about the strange and tenuous ties that bind us, and the strange and unlikely places we find connection. Full of mirth, melancholy, and redemption, Summerlong explores what happens when life goes awry.
Long, Hot Texas Summer by Carolyn Brown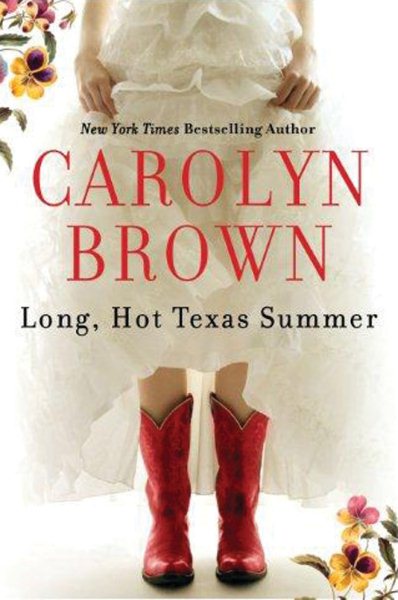 After catching her husband kissing another woman in the barn, Loretta Sullivan Bailey left Lonesome Canyon Ranch and swore she'd never come back. But when her daughter threatens to drop out of college to become a rancher's wife, Loretta refuses to let her baby make the same mistake she did. She returns to the ranch, determined to get her daughter back in school by the summer's end and resolute on ignoring her feelings for her ex-husband. –A cowboy from his hat to his boots, ruggedly handsome rancher Jackson Bailey is none too pleased that his feisty and gorgeous ex-wife has suddenly shown up seventeen years after their divorce. But despite all their fighting and fussing, the two stubborn former lovers soon discover that old flames burn the hottest. Can they finally put aside their differences and find happiness together –forever?
William Faulkner's The Long, Hot Summer — produced by Jerry Wald, directed by Martin Ritt
Starring Paul Newman, Joanne Woodard and Anthony Franciosa, based on stories by William Faulkner.
Ben Quick, an industrious con artist who's known throughout the country as a barn burner, gets run out of a Mississippi town. He meets up with Clara Varner, whose father is pressuring her to get married and provide him with grandchildren. It isn't long before he decides Ben and Clara should marry, and when she resists, it sets up a dramatically escalating clash of wills.