Father's Day is coming up this Sunday, June 19th so make sure to let your dad or the father figure in your life know how much he means to you. Great dads are all around us in real life, but are surprisingly hard to find in literature. Below you will find a list celebrating some of the best dads in literature who, while making some mistakes, always tried to do the best they could for their children.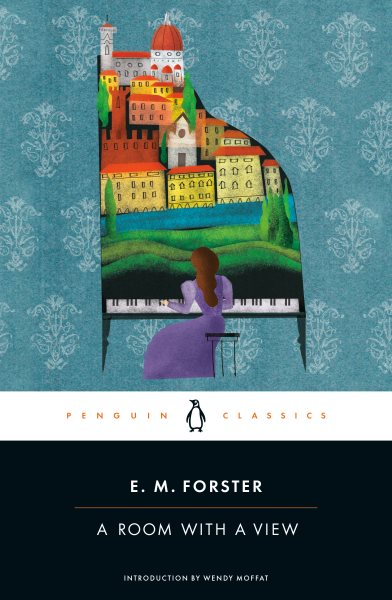 A Room with a View by E.M. Forster
This Edwardian social comedy explores love and prim propriety among an eccentric cast of characters assembled in an Italian pensione and in a corner of Surrey, England. A charming young English woman, Lucy Honeychurch, faints into the arms of a fellow Britisher when she witnesses a murder in a Florentine piazza. Attracted to this man, George Emerson–who is entirely unsuitable and whose father just may be a Socialist–Lucy is soon at war with the snobbery of her class and her own conflicting desires. Back in England she is courted by a more acceptable, if stifling, suitor, and soon realizes she must make a startling decision that will decide the course of her future: she is forced to choose between convention and passion. The enduring delight of this tale of romantic intrigue is rooted in Forster's colorful characters, including outrageous spinsters, pompous clergymen and outspoken patriots.
The Walking Dead by Robert Kirkman
An epidemic of apocalyptic proportions has swept the globe, causing the dead to rise and feed on the living. In a matter of months, society has crumbled: There is no government, no grocery stores, no mail delivery, no cable TV. Rick Grimes finds himself one of the few survivors in this terrifying future. A couple months ago he was a small town cop who had never fired a shot and only ever saw one dead body. Separated from his family, he must now sort through all the death and confusion to try and find his wife and son. In a world ruled by the dead, we are forced to finally begin living.
To Kill a Mockingbird by Harper Lee
Compassionate, dramatic, and deeply moving, To Kill A Mockingbird takes readers to the roots of human behavior—to innocence and experience, kindness and cruelty, love and hatred, humor and pathos. A gripping, heart-wrenching, and wholly remarkable tale of coming-of-age in a South poisoned by virulent prejudice, it views a world of great beauty and savage inequities through the eyes of a young girl, as her father risks everything to defend a black man unjustly accused of a terrible crime.
Scout Finch, daughter of the town lawyer, likes to spend her summers building treehouses, swimming, and catching lightning bugs with her big brother Jem. But one summer, when a black man is accused of raping a white woman, Scout's carefree days come to an end. In the county courtroom, she will join her father in a desperate battle against ignorance and prejudice.
The Road by Cormac McCarthy
A father and his son walk alone through burned America. Nothing moves in the ravaged landscape save the ash on the wind. It is cold enough to crack stones, and when the snow falls it is gray. The sky is dark. Their destination is the coast, although they don't know what, if anything, awaits them there. They have nothing; just a pistol to defend themselves against the lawless bands that stalk the road, the clothes they are wearing, a cart of scavenged food—and each other.
The Road is the profoundly moving story of a journey. It boldly imagines a future in which no hope remains, but in which the father and his son, "each the other's world entire," are sustained by love. Awesome in the totality of its vision, it is an unflinching meditation on the worst and the best that we are capable of: ultimate destructiveness, desperate tenacity, and the tenderness that keeps two people alive in the face of total devastation.
Gilead by Marilynne Robinson
In 1956, toward the end of Reverend John Ames's life, he begins a letter to his young son, an account of himself and his forebears. Ames is the son of an Iowa preacher and the grandson of a minister who, as a young man in Maine, saw a vision of Christ bound in chains and came west to Kansas to fight for abolition: He "preached men into the Civil War," then, at age fifty, became a chaplain in the Union Army, losing his right eye in battle. Reverend Ames writes to his son about the tension between his father – an ardent pacifist – and his grandfather, whose pistol and bloody shirts, concealed in an army blanket, may be relics from the fight between the abolitionists and those settlers who wanted to vote Kansas into the union as a slave state. And he tells a story of the sacred bonds between fathers and sons, which are tested in his tender and strained relationship with his namesake, John Ames Boughton, his best friend's wayward son.
This is also the tale of another remarkable vision–not a corporeal vision of God but the vision of life as a wondrously strange creation. It tells how wisdom was forged in Ames's soul during his solitary life, and how history lives through generations, pervasively present even when betrayed and forgotten.
The Book Thief by Markus Zusak
It is 1939. Nazi Germany. The country is holding its breath. Death has never been busier, and will become busier still.
Liesel Meminger is a foster girl living outside of Munich, who scratches out a meager existence for herself by stealing when she encounters something she can't resist–books. With the help of her accordion-playing foster father, she learns to read and shares her stolen books with her neighbors during bombing raids as well as with the Jewish man hidden in her basement.
In superbly crafted writing that burns with intensity, award-winning author Markus Zusak, author of I Am the Messenger, has given us one of the most enduring stories of our time.