Today is June 25. It would have been Anthony Bourdain's 65th birthday. We lost the celebrity chef, author and documentarian in 2018, just over 3 years ago. Bourdain was a beloved ambassador for the world's cultures and cuisines. He got his big start when his memoir, Kitchen Confidential, became a bestseller. It told some truths about the life of kitchen crews and his own story, and taught us all the first lesson in how alike we all are in our messy human foibles, underneath whatever fancy or modest façade. He went on to publish more books and filmed documentary series featuring his travels all around the planet, eating local foods and meeting people–introducing cultures and ideas to an audience that loved his wry humor, honesty, and down-to-earth unassuming ease around everyone.
Bourdain's struggles with addiction and depression were never a secret–Bourdain was as searingly honest about himself as he was about restaurant life. His books, his documentaries, and his celebrity appearances shared a purpose: We learn how much we have in common with one another most profoundly when we step into a new environment and taste things that seem strange and unfamiliar.
In honor of his birthday and Health Month, which includes mental health and wellness, here are some titles by and about Anthony Bourdain you can check out with your PPL card. Take a moment to absorb his message: Be true to yourself; be curious, kind and open; and get out into the world of culture, food, and people and soak it all up as much as possible.
If you need help with depression, tell a trusted loved one or friend.  Find hotline, help and local resources at NAMI (National Alliance on Mental Illness). 
Kitchen Confidential: Adventures in the Culinary Underbelly ©2000
When Chef Anthony Bourdain wrote "Don't Eat Before You Read This" in The New Yorker, he spared no one's appetite, revealing what goes on behind the kitchen door. In Kitchen Confidential, he expanded that appetizer into a deliciously funny, delectable shocking banquet that lays out his 25 years of sex, drugs, and haute cuisine. From his first oyster in the Gironde to the kitchen of the Rainbow Room atop Rockefeller Center, from the restaurants of Tokyo to the drug dealers of the East Village, from the mobsters to the rats, Bourdain's brilliantly written, wild-but-true tales make the belly ache with laughter.
A Cook's Tour: In Search of the Perfect Meal ©2001
Dodging minefields in Cambodia, diving into the icy waters outside a Russian bath, Chef Bourdain travels the world over in search of the ultimate meal.
The only thing Anthony Bourdain loves as much as cooking is traveling, and A Cook's Tour is the shotgun marriage of his two greatest passions. Inspired by the question, 'What would be the perfect meal?', Anthony sets out on a quest for his culinary holy grail.
Our adventurous chef starts out in Japan, where he eats traditional Fugu, a poisonous blowfish which can be prepared only by specially licensed chefs. He then travels to Cambodia, up the mine-studded road to Pailin into autonomous Khmer Rouge territory and to Phnom Penh's Gun Club, where local fare is served up alongside a menu of available firearms. In Saigon, he's treated to a sustaining meal of live Cobra heart before moving on to savor a snack with the Viet Cong in the Mecong Delta. Further west, Kitchen Confidential fans will recognize the Gironde of Tony's youth, the first stop on his European itinerary. And from France, it's on to Portugal, where an entire village has been fattening a pig for months in anticipation of his arrival. And we're only halfway around the globe. . .A Cook's Tour recounts, in Bourdain's inimitable style, the adventures and misadventures of America's favorite chef.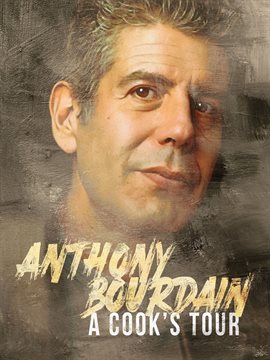 A Cook's Tour: Season 1 [hoopla eTelevision] ©2002
In episode 1 of this 22 episode season of the A Cook's Tour series, Anthony travels to Tokyo, where he begins in the Tsujiki market and then is introduced to techniques in preparing edomae sushi. He also learns the diets of Sumo wrestlers. Subsequent episodes find him in Morocco, the UK, Russia, Spain and other parts of the globe.
No Reservations: Around the World on an Empty Stomach ©2007
No Reservations is Anthony Bourdain's fully illustrated journal of his far-flung travels throughout the world. From China to Argentina and everywhere in between, mixing beautiful, never-before-seen photos and oddball mementoes with Bourdain's hilarious and outrageous tales of what really happens when you give a bad-boy chef an open ticket to the world. Want to know how to get good fatty crab in Rangoon? How to order your reindeer medium rare? How to tell a Frenchman that his baguette is invading your personal space? This is your book. With his trademark wit and soulful charm, Bourdain takes readers with him on a hell-for-leather world tour, eating, drinking, hazing his producers, and generally getting in and out of international trouble.
Medium Raw: A Bloody Valentine to the World of Food and the People Who Cook ©2010
Medium Raw marked the return of the inimitable Anthony Bourdain, author of the blockbuster bestseller Kitchen Confidential and three-time Emmy Award-nominated host of No Reservations on TV's Travel Channel. Bourdain called his book, "A Bloody Valentine to the World of Food and the People Who Cook," and he is at his entertaining best as he takes aim at some of the biggest names in the foodie world, including David Chang, Alice Waters, the Top Chef winners and losers, and many more. If Hunter S. Thompson had written a book about the restaurant business, it could have been Medium Raw.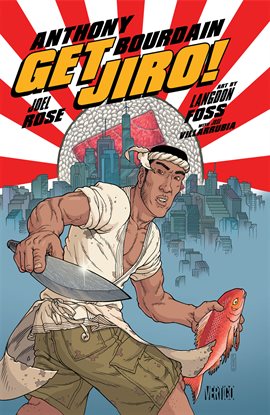 Get Jiro! [hoopla eComic Book] co-written with Joel Rose and art by Langdon Foss ©2012
In a not-too-distant future L.A. where master chefs rule the town like crime lords and people literally kill for a seat at the best restaurants, a bloody culinary war is raging. On one side, the Internationalists, who blend foods from all over the world into exotic delights. On the other, the 'Vertical Farm,' who prepare nothing but organic, vegetarian, macrobiotic dishes. Into this maelstrom steps Jiro, a renegade and ruthless sushi chef, known to decapitate patrons who dare request a California Roll, or who stir wasabi into their soy sauce. Both sides want Jiro to join their factions. Jiro, however has bigger ideas, and in the end, no chef may be left alive! Anthony Bourdain, top chef, acclaimed writer (Kitchen Confidential, Medium Raw) and star of the hit travel show, No Reservations, co-writes with Joel Rose (Kill Kill Faster Faster, The Blackest Bird) this stylized send-up of food culture and society, with detailed and dynamic art by Langdon Foss.
Appetites ©2016
Appetites boils down forty-plus years of professional cooking and globe-trotting to a tight repertoire of personal favorites–dishes that everyone should (at least in Bourdain's opinion) know how to cook. It is a home-cooking, home-entertaining cookbook like no other, with personal favorites from his own kitchen and from his travels, translated into an effective battle plan that will help you terrify your guests with your breathtaking efficiency.
"Journeyman: Anthony Bourdain's Moveable Feast"  by Patrick Radden Keefe, The New Yorker [February 13 & 20, 2017 pp. 52-65 Flipster digital edition] ©2017
Keefe's portrait of Bourdain captures Bourdain's down-to-earth style and wanderlust, and presents him as the nomad and ambassador he had become.
Anthony Bourdain: The Last Interview and Other Conversations ©2019
Anthony Bourdain travelled an extraordinary road, evolving from celebrity chef to intrepid travel writer to journalist, and ultimately, a most unlikely social anthropologist. His storytelling through culinary adventure was frank, often uncompromising, and filled with heart and appreciation for the global cultures and customs he investigated. This new collection of writings includes interviews with Neil Degrasse Tyson and Trevor Noah.