Today marks the 75th anniversary of the D-Day invasion of Europe by Allied Forces, landing on the beaches of Normandy on June 6, 1944. It is the largest-ever invasion by sea, and was the result of complex planning and coordination over a year prior, all under strict secrecy. More than 160,000 Allied troops from the US, Britain, and Canada landed under heavy gunfire from German forces on a 50-mile stretch of beach. Casualties among the Allied troops on that "Longest Day"were at least 10,000, with 4,414 confirmed dead. Just one day in one place in a war that spanned 6 years and nearly every place on the planet–a staggering toll among vastly higher counts of dead and injured soldiers and civilians worldwide.
We remember gratefully the courage and sacrifice of all the men and women who served in World War II, and of those who fought battles of survival, resistance, and support on homefronts everywhere; some who were fighting injustice in their own country while defending liberty abroad.
In commemoration of today's anniversary, we're sharing just a few of the many titles–books and films–about D-Day and the Second World War.
Saving Private Ryan [DVD], DreamWorks Pictures and Paramount Pictures present ; an Amblin Entertainment production, in association with Mutual Film Company ; produced by Steven Spielberg, Ian Bryce, Mark Gordon, Gary Levinson ; written by Robert Rodat ; directed by Steven Spielberg
Captain John Miller, played by Tom Hanks, must take his men behind enemy lines to find Private Ryan (Matt Damon), whose three brothers have been killed in combat. Faced with impossible odds, the men question their orders. The D-Day scene Steven Spielberg directed for this film is over 20 minutes long and is famously intense, as Spielberg was aiming for as much realism as possible.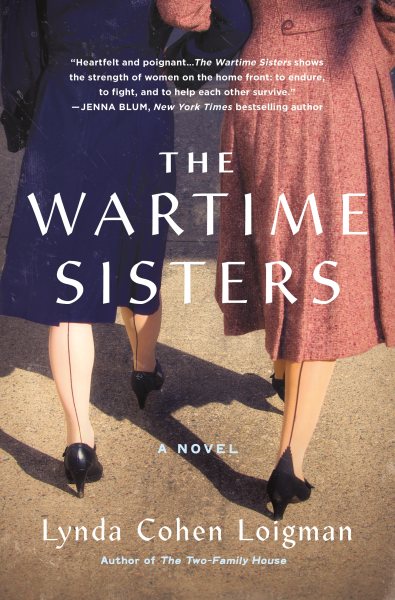 The Wartime Sisters by Lynda Cohen Loigman
Estranged sisters seek connection and purpose at the Springfield Armory during the tumult of WWII in this novel of productive rivalries from Loigman (The Two-Family House). Ruth and Millie Kaplan have been at odds from the beginning. As children, they were labeled by their parents—and their tightly knit Jewish community in Brooklyn—as the brains and the beauty, respectively. Growing up, Ruth seethed as she felt obligated to fix her little sister's mistakes. Meanwhile, Millie soaked in all the male attention, but also aspired to be more than just someone's trophy wife. When unexpected tragedy breaks the family apart, Ruth leaves Brooklyn for Springfield, Mass., to stay with extended family, while Millie stays behind, gets married, and only rarely writes her sister. Years later, at the height of WWII, Millie and her young son shows up on Ruth's doorstep, forcing to the surface their long-closeted frustrations. Together with a cast of motivated women from all classes of society, Ruth and Millie navigate old lies as well as newfound alliances and enemies within the Springfield Armory, where they all work to help the war effort. With measured, lucid prose, Loigman tells a moving story of women coming together in the face of difficulties, both personal and global, and doing anything to succeed.
The Only Woman In the Room by Marie Benedict
In her rousing historical novel, Benedict (Carnegie's Maid) imagines lesser known aspects of Hedy Lamarr's life—before she took the film world by storm in the '40s, and her later efforts as a hobbyist inventor during her acting years. In 1933, 19-year-old Hedwig "Hedy" Keisler, of Jewish heritage, is performing in a stage production in Vienna when she catches the eye of military munitions manufacturer Friedrich Mandl. His wealth and influence in the face of threats to Austria's precarious independence lead Hedy's parents to encourage a union. Mandl is a controlling, abusive husband, but the keenly intelligent Hedy—whose intellectual curiosity was always encouraged by her father—absorbs every word of her husband's meetings with high-level political and military operatives, hiding her growing horror at her husband's willingness to offer concessions to fascist influences. In 1937, Hedy escapes his hold and heads to Los Angeles, where she takes the screen name of Lamarr and strikes a lucrative contract with MGM. As her career blossoms and war wages in Europe, Hedy, learning of Hitler's treatment of Jews, sets out to create something that could change the stakes in the Allied effort: a radio-guided torpedo system far superior to the one already in use. Benedict paints a shining portrait of a complicated woman who knows the astonishing power of her beauty but longs to be recognized for her sharp intellect. Readers will be enthralled.
Drawing fire : a Pawnee, artist, and Thunderbird in World War II by Brummett Echohawk with Mark R. Ellenbarger
Bronze Star recipient Echohawk narrates key episodes of his time with the 45th U.S. Infantry Division ("the Rock of Anzio") in Sicily and Italy, with reproduced sketches and notes originating from the field. This honest and beautiful memoir begins with the division's botched landing in Anzio and focuses on days of close combat and frequent confusion familiar to so many GIs in the European theater. Echohawk's detailed drawings capturing the humanity, fear, and relentless bravery of his fellow division members on spare paper were noticed first by his superior officers, who assigned him to gather intelligence, and then by a visiting entertainer, who helped him get them published in international newspapers, leading to his postwar career as an artist. The division, nicknamed the Thunderbirds, included numerous members of various Native American tribes, who used traditional skills to track and hide; Echohawk movingly recalls the language and warrior traditions he and his fellow Native soldiers followed—and, in one episode, humorously recalls fake ones they invented to intimidate insolent German captives. This excellent and fascinating account is a unique contribution to the literature of WWII.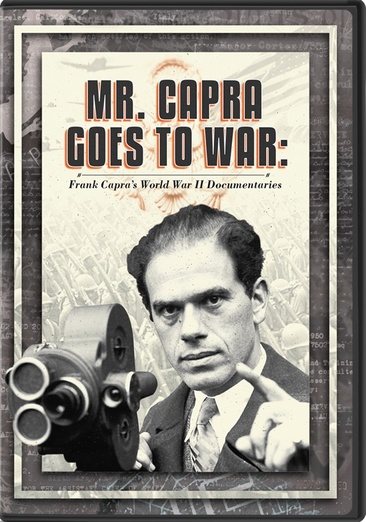 Mr. Capra goes to war: Frank Capra's World War II documentaries [DVD]
Depicting the ravages of combat, the lives of soldiers engaged in battle, as well as those left behind on the home front, five of the films that Capra was involved in bringing to the screen are represented in this special edition presented in cooperation with the National Archives.
The Last Thing You Surrender by Leonard Pitts, Jr.
Pitts (Grant Park), a Pulitzer Prize–winning journalist, turns again to America's fraught history of race relations in this unflinching, gritty WWII saga. It centers on a trio of finely drawn characters, two black and one white, all from Alabama, whose worlds collide because of Pearl Harbor. Marine Private George Simon—wealthy, religious, white—survives the sinking of his ship because Eric Gordy, a black messman, rescues him. Eric dies, and while George recuperates, he pays a condolence call on Eric's widow, Thelma. She and her brother, Luther Hayes, a bitter alcoholic, are living with the memory of their parents' lynching 20 years earlier. George and Thelma begin a correspondence after he returns to active duty; she takes a job in a shipyard. Luther, deciding this is a white man's war, tries to evade the draft but ends up serving with a tank battalion in Europe. George endures horrific conditions in the Pacific as Thelma faces growing racial hostility at work, culminating in a brutal moment of violence that compels her to make a difficult decision. While remaining true to his characters, Pitts brings the story lines to realistic conclusions even as he holds out hope for the future, resulting in a polished, affecting novel.
Grave of the Fireflies [DVD]; Shinchosha presents a Studio Ghibli production ; producer, Toru Hara ; written and directed by Isao Takahata
As the Empire of the Sun crumbles upon itself and a rain of firebombs falls upon Japan, the final death march of a nation is echoed in millions of smaller tragedies. Seita and his younger sister Setsuko are two children born at the wrong time, in the wrong place, and now cast adrift in a world that lacks not the care to shelter them, but simply the resources. They are forced to fend for themselves in the aftermath of fires that swept entire cities from the face of the earth.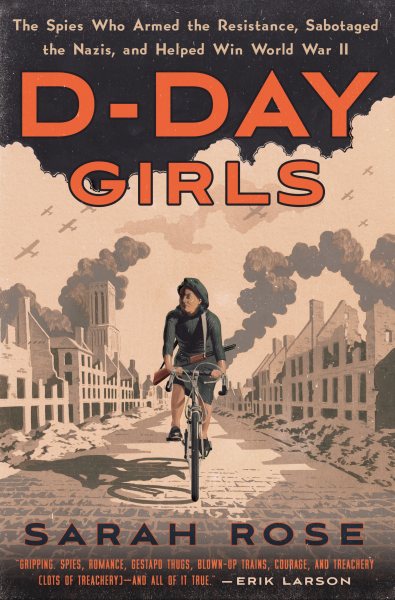 D-Day Girls: The Spies Who Armed the Resistance, Sabotaged the Nazis, and Helped Win World War II by Sarah Rose
In this gripping history, Rose (For All the Tea in China) skillfully details the lives of a handful of ordinary women living in dreary occupied France—who also happened to be highly trained agents for the London-based Special Operations Executive (SOE). Often parachuting under a full moon behind enemy lines, these women and their male colleagues blended in with the locals as they set up networks and trained resistance fighters for D-Day. They were chosen in part for their unflappable temperaments; the fearless Andrée Borrel, for example, reveled in her work as a saboteur, serenely riding away on her bicycle as her charges exploded. Unassuming Mary Herbert used a planned pregnancy as the ultimate cover—no one would suspect a young mother of spying. The yearlong delay in freeing France resulted German double agents infiltrating, with devastating results for the SOE operatives—as Allied generals bickered over landing dates, Odette Sansom suffered years of torture and tuberculosis in Ravensbruck while still protecting the network—but these largely unheralded volunteers depleted German tank divisions, boosted French morale, and quite possibly served as the inspiration for Ian Fleming's James Bond. Thoroughly researched and written as smoothly as a good thriller, this is a mesmerizing story of creativity, perseverance, and astonishing heroism.
World War II Illustrated Atlas : Campaigns, Battles & Weapons from 1939 to 1945 by David Jordan & Andrew Wiest
Covering every major battle, from the invasion of Poland in 1939 to the defeat of Japan in 1945,World War II Illustrated Atlas plots the exact course of the land, sea, and air campaigns in fine detail. It examines the land operations in Northwest Europe, Italy, North Africa, Russia, Southeast Asia, and the Pacific; the naval war in the Atlantic and Mediterranean; the great carrier battles in the Pacific; and the strategic bombing campaigns of Europe and the Pacific, culminating in the destruction of Hiroshima and Nagasaki. This edition offers an additional 25 maps, ranging from the St. Nazaire raid of 1942 to the battle for Corregidor in February 1945. The isometric map views provide a new perspective on the war, and include descriptions and photographs from each event.
Sand & Steel: The D-Day Invasion and the Liberation of France by Peter Caddick-Adams
Sand and Steel gives us D-Day, arguably the greatest and most consequential military operation of modern times, beginning with the years of painstaking and costly preparation, through to the pitched battles fought along France's northern coast, from Omaha Beach to the Falaise and the push east to Strasbourg. In addition to covering the build-up to the invasion, including the elaborate and lavish campaigns to deceive Germans as to where and when the invasion would take place, Peter Caddick-Adams gives a full and detailed account of the German preparations, but the heart of the book is Caddick-Adams' narratives of the five beaches where the terrible drama played out–Utah, Omaha, Gold, Juno, and Sword, and the attempt by American, British, and Canadian soldiers to gain a foothold in Europe.
The First Wave: The D-Day Warriors Who Led the Way to Victory in World War II by Alex Kershaw
In this fast paced tale, historian, biographer, and journalist Kershaw (The Liberator) draws on interviews, military records, and published accounts to relate the early actions by advance invaders and the events of D-Day itself. The main players will not surprise readers familiar with the invasion's story—among the well-known people highlighted are Brig. Gen. Teddy Roosevelt, son of the former U.S. president; Maj. John Howard, who led the attack on Pegasus Bridge; Col. James Rudder, leader of the Rangers at Pointe du Hoc; and Brig. Simon Fraser (Lord Lavat), leader of the British commandos. Novelty is provided with some lesser-known stories, such as those of British Sgt. Maj. Stanley Hollis, the only recipient of the Victoria Cross for action on D-Day; Lt. John Spalding and Sgt. Philip Streczyk, who together led the U.S. First Infantry Division off of Omaha Beach. Kershaw is at his evocative best describing the chaos, courage, and carnage of combat, vividly portraying the bravery of the "greatest generation." Even readers well-read on the subject will enjoy this perspective.
Life After Manzanar by Naomi Hirahara and Heather C. Lindquist
From the editor of the award-winning Children of Manzanar, Heather C. Lindquist, and Edgar Award winner Naomi Hirahara comes a nuanced account of the "Resettlement": the relatively unexamined period when ordinary people of Japanese ancestry, having been unjustly imprisoned during World War II, were finally released from custody. Given twenty-five dollars and a one-way bus ticket to make a new life, some ventured east to Denver and Chicago to start over, while others returned to Southern California only to face discrimination and an alarming scarcity of housing and jobs. Hirahara and Lindquist weave new and archival oral histories into an engaging narrative that illuminates the lives of former internees in the postwar era, both in struggle and unlikely triumph. Readers will appreciate the painstaking efforts that rebuilding required, and will feel inspired by the activism that led to redress and restitution-and that built a community that even now speaks out against other racist agendas.
If you're intrested in finding more, search the library catalog for "World War 1939-1945."