Thanksgiving is this week; we're grateful for your support. We hope you find yourselves in friendly company, with plenty of your favorite foods, and well-stocked with good books to tide you over the holiday weekend. If your book bag is a little empty, try one of these titles: contemporary fiction featuring Thanksgiving.
Start Without Me by Joshua Max Feldman
Ex-musician Adam is spending his first Thanksgiving with his family after getting sober. Overwhelmed by the realities of the day as well as the expectations that come with it, he impulsively flees to the airport. There he crosses paths with flight attendant Marissa, who is struggling with her own demons as she readies herself to spend the holiday with her in-laws. When Marissa agrees to drive Adam back to his parents' house, the two embark on a journey that reveals the turmoil of their respective pasts as well as the difficulties of the present. Adam's newfound sobriety forces him to confront a life fractured by addiction while reconciling his former relationships and aspirations. Marissa has a difficult decision to make as she confronts a crumbling relationship with her filmmaker husband, a situation further complicated by his overbearing family. Feldman's (The Book of Jonah, 2014) engaging novel offers sublime levity to balance the gravity of his characters' various struggles, and Adam's and Marissa's tales interweave effortlessly as they search for meaning among many doubts and what-ifs.
Thanksgiving Angels (A Mercy Alcutt Mystery)  by Alice Duncan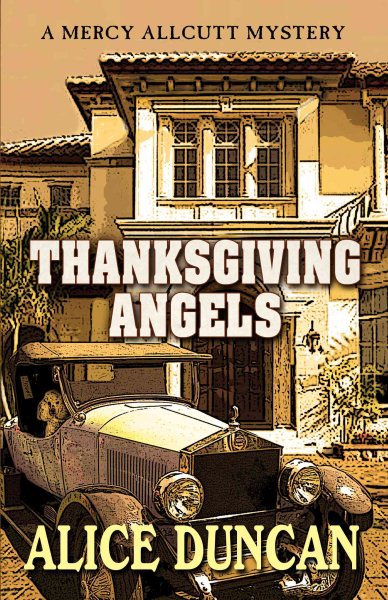 It's just one week. That is what Mercy Allcutt keeps telling herself as she packs her bags and heads to Pasadena to spend the Thanksgiving holiday with her parents. Even though Mercy knows that her prim and proper mother, Honoria, vehemently disapproves of Mercy's decision to take a job working as a secretary for PI Ernie Templeton, Mercy is almost positive that she can last seven days with her judgmental mother without somebody getting killed. As it turns out, although Honoria doesn't hold back one jot on her criticism of Mercy, it isn't one of the Allcutts who winds up dead but rather Mrs. Lurlene Winkworth, who, much to Mercy's surprise, is even more of a bitter, vituperative battle-ax than Mercy's mother. The latest sprightly addition to Duncan's Mercy Allcutt series (Fallen Angels, 2011; Angels of Mercy, 2012) is a delightful concoction composed of equal measures of charmingly quirky characters, fascinating 1920s period details, and just the right dash of dry wit.
Want Not by Jonathan Miles
In this follow-up to the critically-acclaimed, seriously funny Dear American Airlines (2008), Miles traces the intertwining lives of half-a-dozen characters tied together by a culture of excessive consumption and ridiculous waste. Micah and Talmadge, New York City squatters who met at Burning Man, try to make it as freegans in Manhattan. Sara, who lost her husband on 9/11 and has since remarried, grapples with the legacy of her adulterous ex as an uncomfortable dynamic develops between her new husband, Dave, and her daughter, Alexis. A linguistic expert on dead languages, Elwin copes with the crisis of his ruined marriage, his seemingly obsolete expertise, and his father's worsening Alzheimer's. Even with so large a cast, Miles manages to move at a steady clip through multigenerational stories and family histories while still delving deeply into each character's particular quirks and oddities. With forthright wit and stunning intimacy, Miles doesn't hesitate to broach the uncomfortable consequences of unchecked abundance and desire. The result is a wild tangle of high-octane, entertaining prose, an astonishing leap for this accomplished novelist.
One Night At the Call Center by Chetan Bhagat
Business has been lagging lately at Connections, the Delhi call center for a large U.S. computer and appliance company. Twenty-six-year-old agent Shyam, known to his American callers as "Sam," is less concerned about his career than his breakup with coworker Priyanka. (She recently consented to an arranged marriage with a wealthy Indian expat.) Sam's other twentysomething colleagues have troubles of their own: aspiring model Esha takes desperate measures to secure gigs; Radhika suffers humiliation at the hands of an unfaithful spouse; and Varun, aka Vroom, drives at dangerous speeds to cope with personal and professional distress. The bane of the staff's existence is their jargon-spewing boss, Bakshi, who blithely assumes credit for his employees' work. One particularly tense evening (which happens to be Thanksgiving Day in the U.S.), the Connections staff take a break from the office–and receive a life-altering call. Bhagat, an investment banker based in Hong Kong, renders engaging characters and a provocative premise.
Thanksgiving Night by Richard Bausch
Caught in the middle of two pairs of warring relatives, middle-aged Will Butterfield feels helpless to control much of anything in his life. The "Crazies are two old women who happen to be Will's mother and great-aunt. Their late-night calls, fueled by alcohol, give neither used-bookstore owner Will nor his much-younger second wife, Elizabeth, much rest. When the Crazies aren't tearing up his household, his adult children from his first marriage are. Still, Will and Elizabeth's solid, loving marriage weathers the squalls that is, until Will allows himself to be seduced by his unstable neighbor, which destroys the fragile balance of everyone around him. In his tenth novel (after Hello to the Cannibals ), Bausch elevates familial squabbling to an art form, offering a funny, tender look at a small group of small-town Virginians whose lives intersect, collide, and regroup around the 1999 Thanksgiving holiday. He turns enough fictional conventions on end to lure the reader deeper into the heart of his wounded characters, struggling for decency and forgiveness.
Strangers At the Feast  by Jennifer Vanderbes
In her second novel, Vanderbes (Easter Island, 2003) sets up a Thanksgiving Day showdown between a well-to-do family and the impoverished residents of a housing project. Anthropology professor and new mother Ginny Olson is hosting the Thanksgiving Day festivities for the first time. She has just returned from India, where she adopted a mute seven-year-old girl. Interactions with her family prove to be irritating as they lecture her on her disorganized hosting skills, and she lectures them on their woefully inadequate understanding of America's bloody past, especially the genocidal overtones of the Thanksgiving holiday. The guests include her taciturn dad, her well-meaning but clueless mom, and her wealthy brother, whose over-investment in an office project just as the real-estate downturn hit has made his wife one angry lady (her cold-eyed pragmatism provides much of the book's entertainment value). A stove malfunction forces the family to move houses and sets them on an inevitable collision course with two young black men. Vanderbes lays on the cultural ironies a little too thickly in what is otherwise an inventively plotted, highly readable novel about white Americans' overweening sense of entitlement.
City On Edge by Stefanie Pintoff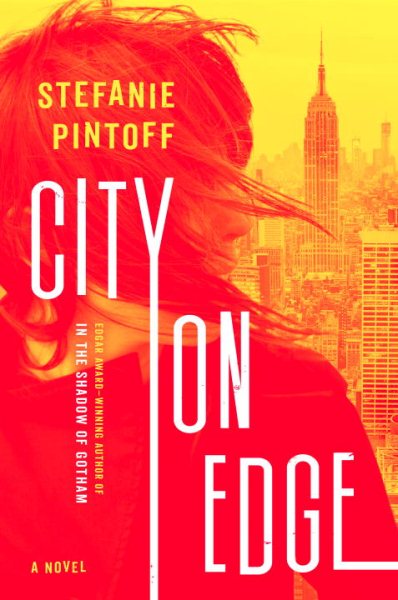 New York City Police Commissioner Logan Donovan is assaulted amid preparations for the Macy's Thanksgiving Day parade. Donovan's 13-year-old daughter, Allie, disappears in the ensuing riot. Police find Allie's cell phone on a subway platform, the timer counting down to the parade's scheduled conclusion and the home screen bearing an image of the missing girl together with the message: "How far will you go to save her?" Donovan tasks FBI special agent Evangeline Rossi and her Vidocq team of "ex-cons and barely reformed thugs," who solve crimes using nontraditional methods, with locating Allie and bringing her kidnapper to justice.