The newest adaptation of Agatha Christie's classic detective novel, Murder on the Orient Express, starring Kenneth Branagh as the famously mustachioed detective, Hercule Poirot, hit movies theaters last weekend, and it isn't the first or even the twentieth time the Queen of Crime has had one of her novels adapted for the screen. Agatha Christie is the most famous representative of a particular kind of mystery writer from the era dubbed the Golden Age of Detective Fiction. This era is usually defined as the period between the two world wars with most Golden Age writers publishing primarily in the 1930s. The Golden Age mysteries have a logical detective style, with the solving of a murder presented as a puzzle that the reader can try to solve along with the detective in the story. While Agatha Christie is the most well-known of the Golden Age writers, there were many others writing excellent detective stories in the same style mostly in Great Britain, but also America. Below are representatives of some of the wonderful novels to be found from Golden Age mystery writers.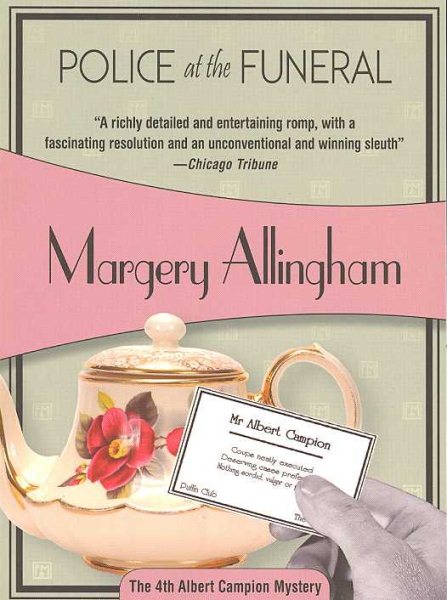 Police at the Funeral by Margery Allingham
Caroline Faraday runs her house like a Victorian fiefdom, unconcerned with the fact that it's 1931. Furniture and meals are heavy and elaborate, motorcars and morning tea are forbidden on account of vulgarity. The Faraday children, now well into middle age, chafe at the restrictions, but with no money of their own, they respond primarily by quarreling amongst themselves. Their endless squabbling is tedious but nothing more until one of them turns up dead, followed shortly by his petulant, whining sister. Though neither will be much missed, decency demands that Caroline Faraday hire the nearly respectable Albert Campion to investigate their untimely ends.
The Murder of Roger Ackroyd by Agatha Christie
Roger Ackroyd knew too much. He knew that the woman he loved had poisoned her brutal first husband. He suspected also that someone had been blackmailing her. Then, tragically, came the news that she had taken her own life with an apparent drug overdose.
However the evening post brought Roger one last fatal scrap of information, but before he could finish reading the letter, he was stabbed to death. Luckily one of Roger's friends and the newest resident to retire to this normally quiet village takes over—none other than Monsieur Hercule Poirot.
A Man Lay Dead by Ngaio Marsh
At Sir Hubert Handesley's country house party, five guests have gathered for the uproarious parlor game of "Murder." Yet no one is laughing when the lights come up on an actual corpse, the good-looking and mysterious Charles Rankin. Scotland Yard's Inspector Roderick Alleyn arrives to find a complete collection of alibis, a missing butler, and an intricate puzzle of betrayal and sedition in the search for the key player in this deadly game.
The Greek Coffin Mystery by Ellery Queen
The Greek Coffin Mystery (1932) is considered one of the earliest, most popular, confounding, brilliantly plotted classic whodunit mysteries of the Ellery Queen series, involving a dead and blind art dealer, a slain forger, a stolen priceless painting and the disappearance of a mysterious will from a New York townhouse full of suspects. During the funeral of famous art dealer Georg Khalkis, the metal box containing his last will and testament had vanished from the library safe. Son of a New York cop, Ellery Queen, a young master of deduction, orders a search of the coffin. To the horror of both detectives and mourners, when the coffin is unearthed, a second corpse, strangled and decaying, is found with the late Georg Khalkis.
Murder Must Advertise by Dorothy Sayers
When executive Victor Dean dies from a fall down the iron staircase at Pym's Publicity, a posh London ad agency, Lord Peter Wimsey goes undercover to investigate. Before his tragic demise, the victim had tried to warn Mr. Pym, the firm's owner, about some scandalous behavior involving his employees.
Posing as a new copywriter, Wimsey discovers that Dean was part of an unsavory crowd at Pym's whose recreational habits link them to the criminal underworld. With time running out and the body count rising, Wimsey must rush to find the truth before his identity is discovered and a determined killer strikes again.
Too Many Cooks by Rex Stout
Everyone knows that too many cooks spoil the broth, but you'd hardly expect it to lead to murder. But that's exactly what's on the menu at a five-star gathering of the world's greatest chefs. As guest of honor, Wolfe was lured from his brownstone to a posh southern spa to deliver the keynote address. He never expected that between courses of haute cuisine he and Archie would be compelled to detect a killer with a poison touch-a killer preparing to serve the great detective his last supper.
The Franchise Affair by Josephine Tey
Robert Blair was about to knock off from a slow day at his law firm when the phone rang. It was Marion Sharpe on the line, a local woman of quiet disposition who lived with her mother at their decrepit country house, The Franchise. It appeared that she was in some serious trouble: Miss Sharpe and her mother were accused of brutally kidnapping a demure young woman named Betty Kane. Miss Kane's claims seemed highly unlikely, even to Inspector Alan Grant of Scotland Yard, until she described her prison — the attic room with its cracked window, the kitchen, and the old trunks — which sounded remarkably like The Franchise. Yet Marion Sharpe claimed the Kane girl had never been there, let alone been held captive for an entire month! Not believing Betty Kane's story, Solicitor Blair takes up the case and, in a dazzling feat of amateur detective work, solves the unbelievable mystery that stumped even Inspector Grant.