Ghostland: An American History in Haunted Places by Colin Dickey (Staff Pick)
A compelling work of nonfiction. Dickey focuses the lens of purportedly haunted places all over the US (houses, graveyards, hospitals, battlefields) on American history, and scrutinizes how the legends and sightings reflect our culture and our understanding of who we were and who we are, or who we want to be. Fascinating and well-written; note that you may want to have a computer or tablet handy to look up the places he describes as you travel with him through place and time. Among many nonfiction books about ghost sightings and haunted places, this work is one of the most nuanced, and it offers eloquent analyses of what all those ghosts we see are telling us about ourselves.
Inspired by Ghostland, we share the following titles which are all reads about the ghosts — literal, or otherwise–that haunt us. They remind us of the the world as it once was and how that past shapes and changes us.
The Last Empty Places: A Past and Present Journey Through the Blank Spots on the American Map by Peter Stark
Americans have shaped the idea of wilderness, and it has shaped us. The Last Empty Places is one man's love letter to the enduring American wild, where our country's character was forged and its destiny set in motion.
Memories of growing up in a log cabin in the Wisconsin woods inspired writer Peter Stark to seek out untouched tracts of the American wilderness. What he discovered in these "blank spots" on the map is that these places are actually teeming with the rich history of our nation.
Stark journeys into the great wild to four of the emptiest expanses he can findùnorthern Maine, central Pennsylvania, the Gila Wilderness of New Mexico, and southeast Oregonùand in so doing weaves together a majestic and dramatic tale of frontiersmen and fighters, naturalists and philosophers, emigres and natives. But he also goes beyond that, acknowledging some of the great minds that first framed our relationship to the wilderness that would become our homeùpassionate thinkers and writers including Thoreau, Emerson, and John Muir.
The result is a narrative that blends nature and history in a vivid new way, a tale that provides an unforgettable window into our country's past and present.
American Ghost: A Family's Haunted Past in the Desert Southwest by Hannah Nordhaus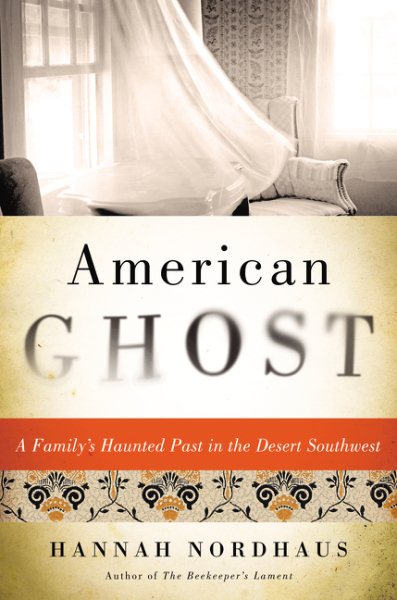 The award-winning journalist and author of The Beekeeper's Lament attempts to uncover the truth about her great-great-grandmother, Julia–whose ghost is said to haunt an elegant hotel in Santa Fe—in this spellbinding exploration of myth, family history, and the American West.
The dark-eyed woman in the long black gown was first seen in the 1970s, standing near a fireplace. She was sad and translucent, present and absent at once. Strange things began to happen in the Santa Fe hotel where she was seen. Gas fireplaces turned off and on without anyone touching a switch. Vases of flowers appeared in new locations. Glasses flew off shelves. And in one second-floor suite with a canopy bed and arched windows looking out to the mountains, guests reported alarming events: blankets ripped off while they slept, the room temperature plummeting, disembodied breathing, dancing balls of light.
La Posada—"place of rest"—had been a grand Santa Fe home before it was converted to a hotel. The room with the canopy bed had belonged to Julia Schuster Staab, the wife of the home's original owner. She died in 1896, nearly a century before the hauntings were first reported. In American Ghost, Hannah Nordhaus traces the life, death, and unsettled afterlife of her great-great-grandmother Julia, from her childhood in Germany to her years in the American West with her Jewish merchant husband.
American Ghost is a story of pioneer women and immigrants, ghost hunters and psychics, frontier fortitude and mental illness, imagination and lore. As she traces the strands of Julia's life, Nordhaus uncovers a larger tale of how a true-life story becomes a ghost story—and how difficult it can sometimes be to separate history and myth.
The Girl From Human Street: Ghosts of Memory in a Jewish Family by Roger Cohen
In this luminous memoir, award-winning New York Times columnist Roger Cohen turns a compassionate yet discerning eye on the legacy of his own forebears. As he follows them across continents and decades, mapping individual lives that diverge and intertwine, vital patterns of struggle and resilience, valued heritage and evolving loyalties (religious, ethnic, national), converge into a resonant portrait of cultural identity in the modern age.
Beginning in the nineteenth century and continuing through to the present day, Cohen tracks his family's story of repeated upheaval, from Lithuania to South Africa, and then to England, the United States, and Israel. It is a tale of otherness marked by overt and latent anti-Semitism, but also otherness as a sense of inheritance. We see Cohen's family members grow roots in each adopted homeland even as they struggle to overcome the loss of what is left behind and to adapt—to the racism his parents witness in apartheid-era South Africa, to the familiar ostracism an uncle from Johannesburg faces after fighting against Hitler across Europe, to the ambivalence an Israeli cousin experiences when tasked with policing the occupied West Bank.
At the heart of The Girl from Human Street is the powerful and touching relationship between Cohen and his mother, that "girl." Tortured by the upheavals in her life yet stoic in her struggle, she embodies her son's complex inheritance.
Graceful, honest, and sweeping, Cohen's remarkable chronicle of the quest for belonging across generations contributes an important chapter to the ongoing narrative of Jewish life.
Ghost Songs: A Memoir by Regina McBride
Regina McBride, author of The Nature of Water and Air and The Land of Women and recipient of fellowships from the NEA and the New York Foundation for the Arts, delivers a powerful and affecting debut memoir, Ghost Songs.
Ghost Songs charts McBride's teenage struggle to separate madness from imagination and sorrow from devastation in the wake of the shocking deaths of both her parents. Traveling from New York City to the desert of New Mexico to the shores of Ireland, McBride searches for herself, home, and a way to return to the family that remains. Harrowing and haunting, Ghost Songs is a meditation on love and loss and, in the end, a celebration of the tenacity of the human spirit.