Our Pasadena Public Library Summer Reading Program started this past Saturday, June 3 so if you haven't signed up yet, head on over to our Summer Reading Guide to learn how to sign up kids, teens, and adults for the program. This year's theme is Reading by Design and we've got some great design related books for you to explore. Below you'll find books on typography, maps, book jackets, and more as some suggestions to get your summer reading started!
Picture This: How Pictures Work by Molly Bang
Molly Bang's brilliant, insightful, and accessible treatise is now revised and expanded for its 25th anniversary. Bang's powerful ideas—about how the visual composition of images works to engage the emotions, and how the elements of an artwork can give it the power to tell a story—remain unparalleled in their simplicity and genius. Why are diagonals dramatic? Why are curves calming? Why does red feel hot and blue feel cold? First published in 1991, Picture This has changed the way artists, illustrators, reviewers, critics, and readers look at and understand art.
Just My Type: A Book about Fonts by Simon Garfield
Fonts surround us every day, on street signs and buildings, on movie posters and books, and on just about every product we buy. But where do fonts come from, and why do we need so many? Who is responsible for the staid practicality of Times New Roman, the cool anonymity of Arial, or the irritating levity of Comic Sans (and the movement to ban it)?
Typefaces are now 560 years old, but we barely knew their names until about twenty years ago when the pull-down font menus on our first computers made us all the gods of type. Beginning in the early days of Gutenberg and ending with the most adventurous digital fonts, Simon Garfield explores the rich history and subtle powers of type. He goes on to investigate a range of modern mysteries, including how Helvetica took over the world, what inspires the seeming ubiquitous use of Trajan on bad movie posters, and exactly why the all-type cover of Men are from Mars, Women are from Venus was so effective. It also examines why the "T" in the Beatles logo is longer than the other letters and how Gotham helped Barack Obama into the White House. A must-have book for the design conscious, Just My Type's cheeky irreverence will also charm everyone who loved Eats, Shoots & Leaves and Schott's Original Miscellany.
Overview: A New Perspective of Earth by Benjamin Grant
Conceived as an Instagram account less than two years ago–and now causing a global sensation–Overview offers breathtaking photographs that showcase the incredible way in which humans have shaped the Earth's landscape. The project was inspired by, and derives its name from, the "Overview Effect"–a sensation that astronauts experience when given the opportunity to look down and view the Earth as a whole. Through more than 250 stunning photographs–which highlight extraordinary patterns while also revealing a deeper story about humanity and our inextricable ties to the environment–and accompanying captions, readers are given an opportunity to appreciate our home in its entirety, to reflect on its beauty and fragility all at once.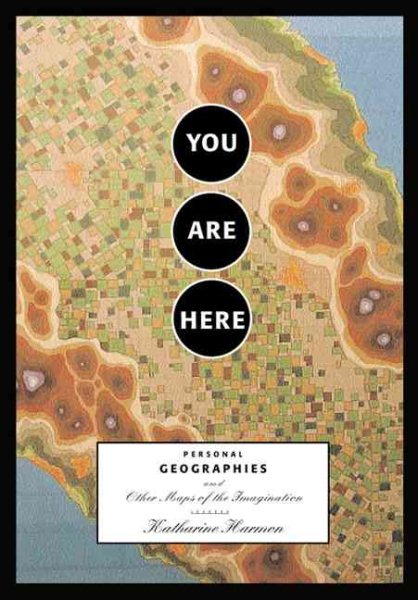 You Are Here: Personal Geographies and Other Maps of the Imagination by Katharine Harmon
Mapmaking fulfills one of our most ancient and deep-seated desires: understanding the world around us and our place in it. But maps need not just show continents and oceans: there are maps to heaven and hell; to happiness and despair; maps of moods, matrimony, and mythological places. There are maps to popular culture, from Gulliver's Island to Gilligan's Island. There are speculative maps of the world before it was known, and maps to secret places known only to the mapmaker. Artists' maps show another kind of uncharted realm: the imagination. What all these maps have in common is their creators' willingness to venture beyond the boundaries of geography or convention.
You Are Here is a wide-ranging collection of such superbly inventive maps. These are charts of places you're not expected to find, but a voyage you take in your mind: an exploration of the ideal country estate from a dog's perspective; a guide to buried treasure on Skeleton Island; a trip down the road to success; or the world as imagined by an inmate of a mental institution. With over 100 maps from artists, cartographers, and explorers, You are Here gives the reader a breath-taking view of worlds, both real and imaginary.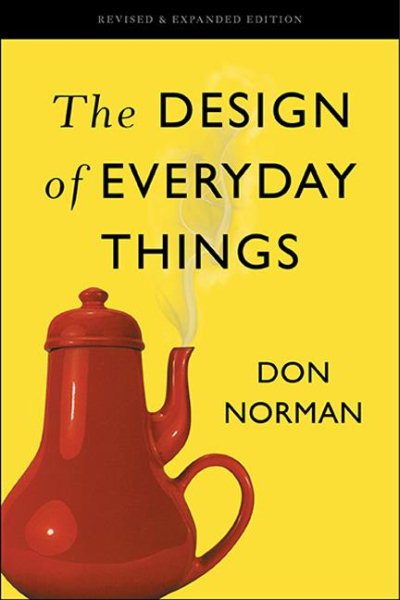 The Design of Everyday Things by Don Norman
Even the smartest among us can feel inept as we fail to figure out which light switch or oven burner to turn on, or whether to push, pull, or slide a door. The fault, argues this ingenious-even liberating-book, lies not in ourselves, but in product design that ignores the needs of users and the principles of cognitive psychology. The problems range from ambiguous and hidden controls to arbitrary relationships between controls and functions, coupled with a lack of feedback or other assistance and unreasonable demands on memorization.
The Design of Everyday Things shows that good, usable design is possible. The rules are simple: make things visible, exploit natural relationships that couple function and control, and make intelligent use of constraints. The goal: guide the user effortlessly to the right action on the right control at the right time.
The Design of Everyday Things is a powerful primer on how-and why-some products satisfy customers while others only frustrate them.
Front Cover: Great Book Jackets and Cover Design by Alan Powers
The 20th century witnessed the rapid evolution of the book cover from a functional layer protecting the fragile paper inside, into a sophisticated visual tableau through which the author's message is interpreted and communicated. Front Cover is the first book to bring together the jackets and covers that have made the greatest impact over the course of the century, from the pioneering designs of the Modernist movement to the digital collages of the internet age.
Each chapter explores a different period – the modern designs of the 1920s and 1930s, the evolution of the contemporary book jacket in the post-war era, the explosion of the mass market and popular culture in the 1960s, and the incisive, stylish jackets created in recent years by design firms such as Pentagram. Jackets by major designers and illustrators including E. McKnight Kauffer, Eric Ravilious and Jeff Fisher are featured, alongside first editions of many of the century's most influential novels, including Brave New World, Catch 22, Nineteen Eighty-Four and Bonfire of the Vanities.
Complete with topics such as the Cold War novel, the author as jacket artist and the Bond novel, and with almost 300 jackets illustrated in color, this is an essential compendium of the book jacket for anyone with a passion for books and a love of great design.
Patternalia: An Unconventional History of Polka Dots, Stripes, Plaid, Camouflage, & Other Graphic Patterns by Jude Stewart
We wake up in the morning and put on our striped socks and our plaid shirts, sit down to breakfast at a gingham tablecloth, perhaps eyeing the wallpaper with its fleur-de-lis. Patterns are everywhere–yet they can go unnoticed. In fact, every pattern is a story, a surprisingly deep trove of historical information and cultural associations.
Jude Stewart, author of ROY G. BIV: An Exceedingly Surprising Book About Color, brings her same sprightly sense of humor, sparkling personality, and roving curiosity to this cultural history of patterns. From camouflage to keffiyeh, plaid to paisley, slipping out of the Carmelites' scandalously striped mantle and into an itsy-bitsy-teeny-weeny yellow polka-dot bikini, Patternalia plumbs the backstories of individual patterns, the surprising kinks in how each developed, the parallels between patterns natural and invented, and the curious personalities these patterns accrue over time. Boldly designed by Oliver Munday and cleverly cross-referenced, Patternalia is pure pattern pleasure: a beautiful object and a dazzling read that will appeal to anyone interested in design, fashion, and the cultural history buzzing all around us.