The 2017 Man Booker Prize Longlist was announced last Wednesday, July 26th. The British-based Man Booker Prize for Fiction, first awarded in 1969, is open to writers of any nationality, provided they write in English and are published in the United Kingdom. A panel of five judges selected this year's 13 title longlist, which represent a diverse range of voices and characters. While we're still missing a few of the works originally published on the other side of the pond, the Pasadena Public Library has copies of most of these works available now so pick one up and see what all the fuss is about!
4 3 2 1 by Paul Auster
Nearly two weeks early, on March 3, 1947, in the maternity ward of Beth Israel Hospital in Newark, New Jersey, Archibald Isaac Ferguson, the one and only child of Rose and Stanley Ferguson, is born. From that single beginning, Ferguson's life will take four simultaneous and independent fictional paths. Four identical Fergusons made of the same DNA, four boys who are the same boy, go on to lead four parallel and entirely different lives. Family fortunes diverge. Athletic skills and sex lives and friendships and intellectual passions contrast. Each Ferguson falls under the spell of the magnificent Amy Schneiderman, yet each Amy and each Ferguson have a relationship like no other. Meanwhile, readers will take in each Ferguson's pleasures and ache from each Ferguson's pains, as the mortal plot of each Ferguson's life rushes on.
As inventive and dexterously constructed as anything Paul Auster has ever written, yet with a passion for realism and a great tenderness and fierce attachment to history and to life itself that readers have never seen from Auster before. 4 3 2 1 is a marvelous and unforgettably affecting tour de force.
Days Without End by Sebastian Barry
Thomas McNulty, having fled the Great Famine in Ireland and aged barely seventeen, signs up for the U.S. Army in the 1850s, and with his brother in arms, John Cole, goes on to fight in the Indian Wars—against the Sioux and the Yurok—and ultimately, the Civil War. Orphans of terrible hardships themselves, they find these days to be vivid and alive, despite the horrors they see and are complicit in.
Moving from the plains of Wyoming to Tennessee, Sebastian Barry's latest work is a masterpiece of atmosphere and language. An intensely poignant story of two men and the makeshift family they create with a young Sioux girl, Winona, Days Without End is a fresh and haunting portrait of the most fateful years in American history and is a novel never to be forgotten.
History of Wolves by Emily Fridlund
Fourteen-year-old Linda lives with her parents in the beautiful, austere woods of northern Minnesota, where their nearly abandoned commune stands as a last vestige of a lost counter-culture world. Isolated at home and an outlander at school, Linda is drawn to the enigmatic, attractive Lily and new history teacher Mr. Grierson. When Mr. Grierson is charged with possessing child pornography, the implications of his arrest deeply affect Linda as she wrestles with her own fledgling desires and craving to belong.
And then the young Gardner family moves in across the lake and Linda finds herself welcomed into their home as a babysitter for their little boy, Paul. It seems that her life finally has purpose but with this new sense of belonging she is also drawn into secrets she doesn't understand. Over the course of a few days, Linda makes a set of choices that reverberate throughout her life. As she struggles to find a way out of the sequestered world into which she was born, Linda confronts the life-and-death consequences of the things people do—and fail to do—for the people they love.
Exit West by Mohsin Hamid
In a country teetering on the brink of civil war, two young people meet—sensual, fiercely independent Nadia and gentle, restrained Saeed. They embark on a furtive love affair, and are soon cloistered in a premature intimacy by the unrest roiling their city. When it explodes, turning familiar streets into a patchwork of checkpoints and bomb blasts, they begin to hear whispers about doors—doors that can whisk people far away, if perilously and for a price. As the violence escalates, Nadia and Saeed decide that they no longer have a choice. Leaving their homeland and their old lives behind, they find a door and step through. . . .
Exit West follows these remarkable characters as they emerge into an alien and uncertain future, struggling to hold on to each other, to their past, to the very sense of who they are. Profoundly intimate and powerfully inventive, it tells an unforgettable story of love, loyalty, and courage that is both completely of our time and for all time.
Solar Bones by Mike McCormack
Not currently available from the Pasadena Public Library.
Once a year, on All Souls' Day, it is said in Ireland that the dead may return. Solar Bones is the story of one such visit. Marcus Conway, a middle-aged engineer, turns up one afternoon at his kitchen table and considers the events that took him away and then brought him home again.
Funny and strange, McCormack's ambitious and other-worldly novel plays with form and defies convention. This is profound new work is by one of Ireland's most important contemporary novelists. A beautiful and haunting elegy, this story of order and chaos, love and loss captures how minor decisions ripple into waves and test our integrity every day.
Reservoir 13 by Jon McGregor
Not currently available from the Pasadena Public Library.
Midwinter in the early years of this century. A teenage girl on holiday has gone missing in the hills at the heart of England. The villagers are called up to join the search, fanning out across the moors as the police set up roadblocks and a crowd of news reporters descends on their usually quiet home.
Meanwhile, there is work that must still be done: cows milked, fences repaired, stone cut, pints poured, beds made, sermons written, a pantomime rehearsed.
The search for the missing girl goes on, but so does everyday life. As it must.
As the seasons unfold there are those who leave the village and those who are pulled back; those who come together or break apart. There are births and deaths; secrets kept and exposed; livelihoods made and lost; small kindnesses and unanticipated betrayals.
An extraordinary novel of cumulative power and grace, Reservoir 13 explores the rhythms of the natural world and the repeated human gift for violence, unfolding over thirteen years as the aftershocks of a stranger's tragedy refuse to subside.
Elmet by Fiona Mozley
Not currently available from the Pasadena Public Library.
Daniel is heading north. He is looking for someone. The simplicity of his early life with Daddy and Cathy has turned sour and fearful. They lived apart in the house that Daddy built for them with his bare hands. They foraged and hunted. When they were younger, Daniel and Cathy had gone to school. But they were not like the other children then, and they were even less like them now. Sometimes Daddy disappeared, and would return with a rage in his eyes. But when he was at home he was at peace. He told them that the little copse in Elmet was theirs alone. But that wasn't true. Local men, greedy and watchful, began to circle like vultures. All the while, the terrible violence in Daddy grew.
Atmospheric and unsettling, Elmet is a lyrical commentary on contemporary society and one family's precarious place in it, as well as an exploration of how deep the bond between father and child can go.
The Ministry of Utmost Happiness by Arundhati Roy
The Ministry of Utmost Happiness takes us on an intimate journey of many years across the Indian subcontinent—from the cramped neighborhoods of Old Delhi and the roads of the new city to the mountains and valleys of Kashmir and beyond, where war is peace and peace is war.
It is an aching love story and a decisive remonstration, a story told in a whisper, in a shout, through unsentimental tears and sometimes with a bitter laugh. Each of its characters is indelibly, tenderly rendered. Its heroes are people who have been broken by the world they live in and then rescued, patched together by acts of love—and by hope.
The tale begins with Anjum—who used to be Aftab—unrolling a threadbare Persian carpet in a city graveyard she calls home. We encounter the odd, unforgettable Tilo and the men who loved her—including Musa, sweetheart and ex-sweetheart, lover and ex-lover; their fates are as entwined as their arms used to be and always will be. We meet Tilo's landlord, a former suitor, now an intelligence officer posted to Kabul. And then we meet the two Miss Jebeens: the first a child born in Srinagar and buried in its overcrowded Martyrs' Graveyard; the second found at midnight, abandoned on a concrete sidewalk in the heart of New Delhi.
As this ravishing, deeply humane novel braids these lives together, it reinvents what a novel can do and can be. The Ministry of Utmost Happiness demonstrates on every page the miracle of Arundhati Roy's storytelling gifts.
Lincoln in the Bardo by George Saunders
February 1862. The Civil War is less than one year old. The fighting has begun in earnest, and the nation has begun to realize it is in for a long, bloody struggle. Meanwhile, President Lincoln's beloved eleven-year-old son, Willie, lies upstairs in the White House, gravely ill. In a matter of days, despite predictions of a recovery, Willie dies and is laid to rest in a Georgetown cemetery. "My poor boy, he was too good for this earth," the president says at the time. "God has called him home." Newspapers report that a grief-stricken Lincoln returns, alone, to the crypt several times to hold his boy's body.
From that seed of historical truth, George Saunders spins an unforgettable story of familial love and loss that breaks free of its realistic, historical framework into a supernatural realm both hilarious and terrifying. Willie Lincoln finds himself in a strange purgatory where ghosts mingle, gripe, commiserate, quarrel, and enact bizarre acts of penance. Within this transitional state—called, in the Tibetan tradition, the bardo—a monumental struggle erupts over young Willie's soul.

Lincoln in the Bardo is an astonishing feat of imagination and a bold step forward from one of the most important and influential writers of his generation. Formally daring, generous in spirit, deeply concerned with matters of the heart, it is a testament to fiction's ability to speak honestly and powerfully to the things that really matter to us. Saunders has invented a thrilling new form that deploys a kaleidoscopic, theatrical panorama of voices to ask a timeless, profound question: How do we live and love when we know that everything we love must end?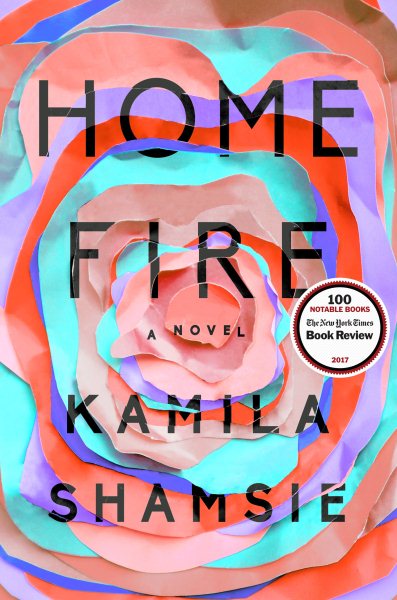 Home Fire by Kamila Shamsie
Isma is free. After years of watching out for her younger siblings in the wake of their mother's death, she's accepted an invitation from a mentor in America that allows her to resume a dream long deferred. But she can't stop worrying about Aneeka, her beautiful, headstrong sister back in London, or their brother, Parvaiz, who's disappeared in pursuit of his own dream, to prove himself to the dark legacy of the jihadist father he never knew. When he resurfaces half a globe away, Isma's worst fears are confirmed.
Then Eamonn enters the sisters' lives. Son of a powerful political figure, he has his own birthright to live up to—or defy. Is he to be a chance at love? The means of Parvaiz's salvation? Suddenly, two families' fates are inextricably, devastatingly entwined, in this searing novel that asks: What sacrifices will we make in the name of love?
Autumn by Ali Smith
Autumn. Season of mists and mellow fruitfulness. That's what it felt like for Keats in 1819. How about Autumn 2016? Daniel is a century old. Elisabeth, born in 1984, has her eye on the future. The United Kingdom is in pieces, divided by a historic, once-in-a-generation summer. Love is won, love is lost. Hope is hand-in-hand with hopelessness. The seasons roll round, as ever.
Ali Smith's new novel is a meditation on a world growing ever more bordered and exclusive, on what richness and worth are, on what harvest means. It is the first installment of her Seasonal quartet—four stand-alone books, separate yet interconnected and cyclical (as the seasons are)—and it casts an eye over our own time. Who are we? What are we made of? Shakespearean jeu d'esprit, Keatsian melancholy, the sheer bright energy of 1960s pop art: the centuries cast their eyes over our own history making.
Here's where we're living. Here's time at its most contemporaneous and its most cyclic.
From the imagination of the peerless Ali Smith comes a shape-shifting series, wide-ranging in time-scale and light-footed through histories, a story about aging and time and love and stories themselves.
Swing Time by Zadie Smith
Two brown girls dream of being dancers—but only one, Tracey, has talent. The other has ideas: about rhythm and time, about black bodies and black music, what constitutes a tribe, or makes a person truly free. It's a close but complicated childhood friendship that ends abruptly in their early twenties, never to be revisited, but never quite forgotten, either.
Tracey makes it to the chorus line but struggles with adult life, while her friend leaves the old neighborhood behind, traveling the world as an assistant to a famous singer, Aimee, observing close up how the one percent live.
But when Aimee develops grand philanthropic ambitions, the story moves from London to West Africa, where diaspora tourists travel back in time to find their roots, young men risk their lives to escape into a different future, the women dance just like Tracey—the same twists, the same shakes—and the origins of a profound inequality are not a matter of distant history, but a present dance to the music of time.
The Underground Railroad by Colson Whitehead
Cora is a slave on a cotton plantation in Georgia. Life is hell for all the slaves, but especially bad for Cora; an outcast even among her fellow Africans, she is coming into womanhood—where even greater pain awaits. When Caesar, a recent arrival from Virginia, tells her about the Underground Railroad, they decide to take a terrifying risk and escape. Matters do not go as planned—Cora kills a young white boy who tries to capture her. Though they manage to find a station and head north, they are being hunted.
In Whitehead's ingenious conception, the Underground Railroad is no mere metaphor—engineers and conductors operate a secret network of tracks and tunnels beneath the Southern soil. Cora and Caesar's first stop is South Carolina, in a city that initially seems like a haven. But the city's placid surface masks an insidious scheme designed for its black denizens. And even worse: Ridgeway, the relentless slave catcher, is close on their heels. Forced to flee again, Cora embarks on a harrowing flight, state by state, seeking true freedom.
Like the protagonist of Gulliver's Travels, Cora encounters different worlds at each stage of her journey—hers is an odyssey through time as well as space. As Whitehead brilliantly re-creates the unique terrors for black people in the pre–Civil War era, his narrative seamlessly weaves the saga of America from the brutal importation of Africans to the unfulfilled promises of the present day. The Underground Railroad is at once a kinetic adventure tale of one woman's ferocious will to escape the horrors of bondage and a shattering, powerful meditation on the history we all share.