Books are always great source material for film and television adaptations, and the airwaves are awash in compelling new series and miniseries based on good books. There's something to read (and watch) for everyone; here are a few titles to try.
______________________
American Gods by Neil Gaiman (2001)
TV adaptation for Starz starring Ricky Whittle, Emily Browning, and Bruce Langley (with Ian McShane as Mr. Wednesday); Current Season: 1
Shadow spent three years in prison, keeping his head down, doing his time. All he wanted was to get back to the loving arms of his wife and to stay out of trouble for the rest of his life. But days before his scheduled release, he learns that his wife has been killed in an accident, and his world becomes a colder place. On the plane ride home to the funeral, Shadow meets a grizzled man who calls himself Mr. Wednesday. A self-styled grifter and rogue, Wednesday offers Shadow a job. And Shadow, a man with nothing to lose, accepts.
But working for the enigmatic Wednesday is not without its price, and Shadow soon learns that his role in Wednesday's schemes will be far more dangerous than he ever could have imagined. Entangled in a world of secrets, he embarks on a wild road trip and encounters, among others, the murderous Czernobog, the impish Mr. Nancy, and the beautiful Easter — all of whom seem to know more about Shadow than he himself does.
All around them a storm of epic proportions threatens to break. Soon Shadow and Wednesday will be swept up into a conflict as old as humanity itself. For beneath the placid surface of everyday life a war is being fought — and the prize is the very soul of America.
As unsettling as it is exhilarating, American Gods is a dark and kaleidoscopic journey deep into myth and across an America at once eerily familiar and utterly alien. Magnificently told, this work of literary magic will haunt the reader far beyond the final page.
______________________
The Handmaid's Tale by Margaret Atwood (1986)
TV adaptation for Hulu starring Elisabeth Moss, Joseph Fiennes, and Yvonne Strahovski; Current Season: 1
In the world of the near future, who will control women's bodies? Offred is a Handmaid in the Republic of Gilead. She may leave the home of the Commander and his wife once a day to walk to food markets whose signs are now pictures instead of words because women are no longer allowed to read. She must lie on her back once a month and pray that the Commander makes her pregnant, because in an age of declining births, Offred and the other Handmaids are only valued if their ovaries are viable. Offred can remember the days before, when she lived and made love with her husband Luke; when she played with and protected her daughter; when she had a job, money of her own, and access to knowledge. But all of that is gone now…. Funny, unexpected, horrifying, and altogether convincing, The Handmaid's Tale is at once scathing satire, dire warning, and tour de force.
______________________
Th1rteen R3asons Why by Jay Asher (2007)
TV adaptation for Netflix starring  Dylan Minnette, Katherine Langford, and Christian Navarro; Current Season: 1
Clay Jensen returns home from school to find a mysterious box with his name on it lying on his porch. Inside he discovers cassette tapes recorded by Hannah Baker—his classmate and crush—who committed suicide two weeks earlier.
On tape, Hannah explains that there are thirteen reasons why she decided to end her life. Clay is one of them. If he listens, he'll find out how he made the list.
Through Hannah and Clay's dual narratives, debut author Jay Asher weaves an intricate and heartrending story of confusion and desperation that will deeply affect teen readers.
______________________
Big Little Lies by Liane Moriarty (2014)
TV adaptation for HBO starring Reese Witherspoon, Nicole Kidman, and Shailene Woodley; Current Season: 1
Big Little Lies follows three women, each at a crossroads:
Madeline is a force to be reckoned with. She's funny and biting, passionate, she remembers everything and forgives no one. Her ex-husband and his yogi new wife have moved into her beloved beachside community, and their daughter is in the same kindergarten class as Madeline's youngest (how is this possible?). And to top it all off, Madeline's teenage daughter seems to be choosing Madeline's ex-husband over her. (How. Is. This. Possible?).
Celeste is the kind of beautiful woman who makes the world stop and stare. While she may seem a bit flustered at times, who wouldn't be, with those rambunctious twin boys? Now that the boys are starting school, Celeste and her husband look set to become the king and queen of the school parent body. But royalty often comes at a price, and Celeste is grappling with how much more she is willing to pay.
New to town, single mom Jane is so young that another mother mistakes her for the nanny. Jane is sad beyond her years and harbors secret doubts about her son. But why? While Madeline and Celeste soon take Jane under their wing, none of them realizes how the arrival of Jane and her inscrutable little boy will affect them all.
Big Little Lies is a brilliant take on ex-husbands and second wives, mothers and daughters, schoolyard scandal, and the dangerous little lies we tell ourselves just to survive.
______________________
A Series of Unfortunate Events by Lemony Snicket (Volume 1 of 13:  The Bad Beginning, 1999)
TV Adaptation for Netflix starring Malina Weissman, Louis Hynes, and Presley Smith; Current Season: 1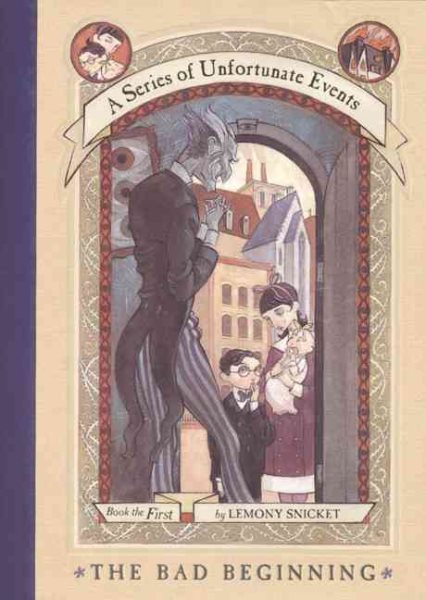 It's a good thing that Violet Baudelaire has a real knack for inventing things. When misery comes to call, the right invention at the right time can mean everything.
It's also fortunate that her brother, Klaus, has read lots of books and knows many important things, like how to tell an alligator from a crocodile and who killed Julius Caesar. When everything that can possibly go wrong does, a small fact can be vital.
It's lucky, too, that Sunny Baudelaire, the youngest sibling, likes to bite things. Even though she is an infant, and scarcely larger than a boot, she has four very big and sharp teeth. When trouble comes along, sharp teeth can save the day.
But most of all, it is good fortune that Violet, Klaus, and Sunny Baudelaire are as sturdy and resilient as they are, for ahead of these three children lies a seemingly infinite series of unfortunate events.
______________________
The Magicians by Lev Grossman (Vol 1 of a trilogy: The Magicians, 2009)
TV Adaptation for Syfy starring  Jason Ralph, Stella Maeve, and Arjun Gupta; Current Season: 2
Quentin Coldwater is brilliant but miserable. A senior in high school, he's still secretly preoccupied with a series of fantasy novels he read as a child, set in a magical land called Fillory. Imagine his surprise when he finds himself unexpectedly admitted to a very secret, very exclusive college of magic in upstate New York, where he receives a thorough and rigorous education in the craft of modern sorcery.
He also discovers all the other things people learn in college: friendship, love, sex, booze, and boredom. Something is missing, though. Magic doesn't bring Quentin the happiness and adventure he dreamed it would. After graduation he and his friends make a stunning discovery: Fillory is real. But the land of Quentin's fantasies turns out to be much darker and more dangerous than he could have imagined. His childhood dream becomes a nightmare with a shocking truth at its heart.
At once psychologically piercing and magnificently absorbing, The Magicians boldly moves into uncharted literary territory, imagining magic as practiced by real people, with their capricious desires and volatile emotions. Lev Grossman creates an utterly original world in which good and evil aren't black and white, love and sex aren't simple or innocent, and power comes at a terrible price.
______________________
The Midwife:  A Memoir of Birth, Joy, and Hard Times  by Jennifer Worth
TV adaptation for BBC One and airing on PBS in the US as "Call the Midwife" starring Jenny Agutter, Laura Main (with Vanessa Redgrave voicing the older Jennifer);" Current Season: 6
At the age of twenty-two, Jennifer Worth leaves her comfortable home to move into a convent and become a midwife in post war London's East End slums. The colorful characters she meets while delivering babies all over London-from the plucky, warm-hearted nuns with whom she lives to the woman with twenty-four children who can't speak English to the prostitutes and dockers of the city's seedier side-illuminate a fascinating time in history. Beautifully written and utterly moving,The Midwife will touch the hearts of anyone who is, and everyone who has, a mother.
______________________
Bosch Series by Michael Connelly (Vol 1 of 24 so far: The Black Echo, 1992)
TV adaptation for Amazon starring Titus Welliver, Jamie Hector, and Amy Aquino; Current Season: 3
For LAPD homicide cop Harry Bosch — hero, maverick, nighthawk — the body in the drainpipe at Mulholland Dam is more than another anonymous statistic. This one is personal.
The dead man, Billy Meadows, was a fellow Vietnam "tunnel rat" who fought side by side with him in a nightmare underground war that brought them to the depths of hell. Now, Bosch is about to relive the horror of Nam. From a dangerous maze of blind alleys to a daring criminal heist beneath the city to the tortuous link that must be uncovered, his survival instincts will once again be tested to their limit.
Joining with an enigmatic and seductive female FBI agent, pitted against enemies inside his own department, Bosch must make the agonizing choice between justice and vengeance, as he tracks down a killer whose true face will shock him.
There are some other great books and series adapted to television; if your tastes run to fantasy, there's always (of course) George R R Martin's 4-volume series A Song of Ice and Fire (adapted to HBO as "Game of Thrones" with Season 7 premiering in July) or Diana Gabaldon's multi-volume Outlander series (time travel, romance, historical fiction–adapted to Starz as "Outlander" with Season 3 premiering this year). If your tastes are more nonfiction/documentary in nature, Jared Diamond's 1999 book Guns, Germs and Steel was adapted for National Geographic as a miniseries in 2005 (DVD set available for checkout).