This week's post is presented by our guest host, Peg, a reference librarian at Central Library.
My book group recently read M.F.K. Fisher's How to Cook a Wolf, a title that regularly shows up on lists of the 100 best books ever written—not lists of the 100 best books about food, not the 100 best works of nonfiction, but the 100 best books of any genre. It's a book about eating and economizing during wartime. At least on the surface, it is. The subject struck me as interesting. Yes, eating is very important. We all do it. We have to. But matters of food availability and nutritional needs are critical during times of want, and Fisher tackles her subject, and her wolf, head-on, while managing to embed ideas about the spiritual nature of food and eating into a narrative that is, at its core, about self-determination and resilience during difficult times.
Many of the 32 titles credited to M.F.K. Fisher on the website, mfkfisher.com, are available to Pasadena Public Library cardholders, as are biographical works about her. But there are lots of other authors and books that get at the heart of our shared passion for our food, and I heartily encourage anyone interested in this area to indulge. Whether essays on food and eating appeal to you for practical, spiritual, or purely escapist reasons, there are lots of books and DVDs available from your library to sate your appetite. So, pull up a chair and dig in!
How to Cook a Wolf and The Gastronomical Me, by M.F.K. Fisher
M.F.K. Fisher was writing about food before "food writing" was a thing, and long before "foodies" would pick up their forks. With the publication of her first book, The Gastronomical Me in 1937, she began influencing writers and editors with her witty and pristine prose. With How to Cook a Wolf, her reputation was sealed. And she would come to influence later generations of chefs with her knowledge and insight, as well as everyday eaters with her commonsense enjoyment of simple culinary pleasures. Her influence, still in evidence today, has been exponential.
The Table Comes First: Family, France, and the Meaning of Food, by Adam Gopnik
From the author of Paris to the Moon—one man's quest for the meaning of food in a time obsessed with what to eat. Never before have we cared so much about food. Adam Gopnik traces our rapid evolution from commendable awareness to manic compulsion and how, on the way, we lost sight of a timeless truth: what goes on around the table…is always more important than what we put on the table. Gently satirizing the entire human comedy of the comestible, The Table Comes First seeks to liberate us from the twin clutches of puritanical guilt and cable-TV glitz. It is the delightful beginning of a new conversation about the way we eat now.
City of Gold, directed by Laura Gabbert (DVD)
Jonathan Gold pulls back the curtain on the perceived superficiality of Los Angeles to show viewers a genuine and vibrant world where ethnic cooking is a kaleidoscopic doorway to the mysteries of an unwieldy city and the soul of America.
Life is Meals: A Food Lover's Book of Days, by James and Kay Salter; illustrations by Fabrice Moireau
From the PEN/Faulkner Award-winning author James Salter and his wife, Kay—amateur chefs and perfect hosts—here is a charming, beautifully illustrated tour de table: a food lover's companion that, with an entry for each day of the year, takes us from a Twelfth Night cake in January to a champagne dinner on New Year's Eve. Life Is Meals is rich with culinary wisdom, history, recipes, literary pleasures, and the authors' own memories of successes and catastrophes. "The meal is the emblem of civilization," the Salters observe. "What would one know of life as it should be lived, or nights as they should be spent, apart from meals?"
The Tenth Muse: My Life in Food, by Judith Jones
From the legendary editor who helped shape modern cookbook publishing.  Living in Paris after World War II, Judith Jones broke free of the bland American food she had been raised on and reveled in everyday French culinary delights. On returning to the States—hoping to bring some joie de cuisine to America—she published Julia Child's Mastering the Art of French Cooking. The rest is publishing and gastronomic history.  Working with the tireless Julia; absorbing the wisdom of James Beard; understanding food as memory through the writings of Claudia Roden and Madhur Jaffrey; demystifying the techniques of Chinese cookery with Irene Kuo; absorbing the Italian way through the warmth of Lidia Bastianich; and working with Edna Lewis, Marion Cunningham, Joan Nathan, and other groundbreaking cooks. And she writes about M.F.K. Fisher: as mentor, friend, and the source of luminous insight into the arts of eating, living, and aging.
The Alice B. Toklas Cook Book by Alice B. Toklas; foreword by M.F.K. Fisher
M.F.K. Fisher writes in the introduction to the 1984 edition, "And I know now as well as I did thirty years ago that Alice B. Toklas' Cook Book would feed my soul abundantly if I could find no other nourishment, just as it would make me smile in the midst of sadness, and feel braver if I risked faltering."
The Trip, and The Trip to Italy, both films directed by directed by Michael Winterbottom (DVD)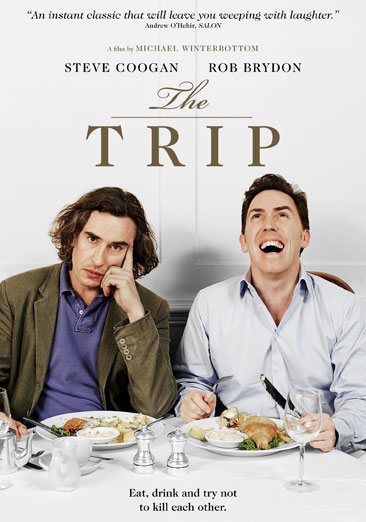 Steve Coogan and Rob Brydon travel the North of England and throughout Italy eating elaborately prepared meals in fine restaurants, endlessly arguing, and attempting to outdo each other with spot-on impressions of Michael Caine and Al Pacino—impressions that subsequently went viral on YouTube!  They're on assignment as restaurant reviewers, but their chief assignment is to assess their friendship and for each to take stock of his own life.
My Usual Table: A Life in Restaurants, by Colman Andrews
From his usual table, he has watched the growth of Nouvelle Cuisine and fusion cuisine; the organic and locavore movements; nose-to-tail eating; and so-called "molecular gastronomy." In My Usual Table, Andrews interweaves his own story —from growing up in the sunset years of Hollywood's golden age to traveling the world in pursuit of great food—with tales of the restaurants, chefs, and restaurateurs who are emblematic of the revolutions great and small that have forever changed the way we eat, cook, and think about food.
Chef, directed by and starring Jon Favreau (DVD)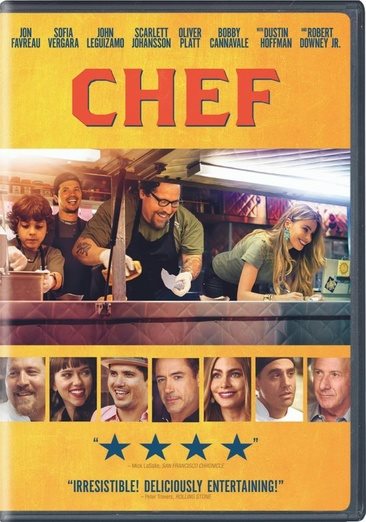 Favreau, in interviews, cites his film as the prime motivator in his learning to cook. He also stresses that it was a bonding experience for him and his family.  Favreau consulted with Roy Choi, founder of the Kogi food truck empire, in preparing for his role as a noted restaurant chef who opts for creativity over prestige, when he chooses to reinvent his career and rethink his life within the compact kitchen of a food truck after being fired from his high-profile restaurant gig.
Dinner: a Love Story: It All Begins At the Family Table, by Jenny Rosenstrach; photographs by Jennifer Causey
Inspired by her beloved blog, dinneralovestory.com, Jenny Rosenstrach's Dinner: A Love Story is many wonderful things: a memoir, a love story, a practical how-to guide for strengthening family bonds by making the most of dinnertime, and a compendium of magnificent, palate-pleasing recipes.