Temperatures in Pasadena may hit the 30s some nights this week, which is about as cold as it gets here, so let's revel in this chill by reading some winter-y books full of snow and ice. There's nothing better than reading a book that makes you shiver when it's cold outside and you have a blanket and a warm beverage so grab one of these frosty reads to curl up with and make yourself cozy.
The Bear and the Nightingale by Katherine Arden
Winter lasts most of the year at the edge of the Russian wilderness, and in the long nights, Vasilisa and her siblings love to gather by the fire to listen to their nurse's fairy tales. Above all, Vasya loves the story of Frost, the blue-eyed winter demon. Wise Russians fear him, for he claims unwary souls, and they honor the spirits that protect their homes from evil.
Then Vasya's widowed father brings home a new wife from Moscow. Fiercely devout, Vasya's stepmother forbids her family from honoring their household spirits, but Vasya fears what this may bring. And indeed, misfortune begins to stalk the village.
But Vasya's stepmother only grows harsher, determined to remake the village to her liking and to groom her rebellious stepdaughter for marriage or a convent. As the village's defenses weaken and evil from the forest creeps nearer, Vasilisa must call upon dangerous gifts she has long concealed—to protect her family from a threat sprung to life from her nurse's most frightening tales.
The Siege by Helen Dunmore
At the beginning of The Siege, sudden news of German attack rips the peaceful Levin family from their countryside retreat, throwing their world into unimagined turmoil. Soon all of Leningrad is trapped by the besieging German army, but daily life must go on. While little Kolya plays with his toy fort, his tiny body grows cruelly thin. While twenty-two-year-old Anna dreams of an artist's life, she must forage for food in the ever more desperate city. Likewise, Dunmore's lush, lyrical appreciation of life's comforts – a fire in the hearth, jam on the tongue – dwells in The Siege even amid the darkest despair.
Before the siege is over, a mysterious ex-actress and a gentle young doctor come to the Levins' frozen little apartment. Not all of the five will survive, but their struggle and their tragedy will ultimately bear hope for a new beginning.
The Snow Child by Eowyn Ivey
Alaska, 1920: a brutal place to homestead, and especially tough for recent arrivals Jack and Mabel. Childless, they are drifting apart–he breaking under the weight of the work of the farm; she crumbling from loneliness and despair. In a moment of levity during the season's first snowfall, they build a child out of snow. The next morning the snow child is gone–but they glimpse a young, blonde-haired girl running through the trees.
This little girl, who calls herself Faina, seems to be a child of the woods. She hunts with a red fox at her side, skims lightly across the snow, and somehow survives alone in the Alaskan wilderness. As Jack and Mabel struggle to understand this child who could have stepped from the pages of a fairy tale, they come to love her as their own daughter. But in this beautiful, violent place things are rarely as they appear, and what they eventually learn about Faina will transform all of them.
Into Thin Air: A Personal Account of the Mt. Everest Disaster by Jon Krakauer
When Jon Krakauer reached the summit of Mt. Everest in the early afternoon of May 10, 1996, he hadn't slept in fifty-seven hours and was reeling from the brain-altering effects of oxygen depletion. As he turned to begin his long, dangerous descent from 29,028 feet, twenty other climbers were still pushing doggedly toward the top. No one had noticed that the sky had begun to fill with clouds. Six hours later and 3,000 feet lower, in 70-knot winds and blinding snow, Krakauer collapsed in his tent, freezing, hallucinating from exhaustion and hypoxia, but safe. The following morning, he learned that six of his fellow climbers hadn't made it back to their camp and were desperately struggling for their lives. When the storm finally passed, five of them would be dead, and the sixth so horribly frostbitten that his right hand would have to be amputated.
Krakauer examines what it is about Everest that has compelled so many people — including himself — to throw caution to the wind, ignore the concerns of loved ones, and willingly subject themselves to such risk, hardship, and expense. Written with emotional clarity and supported by his unimpeachable reporting, Krakauer's eyewitness account of what happened on the roof of the world is a singular achievement.
Endurance: Shackleton's Incredible Voyage by Alfred Lansing
Bound for Antarctica, where polar explorer Ernest Shackleton planned to cross on foot the last uncharted continent, the Endurance set sail from England in August 1914. In January 1915, after battling its way for six weeks through a thousand miles of pack ice and now only a day's sail short of its destination, the Endurance became locked in an island of ice.
For ten months the ice-moored Endurance drifted northwest before it was finally crushed. But for Shackleton and his crew of twenty-seven men the ordeal had barely begun. It would end only after a near-miraculous journey by Shackleton and a skeleton crew through over 850 miles of the South Atlantic's heaviest seas to the closest outpost of civilization.
Alive: The Story of the Andes Survivors by Piers Paul Read
On October 12, 1972, a plane carrying a team of young rugby players crashed into the remote, snow-peaked Andes. Out of the forty-five original passengers and crew, only sixteen made it off the mountain alive. For ten excruciating weeks they suffered deprivations beyond imagining, confronting nature head-on at its most furious and inhospitable. And to survive, they were forced to do what would have once been unthinkable…
This is their story – one of the most astonishing true adventures of the twentieth century.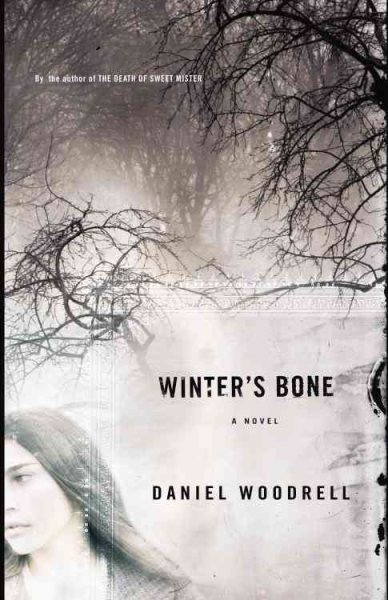 Winter's Bone by Daniel Woodrell
The sheriff's deputy at the front door brings hard news to Ree Dolly. Her father has skipped bail on charges that he ran a crystal meth lab, and the Dollys will lose their house if he doesn't show up for his next court date.
Ree's father has disappeared before. The Dolly clan has worked the shadowy side of the law for generations, and arrests (and attempts to avoid them) are part of life in Rathlin Valley. But the house is all they have, and Ree's father would never forfeit it to the bond company unless something awful happened. With two young brothers depending on her and a mother who's entered a kind of second childhood, Ree knows she has to bring her father back, dead or alive, or else see her family turned out into the unforgiving cold.
Sixteen-year-old Ree, who has grown up in the harsh poverty of the Ozarks, learns quickly that asking questions of the rough Dolly clan can be a fatal mistake. She perseveres past obstacles of every kind and finally confronts the top figures in the family's hierarchy.
Along the way to a shocking revelation, Ree discovers unexpected depths in herself and in a family network that protects its own at any cost.