On Saturday, April 23 and Sunday, April 24 the Central Library will be hosting the Pasadena Garden Club's Centennial Flower Show. The community is invited to view and enjoy the Garden Show this weekend during regular business hours. If the beautiful flowers on display at the library inspire you to think about doing some new plantings in your own garden, here are some books to help you explore gardening with flowers.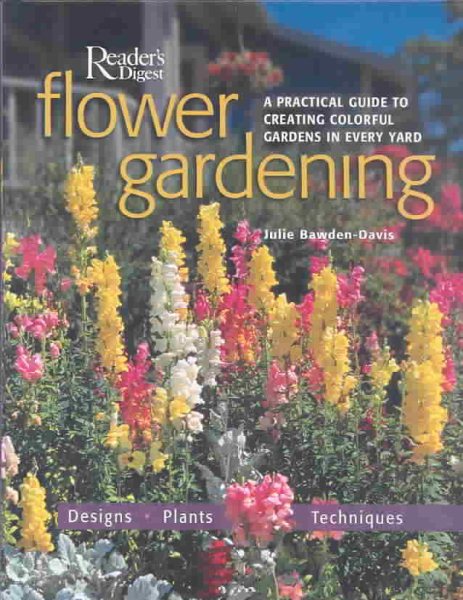 Flower Gardening : A Practical Guide to Creating Colorful Gardens in Every Yard by Julie Bawden-Davis
This practical guide has detailed plans containing new flower species and trends in flower gardening. Includes an A-to-Z section of 477 easy-to-grow plants, ideas for plants, and combinations that will thrive based on where you live and soil type, money-saving tips, and seasonal advice. Plus: 35 step-by-step gardening projects.
The Bee-Friendly Garden: Design an Abundant, Flower-filled Yard That Nurtures Bees and Supports Biodiversity by Kate Frey and Gretchen LeBuhn
There are many benefits to having a bee garden, both personal and global. Not only are bee gardens gorgeous, they are organic, pesticide-free, and ecologically sustainable. For fruit and vegetable gardeners, inviting nature's most productive pollinator into the yard can provide an impressive increase in yields. And finally, bee gardens help fight the much-publicized decline in bee population. In The Bee-Friendly Garden, award-winning garden designer Kate Frey and bee expert Gretchen LeBuhn provide everything readers need, from "super blooming" flowers and planting basics, to garden plans and plants to avoid. Illustrated with spectacular full-color photos, the book debunks myths about bees, explains seasonal flower progression, and provides how-to instructions for nest boxes and water features.
The Low-Water Flower Gardener by Eric A. Johnson & Scott Millard
Written for today's water-conscious gardener, this book provides cutting-edge information on how to grow more than 270 colorful, unthirsty flowering perennials, shrubs, and ornamental grasses adapted to dry-climate regions. Over 125 large color photos provide ideas to create appealing, easy-care gardens and make it easy to select flowering plants best suited to particular regions. The book was especially prepared for gardeners in Arizona, California, Colorado, Nevada, New Mexico, Texas, and Utah. It provides proper planting dates and recommended plants and growing techniques for each area, and shows how to prepare soils, make compost, and get the most out of water.
The Nonstop Color Garden : Design Flowering Landscapes and Gardens for Year-Round Enjoyment by Nellie Neal
Ask any gardener and they will tell you, color is the most important (and most fun!) part of garden design. In The Nonstop Color Garden, author Nellie Neal shows how to use color as an exciting element in your garden during all four seasons–and it's not just flowers! Year-round color is possible by including trees, shrubs, and groundcovers that produce colorful berries and bark, as well as flowers during spring and summer. Even the shapes of plants can enhance your garden by providing all-season architectural interest–Nellie makes it easy to explore it all. The Nonstop Color Garden is perfect for the more experienced gardener, but even an engaged novice will find much to learn about the best plants for nonstop color, garden structure, and garden design. Everyone who takes pride and pleasure in their garden will not want to miss this informative, fun, colorful book!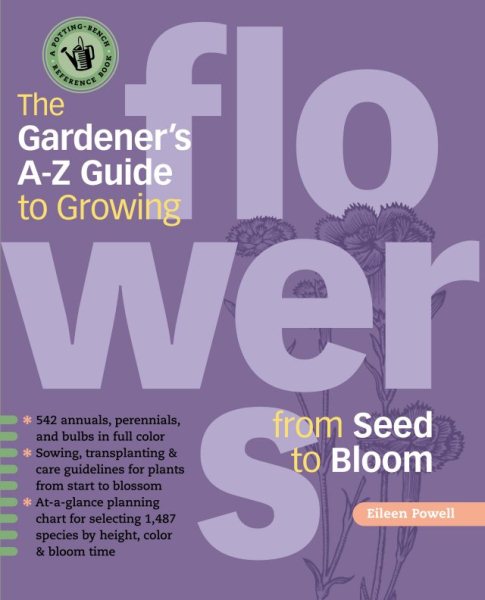 The Gardener's A – Z Guide to Growing Flowers from Seed to Bloom by Eileen Powell
Why do gardeners start plants from seed instead of just buying a flat of seedlings from their local nursery? Necessity. Seedlings of unusual or exotic plants simply aren't available at garden stores, but they are available in seed. Then there's the cost factor. A few packets of seeds are much cheaper than dozens upon dozens of seedlings. And finally there's the plants' health to consider. Plants grown from seed get a healthy start that can almost guarantee you a magnificent display in your garden. The Gardener's A-Z Guide to Growing Flowers from Seed to Bloom will teach you everything you need to know to germinate and grow more than 500 types of flowering plants. For every plant listed you'll find precise information on whether it will do well in your part of the country; how to sow seeds indoors and outdoors; when to transplant indoor seedlings out in the garden; what light, soil, and spacing requirements are necessary; general plant care; when you can expect the plants to flower; how to encourage more blooms; and how to propagate your plants by cutting, division, layering, or detaching runners.
The Southern California Native Flower Garden: A Guide to Size, Bloom, Foliage, Color, and Texture by Susan Van Atta
Plants native to Southern California are uniquely beautiful and thrive on their own with minimal water, pruning or trimming, fertilizers, and soil amendments. This book proves that creating environmentally sensitive design does not mean putting in extraordinary effort or sacrificing beauty. Includes detailed descriptions and growing information for some of the region's most interesting, attractive plants and has easy-to-use tri-cut flip pages.