On Thursday 1/28 the Pasadena Public Library will be having Robert Haw, a physicist at NASA's Jet Propulsion Laboratory and co-founder of the Pasadena Foothills chapter of the Citizens Climate Lobby, speaking from 7:30-8:30 at the Central Library. He'll be presenting a talk entitled Global Warming: What Are the Solutions? looking at how different policy options can mitigate the effects of climate change on our planet. Come by and listen to Haw's talk and check out some of the library's books, such as the ones below, on global warming and climate change to learn more about these important topics.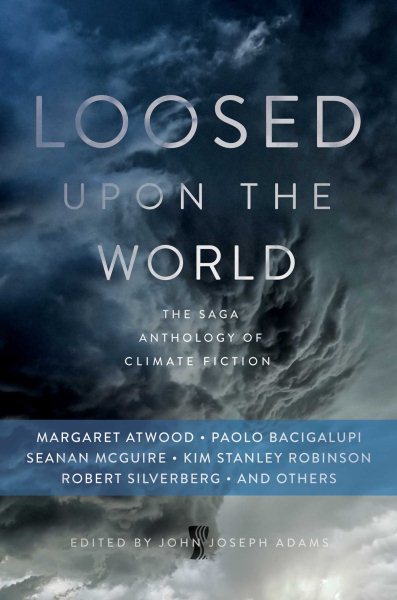 Loosed upon the World: The Saga Anthology of Climate Fiction edited by John Joseph Adams
Collected by the editor of the award-winning Lightspeed magazine, the first, definitive anthology of climate fiction—a cutting-edge genre made popular by Margaret Atwood.
Is it the end of the world as we know it? Climate Fiction, or Cli-Fi, is exploring the world we live in now—and in the very near future—as the effects of global warming become more evident. Join bestselling, award-winning writers like Margaret Atwood, Paolo Bacigalupi, Kim Stanley Robinson, Seanan McGuire, and many others at the brink of tomorrow. Loosed Upon the World is so believable, it's frightening.
Hot: Living through the Next Fifty Years on Earth by Mark Hertsgaard
For twenty years, Mark Hertsgaard has investigated global warming for outlets including The New Yorker, National Public Radio, Time, Vanity Fair, and The Nation. But the full truth did not hit home until he became a father and, soon after, learned that climate change had arrived a century earlier than forecast, with impacts bound to worsen for decades to come. Hertsgaard's daughter, Chiara, now five years old, is part of what he has dubbed "Generation Hot," the two billion young people worldwide who will spend the rest of their lives coping with mounting climate disruption.
Hot is a father's cry against climate change, but most of the book focuses on solutions, offering a blueprint for how all of us, as parents, communities, companies, and countries, can navigate this unavoidable new era. Combining reporting from across the nation and around the world with personal reflections on his daughter's future, Hertsgaard provides pictures of how the next fifty years will look: Chicago's climate transformed to resemble Houston's; dwindling water supplies and crop yields at home and abroad; the redesign of New York and other cities against mega-storms and sea-level rise. Above all, he shows who is taking wise, creative precautions. For in the end, Hot is a book about how we'll survive.
Flight Behavior by Barbara Kingsolver
Flight Behavior is a brilliant and suspenseful novel set in present day Appalachia; a breathtaking parable of catastrophe and denial that explores how the complexities we inevitably encounter in life lead us to believe in our particular chosen truths. Kingsolver's riveting story concerns a young wife and mother on a failing farm in rural Tennessee who experiences something she cannot explain, and how her discovery energizes various competing factions—religious leaders, climate scientists, environmentalists, politicians—trapping her in the center of the conflict and ultimately opening up her world. Flight Behavior is arguably Kingsolver's must thrilling and accessible novel to date, and like so many other of her acclaimed works, represents contemporary American fiction at its finest.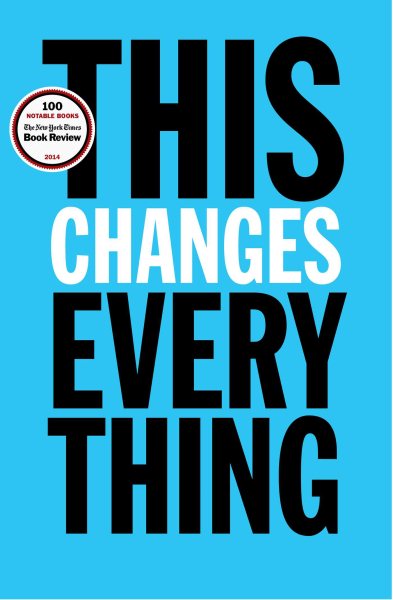 This Changes Everything by Naomi Klein
In This Changes Everything Naomi Klein argues that climate change isn't just another issue to be neatly filed between taxes and health care. It's an alarm that calls us to fix an economic system that is already failing us in many ways. Klein meticulously builds the case for how massively reducing our greenhouse emissions is our best chance to simultaneously reduce gaping inequalities, re-imagine our broken democracies, and rebuild our gutted local economies. And she demonstrates precisely why the market has not—and cannot—fix the climate crisis but will instead make things worse, with ever more extreme and ecologically damaging extraction methods, accompanied by rampant disaster capitalism.
Klein argues that the changes to our relationship with nature and one another that are required to respond to the climate crisis humanely should not be viewed as grim penance, but rather as a kind of gift—a catalyst to transform broken economic and cultural priorities and to heal long-festering historical wounds. And she documents the inspiring movements that have already begun this process: communities that are not just refusing to be sites of further fossil fuel extraction but are building the next, regeneration-based economies right now. Can we pull off these changes in time? Nothing is certain. Nothing except that climate change changes everything. And for a very brief time, the nature of that change is still up to us.
Six Degrees by Mark Lynas
By the end of this century, the planet will heat up between 1.4 and 5.8 degrees Celsius, according to the Intergovernmental Panel on Climate Change. Six degrees may not sound like much, but as this sobering, engrossing, up-to-the-minute books warns, a six-degree rise in Earth's average temperature would be enough to reshape our world almost beyond recognition. Degree by degree, chapter by chapter, Mark Lynas explains the processes and examines the effects of this unprecedented phenomenon, drawing on a full range of state-of-the-art research.
Based on authoritative scientific articles, the latest computer models, and information about past warm events in Earth history, Six Degrees promises to be an eye-opening warning that humanity will ignore at its peril.
Climate Changed by Philippe Squarzoni
What are the causes and consequences of climate change? When the scale is so big, can an individual make any difference? Documentary, diary, and masterwork graphic novel, this up-to-date look at our planet and how we live on it explains what global warming is all about. With the most complicated concepts made clear in a feat of investigative journalism by artist Philippe Squarzoni, Climate Changed weaves together scientific research, extensive interviews with experts, and a call for action. Weighing the potential of some solutions and the false promises of others, this groundbreaking work provides a realistic, balanced view of the magnitude of the crisis that An Inconvenient Truth only touched on.